IL's are in town for a visit. This morning I made hashed browns, french toast with raspberry sauce, and freshly peeled grapefruit for brekkie. I then absconded to the bedroom and rowed for 30 minutes (the rowing machine was moved upstairs for the weekend), did my sit ups, and then did my tele exercises. It was snowing outside and the winds were CALM. Oh man, I would have been skiing if not for our visitors.
We drove down to Boulder for the 11:00 Celestial Seasonings tour. The mint room is amazing. But what I loved most about the whole thing was all of the art that has been commissioned for the various tea flavors. The paintings which become the labels for the tea boxes are on display in the tasting room. I love the whimsical mix of animals, fruits, and scenes. It's so sweet and playful – vibrant and beautiful.

a cold winter day is perfect for sampling teas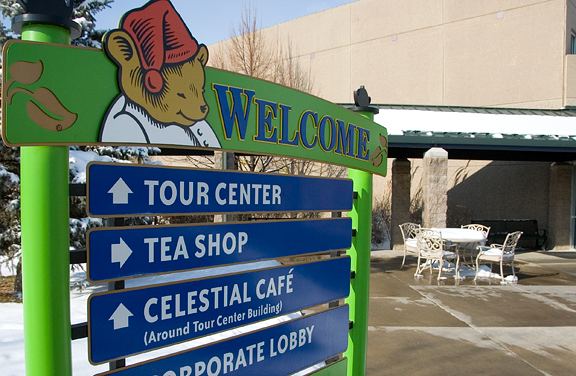 After the tea shop, tea tasting, and tea art viewing, we went to… the Dushanbe Teahouse for lunch, of course.
no patio dining today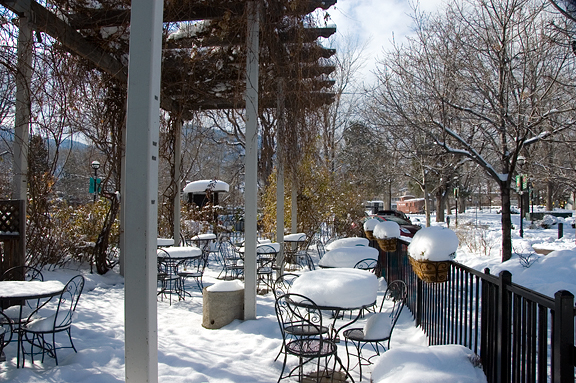 my fish tacos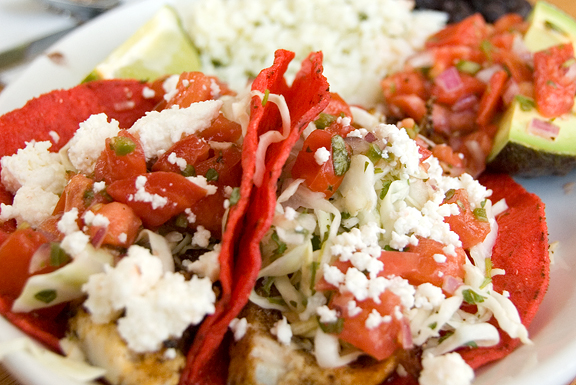 Then we parted ways – Jeremy with his folks off to shop for various things they don't have in Pagosa (because… Pagosa sucks), and I went to Whole Foods before heading home. When the cashier at Whole Foods handed me my receipt I asked, "Aren't I suppose to sign something?" She replied that they don't require signatures for charges under $25. And that is when I realized that I think this might be the first time I ever spent UNDER $25 at that damn store! But I did pick up a really nice soft asiago cheese.
When I got home, I chilled out for 30 minutes and then figured I would start preparing stuff for dinner. It was 3:30 when I began trimming the Brussels sprouts and I basically didn't stop cooking until dinner was served at 8:00, and then resumed making dessert at 8:30. Luckily, I served up a plate of appetizers to hold everyone over: prosciutto, smoked oysters, sardines, soft asiago, havarti, and some bread and crackers. Meanwhile, I prepared the crusted roast beef (New York Strip Loin cut), mashed garlic potatoes, roasted Brussels sprouts, and sautéed spinach. It all turned out well and the beef was very tender, very good. It paired beautifully with a Cab-Merlot blend from SE Australia.
For dessert, I went with pavlova – something that I could incorporate fresh fruit into. But, because I know FIL loves chocolate, I also whipped up some Grand Marnier truffles rolled in hazelnuts.

pavlova again: this time without the mess ups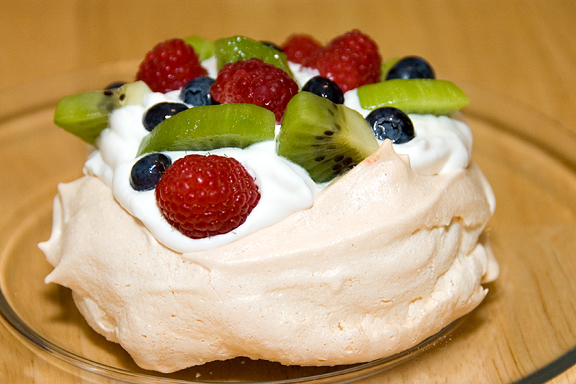 big bang for the buck – one of the easiest desserts to make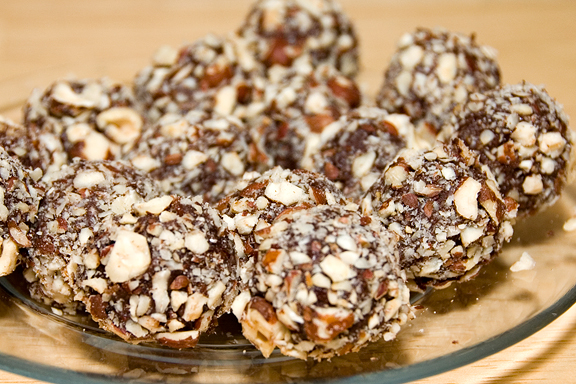 I think the reason it took so long for me to prepare the food was because my ILs like to come in and talk with you while you're in the kitchen, which is fine, except I can't cook as efficiently and still be polite and listen or make conversation. Anyway, I didn't plan to spend almost 8 hours on food prep today, but at least they really enjoyed the food and seem to be happy.