Recipe: chocolate espresso fudge cake
When we first moved in together, Jeremy used to complain about how much time was spent preparing meals. He really liked the idea of bachelor chow, sort of like Kaweah's dry kibbles – same thing every meal. No hassle, no fuss, no mystery. He still talks about it like some concept that would free up a few hours a day, that is until I mention sushi, or pan-seared scallops, or crab, or chocolate or… I can see the appeal of chow, to get more hours in the day. But the problem for me is that I would miss the prep more than the eating. I didn't used to think so, but after spending months cooking and baking things I couldn't eat during chemo, I realized that for as much as I love to eat the food, I love the making of it even more. I wonder among foodies if they love the cooking or the eating more?
Case in point. Today I made Jeremy's (belated) birthday cake. I've been wanting to make this for a while, but between the heat of summer, health issues, and getting stuff done in between health issues – I haven't had a chance. Today we had rain (and snow in the high country!) with temps flirting with the 30s. Nice.

melting unsweetened chocolate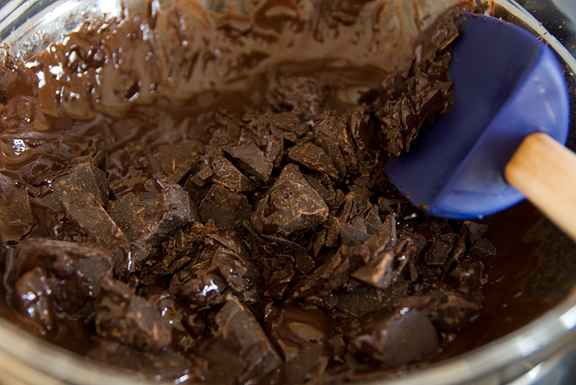 whipping eggs, butter, and sugar into the fluffiest of batters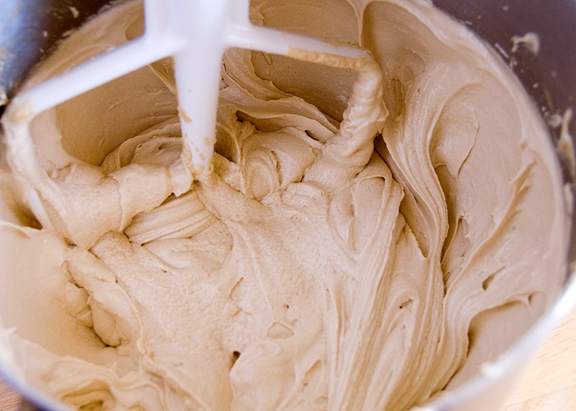 This is Marcel Desaulnier's Chocolate Espresso Fudge Cake from one of my favorite cake books:
Death by Chocolate
. I've made it several times at sea-level, but the degree of involvement made me reluctant to try it at elevation until now. I just can't stand tanking a recipe because of elevation, but I especially hate to tank a recipe that requires multiple components and almost 1.5 pounds of good quality dark chocolate. I replaced the cake flour with all-purpose flour and reduced the leavening by 75%. Seemed to work just fine (the cake is delicious on its own).
incorporating dry ingredients and sour cream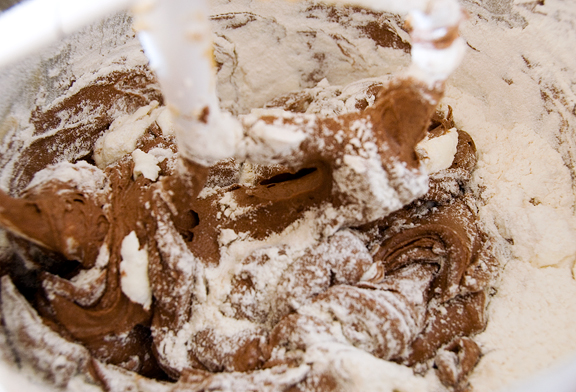 into the oven we go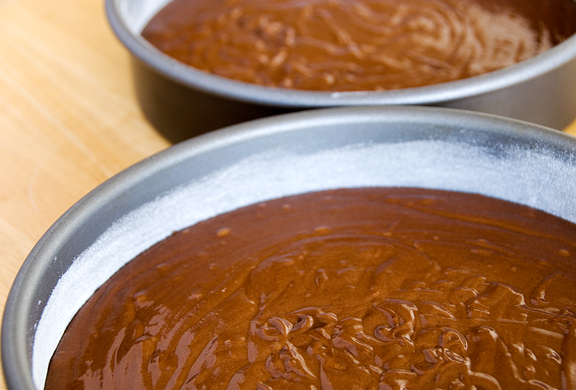 Although the instructions for the batter may seem tedious, I highly recommend following them because the additional beating transforms the batter into a light and fluffy mix. Seriously. I had no troubles with the cake (with my adjustments) except that my oven isn't completely level and well – that's me being a lazy bum who'd rather trim it off than try to level the stupid oven… No worries.
remove the cakes from their pans after cooling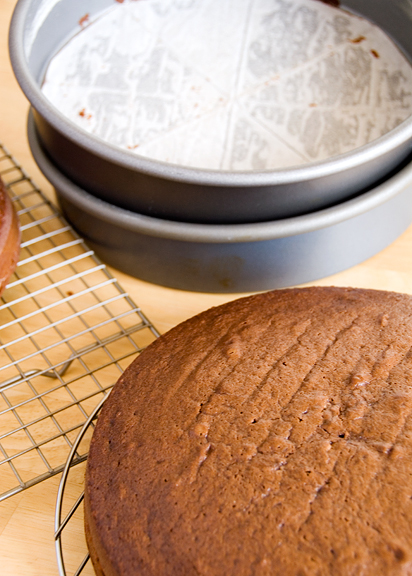 chocolate, chopped unsweetened chocolate, and espresso powder for buttercream frosting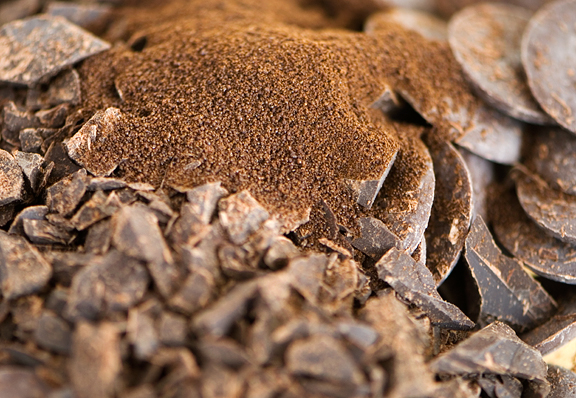 Instead of the buttercream frosting that Marcel gives us, I reverted to my trusty Swiss meringue buttercream frosting (ha, you thought I was going to say Swiss army knife? I like those too). Same ingredients, different technique. I'll list both in the recipe below.
tried and true: swiss meringue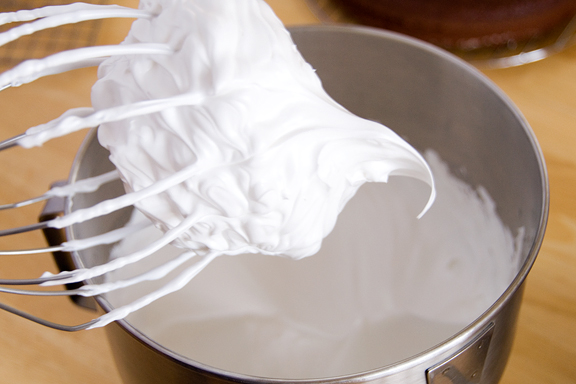 make that chocolate espresso swiss meringue buttercream frosting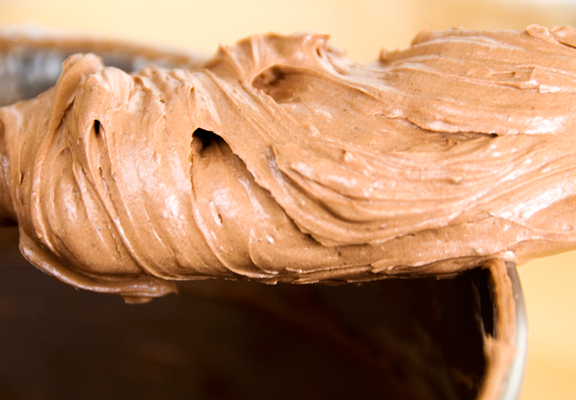 Layered cake assembly is becoming a no-brainer for me and I go on auto-pilot. My problem usually comes when it is time to decorate. I generally go with simple edible decorations. I like to tell folks that I like simple because simple is elegant (tis true). Well, that's only half the story. I like simple because that's about the limitation of my decoration skills. I have a gazillion piping tips and only know how to use about 3 of them. Go Jen!
layers of cake, buttercream frosting, and chocolate espresso ganache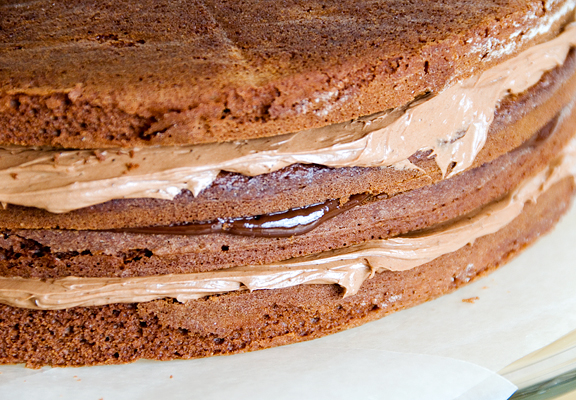 applying the crumb coat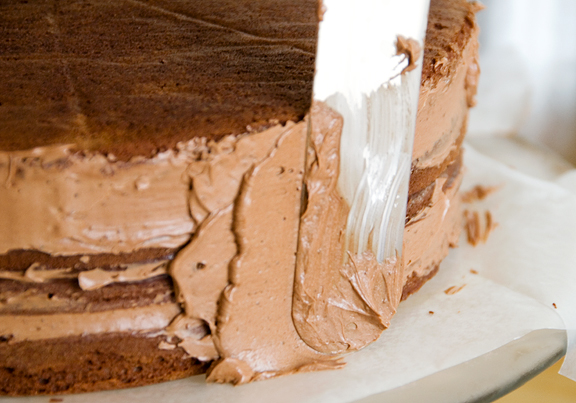 Once the cake was done and photographed, we hurried over to our neighbor's house with half of it. Marcus' parents are visiting (they are so cute!) and I know they enjoy desserts – so it was a good excuse to get rid of a large portion of cake. I had to warn the adults that there was a good deal of espresso in the cake, so if they're wondering why the kids are talking 100 mph… Next, we took a quarter of the cake to our other neighbors and good friends, Tom and Kellie. They love the goodies I bring and I love giving them the goodies. Back at home, Jeremy could finally sit down to enjoy a slice of his birthday cake. And it's also a celebration of something else… something I'll be able to share with you all in a week! [No no no, don't even THINK that I'm preggers. Batteries not included in my biological clock and we are perfectly happy and sane that way.]
ready to pipe ganache and buttercream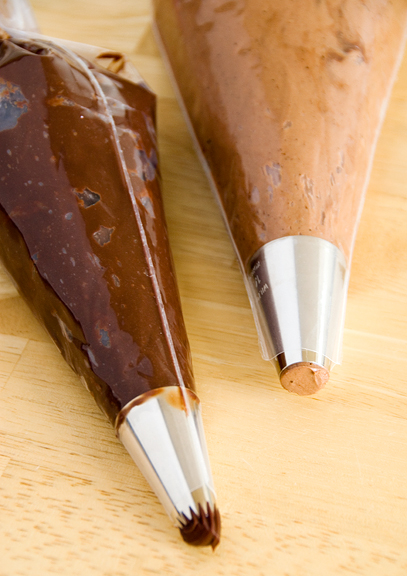 that is one buzzing birthday cake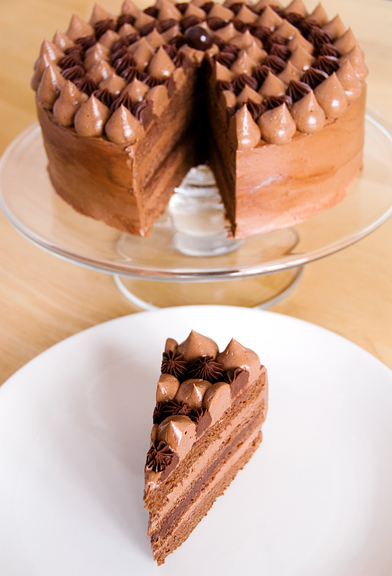 Some people might be upset about having their birthday cake given away to the neighborhood, but I don't want to *kill* Jeremy. After all, he hasn't finished the
last cake
and he told me this evening as we walked arm in arm in the dark back to our house that he just can't put away that much cake the way he did in his youth. Well, my dear man is still as slim and handsome as the day he caught my eye sixteen years ago. But in those sixteen years I have discovered that beyond his charming good looks, he is the finest man I've ever met – someone who is always there for me, always curious about the universe, always kind to small children and animals, always making me laugh and smile, always astounding me with his sensitivity and insight, always thinking, always paying attention, always caring. Happy Birthday, my beloved Jeremy. Thank you for being amazing.
caffeine, butter, sugar, and love
Chocolate Espresso Fudge Cake
[print recipe]
modified from Death by Chocolate by Marcel Desaulniers
chocolate cake
4 oz unsweetened chocolate, chopped
8 tbsps unsalted butter, room temperature
2 tsps unsalted butter, melted (for pan prep)
2 cups cake flour (I used all-purpose flour at 8500 feet elevation)
2 tsps cake flour (for pan prep)
2 tsps baking soda (I used 1/2 tsp baking soda at 8500 feet elevation)
1/2 tsp salt
2 cups light brown sugar, very tightly packed
4 eggs
1 tsp pure vanilla extract
1 cup water
1 cup sour cream
espresso ganache
1 cup heavy cream
2 tbsps unsalted butter
2 tbsps granulated sugar
8 oz semisweet chocolate, chopped
1 tbsp instant espresso powder
chocolate espresso buttercream
8 oz semisweet chocolate, chopped
2 oz unsweetened chocolate, chopped
2 tsps instant espresso powder
1 lb. unsalted butter, room temperature
5 egg whites
1 cup granulated sugar
Cake: Preheat oven to 350°F. Heat 1 inch of water in the bottom half of a double boiler over medium heat. Place 4 ounces unsweetened chocolate in the top half of the double boiler and heat for 5 to 6 minutes. Remove from heat and stir until smooth. Lightly coat the insides of 2 9×2-inch cake pans with melted butter. Flour each pan with 1 tsp cake flour, shaking out the excess. Combine together in a sifter the remaining 2 cups of flour, the baking soda, and salt. Sift onto wax paper and set aside. Combine the brown sugar and 8 tablespoons of butter in the bowl of an electric mixer fitted with a paddle. Beat on low for 3 minutes. Scrape down the sides of the bowl, then beat on high for 2 minutes. Scrape down the sides of the bowl again and beat on high for another 1.5 minutes. Add 4 eggs, one at a time, beating on high for 30 seconds after adding each egg. Scrape down the bowl after each addition, then beat on high for 2 more minutes. Add the melted chocolate and the vanilla. Beat on low for 30 seconds, then scrape down the bowl. Heat 1 cup water to a boil in a 1 1/2-quart saucepan. While the water is heating, operate the mixer on low while adding a third of the sifted flour and 1/2 cup sour cream; allow to mix for 30 seconds. Add another third of the flour and the remaining sour cream and mix for another 30 seconds. Add the remaining sifted flour and the boiling water and mix for an additional 30 seconds before removing the bowl from the mixer. Use a rubber spatula to finish mixing the batter, until it is smooth and thoroughly combined. Pour the cake batter into the prepared pans, spreading it evenly. Bake until a toothpick inserted in center comes out clean, 45 to 50 minutes. Remove the cakes from the oven and cool in the pans for 15 minutes at room temperature. Invert onto cooling racks and refrigerate uncovered until needed. (I didn't refrigerate mine).
Ganache: Heat the heavy cream, 2 tablespoons butter, and 2 tablespoons sugar in a 2 1/2-quart saucepan over medium-high heat, stirring to dissolve the sugar. Bring the mixture to a boil. Place 8 ounces semisweet chocolate and 1 tablespoon instant espresso powder in a stainless steel bowl. Pour the boiling cream over the chocolate and espresso. Let sit for 10 minutes, then stir until smooth. Keep at room temperature until ready to use.
Buttercream: Heat 1 inch of water in the bottom half of a double boiler over medium heat. Place 8 ounces semisweet chocolate, 2 ounces unsweetened chocolate, and 2 teaspoons espresso powder in top half of double boiler. Allow to heat for 8 to 10 minutes, transfer to a stainless steel bowl and stir until smooth. Set aside until needed.
Marcel's method: Place 1 pound of butter in the bowl of an electric mixer fitted with a paddle. Beat the butter on low for 2 minutes then on medium for 3 minutes. Scrape down sides of the bowl. Beat on high until light and fluffy, about 4 to 5 minutes. Transfer the butter to a large stainless steel bowl. Set aside until needed. Heat 1 inch of water in the bottom half of a double boiler over medium heat. Place 5 egg whites and 1 cup sugar in the top half of the double boiler. Gently whisk the egg whites until the reach a temperature of 120°F, about 3 to 5 minutes. Transfer the heated egg whites to the bowl of an electric mixer fitted with a balloon whip. Whisk on high until stiff peaks form, about 4 minutes. Remove from mixer. Fold melted chocolate into the butter, using a rubber spatula to thoroughly combine. Fold in the whipped egg whites until thoroughly combined. Set aside.
Jen's method: Place egg whites and sugar in a Kitchenaid mixing bowl. Set bowl over 1 inch of water in a saucepan over medium heat. Whisk gently until mixture reaches 140°F. Remove from heat and set on Kitchenaid mixer with balloon whisk. Whisk on speed 4 until stiff. Turn down whip speed to 3rd and whip until cool to the touch (this takes a while – should be cooler than your hand). Change to a paddle and gradually add soft butter by tablespoon pieces. Mix to emulsify. Once desired consistency has been reached, fold in cooled chocolate until well incorporated.
Assembly: Trim off domed tops of the two cakes. Slice each cake horizontally into 2 equal layers. Place the top layer of a cake onto the bottom of a closed springform pan. Evenly spread 1 1/2 cups of buttercream over cake in the pan. Place a layer of cake over the buttercream and gently press into place. Pour 1 1/4 cups of the ganache over the cake layer, spreading evening to the edges. Refrigerate remaining ganache. Place the top layer of the second cake on the top of the ganache and press into place. Spread 1 1/2 cups buttercream evenly over this layer. Place the remaining bottom cake layer, cut side down, onto the buttercream and gently press into place. Cover the entire cake and pan with plastic wrap and freeze for 1 hour. Fill a pastry bag fitted with star tip with 1 1/2 cups buttercream. Remove the cake from the freezer. Cut around inside edges to release the cake. Using a cake spatula, evenly spread the remaining buttercream over the top and sides of the cake. Refrigerate for 1 hour. Fill a pastry bag fitted with star tip with remaining ganache. Decorate the cake as desired. Refrigerate for 1 hour before cutting and serving (I didn't do this). Bring slices to room temperature for 10 to 15 minutes before serving.