Recipe: chocolate pistachio biscotti
There is much to catch up on, but now I can finally catch up!
I saw my honey off yesterday at noon (conference), and then had a lovely and relaxing lunch with my friend in Boulder at Sushi Zanmai while it was freezing ass cold outside (1°F – you could call it a little cold snap) before sending her on her way to the airport. Despite the 51 hour visit, we packed a lot in and had a grand time of it! It snowed Saturday night, so we had fresh powder on the hill Sunday morning. It was also 0°F in the parking lot.

brrrrrrrr!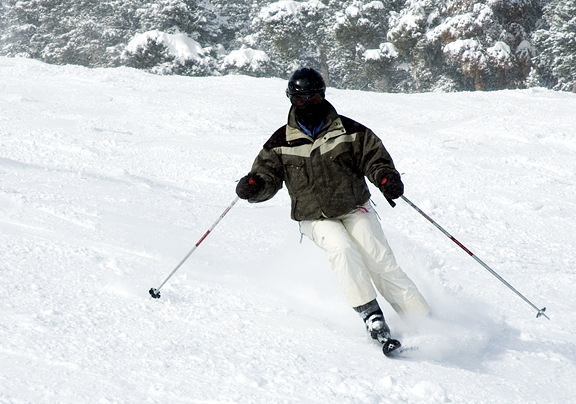 jeremy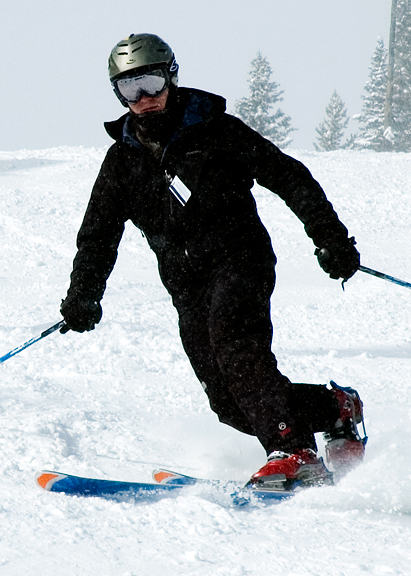 cuddling with kaweah to warm up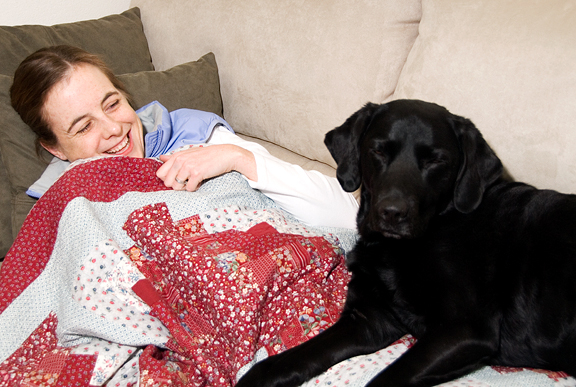 It was Kaweah's birthday on Sunday! Our girl turned 10, so we had a special little plate for her. It was nothing so insane as
last year
(I had a lot of time on my hands after surgery). Happy birthday, puppy girl!
apple, cheese, vanilla ice cream, peanut butter, and sprinkles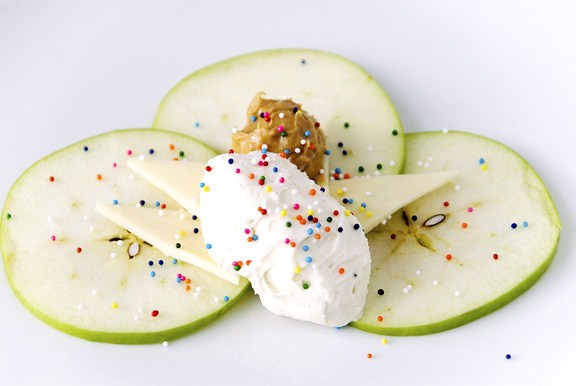 when she wants something, but has to wait for a photo, she won't look at it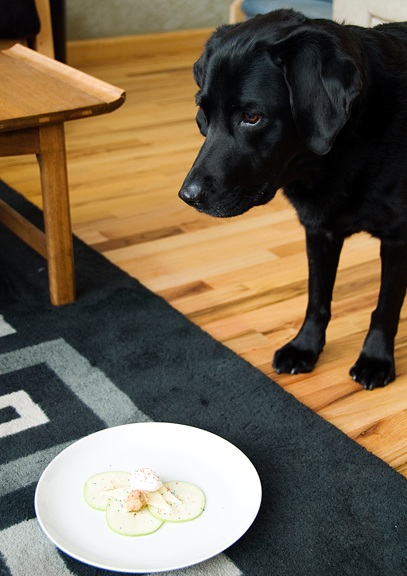 Sunday evening, we drove down to Boulder (which was colder than our place thanks to an inversion) and treated our friend to dinner at
L'Atelier
, one of our favorite restaurants in town. We even ordered some bubbly.
a toast to the end of 2008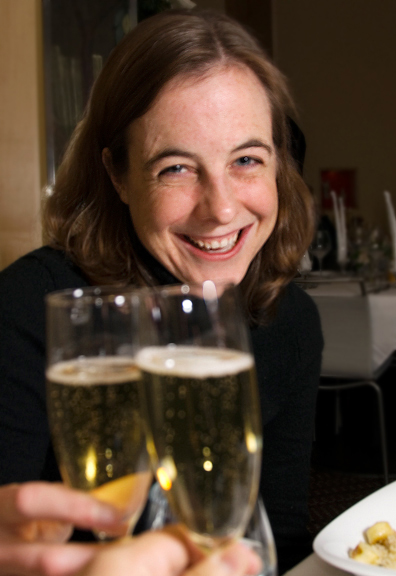 my moules with thai basil appetizer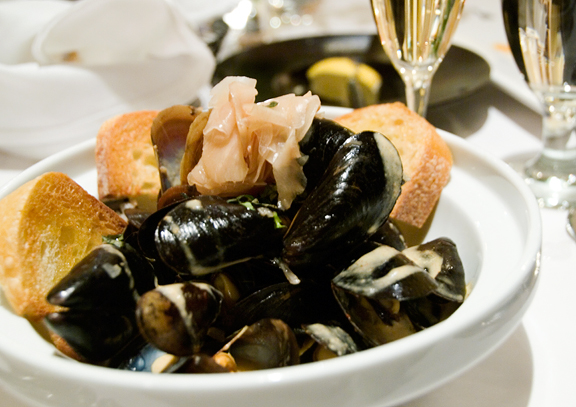 oven-roasted grouper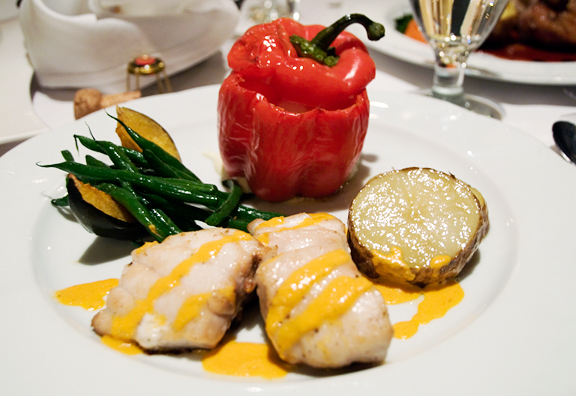 we three shared a chocolate bag for dessert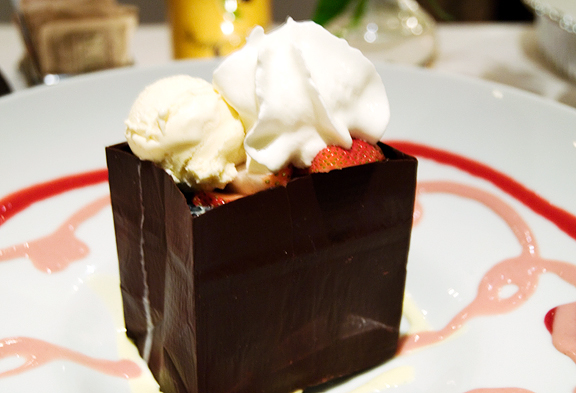 It was a very special weekend to spend time together, ski, eat, play with puppy, walk, and talk talk talk talk. You would be hard-pressed to find a better friend in a better human being – she is a really good person.
Although I don't normally like to post so many sweet recipes in a row, it is likely to be more helpful for those who want to do holiday baking. I personally wouldn't object to receiving grilled prosciutto-wrapped asparagus instead of chocolate truffles, but that's me and probably not most of you…

a cocoa powder-based dough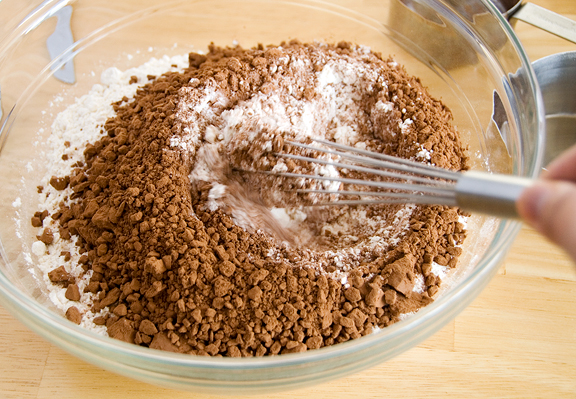 One of the new recipes I tried this season was Martha Stewart's chocolate pistachio biscotti. I had never made biscotti before, but everyone says it is so easy. Regular readers already know that I have an obsession with pistachios and chocolate. Aside from the terrific combination of flavors, I think the green and dark brown look so spankingly beautiful together.
start with butter, sugar, and eggs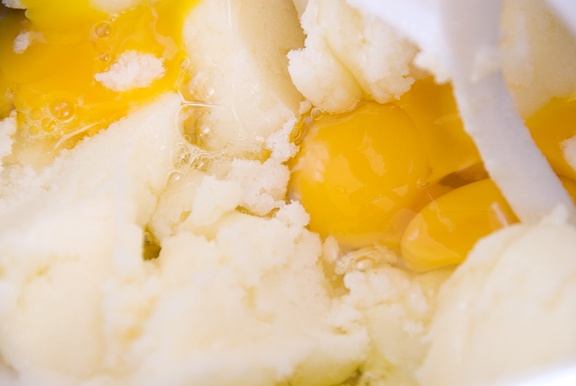 It's true. Biscotti are very easy to make. Except someone on Martha's team is smoking crack, because the amount of pistachios and chocolate chips was more than what the dough could hold. I had to press chocolate chips and nuts into the dough only to have two or three others fall off elsewhere. What is up with that?
chocolate chips and pistachio – perhaps too much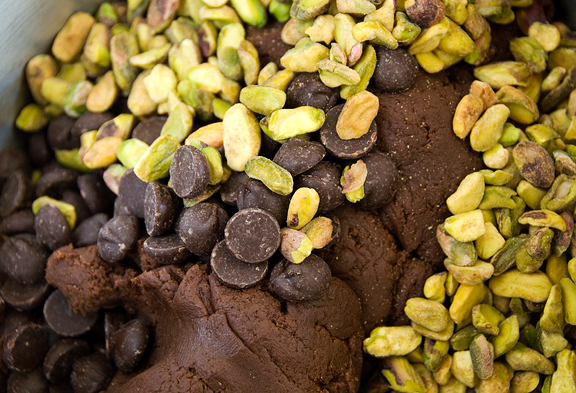 That's why forming the dough into the flattened prehistoric walking fish shape was difficult. Every time I pressed it down, more nuts or chips would pop off. It wouldn't have been a problem except that when I make food, I also like for the food to be pretty. Hence, I fret.
making this shape was a lot of work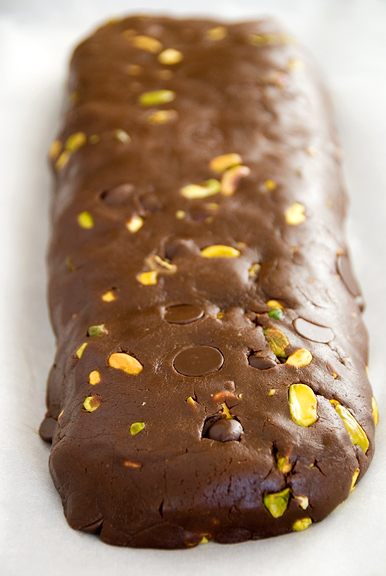 When the dough came out of the oven, I let it cool a little and then began slicing with my uber-sharp serrated knife. The biscotti crumbled apart a lot and I am pretty sure it is because it was overstuffed with pistachios and chocolate chips – rendering the matrix somewhat incompetent (think sedimentary conglomerates). Cussing ensued.
slicing after the first bake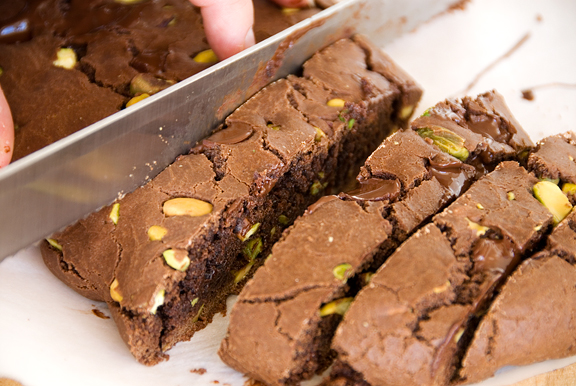 I manhandled the pieces back together for the second baking. Since I made a double batch – I double checked that I had measured everything correctly because I thought it might be *my* fault instead of one of Martha's lackeys. I'm blaming the lackey and I've made a note in my book to reduce the amount of "stuff" in the biscotti recipe.
ready for the second bake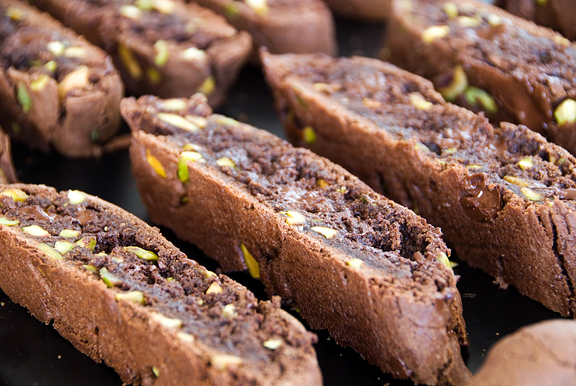 The double batch yielded 24 biscotti (they are sliced large, and I dare anyone to try and slice them thinner than 1-inch wide – not possible) of which 18 met my standards for gifting. Jeremy got to nibble on the ends and broken rejects. Over the
truffles
, the
orangettes
, the
caramels
, the
espresso shortbreads
, he kept going back for the biscotti with a cup of good french roast coffee in the other hand. A keeper, with minor mods.
these biscotti are screaming for some coffee
Chocolate Pistachio Biscotti
[print recipe]
modified from Martha Stewart's Cookies
2 cups flour
1/2 cup unsweetened cocoa powder
1 tsp baking soda (I reduced to 1/2 tsp for my elevation)
1/4 tsp salt
6 tbsps unsalted butter, room temperature
1 cup sugar
2 large eggs
1 cup shelled pistachios (try 3/4 cup)
1/2 cup semisweet chocolate chips (just under)
Preheat oven to 350°F. Line a baking sheet with parchment paper. Whisk together flour, cocoa powder, baking soda, and salt. Set aside. Beat the butter and sugar together on medium speed until light and fluffy. Add eggs, beating on low speed until well combined. Scrape the sides of the bowl if necessary. Add the flour mixture and beat to form a stiff dough. Mix in the pistachios and chocolate chips until just combined. Transfer the dough to the parchment paper and form into a slightly flattened log, about 12×4 inches. Bake until slightly firm, about 25 minutes. Let cool for 5 minutes. Reduce the oven to 300°F. On a cutting board, with a sharp serrated knife, cut the biscotti diagonally into 1-inch thick slices. Arrange the cookies cut side down on the baking sheet. Bake until crisp but slightly soft in the center, about 8 minutes. Move to a wire rack and cool completely. Store in a container at room temperature up to 1 week. Makes 1 dozen.