Recipe: chocolate bag
Ahh! Finally, I can sit down after a whole day of cooking. In the morning, I baked. Starting from noon until now, I've been slicing, dicing, mincing, wincing… Chinese New Year's Eve is tomorrow, yo. That means I must dedicate at least 24 hours of my time to chopping vegetables and tofu and all manner of Chinese ingredients for the big feast. I guess it's to preserve my Chineseness since my Mandarin is in the shitter.
Okay, two points.
1) I know a lot of bloggers have this problem and it crops up from time to time for me too. While I was searching online today for a good wine recommendation to pair with Chinese hot pot, I found a PDF with recs from Simon Tam who I think is in Hong Kong. Great! I open the PDF and what greets me is a collage of MY PHOTOS from this post on Chinese hot pot. The fuck?! What is it with folks who ignore the copyright notice, don't have the decency to ask permission (I usually say yes if you ask first), and then post my photos without giving credit? Jerkwad fuckheads. *Edit: Turns out it was Macau Closer – a glossy magazine – who stole my photos and not Simon (Simon is a nice fellow – he emailed me). That's great – magazines stealing from bloggers. You assholes.*
2) In my about section, I have a few guidelines about interaction on this blog. The fifth one down states, don't be rude or nasty. My litmus test is: if your comment was said to my face in my house and my reaction was to 1) haul off and punch you 2) give you the verbal smackdown or 3) kick you out of my house, then you probably violated the fifth guideline. You wanna be an asswipe? Get your own blog and be an asswipe there. That's what I did.
Yesterday was a squirrel day. I covered a lot of ground in search of ingredients for our Chinese New Year's celebration. It was a tad frantic at the H Mart in Denver because we were on time constraints and it's a Korean market, so when I asked where x, y, and z might be, the little Korean employee smiled and then asked me to ask someone else. I say we, not in the sense of the royal we, but as in myself, Manisha, and Kitt. Oh yeah, that same little Korean employee flagged me down and asked me to help another customer… it turned out to be Manisha! Hi-larious. Yeah babe, I know where the dried shrimp are.

kitt was immediately drawn to the crazy gadgets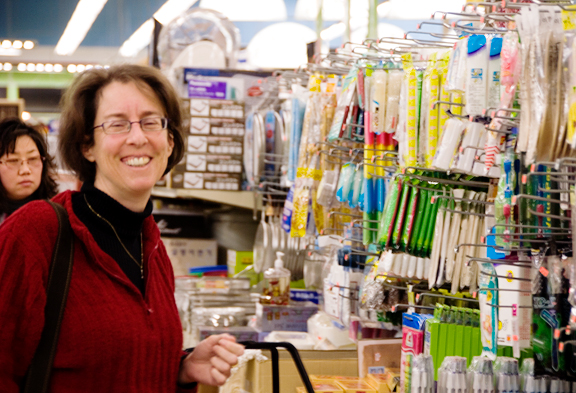 manisha negotiates the maze of fruit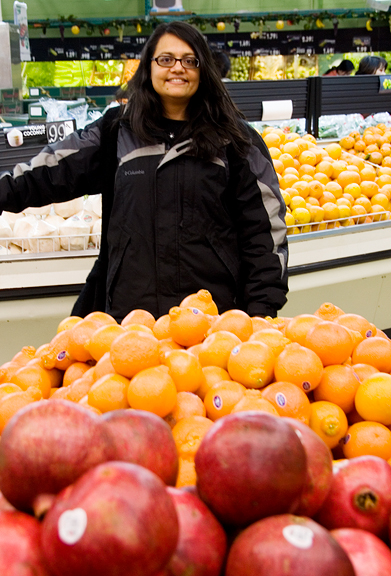 My last stop before heading home was Whole Foods. I couldn't help but smile when I noticed Sean working the counter. He is my favorite fish monger and that is saying a lot because I love my boys at the Boulder Whole Foods Seafood. He was looking particularly snazzy.
life's choices can be tough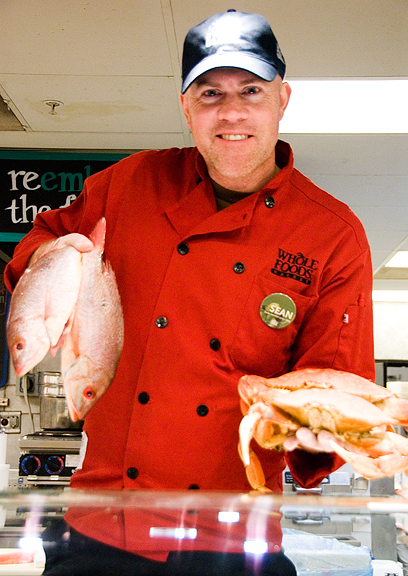 Full disclosure kids… Sean gave me a pound of shrimp. GAVE me. I told him I ought to pay, but he insisted. He mentioned something about a budget for samples and donations and I couldn't really process what he was saying because I was either blushing or having another hot flash (thanks, chemo). I guess I'm not like most girls… Send me a dozen roses and color me unimpressed. Give me a pound of raw shrimp and you'll see me try to answer my lens cap when my iphone rings.
We are having friends over for the Chinese New Year's Eve dinner tomorrow. Should be loads of fun. While the main meal involves many traditional dishes: dumplings (well, I'm making pot stickers as I have no interest in having sons…), lucky ten ingredient vegetables (rui tsai), and hot pot, I ditched a typical Chinese dessert in favor of a western dessert – and one I could make in advance. I like Chinese desserts, but Jeremy and most whities I know just don't dig on them. Plus, I have more fun making western dessert. Like this one.

painting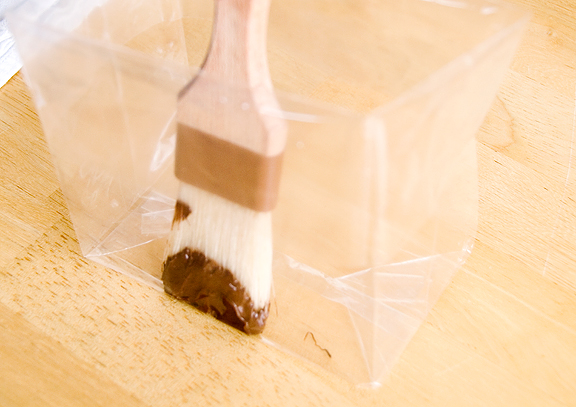 I have had a chocolate bag twice now. The first time was the
Flagstaff House
and the second time was my most recent dinner with Sam and Jeremy at
L'Atelier
. I don't really care about eating the bag, but I was intrigued with the gimmick of making the bag. Probably the most important step is to get a good bag. And when I say good bag, I don't mean the bags I used.
peeling the bag from the solidified chocolate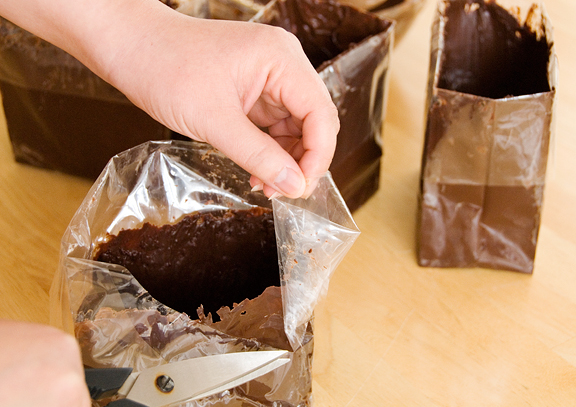 You can't use just any old brown paper bag. The chocolate will soak into it and you'll have a hell of a time removing the bag without destroying the chocolate form. You need something like cellophane or waxed paper or a coffee bag. I used some cellophane "party" bags and unless you have infinite patience (I don't), are extremely dexterous (I'm okay), and are a glutton for punishment (this I have in spades), I would suggest using a coffee bag which is much more sturdy and probably far easier to paint. The cellophane bags are flimsy. When you paint tempered chocolate onto the bag –
oh yeah, did I mention you need to temper the chocolate? well you do
– it wants to stick to your brush. Then the weight of the chocolate encourages the bag to collapse on itself. What I did was set the bag on its side and paint chocolate onto that side which sat on the table. I let it dry. Then I painted the opposite side (carefully avoiding touching the chocolate side which inevitably will stick to your brush and come off the cellophane) and stood the bag upright, leaning the newly painted side against a sturdy box (or else it collapses). Then I did the short sides, then the base. It wasn't what I considered fun. Keeping your chocolate in temper is critical because tempered chocolate not only has a nice shiny finish, but it also dries in no time flat. Untempered chocolate will streak and take forever to dry – remaining gummy and hard to work around as you have to brush two coats. However, I managed to make four bags in total.
oh, i don't think this is what david had in mind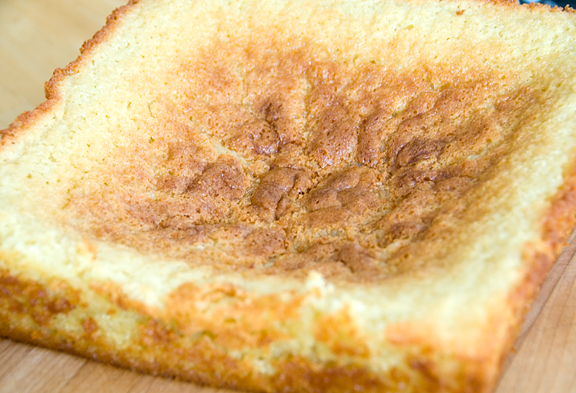 The bag is just the first step. Next you have to fill it with stuff. What stuff? I chose a
lovely almond cake
from Mr. David Lebovitz. It has a lot of butter in it and this type of cake typically craters at my elevation. I reduced the butter, increased the flour and still got a crater, see? But it was delicious and the shape ultimately didn't matter since I needed to cut out little cubes of cake.
folding whipped cream into the chocolate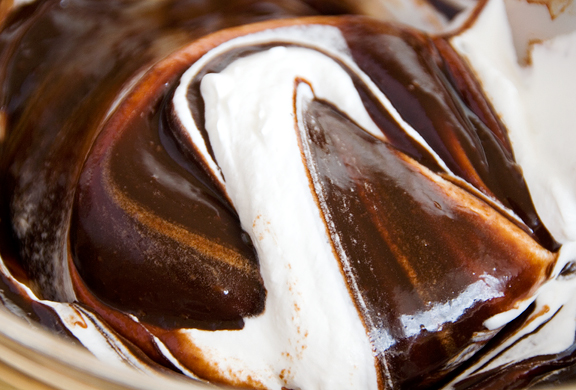 Almond cake is a wonderful match with some luxurious chocolate mousse. Helen recently posted a
cake recipe
that had what looked like a fantastically easy mousse component. I love this mousse. Very nice and smooth. Very easy. No cussing at all.
dropping cake squares into the bag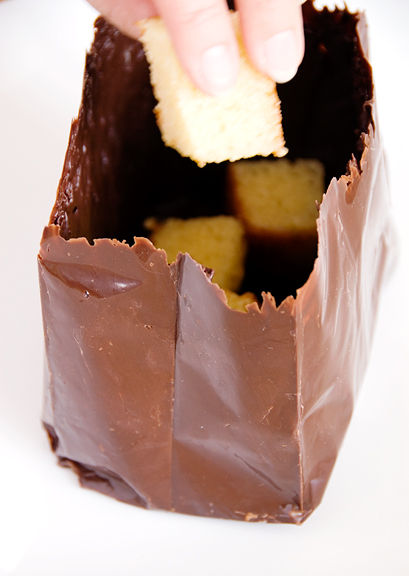 I decided not to load up the trial version of the dessert since I wasn't planning to eat it and I don't want to kill Jeremy with sweets. A regular chocolate bag serves 2-3 people. I placed several cubes of cake in the bag. Instead of making a simple syrup, I went for straight booze. For future reference, you can skip the brush step and just pour the Amaretto onto the cake. That way you don't waste any precious booze to the brush.
brushing amaretto onto the cake squares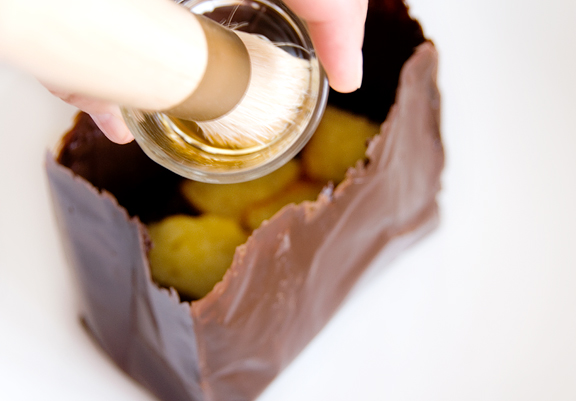 Once that was done, I piped mousse over the cake and dotted the whole thing with some raspberries. Most chocolate bags are filled to the brim, but I think my bags are larger than most (certainly taller) which would translate into an ungodly amount of cake and mousse!
take a peek inside
Next time I do this I will definitely use a coffee bag for its preferred structural integrity. I will also make them shorter and pre-cut the walls so I can get a clean edge instead of my crazy paintbrush edges. Each bag is a lot of chocolate, about 6-8 ounces.
this whole thing is edible!
Jeremy gave it a big thumbs up. He said the combination of textures and flavors was great. He only ate a third of the bag itself. So yeah, one bag should be plenty for 2-3 people, especially after a big Chinese New Year's Eve dinner!
the demolition is the fun part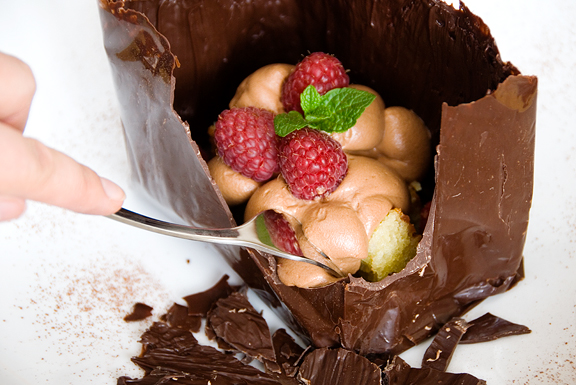 Chocolate Bag
[print recipe]
cellophane or coffee bags (something smooth that can peel off the chocolate)
6-8 oz. semisweet chocolate per bag (I like Guittard)
almond cake
chocolate mousse
Amaretto
raspberries
To make the bag: Fold the sides of the bag over and down to desired height. Temper the chocolate. When chocolate is in temper, use a pastry brush to paint a layer of chocolate over the entire interior of the bag. Let cool. When the chocolate is dry, paint a second coat of chocolate over the entire interior of the bag. Let cool or put in freezer. When the chocolate is set, carefully cut the bag and peel it away from the chocolate form. Store in the freezer or a cool, dry place until ready to use.
almond cake
from David Lebovitz
1 1/3 cups granulated sugar
3/4 cup almond paste (not marzipan)
10 oz. unsalted butter, at room temperature (I used 9 oz. for 8500 ft. elevation)
6 large eggs, at room temperature
1 tsp vanilla extract
1 cup all-purpose flour
1 tsp baking powder (I used 1/2 tsp for 8500 ft. elevation)
1/4 tsp salt
Preheat the oven to 325°F and position the rack to the center of the oven. Line the bottom of a 9-inch cake pan with a round of parchment paper, or butter the pan and dust it lightly with flour, tapping out any excess. [Jen's note: I used an 8×8-inch square pan.] With an electric mixer, beat together the sugar and almond paste until the paste is finely broken up. [Jen's note: this never works for me. I always beat the hell out of the sugar and almond paste in my food processor until it is completely blended then dump it into my Kitchenaid mixing bowl.] Add butter and beat for a few minutes until light and fluffy. In a separate bowl, or a measuring cup with a spout, stir together the eggs with a fork then dribble it into the batter as you beat. Add the vanilla. Mix together the flour, baking powder and salt with a whisk. Stir the dry ingredients into the batter until just incorporated. Transfer the batter into the prepared cake pan and bake for about 1 hour, or until a toothpick inserted into the center comes out clean. The baking time may take a but longer due to the variation in different brands of almond paste. Cool the cake on a rack before serving. This cake is extremely moist and will keep well for up to a week if well-wrapped.
chocolate mousse
from Tartelette
6 oz semisweet chocolate, chopped
1/4 cup whole milk
1 tsp espresso powder
4 tbsps butter
1 egg yolk
1 cup heavy cream, cold
In a bowl set over a pan of simmering water (make sure that the bowl fits snuggly over the pan and does not touch the water), melt together the chocolate, milk, espresso powder and butter. Remove from the heat and let cool to lukewarm. Whisk in the egg yolk. In a mixer, whip the cream to medium peaks and fold it into the chocolate mixture.
To assemble: Cut cubes from the almond cake and set in the bottom of the chocolate bag. Pour desired amount of Amaretto over the cake. Pipe chocolate mousse over the cake. Set raspberries around the cake and mousse and on top for garnish. Serve.