Recipe: mallows
I feel as if every two weeks I'm doing something Daring. Oh wait, it's because I AM! Daring Cooks, then Daring Bakers, then Daring Cooks then…

the daring bakers knead to bake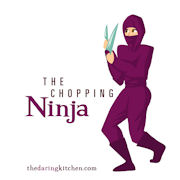 I'm not sure if I can keep this up before I start to lose my shit, kids. At least I made it through July.
The official line: The July Daring Bakers' challenge was hosted by Nicole at Sweet Tooth. She chose Chocolate Covered Marshmallow Cookies and Milan Cookies from pastry chef Gale Gand of the Food Network.
Awesome founders: Lis of La Mia Cucina and Ivonne of Cream Puffs in Venice.
We were given the option of one or both of the cookie recipes this month, so I chose the mallows because I have been wanting to make marshmallows for over a year. First, we start with a graham cracker base. The dough was simple enough to slap together, chill, roll, and cut out. For some reason, the recipe claims the yield is about 2 dozen cookies for 1/8 inch thickness when in fact, I used a larger cutter and wound up making about 4 dozen cookies. No idea what was up with that…

2-inch cutter
set cutouts on parchment to bake
Next up was to make the marshmallow which essentially involved boiling sugar to soft-ball stage (I boiled to 218°F instead of 235°F because of my altitude, subtract 1° for every 500 ft. above sea level), mixing it with softened gelatin, and beating it into whipped egg whites.
heating the sugar
stir in the gelatin
The marshmallow seemed a little oozy and flat when I whipped it, but I just let the KitchenAid do its thing until the marshmallow began to hold its shape a little better – about 5 minutes. Piping with a plain tip, I topped off each cookie and had enough marshmallow for all 48. Then I let the marshmallow dry for about two hours.
sticky, foamy, sweet
pipe onto the cookie rounds
The chocolate glaze was a simple combination of semi-sweet chocolate and a little vegetable oil. I actually found the glaze to be a tad on the thin side. That, and it melted like crazy the moment it warmed above 70°F (it's summer here, people).
dip head first, then flip
drain off excess chocolate and cool on parchment
These cookies were pretty simple as Daring Baker challenges go. The cookie base had a tender crumb which made it nice to bite through when sinking your teeth into the fluffy marshmallow top. Homemade mallows are ten times better than any store-bought version, to be sure. For some variation, I sprinkled ground pistachios or nonpareils on the mallows while the chocolate glaze was still wet because I had every intention of giving most of them away.
packaged for friends
a little after-lunch snack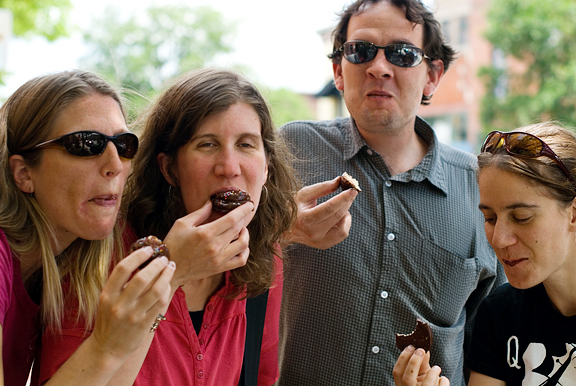 Everyone loved the little treats, especially my neighbor's kids who ran from their trampoline to come and check out the nifty mallows I was offering up that evening. Win friends and influence people, right? Check out what the other
Daring Bakers
are up to. Thanks to Nicole for hosting and getting me to cross marshmallows off my list of things to try.
so fluffy, it's amazing they don't float away
Mallows (Chocolate Covered Marshmallow Cookies)
[print recipe]
by Gale Gand
3 cups (375g) all purpose flour
1/2 cup (115g) white sugar
1/2 tsp salt
3/4 tsp baking powder (1/4 tsp @ 8500 ft.)
3/8 tsp baking soda (1/8 tsp @ 8500 ft.)
1/2 tsp ground cinnamon
12 tbsps (170g) unsalted butter
3 eggs, whisked together
homemade marshmallows, recipe follows
chocolate glaze, recipe follows
In a mixer with the paddle attachment, blend the dry ingredients. On low speed, add the butter and mix until sandy. Add the eggs and mix until combine. Form the dough into a disk, wrap with clingfilm or parchment and refrigerate at least 1 hour and up to 3 days. When ready to bake, grease a cookie sheet or line it with parchment paper or a silicon mat. Preheat the oven to 375°F. Roll out the dough to 1/8-inch thickness, on a lightly floured surface. Use a 2-inch cookie cutter to cut out small rounds of dough. Transfer to the prepared pan and bake for 10 minutes or until light golden brown. Let cool to room temperature. Pipe a "kiss" of marshmallow onto each cookie. Let set at room temperature for 2 hours. Line a cookie sheet with parchment or silicon mat. One at a time, gently drop the marshmallow-topped cookies into the hot chocolate glaze. Lift out with a fork and let excess chocolate drip back into the bowl. Place on the prepared pan and let set at room temperature until the coating is firm, about 1 to 2 hours. If you want to decorate the mallows, sprinkle a topping on the glaze while it is still wet. Makes about 4 dozen (using 2-inch cutter).
homemade marshmallows
1/4 cup water
1/4 cup (85g) light corn syrup
3/4 cup (170g) sugar
1 tbsp powdered gelatin
2 tbsps cold water
2 egg whites , room temperature
1/4 tsp pure vanilla extract
In a saucepan, combine the water, corn syrup, and sugar, bring to a boil until "soft-ball" stage – 235°F on a candy thermometer (218°F at 8500 ft. above sea level). Sprinkle the gelatin over the cold water and let dissolve. Remove the syrup from the heat, add the gelatin, and mix. Whip the whites until soft peaks form and pour the syrup into the whites. Add the vanilla and continue whipping until stiff. Transfer to a pastry bag.
chocolate glaze
12 oz. (340g) semisweet chocolate
2 oz. (55g) cocoa butter or vegetable oil
Melt the 2 ingredients together in the top of a double boiler or a bowl set over barely simmering water.