Recipe: blackberry lemon elderflower cake
my welcome home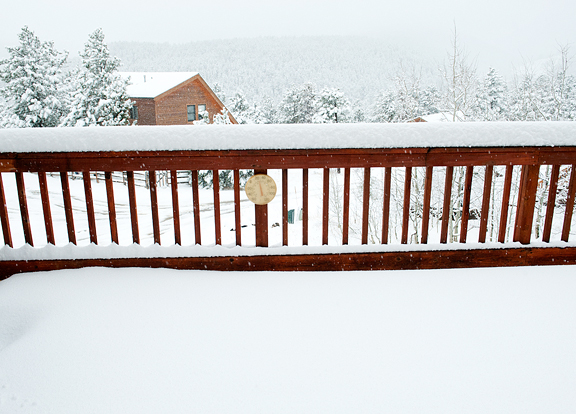 Yes, that was Wednesday morning… on our deck. I rather like it. It feels like home. Kaweah has been bounding about the house with a toy in her mouth, shaking the very stuffing out of it. We're settling back into Colorado living and it's great.
Normally when I step into California, the air feels humid to me because I'm coming from Colorado where dry takes on a whole new meaning. But going from Hawai'i to California, that air felt downright AMAZING. I know I sound like an ingrate for all of the bitching and moaning I do about the wet, humid, and hot weather in Hawai'i. Please don't misunderstand me! Hawai'i is a spectacular place to visit, but I would be the mayor of Crazytown if I had to live there. I prefer drier climes and need more type A personalities in my life than they have on the entire big island. But gosh if it isn't a beautiful and wondrous place, especially now that I can look at the photos from my cool, dry mountain home.

green sand (green because it's olivine)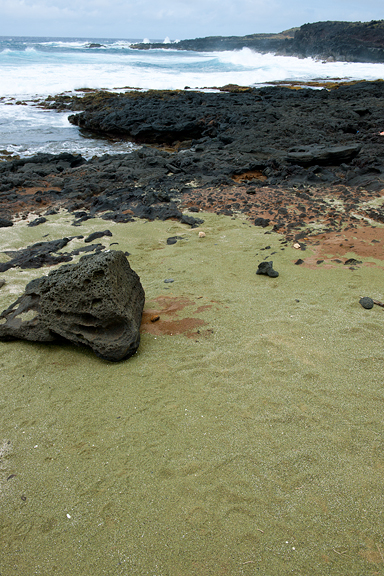 pretty olivine, isn't it?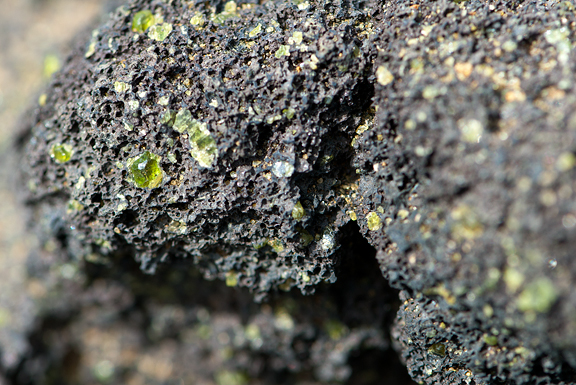 honu or sea turtle (not dead, resting!)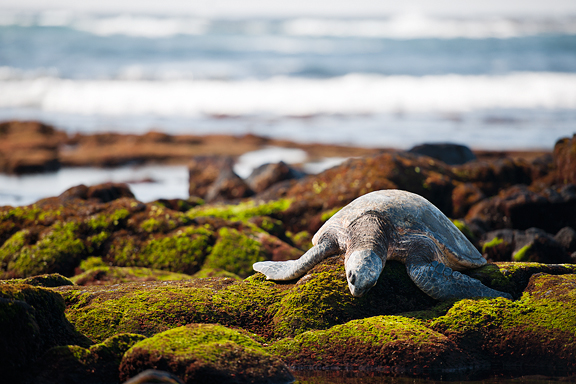 believe it or not, this is an action shot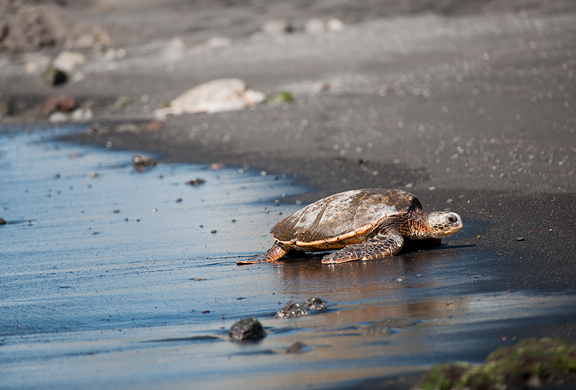 nightfall at halema'uma'u crater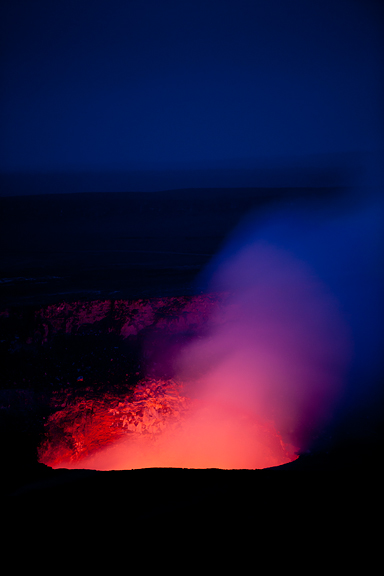 driving through puna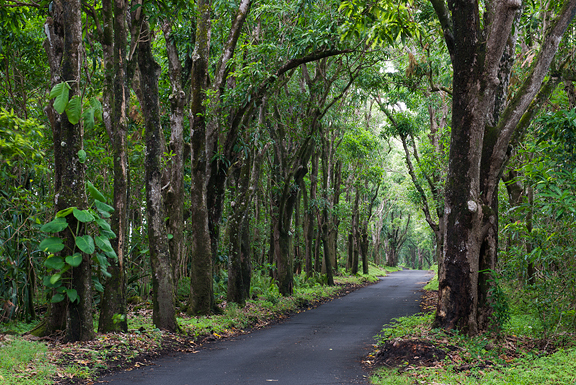 the ohia blossom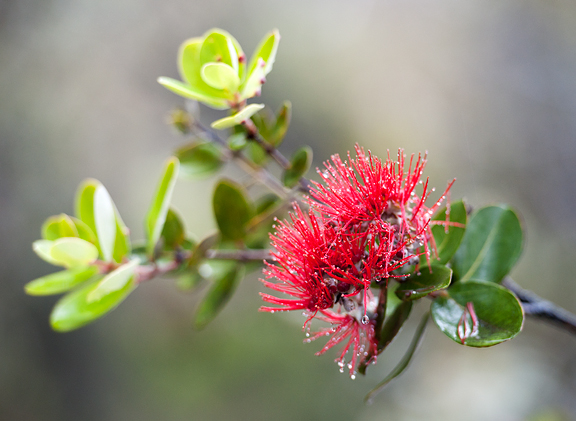 akaka falls was torrential (thanks to all of that *rain*)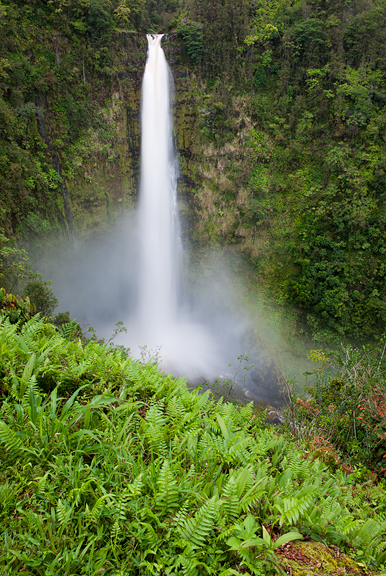 gecko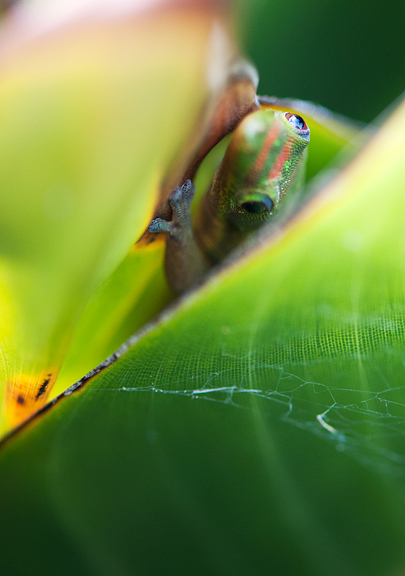 waipi'o valley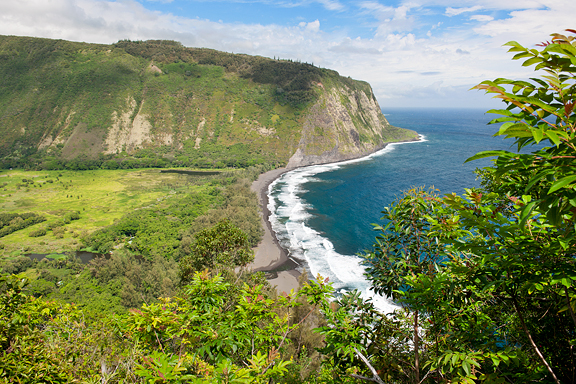 pololu valley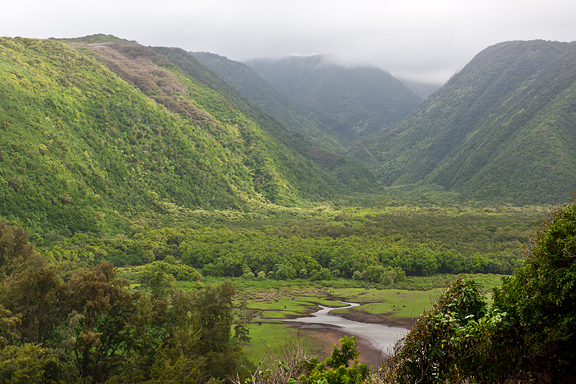 You can see more Hawai'i photos on my
photo blog
, just be sure to come back for some cake. Cake? Yes, I said cake. I made a cake that required more than flipping it out of the pan. It's been a while since I've done a layer cake. There's a reason for that. Lots of dishes…
blackberries again
folding meringue into the lemon chiffon cake batter
I hadn't been in a mood to make a layer cake for a while until I got on that blackberry kick with the
blackberry curd
. I made so much of it that I had some left over. Rather than spooning it directly into my mouth (the thought had crossed my mind a couple of times), I decided to make a cake and distribute it to people who needed a few extra calories.
my most reliable cake recipe at altitude
slicing 3/4-inch layers
This is my favorite kind of cake to make because I can mix and match all manner of flavors – especially fruity flavors. I'll stop making it when I've run out of combinations to try which will likely be NEVER. I was originally drawn to the blackberry curd because I love fruit curds, but then I became obsessed with purple frosting. PURPLE FROSTING. Sure you can color it, but it's so much more appealing to use real fruit (perhaps I misnamed this blog?).
whipping the meringue
adding blackberry purée to the buttercream frosting
I was hoping for a slightly deeper purple, but the light color grew on me. It also stuck on me. It stuck EVERYWHERE. Just one of those days when everything I touched was sticky. Or maybe it was the simple syrup (which is really just a vehicle for booze)? A few years ago, Jeremy got hooked on elderflower cocktails and so we have a bottle of St. Germain in our cupboards. Why not put it in a cake? I flavored the simple syrup with elderflower liqueur, but I'm tempted to try using straight booze (without the simple syrup) next time. More oomph.
it's a light lavender color when blended
elderflower liqueur for the simple syrup
And be sure to moisten the cake with enough simple syrup. I know the tendency is to brush a layer on and call it good, but you probably want to daub the cake two or three times to really get a good soak. The chiffon can take it, trust me.
apply the simple syrup liberally
spreading buttercream over the blackberry curd layer
In the assembly instructions, I mention that you might want to pipe the buttercream onto the curd layer rather than spreading it (or if you spread it, do so very carefully). That's because the shear modulus of the blackberry curd is low which means it slips and slides all over the place as you try to frost the layer. Just be patient and respect the laws of applied mechanics.
crumb coating
garnish with fresh berries
It's a lovely and deceptively light (the term "delicious air" comes to mind) cake and I think the flavors work together. I would have preferred straight booze to the simple syrup because I think the simple syrup dilutes the elderflower liqueur. Jeremy liked it. In fact, I was a little surprised at how much of the cake he consumed. I gave portions of the remainder to my friends
Manisha
and Erin for helping me with the
photo shoot
. With berries coming into season, I'm sure it will be a hit for summer parties at our house.
here is your slice of awesome
Blackberry Lemon Elderflower Cake
[print recipe]
2 9×3-inch rounds of lemon chiffon cake, cut horizontally
12 oz. elderflower simple syrup
1 cup blackberry curd
4 cups blackberry swiss meringue buttercream frosting, room temperature
fresh blackberries for garnish
lemon chiffon cake
(makes 2 11×17 sheets or 2 9×3 rounds)
14.5 oz. cake flour (I use all-purpose at 8500 ft.)
8.75 oz. confectioner's sugar
6.75 oz. whole milk
6 oz. canola oil
3.25 oz. eggs
0.5 oz. baking powder (omitted at 8500 ft.)
13 oz. egg whites
9.5 oz. granulated sugar
1 tsp vanilla extract
3-4 oz. lemon juice
Oven 375°F. Prep pans by buttering bottom and sides. Place parchment in pan and butter the parchment. Sift dry ingredients (except granulated sugar) into a large bowl. Mix all ingredients (except the 13 ounces of egg whites and granulated sugar) in the large bowl until combined. Whip whites and granulated sugar to medium peaks. Fold into batter gently. Bake until set, about 20-25 minutes. Remove from oven and remove from pan. Let cool on a rack. With a large serrated knife, cut four even layers (I went for 3/4 inch layers) from the two 9×3 rounds (or the sheets if you like quadrangular cakes). If cutting from the 9×3 rounds, you'll likely have leftover cake from the tops.
elderflower simple syrup
1 cup sugar
8 oz. water
4 oz. St. Germain elderflower liqueur
Heat water and sugar in a pot until sugar is dissolved. Bring to boil and turn off heat. Let cool. Mix in elderflower liqueur.
blackberry curd
2-4 cups blackberries, fresh or thawed (I used 4 cups)
1/2 cup water
1 tsp orange zest
1 cup sugar
2 oz. butter
4 tbsps cornstarch
4 tbsps cold water (originally 2 tbsps, but was impossible to mix)
Place the blackberries, water, and orange zest in a pan and bring to a boil. Reduce to a simmer for 5 minutes. Press the mixture through a food mill or you can purée the berry mixture in a food processor and press through a sieve. Pour the berry liquid back into the saucepan over medium heat. Stir in 1 cup sugar and 2 ounces butter. Mix the cornstarch and water together in a small bowl. While whisking the berry mixture, pour the cornstarch into the pan. Stir until thick and bubbly and stir for another 3 minutes. Remove from heat. Pour the contents into a bowl or vessel and cover with plastic wrap. Let cool. Makes about a pint.
blackberry swiss meringue buttercream
makes about 4 cups (you will have some leftover)
8 oz. egg whites
16 oz. sugar
16 oz. butter, room temperature
1 tsp vanilla extract
4-6 oz. blackberry purée
Combine egg whites and sugar in a Kitchenaid mixing bowl. Whisk constantly over a simmering water bath until 140°F is reached. Place on mixer with whisk and whip until stiff. Turn down whip speed to 3rd and whip until cool to the touch (this takes a while – should be cooler than your hand). Change to a paddle and gradually add soft butter by tablespoon pieces. Mix to emulsify. Once desired consistency has been reached, add vanilla and blackberry purée. Mix until evenly blended.
Assembly: Set a cake base layer, browned-side down, onto your serving plate. Reserve the other base for the top of your cake. Cut 3-inch wide strips of wax or parchment paper and tuck them under the perimeter of the cake layer so that the edge of the entire cake is not touching the serving plate. Pour or brush the elderflower simple syrup onto the cake layer (use about 2-3 ounces – use more than you think). Spread a layer of blackberry curd over the cake. Gently spread a layer of buttercream over the curd. Because the curd will move around, I find it easiest to either pipe buttercream on top and smooth it over with a spatula, or plop some in the center and carefully spread it out with a spatula. This part might make you crazy. Place the second cake layer on top. Repeat the soaking syrup, curd, and frosting process. With the last (nominally fourth) cake layer which should be the other base – soak the rough side (the cut side) with elderflower simple syrup, but not too much because you'll have to flip this over onto the main cake. Set the layer – browned-side up – on the cake and make sure all of the layers are lined up. Spread buttercream around the sides of the cake for the crumb-coat and to fill in any gaps between layers. When the crumb coat is smooth, finish frosting the sides and top of the cake. Garnish with blackberries. Serves 16-20 people.