Recipe: deviled eggs
This week has been abnormal. My parents are visiting. They just bought a place in Boulder. It's a second home and so they needed to furnish it which involves a lot of driving around and shopping. In the process of furnishing their place they also gifted me with a non-grad student dining set (i.e. a nice dining set). Jeremy and I have been taking them to some of our favorite restaurants in town. They've been to Jax, The Kitchen, Flagstaff House, and Sushi Tora on previous visits. This time we introduced them to Frasca and L'Atelier.

frasca: jeremy's guinea hen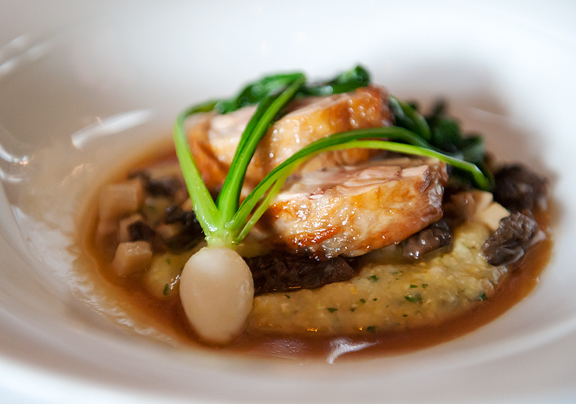 frasca: i had the cobia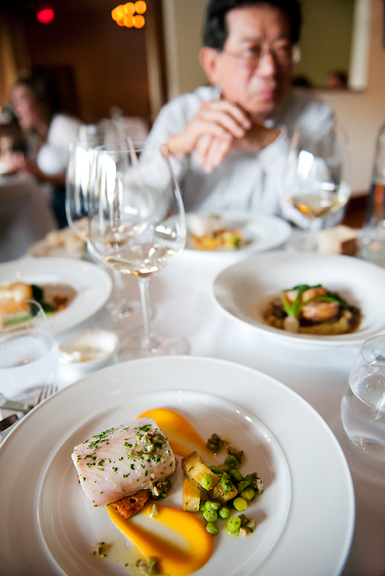 l'atelier: bouillabaisse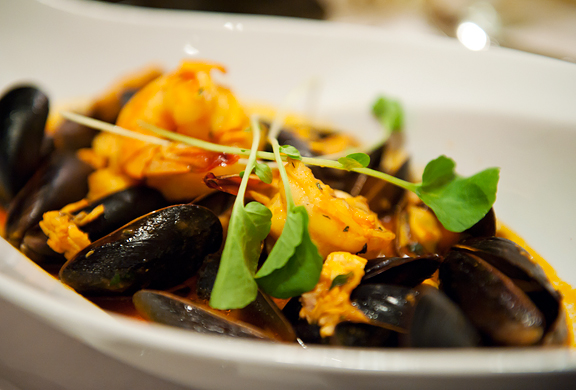 l'atelier: mom and dad enjoying themselves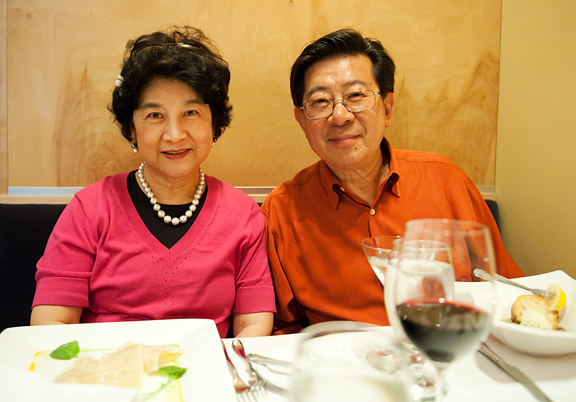 Before my parents decided to purchase a second home in Boulder, my dad asked me if I was sure we'd be staying here. He worried that if we moved away for whatever reason, he'd be stuck in Boulder. After dinner this evening, he told me he's no longer worried if we move away because he's got plenty of things to do in Boulder – like eat at great restaurants. They love it here! I've been cooking some nice meals for them at our house and Kaweah can always be found right by my dad's side. I think it's because he used to feed her treats, but we've had to put the kibosh on that activity for her health. Still, she shadows him, ever hopeful.
It must be torture for a lab to live in a house with someone who loves to cook. Whenever I slice food on the cutting board or peel something into the compost bin, Kaweah is right there. When I peel boiled eggs and toss the shells into the compost, her nose drifts ever closer with each toss until she can't help herself and gently snaps at the falling shells only to be reprimanded. She resets her position and starts all over again. This used to be really bad because I had horrible problems boiling eggs. The shells always stuck, made a mess, and took forever to peel. After my buddy Kitt brought these deviled eggs to a stitch-n-bitch, I knew I would have to make some and I knew that I would have to learn to boil eggs proper-like.

a dozen eggs
While visiting friends in Seattle a few years ago, one of them began preparing boiled eggs and had this nifty little gadget that essentially pierced the base of the egg before boiling. I was told it makes the eggs easy to peel. Fast forward to a few weeks ago when I recalled the doohickey and thought, "All I really need is a pin." So I tried it.
poke a hole through base of shell before boiling and try not to stab yourself like i did
it worked!
I never used to worry about boiling eggs, but at this elevation I have had all manner of problems. I had tried
Elise's method for boiling eggs
which sort of worked, but still resulted in mangled peeled eggs. Once I pricked the base of the eggs and used Elise's instructions, I was golden. They peeled beautifully (and I even used relatively fresh eggs). Despite loving deviled eggs and eating my fair share at potlucks and parties, I had never thought to make my own. I did a little research and found that deviled eggs are anything you want them to be. How sweet!
i wanted them to be mustard, olives, shallots, and tabasco
slice the eggs in half
The reason I never learned to boil eggs that are easy to peel is because I always chopped up my hard-boiled eggs to toss into salads or to make egg salad. It just didn't matter what the egg looked like, although it takes forever to peel when the shell sticks to the white. With deviled eggs, if you're planning to serve these things to anyone other than yourself (please don't tell me that you can eat a dozen by yourself) it looks tremendously better if the whites aren't decimated.
empty the yolks into a bowl
mash the hell out of the yolks
Kitt's deviled eggs were fancy with shrimp meat and Sriracha sauce (they were awesome). I went with a more standard blend of chopped green olives, shallots, mustard, and a dash of Tabasco. Okay, more than a dash – I love that hot sauce. A word of advice if you use chopped olives and a piping bag: chop the olives fine enough that they don't clog your pastry tip.
stir your mix-ins together with the egg yolks
piping the filling into the white halves
Deviled eggs are fundamentally easy to prepare, but I love the variety of ingredients you can add to the filling to make it your own. I'll have to experiment with more combinations this summer. What's your favorite?
float this boat right into your mouth
Deviled Eggs
[print recipe]
from Simply Recipes
a dozen eggs, large
2 tsps Dijon mustard
1/3 cup mayonnaise
1/4 cup green olives, chopped fine (optional)
1 tbsp shallot, minced
1/4 tsp Tabasco
salt and pepper to taste
paprika
To boil the eggs: First poke a hole through the base (the rounded end, not the pointy end) of each egg's shell. Use something like a pin or needle and take care not to slip and/or stab yourself. Place the eggs in a medium to large saucepan and fill with cold water until covered by at least an inch or two of water. Set the saucepan on high heat and let the water come to a boil. Let boil for a minute. Remove the pan from heat and cover it. Let sit for 12 minutes. Rinse under cold water.
Peel the eggs. Slice each egg in half lengthwise so the two halves are symmetric. Pop the yolks out into a bowl. Mash the yolks and add the mustard, mayonnaise, olives (if using), shallot, Tabasco, salt, and pepper. Mix well. Spoon or pipe the filling into the egg white halves and sprinkle with paprika. Makes 24 deviled eggs.