Wednesday, February 10th, 2016

Recipe: chateaubriand and béarnaise sauce
I think Spring is trying to barge in on our Colorado winter. In fact, it's practically sitting on our faces. I've been wearing shorts in the afternoons and leaving the deck door wide open to cool the house down. We've noticed the couple of feet of snowfall from the last storm start to dwindle under the sun and warm temperatures these past several days in the Front Range. If there is a trough sitting over the East Coast (meaning stormy or unsettled weather), there is typically a ridge over Colorado (sunshine and blah blah blah). We aren't slated to get any storms for at least another week, so it's skate skiing and backcountry touring for us. Up until now, we've taken Neva skiing on wide closed forest service roads which allow her plenty of room to run in front or alongside Jeremy. But this week Neva went on her first ski tour on a narrow trail (in sketchy conditions) and she managed not to pull Jeremy to injury or death (but she did pull – a lot). I'd call that a success!

neva is getting better about sitting when we stop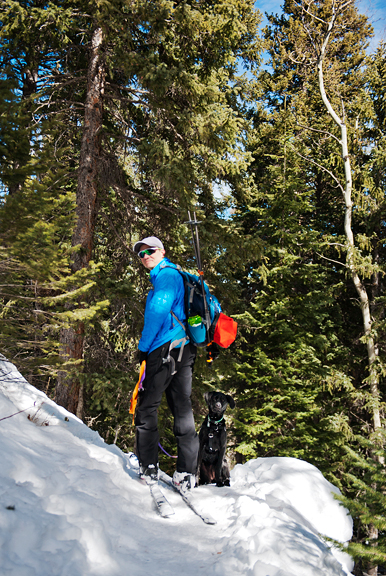 here's how our girl does après ski on a bluebird day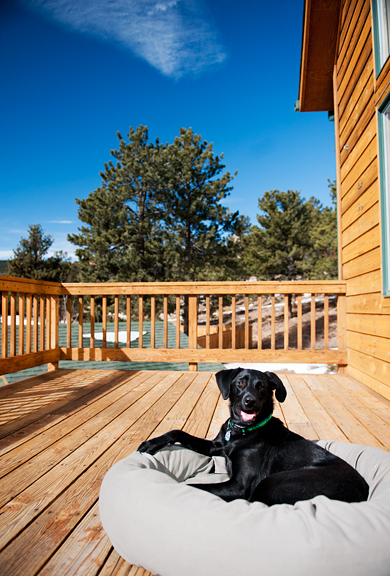 To be honest, I don't mind that the crazy winds have calmed down and that I don't have to bundle up to the hilt when I go outside for exercise. Spring is a lovely time of year to ski, but… we're not done with winter yet and if spring continues at this pace, we won't have any snow to ski when it really is spring. Still, I'll not stress about it too much just yet. Neva is loving the comfortable temperatures on the deck while I work, and we have been treated to some lovely displays in the evenings.
giant wave cloud at sunset (gold stage)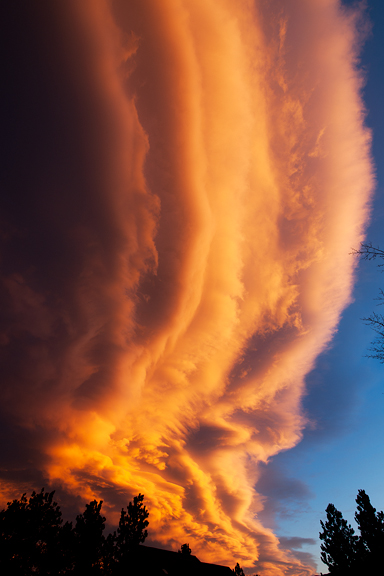 turning orange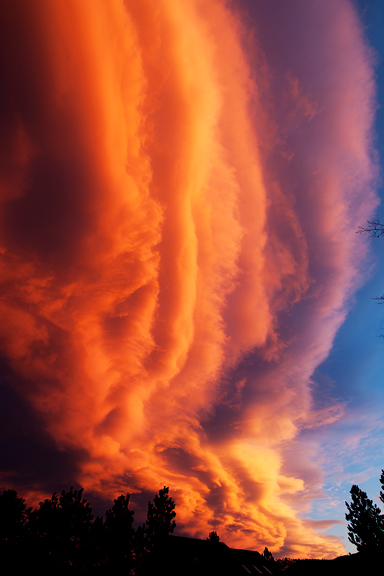 fading to a rosy pink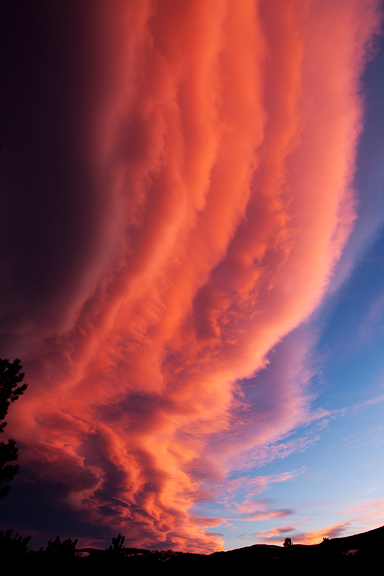 So Valentine's Day is coming up. I know people either love it or hate it. I personally think it is a stupid thing with a lot of unnecessary social and commercial pressure, but that's just me. However, if you were to ask me for a recipe to make for someone special, I'm your girl. I have lots of great recipes to recommend, but this is one I recently tried for the first time and Jeremy made googly eyes at me… or at the steak? Chateaubriand was one of my sister's favorite dishes to order at fancy restaurants if someone would order it with her – because it is typically served for two people. I may have taken a bite or two in my lifetime from mom's plate (the other person who went in on it), but it was never something I ordered for myself. I've described it to Jeremy ever since we've been together, but it wasn't until this week that he finally tasted it for himself.
Chateaubriand is a pan-seared and roasted center-cut whole beef tenderloin served with a sauce of some sort. It could be a mushroom red wine sauce or what I consider a more traditional pairing – Béarnaise sauce. I happened to have the fat end of a whole tenderloin leftover from the bourbon glazed beef tenderloin (also a fantastic recipe) in my freezer, and decided it was time to learn how to make this classic dish. First, start with the Béarnaise sauce which is rich, buttery, slightly tart, with hints of anise (from the tarragon), pepper, and wine.

butter, eggs (yolks), white wine, black pepper, whole white peppercorns, salt, white vinegar, lemon (juice), shallot, fresh tarragon
Make the Béarnaise sauce first because you want it ready to serve as soon as the steak is carved. I recall trying to make this sauce once in graduate school to accompany beef wellingtons for a dinner party, and it tanked in the most unforgivable way. So now, 15 years later, I think I've got the chops to do it right – or perhaps a better recipe. It is in essence an emulsion of acids (vinegar, wine, lemon juice), egg yolks, and melted butter. That's pretty much it. Don't let it get too cold – it will solidify. If it's too warm, it will break (separate) and become oily and sad. In general, I didn't encounter any problems with the sauce.
chop the tarragon
all of the ingredients measured and prepped
combine the vinegar, white wine, shallots, half of the tarragon, and peppercorns in a small saucepan
simmer down until you have about 2 tablespoons of liquid
**Jump for more butter**