Recipe: blackberry macarons
What a weekend! We had some pretty crazy (read: extremely high) winds in Colorado Saturday night, clocking as much as 115 mph at Breckenridge. Based on our 6+ years in this house, we gauged it probably gusted to 90 mph here… and this wasn't even the worst wind storm we've experienced. We watched in moderately alarmed curiosity (before the power went out) as the front wall of our great room flexed with each gust. Of course, it would have to be the weekend that my in-laws were visiting, but thankfully the guest room is on the ground floor. Our bedroom is on the third floor and so we endured 8 hours of the Northridge earthquake. Kaweah slept (happily) through the whole thing. Ah well, there's always a price for paradise.
Aside from the windstorm, we took my ILs into Boulder for some shopping and dining. We enjoyed a beautiful family dinner at The Kitchen one evening and introduced them to The Pinyon and Chef Theo.

the kitchen: rabbit leg confit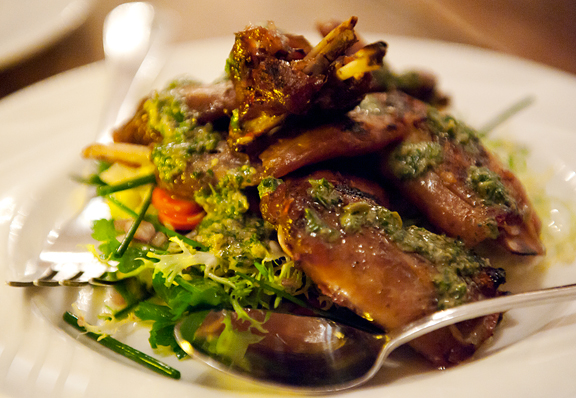 the kitchen: alaskan halibut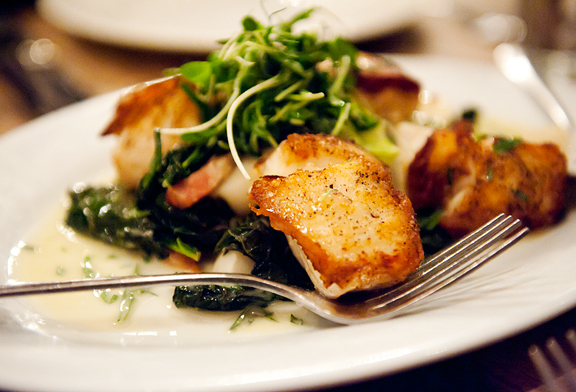 the kitchen: apple doughnuts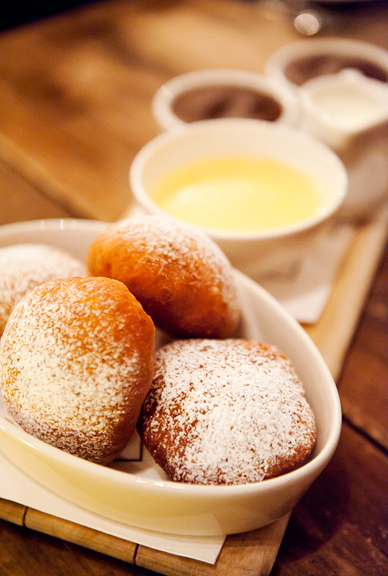 the pinyon: butternut ravioli, brussels sprouts, mushrooms in brown butter sauce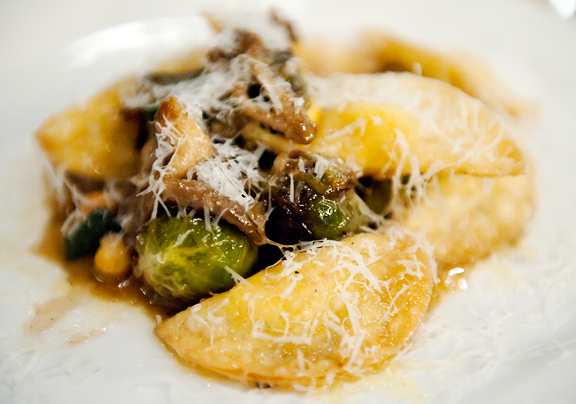 Before the winds went cuckoo, we did have some really beautiful clouds set up over the house last week. Even if I didn't have some background in atmospheric science, I would still be 100% completely enamored with our Colorado skies. Who needs television?
wave cloud at sunset over my house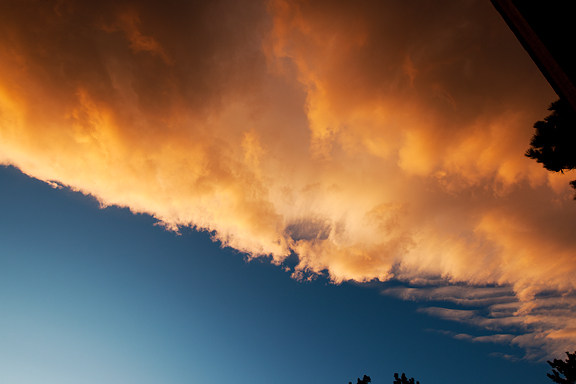 still there long after sunset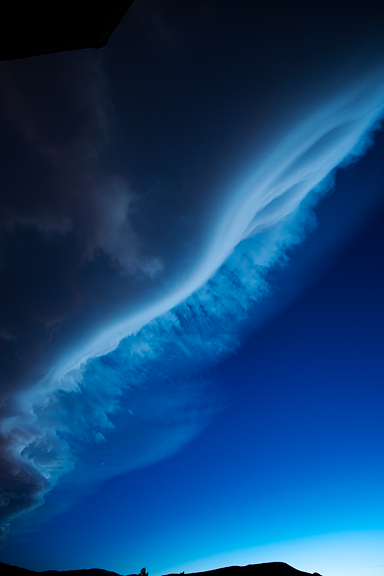 And now, I'm happy to be home to work on long-term projects and resume a much-needed routine! No more travel or house guests for over a month! All of the local ski hills are either open or opening within the next week. My list of recipes to try is growing almost as fast as the list of things we need to fix and do around our neglected house. Speaking of recipes, I came across these macs that I made earlier this year. Even though blackberry season is over, you can use frozen blackberries for the curd and the buttercream. I find frozen organic blackberries to have decent sweetness and flavor.
sugar + red + blue = purple sugar
whipped whites with purple sugar
Just remember that the color of the sugar is going to be diluted by the egg whites, so definitely make it darker than the color you hope to have in the final macaron shell. As for the fillings, I prefer the curd filling (it's thick enough that it won't run) to the buttercream, but they are both great. Since I had them on hand after making
blackberry curd cheesecakes
and this
blackberry lemon elderflower cake
, I figured French macarons were in order.
macaronage: folding the powdered sugar and almonds into the whites
piping rounds
Fruity macarons are always my favorites, but that comes as no surprise seeing as I'm not big on chocolate. The person who is big on chocolate (Jeremy) gave the blackberry macs his fair assessment. He liked the blackberry curd macs better thank the blackberry buttercream macs because the flavor was more pronounced. Of course, he readily ate both. So if blackberries are out of season, frozen organic blackberries will work. Or if you're lucky enough to be in season, go gangbusters on those blackberries!
pipe some filling onto the cookie
take your pick: blackberry curd, blackberry buttercream, or both!
Blackberry Macarons
[print recipe]
based on strawberry macarons recipe
225g powdered sugar
125g almonds, blanched
25g sugar
red food coloring (about 3 drops)
blue food coloring (about 4 drops)
100g egg whites (about 3), aged 1 day* and room temperature
* separate the whites from the yolks and store the whites in a bowl covered with plastic wrap on a counter for a day.
Grind the almonds and powdered sugar in a food processor until finely ground. Add a drop of food coloring at a time to the granulated sugar and whisk together until evenly colored and much darker than your final mac will be. Set aside and let dry for a few minutes. Whip egg whites until foamy, slowly add the granulated sugar and continue to whip until they are glossy. They are ready when you tip the bowl upside down and the egg whites don't fall out, but JUST as you reach this point. Don't overbeat the whites. Fold the almond and powdered sugar mixture into the whites with a wide spatula. The mixture should remain shiny and flow easily – hold a ribbon for a few seconds. Fill a pastry bag with the batter and pipe small rounds onto parchment lined baking sheets. Let the macarons rest for 20 minutes. Preheat the oven to 315°F (325°F at 8500 feet) and when they are ready, bake them for 12-15 minutes (12 minutes for me). Let cool, remove from the paper and fill with the blackberry buttercream or blackberry curd (about 1-2 cups). Makes ~36. If making small macarons (1-inch), bake for about 10 minutes.
blackberry swiss meringue buttercream
8 oz. egg whites
16 oz. sugar
1 lb. butter, room temperature
4-6 oz. blackberry purée
Combine egg whites and sugar in a Kitchenaid mixing bowl. Whisk constantly over a gently simmering hot water bath until 140°F is reached. Remove from heat. Place on mixer with whisk and whip until stiff. Turn down whip speed to 3rd and whip until cool to the touch (this takes a while – should be cooler than your hand). Change to a paddle and gradually add soft butter by tablespoon pieces. Mix to emulsify. Once desired consistency has been reached, add purée and mix well. Makes about 6 cups.
blackberry curd
2-4 cups blackberries, fresh or thawed (I used 4 cups)
1/2 cup water
1 tsp orange zest
1 cup sugar
2 oz. butter
4 tbsps cornstarch
4 tbsps cold water (originally 2 tbsps, but was impossible to mix)
Place the blackberries, water, and orange zest in a pan and bring to a boil. Reduce to a simmer for 5 minutes. Press the mixture through a food mill or you can purée the berry mixture in a food processor and press through a sieve. Pour the berry liquid back into the saucepan over medium heat. Stir in 1 cup sugar and 2 ounces butter. Mix the cornstarch and water together in a small bowl. While whisking the berry mixture, pour the cornstarch into the pan. Stir until thick and bubbly and stir for another 3 minutes. Remove from heat. Pour the contents into a bowl or vessel and cover with plastic wrap. Let cool. Makes about a pint.