Recipe: pear frangipane tart
Last Friday was the first day of March. And even though the first day of March has everyone running around shouting "Spring! Spring!" that date means a couple of things to me: a) March is typically when Colorado gets her biggest snow storm tracks (HELL YES!) and b) Jeremy and I have to calculate how many years we've been married. Sixteen years. How is it that I remember our first date – an afternoon stroll through Old Pasadena – as vividly as I remember yesterday, and yet it feels like Jeremy has been a part of my entire life? Maybe we're just getting old… I could not have dreamed of a better companion.

14 years ago (kaweah at 11 weeks)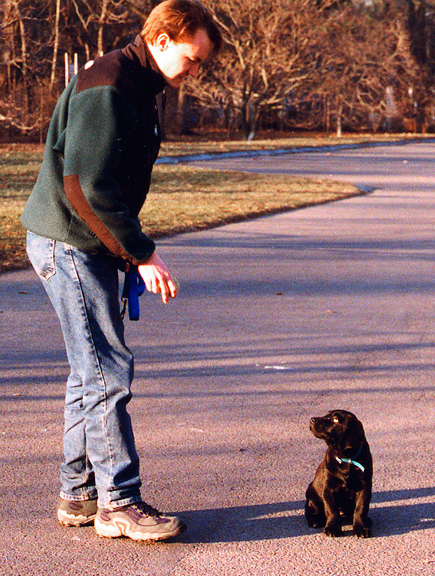 summer hikes in the rockies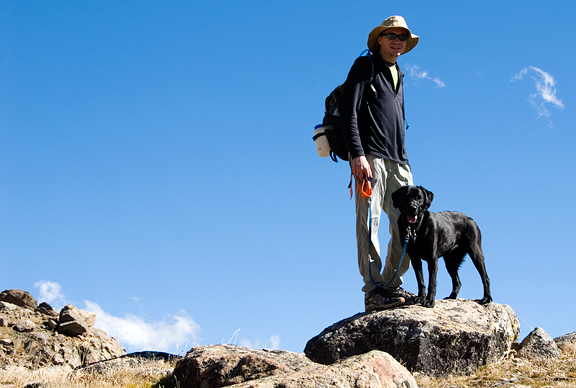 hikes in the snow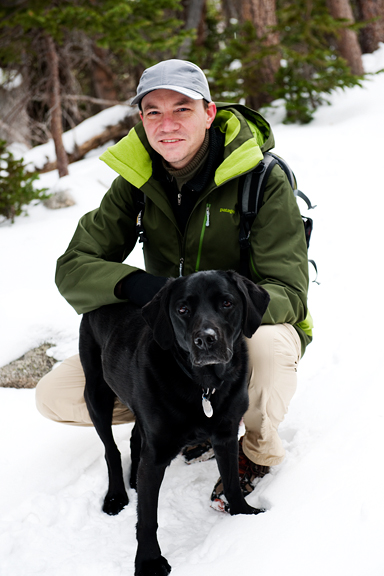 we love the snow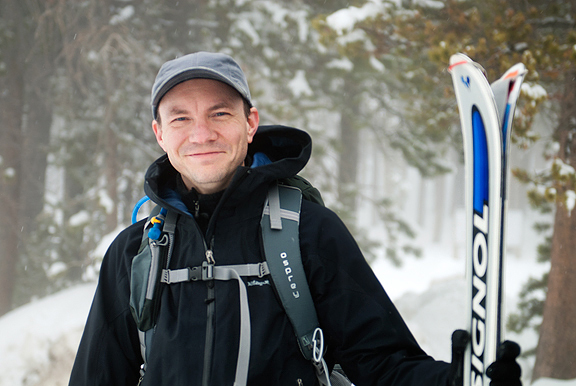 my best pals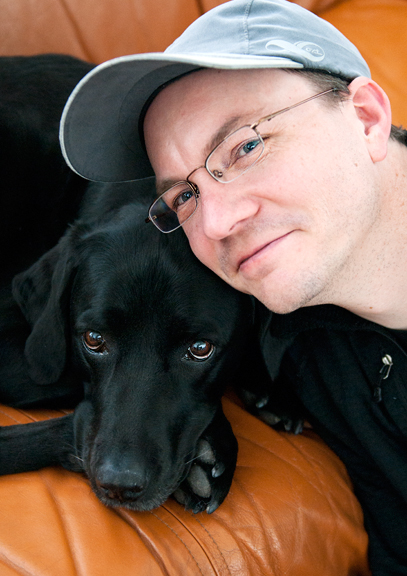 here is to the journey before us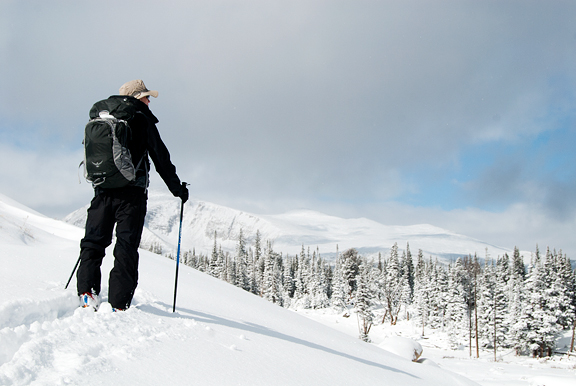 I'm not in denial about spring. I love Colorado spring! Everyone knows (or should know) how awesome spring skiing can be. The arrival of March jolts me out of my winter food mindset too. I set about "spring cleaning" my archives from the last season to make room for new recipes with fresh spring produce. So let's wave good-bye to February with a pear frangipane tart. Despite the use of a winter fruit, this tart is delightfully bright and cheery any time of year. You can substitute peaches, plums, apples, as you like.
red d'anjou pears
start with the pâte sucrée: butter, vanilla, egg yolk, cream, flour, confectioner's sugar, salt
pulse the butter and dry ingredients together
If you've never made pâte sucrée before, it looks like it will never come together into a ball of pastry dough. Have faith and press it together… it will become a ball of dough, albeit a crumbly ball of dough. I find it easiest to press it together in a bowl as much as you can, set it on a sheet of plastic wrap, and then use the plastic to help press all the crumbs and pieces into one ball.
blend in the yolk and cream
it should look like wet sand and will hold shape when you press it between your fingers
wrap the dough in plastic and chill
While the dough is chilling, prepare the fruit. I don't know if it is necessary to boil the fruit if you choose to use peaches or berries or plums. I figured it would be best to do so for the pears. It's just a quick boil with some cinnamon and ginger tossed into the water. I wanted lengthwise cross-sections of my pears, but you can slice them into wedges, half moons, whatever you like.
pears, ground cinnamon, ginger, water
slice the pears
place it all in a saucepan and simmer for a few minutes.
After the dough has chilled in the refrigerator, roll it out to 1/8-inch thickness. Line a 9-inch tart pan with a removable base with the pâte sucrée, then freeze for 30 minutes. Whenever I bake with my removable-base tart pans, I place them on a baking sheet. These crusts always release melted butter during the baking process and the butter usually leaks out the bottom causing a terrible mess. So that's just a heads up. You will bake the pastry first, to prevent a soggy and undercooked crust. While that's baking, make the frangipane filling.
crust is ready to bake after sitting in the freezer for 30 minutes
frangipane: almond paste, lemon zest, butter, ground almonds, flour, confectioner's sugar, egg whites
mix it together
The crust should be ready when it is golden in color and puffy. It may shrink during baking, but don't worry – the tart should be fine. Spread the filling over the crust evenly. Mine went to the edge of the pastry, but the frangipane behaves nicely and doesn't overflow or run in the oven. It's all good.
spread the frangipane filling on the baked crust
arrange the fruit on top of the frangipane
ready to bake
As I mentioned before, I always place my tart pan on a baking sheet to catch any grease leakage. The tart was done when the filling set and no longer jiggled. I pulled it out of the oven and saw a little pool of melted butter glistening on the baking sheet. It's much easier to clean that up than to scrub burnt grease off the bottom of the oven. The original recipe glazes the tart with jelly, but I decided a simple sprinkling of confectioner's sugar would be nicer.
out of the oven
dusted
This is a lovely pastry to serve for dessert, breakfast, or for afternoon tea. If you want to make it ahead, the crust can be baked and stored the day before. Switch the pears out for whatever seasonal fruit you'd prefer. Glaze the tart or dust with powdered sugar. The frangipane is sweet enough that you could also get away without adding some form of sugar on top. Serve the slices plain or with ice cream or whipped cream. It's a tart for all seasons.
simply delightful pear frangipane tart
Pear Frangipane Tart
[print recipe]
from Harrison House Suites
pâte sucrée
1 1/4 cup all-purpose flour
2/3 cup confectioner's sugar
1/4 tsp sea salt
8 tbsps unsalted butter
1 egg yolk
1/2 tsp vanilla extract
1 tbsp whipping cream
Make the pâte sucrée: Place the flour, sugar, salt and butter in a food processor and pulse until it resembles coarse crumbs. Add the egg yolk, vanilla, and whipping cream to the dry ingredients. Pulse until it resembles wet sand. Place the dough (it may be totally crumbly) onto a sheet of plastic wrap. Using the plastic, gather the dough into a ball and press it together into a disc. Wrap with the plastic and refrigerate the dough for at least an hour. Preheat the oven to 375°F. Roll the dough out to 1/8-inch thickness on a lightly floured work surface. Press the dough into a 9-inch tart pan with a removable bottom. Place the tart pan in the freezer for 30 minutes. Set the tart pan on a rimmed baking sheet and bake for 20 minutes, until the pastry turns golden brown. Let it cool until ready to use.
pear filling
4 large pears, sliced (peeling is optional)
1/4 tsp cinnamon
1/2 tsp fresh ginger, grated
1 cup water
Prepared the fruit: Heat the water, cinnamon, and ginger together in a medium saucepan until the water boils. Reduce the heat to a simmer and add the pears. Simmer for 3-4 minutes until the fruit is soft. Remove from heat and set aside.
frangipane filling
8 tbsps butter
1/2 cup confectioner's sugar
1/3 cup flour
1/2 cup almond paste
2 tsps lemon zest, fresh
1/4 cup ground almonds
2 egg whites, beaten foamy
Make the frangipane filling: With a paddle attachment, beat the butter, confectioner's sugar, flour, almond paste, lemon zest, and ground almonds in a mixing bowl until smooth. Stir in the egg whites.
1/2 cup apple jelly or confectioner's sugar for dusting
Assemble the tart: Preheat oven to 350°F. Set the tart pan on a rimmed baking sheet. Spread the frangipane filling evenly over the baked crust, smoothing the top. Arrange the fruit slices on the frangipane. Bake for 25-30 minutes until the frangipane is bubbling and the filling is more or less set (it shouldn't be overly jiggly). If you want to glaze the tart, heat a 1/2 cup of apple jelly until melted, then brush the glaze over the tart. Alternatively, you can opt to dust with confectioner's sugar when the tart has cooled or just leave the tart as is. Serves 8-12.
more goodness from the use real butter archives