Recipe: baked egg rolls
I love staying up past midnight. It always seems I get a second wind around 10:00 pm and then I'll grudgingly go to bed around 1:00 am out of guilt. I get under the covers and close my eyes, and then the hamsters in my brain will run a hundred miles an hour until I finally nod off. Thing is, I love waking up early too. In winter, early is a relative term, but I can always be sure to wake with the sun or a good snowfall report. This is problematic as we march toward the summer solstice. Unlike my "younger" years, I find my body, mind, and general mood are much improved with a decent (6-8 hours) amount of sleep. I'm shifting my bedtime earlier, especially because mornings are becoming the best time to do anything outside before it gets too hot!

snow is melting, trails are flooding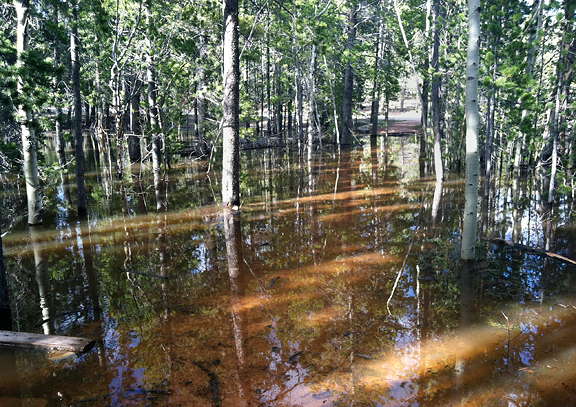 budding pasques (a month later than last year)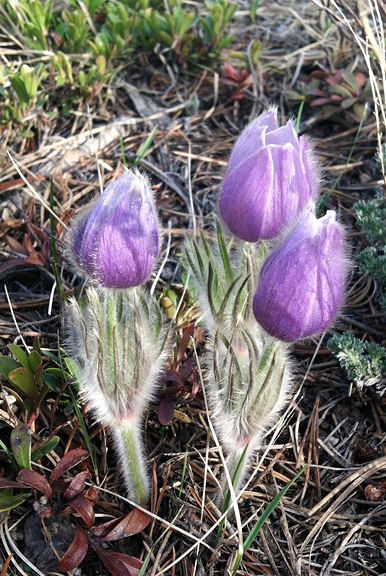 blooming pasque flowers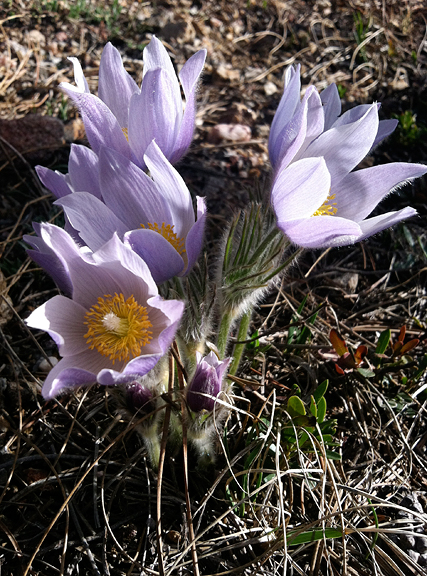 It is that lovely time of season when we will look at one another and ask, "Hike, mountain bike, trail run, or ski?" Actually, if skiing is involved then it's going to be a hike-ski or a bike-ski because the approaches are no longer covered in snow. It's all good. And I know the snow will be back. Meanwhile, I've been craving terrible (but delicious) foods like egg rolls of the fried variety. When it comes to fried foods, my downfall is the crunchy. I LOVE THE CRUNCHY. And while I can and do occasionally fry things at home, my preference is to avoid frying for two reasons: 1) it isn't that good for you and 2) I hate cleaning up the mess. So the other day when I was contemplating making vegetable egg rolls, but dreading the whole idea of frying, I decided to bake them instead.
spring roll wrappers
sesame oil, soy sauce, shaoxing cooking sherry, cabbage, carrots, garlic, ginger, bamboo shoots, sprouts, shiitakes, green onions
prepped
The egg roll filling can be whatever you like, I just happened to have a hankering for vegetable egg rolls. You can add meat, seafood, tofu, cellophane noodles, other vegetables, you name it. I think the important part is to be sure to drain off any excess liquid after you have cooked the filling. If it's too wet, the filling tends to make the egg roll wrappers soggy which results in blowouts as you roll them up.
sauté the aromatics first
add vegetables
stir fry everything until cooked
season with a dash of sesame oil
Assembly is straightforward and easy if you have everything together and ready like the filling, the wrappers, the sealer, and the baking sheet. Line the baking sheet with foil or parchment to encourage the egg rolls to crisp up during baking. A light brush of vegetable oil on the lining helps too.
line a baking sheet and brush it with some vegetable oil
place a couple of tablespoons of filling on the wrapper
roll it up
tuck in the side corners
A note on the sealer: I tried using cornstarch and water, and it didn't work at all for me. The liquid soaked into the wrapper and the cornstarch was left as a powder. In later batches, I used a beaten egg and that had more staying power. Or you could omit the sealer altogether and place the egg roll on the baking sheet such that the tail corner in underneath the egg roll as it will bake in place like that.
seal the edges
arrange the egg rolls on the baking sheet and brush with oil
While the egg rolls bake in the oven, you can make a sweet and sour dipping sauce. You don't HAVE to make sweet and sour, but I don't think you need a recipe for soy sauce, hot mustard, or chili-garlic sauce (all of which I just buy). The sauce only takes a few minutes to make and then you can let it cool while you wait for the egg rolls to finish baking.
soy sauce, rice wine vinegar, ketchup, brown sugar, cornstarch and water
combine the soy sauce, vinegar, sugar, and ketchup in a saucepan
when the sauce comes to a boil, stir in the cornstarch and water mixture
Don't forget to flip the egg rolls over halfway through the baking. At least, this step is important to me because it means more crunchy surface area. When they come out of the oven, they will be hot. So please exercise caution if you are anxious to test drive them fresh out from baking. Slicing them in half helps to release some of that steam if you are impatient, but don't want to burn your mouth.
golden and crisp
a nice snack or appetizer
Aside from the vegetable prep, everything else is fairly quick. The cleanup is easier than frying (unless you have a deep-fat fryer, but owning one of those scares me) and the resulting egg roll is a lot less greasy. They do get soggy if you store leftovers in the refrigerator, but you can pop them into a hot oven and they crisp right up again. If you plan to make them ahead of time for entertaining, you may want to try freezing them after they're baked and cooled, then reheating them in a hot oven before serving.
a healthier version of a favorite treat
Baked Egg Rolls
[print recipe]
based on Jaden's vegetable egg rolls
2 tbsps vegetable oil
1 cup green onions, julienned
1 tsp grated ginger
1 tsp minced garlic
4 cups cabbage, shredded
2 cups mung bean sprouts
1 cup carrots, julienned or shredded
1 cup bamboo shoots, julienned
1 cup shiitake mushrooms, sliced
1 tsp soy sauce
dash Chinese cooking sherry (Shao Xing)
1 tsp salt
dash sesame oil
~20 egg roll shells
1 egg, beaten (or 1 tbsp cornstarch + 1 tbsp water)
vegetable oil
sweet and sour dipping sauce
1/3 cup rice wine vinegar
4 tbsps brown sugar
1 tbsp ketchup
1 tsp soy sauce
2 tsps cornstarch
4 tbsps water
Make the sweet and sour sauce: Combine the rice wine vinegar, brown sugar, ketchup, and soy sauce in a small saucepan. Bring to a boil. Mix the cornstarch and water together in a small bowl or cup and stir into the boiling sauce. Stir until thickened (should take 10 seconds) and remove from heat. Set aside to cool.
Make the filling: Heat the vegetable oil in a large sauté pan over high heat and add the green onions, ginger, and garlic. Stir until fragrant. Add the cabbage, bean sprouts, and carrots to the pan and sauté until the cabbage begins to wilt. Stir in the bamboo shoots and mushrooms and stir fry for a minute. Combine the soy sauce, cooking sherry, salt, and sesame oil in a small bowl or cup and mix together until uniform. Pour the liquid mixture into the vegetables and stir together until the vegetables are evenly coated. Turn off the heat and drain off any excess liquid from the vegetable filling.
Make the egg rolls: Preheat the oven to 400°F. Place an egg roll wrapper on your work surface with one corner pointing at you. Pile 2-3 tablespoons of filling into a 2×4-inch rectangle just below the horizontal diagonal line that connects the right and left corners. Take the corner nearest you and fold it over the filling, rolling it away from you so that the filling is completely encased in wrapper. Fold the right and left corners in toward the center, keeping it snug, but not so tight that the wrapper breaks, and continue rolling until you have 2-inches of the last corner left. Dip your finger or a brush into the egg or cornstarch/water mixture (I used egg because the cornstarch just didn't seem to hold at all) and paint the edges of the last corner, then quickly roll up the egg roll. The egg or cornstarch serves as a "glue" to keep it together. Line a baking sheet with aluminum foil or parchment and brush some vegetable oil over the lining. Arrange the egg rolls on the sheet leaving a little room between each one. Brush the tops of each egg roll with a little oil. Bake for 10 minutes, then flip the egg rolls over and bake another 10 minutes. Remove from oven and serve with sweet and sour sauce, hot mustard, or whatever you like. Makes 18-20.
more goodness from the use real butter archives