Recipe: cookie butter marshmallow swirl chocolate ice cream
This has been such an excellent winter for us snow-wise. Sandwiched by sunny bluebird days, this last storm dropped nearly a foot in the local mountains on Tuesday. And it was a cold storm which meant nice sugary powder.

untouched snow on the trails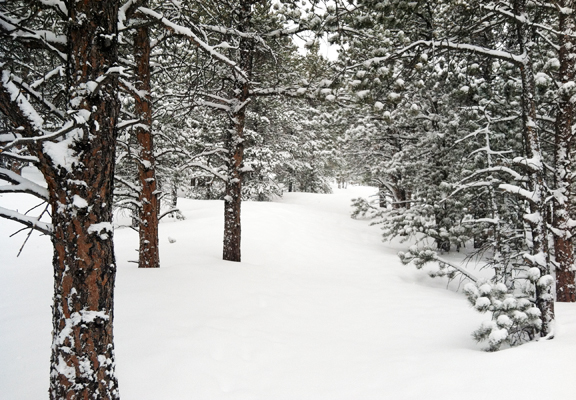 looking across the valley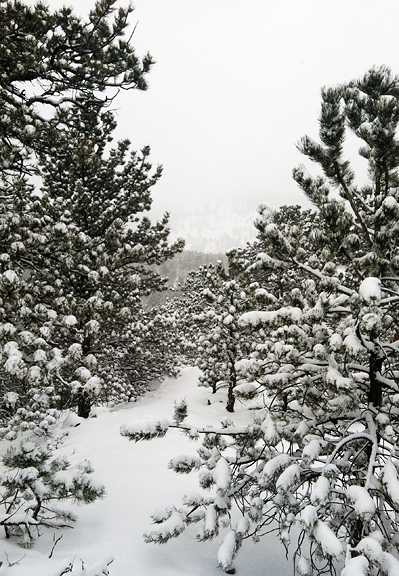 It's funny how we use food to describe snow: champagne powder, sugary, mashed potatoes, chocolate chips (technically rocks on snow), buttery, death cookies, corn snow. Recently, when I drop into a big pocket of powder, I've been thinking of it as marshmallowy. That jogged my memory of these amazing candy bars that a client (
Robin Chocolates
) developed last fall: dark chocolate ganache, marshmallow, and cookie butter topped with crisped rice pearls and dipped in dark chocolate. You have to see it to believe it.
insanely good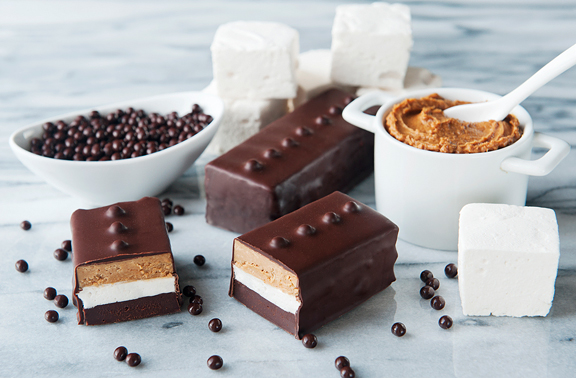 I had never had cookie butter before until Robin gave me a taste (and then she gave me some of the candy bar to sample). Whoa. Cookie butter, where have you been all my life?! I bought a jar last week for some inspiration, and settled on making an ice cream version of Robin's candy bar. Damn straight. Are you ready? Start with chocolate ice cream.
egg (yolks), sugar, salt, chocolate, dutch-process cocoa, cream, milk, vanilla
whisk cocoa and cream together
stir chopped chocolate into the heated chocolate cream
stir in more cream
I'm using my go to
chocolate ice cream recipe
. Feel free to use whatever ice cream recipe you want, but this one is GOOD. It comes from
David Lebovitz
. I especially love that it only dirties one saucepan.
heat sugar, salt, and milk
whisk a little hot milk into the egg yolks
after the custard is thickened, strain it into the chocolate and chill
churn the chilled custard
While the ice cream churns, you can make the marshmallow creme. I looked into melting marshmallows, making marshmallows, using marshmallow fluff, and making marshmallow creme. I settled for marshmallow creme which is just like making marshmallows except it doesn't use gelatin to help set the confection. And I like it better than marshmallow fluff because it doesn't contain the extra preservatives or stabilizers. That said, you can certainly use marshmallow fluff if you don't feel like making your own marshmallow creme – but it's really quite easy!
egg (whites), water, vanilla, cream of tartar, salt, sugar, light corn syrup
combine the water, sugar, salt, and light corn syrup
whip the whites to soft peaks
boil the sugar syrup to 240°f (223°F at 8500 ft.)
You will need a candy thermometer to read the temperature of the sugar syrup, but 240°F is basically soft ball stage. When that's ready, reduce your mixer speed to its lowest setting and slowly pour a steady stream of the syrup down the side of the bowl. Don't pour it on the balloon whisk because you'll make something akin to cotton candy as it whips the sugar about into long strands and doesn't incorporate it into the egg whites. If some (or a good bit) of the sugar cements onto the side of the bowl, it's okay. You will still have marshmallow creme. When the syrup is poured in, increase the speed to medium-high and whip for about 7-9 minutes. The contents will transform to a gorgeously pristine white marshmallow.
pour the syrup down the side of the bowl with the mixer on low speed
add the vanilla in the last minute of whipping
this is what mine looked like
place in an air-tight container
The recipe yielded about 3 cups of marshmallow creme for me. It is a million times smoother, tastier, and dreamier than marshmallow fluff (the store-bought stuff). When I finished the marshmallow creme, the chocolate ice cream was just about done churning. It was in a nice soft-serve stage, and was ready for the add-ins. Because I wanted the cookie butter mixed in, but not blended with the chocolate ice cream, I added little chunks during the final minutes of churning the ice cream. You could also attempt to mix it in by hand, but I worried that the cookie butter wouldn't mix in
enough
and just float about as giant hunks of cookie butter.
adding in: cookie butter and marshmallow creme
drop cookie butter in by little spoonfuls
fold the marshmallow into the chocolate ice cream
a sweet treat
So how did it go? Well, I made two batches because I got over zealous with the marshmallow creme on the first batch by adding 2 cups. I think that's a bit much (but hey, maybe you like it that way). On the second batch, I folded in one cup and the balance was much better. The ice cream is out of this world fantastic. I took a quart over to my neighbors and they wanted to hide it from their children to keep for themselves. Jeremy calls it his "precious". You can do a shortcut version and use marshmallow fluff and even store-bought chocolate ice cream (just let it soften enough to mix things in before freezing it again), but it won't be as awesome as the homemade version. I think this would also be great with a coffee or vanilla ice cream base and maybe chopped bittersweet chocolate. This will get a lot of rotation on our entertaining menus.
chocolate, cookie butter, marshmallow
just for you
Cookie Butter Marshmallow Swirl Chocolate Ice Cream
[print recipe]
1 quart chocolate ice cream custard (not yet churned)
1/2 cup cookie butter, smooth or crunchy (I prefer crunchy)
1 cup marshmallow creme (use more or less according to preference)
chocolate ice cream
from The Perfect Scoop by David Lebovitz
2 cups heavy cream
3 tbsps Dutch-process unsweetened cocoa powder
5 oz. bittersweet chocolate, chopped
1 cup whole milk
3/4 cup sugar
pinch salt
5 egg yolks
1/2 tsp vanilla extract
marshmallow creme
from Brown Eyed Baker
3/4 cup sugar
1/2 cup (7 oz.) light corn syrup
1/4 cup water
pinch salt
2 egg whites, room temperature
1/4 tsp cream of tartar
1 1/2 tsps vanilla extract
Make the chocolate ice cream custard: Whisk 1 cup of heavy cream and the cocoa powder together in a medium saucepan over medium-high heat until it begins to boil. Reduce to a simmer for 30 seconds while still whisking. Turn off the heat. Stir in the chopped chocolate until smooth. Pour the chocolate mixture into a large bowl. Stir the remaining cup of heavy cream into the chocolate. Set aside. Using the same saucepan (don't wash it), warm the milk, sugar, and salt together in the pan over medium heat until it starts to bubble at the edges. Turn off the heat. In a medium bowl, whisk the yolks together to break them up. While whisking, ladle a half cup of the hot milk into the yolks. When fully incorporated, whisk in another half cup. Scrape the milk and egg yolk mixture back into the pan with a rubber spatula, whisking it together with the rest of the hot milk. Heat the custard over medium heat while constantly stirring the bottom and corners of the pan until the custard thickens. This will take a few minutes, so be patient. The custard is ready when it is thick enough to coat the back of a spoon. Strain the custard through a fine mesh sieve into the chocolate mixture. Stir in the vanilla extract until blended. Chill completely in the refrigerator. Makes 1 quart.
Make the marshmallow creme: Combine the sugar, light corn syrup, water, and salt in a small saucepan over medium-high heat. Bring the sugar to a boil, stirring occasionally, until the temperature reads 240°F (223°F at 8500 ft.) on a candy thermometer. Place the egg whiles and cream of tartar in the bowl of a stand mixer fitted with the balloon whisk. Whip on medium-high until soft peaks form – foamy, holds shape, but a little droopy. [If the whites are finished before the sugar syrup has reached temperature, turn the mixer off.] Reduce the mixer to low speed and pour the sugar syrup in a slow, steady stream along the side of the bowl while the mixer is running. Increase the mixer speed to medium-high and beat for 7-9 minutes until you achieve stiff glossy peaks (it will look like marshmallow creme) and the bowl feels cool to the touch. In the last minute of whipping, add the vanilla. Store in an air-tight container for up to 2 weeks. Makes about 3 cups.
Make the cookie butter marshmallow swirl chocolate ice cream: Churn the chilled chocolate ice cream custard in your ice cream maker according to the manufacturer's instructions. When the custard has turned to soft ice cream, but is still churning, start adding 1-2 teaspoons of cookie butter to the ice cream. Wait for the cookie butter to disappear from site before adding the next one. When all of the cookie butter has been added, turn off the ice cream machine. Pour half of the soft ice cream into a vessel for freezing. Fold 1/2 cup of the marshmallow creme into the ice cream – don't over mix, just gently fold so you preserve streaks of marshmallow. Pour the rest of the soft ice cream into the vessel and fold the remaining 1/2 cup of marshmallow creme into the ice cream just as before. Cover and freeze until firm. Makes just under 2 quarts.
more goodness from the use real butter archives