Recipe: red chile (enchilada) sauce
What a lovely first week of fall! Jeremy drove out to Crested Butte to join me for the weekend. We're not very good about celebrating our birthdays on time because September is typically a very busy month for both of us. We don't buy presents for one another, we rarely throw birthday parties, we don't even exchange cards. So the agreement was that we'd postpone our birthday dinner until we could be together. I took Jeremy to Soupçon, a truly special and exceptional restaurant in the heart of Crested Butte. You'll hear more about it in a later post. The following evening we hosted several of our wonderful friends/neighbors for a New Mexican feast at our place. And of course, we chased a lot of fall colors both figuratively and literally – it's the reason I'm here in Crested Butte!

dessert at soupçon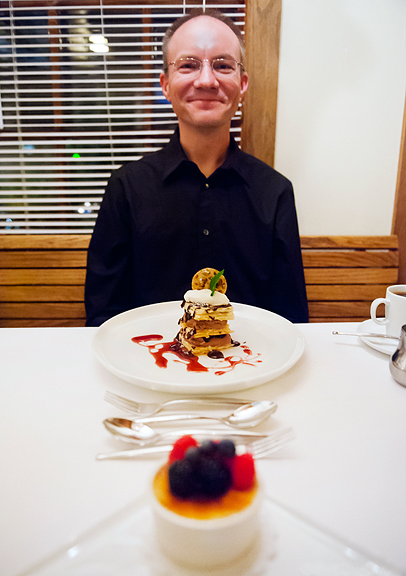 a toast before digging into the feast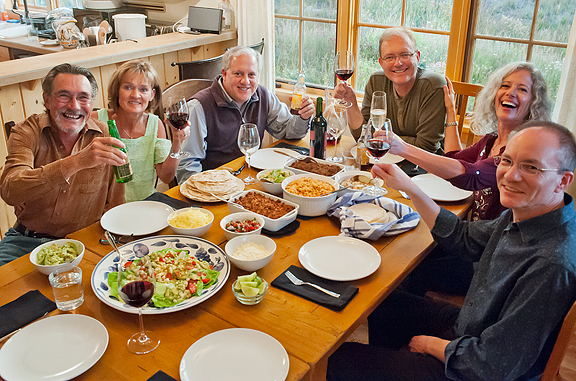 goofing off while working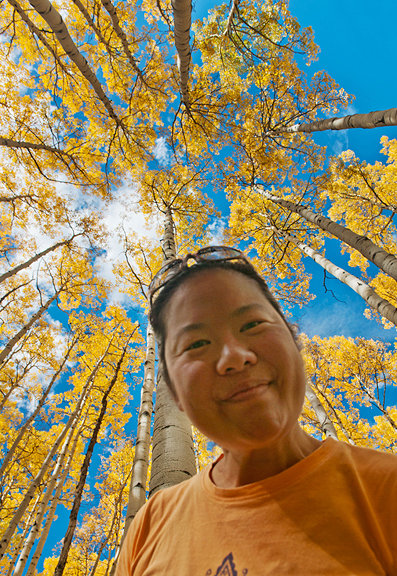 autumn trail run selfie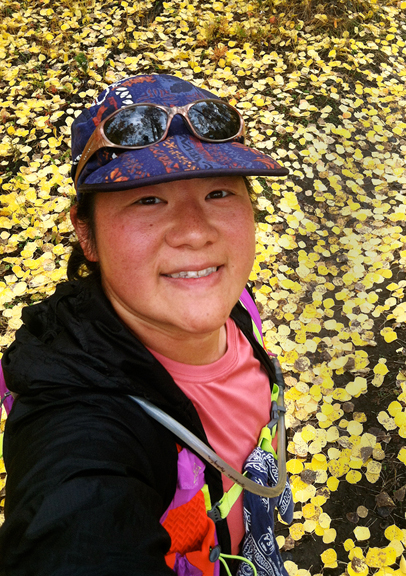 It's been a big mix of colors this year which is far far better than anything we had last year (a total dud of a season). Aspens are predominantly golden come autumn, yet I can't recall seeing so many brilliant stands of reds in the ten years I've been shooting fall colors in Colorado. I'm still waiting for a lot of the big stands to come online as they are still green. My hope is that they'll weather these cold storms and then put on the magic show when Indian Summer returns. Even if the aspens finished tomorrow, I would still be quite pleased with the season we've had thus far.
handsome stands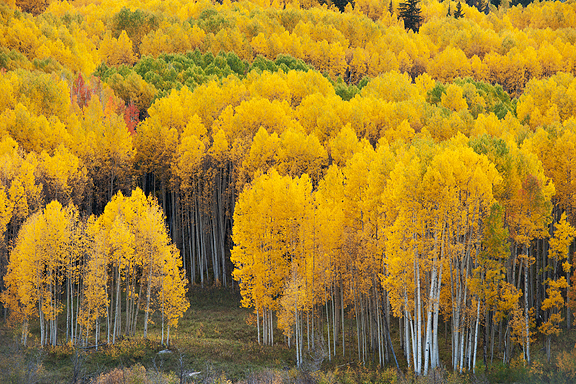 bathed in golden light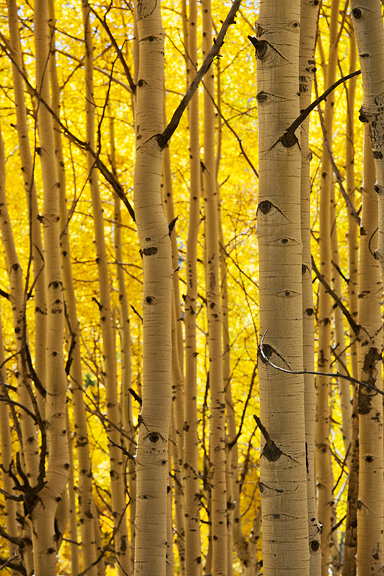 canopy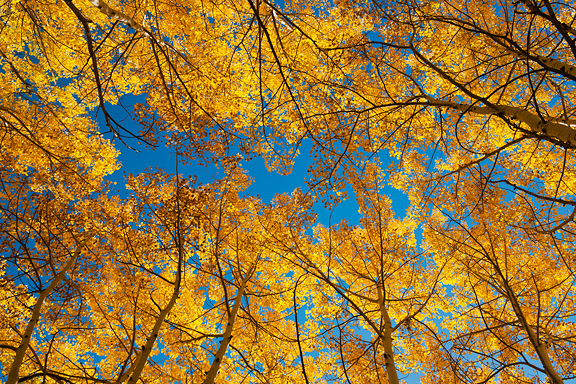 impressive reds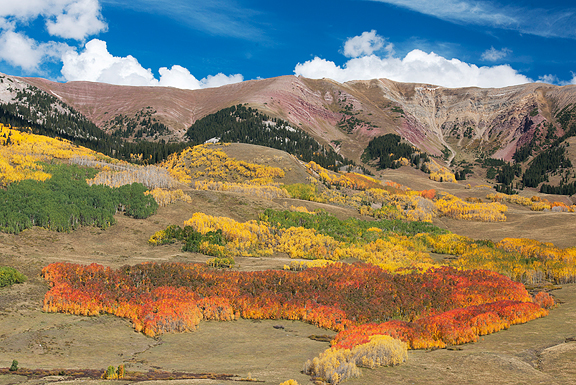 daydreaming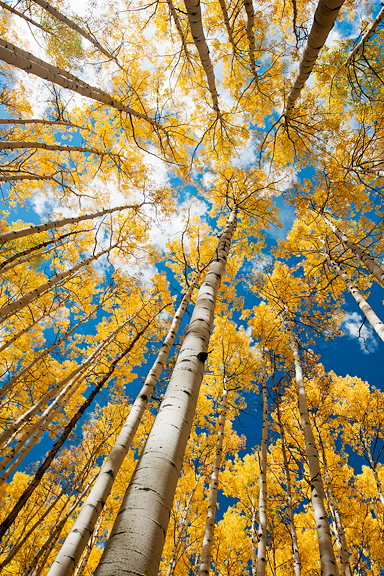 tall and magestic aspens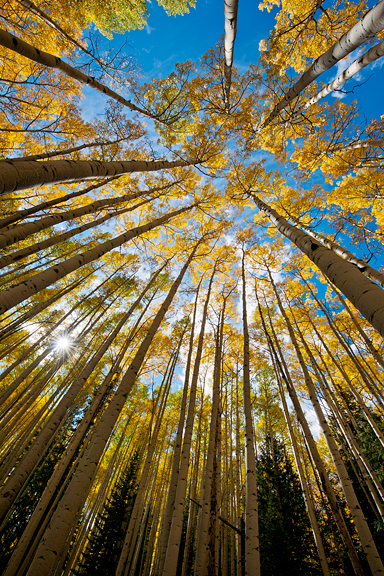 lake reflection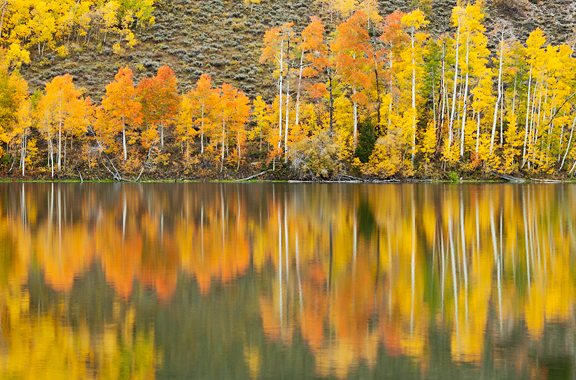 Fall is also that amazing time of year when New Mexico's green chiles are harvested and roasted. It's one of the reasons we decided to host a New Mexican dinner – that and the fact that New Mexican fare is addictively good. We had three current or former New Mexico residents at dinner (Jeremy is the former) who could school us on red and green chile. If you are asked, "Red or green?" in a restaurant in New Mexico, it means "Would you like red or green chile sauce on your order?" You can answer red, green, or Christmas (both). I love green chiles so very much, but I must admit that I am a red girl. I love the red sauce. LOVE IT. I'm always annoyed when I have to buy canned enchilada sauce, because Colorado has a fear of hot enchilada sauce. It's even a chore finding medium heat sauce. But really, you should just make it yourself because it's ridiculously easy and – as always – far superior in quality and flavor to what you buy in the store.
red chile powder, salt, garlic, oregano, vegetable oil, onion, beef broth (or water)
minced garlic and diced onion
prepped
You maybe a little confused. Red sauce? Enchilada sauce? They are the same. In New Mexico, it's red chile sauce or New Mexico red sauce. In the rest of the country, it's enchilada sauce. There is no tomato in this sauce – the red comes from red chiles, as it should. It's merely a matter cooking up some onions and garlic and then mixing the rest of the ingredients in. Then simmer for 20 minutes and you're pretty much done.
stir red chile powder into the sautéed onions and garlic
stir the liquid in one cup at a time
add the salt and oregano
As you can imagine, the chile powder you use is going to make all the difference. "Chili powder" is a blend of red chile powder and additional spices like cumin, salt, and pepper. Chile powder should be 100% ground red chiles. You should be able to find bags of it in Mexican markets or international food sections of the grocery store. I bought mine from a roadside stand in southern Colorado. When the sauce is done, you can leave it as-is or blender it to make it smooth. I like my sauce smooth, so I used my immersion blender. I recommend wearing an apron or perhaps immersion-blendering the sauce in a larger (taller) pot.
for smooth sauce, use a blender
we like the red
a quart of delicious red chile sauce
Make your red chile sauce as hot or mild as you like based on the heat of your chile powder. The sauce will store in the refrigerator for 5-6 days or you can freeze it. We love to make enchiladas with the red sauce, but it's great on almost anything: tamales, enchiladas (
beer chicken green chile enchiladas
,
easy stacked enchiladas
, chile rellenos, wet burritos, chimichangas, refritos, huevos rancheros. How can something so easy be so darn good?
now that's a plate full of happy
New Mexican Red Chile (Enchilada) Sauce
[print recipe]
from The Border Cookbook
2 tbsps vegetable oil
1 medium onion, minced
3 cloves garlic, minced
3/4 cup ground dried medium red chile powder (you can use mild or hot, as you like)
4 cups beef broth or water
1 tsp dried Mexican oregano
1 tsp salt
In a medium saucepan, heat the vegetable oil over medium high heat. Add the onions and garlic and sauté until the onions are limp. Stir the chile powder into the onions and garlic. Stir in 1 cup of beef broth (or water) at a time. Add the oregano and salt then bring the sauce to barely a boil. Reduce the heat and let simmer for 20-25 minutes. It will be thin, but should coat your spoon. If you like a smooth sauce (I do), you can let the sauce cool and place it in a blender or use an immersion blender to purée the whole thing. Refrigerate for 5-6 days or freeze the sauce. Makes 4 cups.
more goodness from the use real butter archives