Recipe: machaca (mexican shredded beef)
It feels like spring. It was so hot while I was shooting Wednesday afternoon, that I opened the deck door to let some cool air in. COOL air, not cold air. The mercury read 45°F on our deck with nary a cloud in the sky, the wind abating for a day. It felt really nice. I called to Jeremy in the office and asked him to help me carry Kaweah out to the deck. Kaweah spends a good deal of time in her doggy bed because she gets so tuckered out from standing or walking these days.
Her legs are getting to the point where sometimes she doesn't have the strength to crawl into her bed on her own and we'll find her with the front half in the bed and the back half hanging out on the rug or the back legs in some tangled spaghetti-like mess. She always greets us with an expression, "Oh hey, how's it going?" We rearrange her legs into a comfortable position several times a day (and night). She can't really feel pain when her legs are splayed or twisted in odd directions, we just don't want her to cut off circulation and do further damage to them.
Because it can be quite an ordeal for her to get out of bed and move elsewhere (like out of the sun or into the office), sometimes we pick the bed up with Kaweah in it. The first time we did that a few weeks ago, she was all, "Whoa… what the what?" But now she's used to it and she rather likes it. Kaweah takes the opportunity to look around (it's a new and exciting vantage for her) and almost has an air of "Bring me thither!" We set her down on the deck in the sun with a good view of the neighborhood. She was comfortable and distracted by all of the activity around her: dogs, birds, cars, neighbors. As long as she's happy.

my mom's orchid (in my "care") is blooming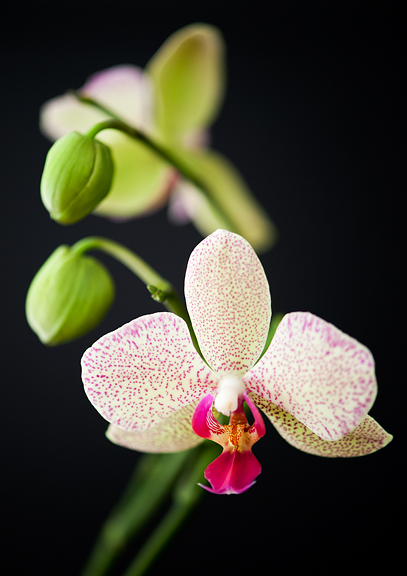 Of course, we all know that this warm spell is temporary. Colorado gets her best storms in March and I welcome our powder overlords! Yet spring and even summer have beckoned to me in flashes: spring backcountry skiing, foraging, travel, backpacking, and my summer rituals of jamming, canning, and roasting green chiles to freeze for winter. I always hoard green chiles in August because I fear running out mid-winter.
The Hatch Chile Store
in Hatch, New Mexico recently shipped me some of their frozen roasted green chiles to try. Normally product offers go straight to my spam folder, because I hate shills and I respect my readership. But I have blogged several green chile recipes in the past and the real deal can be hard to source. I thought it was a good opportunity to find a green chile shipper that I could recommend to others since so many have asked.
5 pounds of medium heat big jims
I requested medium heat whole green chiles. They offer mild, medium, hot, extra-hot, whole, diced, frozen, and fresh (seasonal). The chiles are farmed in Hatch, harvested, shipped fresh or roasted, peeled, diced or left whole, and shipped frozen. Having roasted and peeled my own chiles as well as purchased many pounds of roasted chiles in New Mexico and in southern Colorado, these are by far the most beautiful and best quality specimens I have ever enjoyed. Big Jims (the variety I received) are large, meaty, sweet, and perfect for chile rellenos. After our fix of chile rellenos, I saved two chiles for another recipe I've been meaning to try: machaca.
chiles, garlic, lime, tomatoes, salt, onion, bouillon, beef chuck, pepper, oil
season the beef with salt and pepper
sear the beef on all sides
Machaca is Mexican shredded beef. Traditionally, the dish was made from dried beef or pork that was rehydrated and pounded to make it tender. Now that we have refrigeration, you can skip the step of drying the meat. You can cook the beef conventionally on the stove top, or do as I did and pressure cook it. The goal is to achieve the "falling apart" tender state.
dice the onion and mince the garlic
add beef broth to the meat, half the onion, and half the garlic
While the beef cooks, prep the rest of the ingredients. If you don't have fresh or frozen roasted green chiles (you can only get fresh in August/September), you can certainly buy canned green chiles at the store. But I'll tell you what… canned green chiles are about the same as adding nothing. They have zero flavor compared to fresh or frozen and the only thing they really add is a touch of color. Once the beef is done, reserve the liquid and shred the meat with your hands, two forks, or a food processor fitted with the plastic dough blade. During this step, I also remove as much fat and connective tissue as I can from the beef
dice the green chiles
the beef is ready when it is falling-apart tender
shred the beef
With the remaining ingredients prepped, you're almost done making the machaca. I recommend cooking the meat in something other than a non-stick pan – either in cast-iron, stainless steel, or enameled cookware. You want something that will give you good browning (but not burning) when you cook the beef a second time. The meat will stick to the bottom of the pan, so have a good spatula handy to scrape it up.
onions, shredded beef, chiles, tomatoes, garlic, lime juice, cooking liquid
add the shredded beef to sautéed onion and garlic
let the beef brown and periodically scrape the meat from the bottom of the pan
add the chiles, tomatoes, lime juice, and cooking liquid
When almost all of the liquid has cooked off, but the beef is still moist, you are done. Machaca is a versatile filling that is great in tacos, burritos, chimichangas, enchiladas, quesadillas, sopaipillas, with beans and rice, you name it. The flavor is deeply satisfying and the beef is tender without being wimpy. Load it up with fresh accompaniments, and you've got yourself a party.
lovely, flavorful machaca
my happy meal
Full disclosure: The Hatch Chile Store sent me 5 lbs. of frozen roasted whole green chiles to try without any obligation on my part.
Machaca (Mexican Shredded Beef)
[print recipe]
from The Border Cookbook
3 lbs. boneless shoulder beef chuck roast
salt for seasoning
pepper for seasoning
4 tbsps bacon drippings or vegetable oil
1 cup beef stock
1 medium onion, diced
2 cloves garlic, minced
1/2 cup water (if using pressure cooker)
3 small tomatoes, diced
1/2 cup (2 large) roasted green chiles, peeled, seeded, and diced
1 tbsp fresh lime juice
Season the beef on all sides with salt and pepper. Heat 2 tablespoons of the fat over high heat in your pressure cooker or large pot. Sear the meat on all sides until browned. Reduce the heat to low and pour the beef stock over the meat. Add half of the onion and half of the garlic.
If using a pressure cooker: Pour another 1/2 cup of water into the pot. Cover and seal the pressure cooker and set it to high. Increase the heat to high. When pressure is reached, let cook for 50 minutes (1 hour at 8500 ft.), then turn off the heat and let the pressure cooker decompress (natural release).
If cooking on conventional stove: Cover the pot with a lid and simmer for 75 minutes or until tender and falling apart.
Remove the meat and reserve the cooking liquid. Shred the beef with your fingers, two forks, or a food processor fitted with a plastic dough blade. I like to discard the excess fat and connective tissue during this process. In a pan or skillet, heat the remaining 2 tablespoons of fat over medium heat and sauté the rest of the onion and garlic until it becomes soft. Add the meat and sauté until well-browned. This takes about 10-12 minutes. Scrape the bottom of the pan every minute or so to allow the beef to brown and crisp in places, but not burn. Stir in the cooking liquid, tomatoes, chiles, and lime juice. Reduce the heat to low and cook for 25 minutes until most of the liquid is gone, but the beef is still moist. Season with salt and pepper to taste. Makes about 6 cups of shredded beef.
more goodness from the use real butter archives