Recipe: tuna poke bowl
Tomorrow, August 1, is my sister's birthday. I normally post flowers in remembrance of her, but this year I took a photo of something far more meaningful. My niece came out to spend a week in Colorado with my parents, and Jeremy and I took her standup paddleboarding in the mountains and met up for a few meals. It's been almost 11 years since I've seen her and she's grown into quite the remarkable young lady – smart, hard-working, motivated, athletic, sweet, polite, confident.

also a fan of cheesecake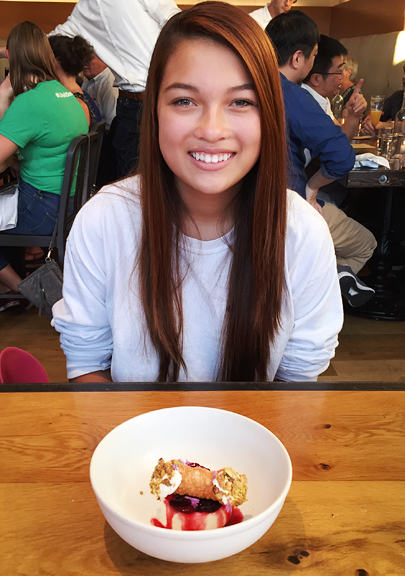 posing for a photo with her grandma and grandpa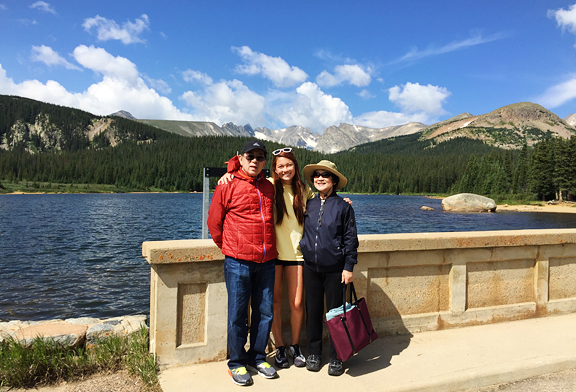 Mid-July is about the time I really start paying attention to what is growing in the high country. You never know when a season will start earlier than normal, but more than catching an early season, I like to make the observations for my own data purposes. Turns out the huckleberries are having a very good season and they seem to be a month sooner than usual. My pre-sunrise mornings are consumed with checking my huckleberry patches or picking huckleberries or both.
a nice display of showy fleabane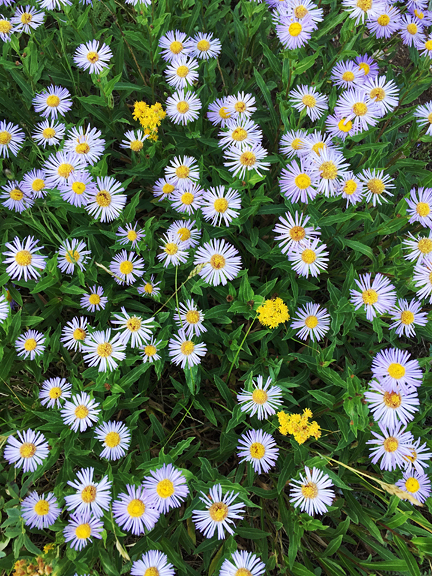 mycelium growing on a dead tree in a delicate dendritic pattern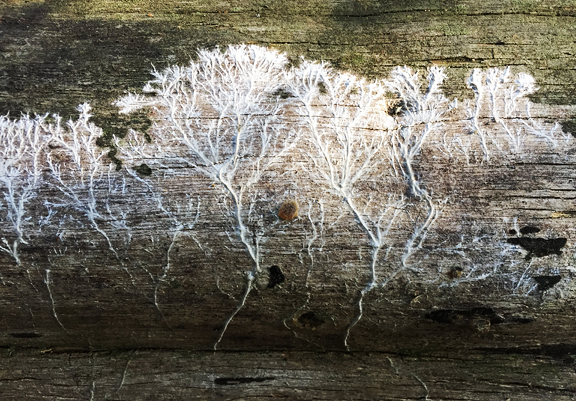 When we took my niece paddleboarding, we brought Yuki to give her another day on the board. As I paddled her out on the lake, we passed a boulder that was jutting out of the water. Yuki began to growl at it, then she started to bark. It must have made her nervous because she backed up and fell off the board! And like everything else, she took it in stride and remained her calm self as she swam up to me and I pulled her back onto the board.
Yuki is six months old today according to her estimated birth date of January 31, 2018 (she was found at 2 weeks old). Yuki continues to bounce about the house like a rompy pup, sometimes stopping mid-bounce to scratch an itch on her chin and tumbling over backwards clumsily. It's ridiculous how cute she is. This little pup has gained four pounds in the four weeks we've had her and we think her legs are longer. She is certainly taller, but she remains shorter than Neva. We have no idea how big she will get (we suspect Neva-size or smaller), but it doesn't really matter. We are just so happy she is ours.

seaworthy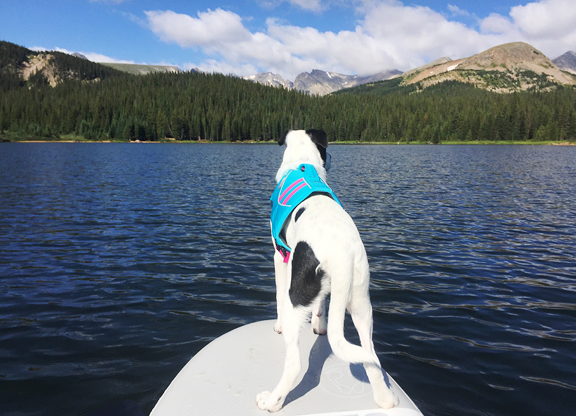 togetherness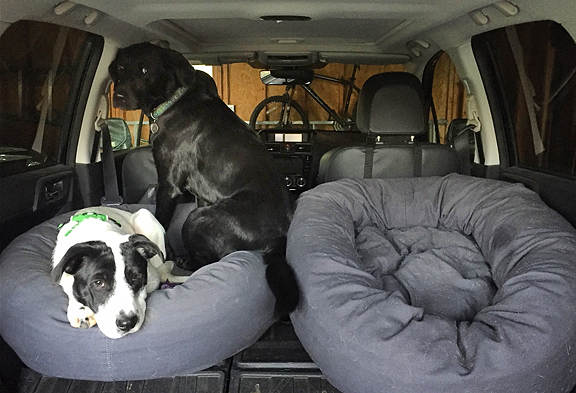 sisters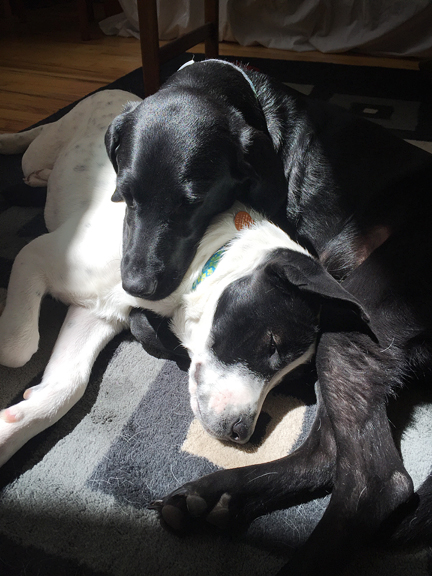 The last time we were in Crested Butte, we enjoyed a seared tuna rice bowl at
Montanya's tasting room
, one of our favorite restaurants in town. It was loaded with vegetables and seared ahi tuna on a bed of forbidden rice. I was hooked. When we got back to Nederland, I put it on our weekly menu, but as I shopped for the ingredients I changed it up a little. I didn't want to sear anything (it was hot) and I thought tuna poke would taste even better. Instead, I made a tuna poke bowl – and it was awesome.
These sorts of dishes have great flexibility so that you can cater them to your own preferences. First off, you don't have to use forbidden rice. I just happen to like the taste and I think it's a gorgeous purple-black color. Use steamed short grain brown rice or sushi rice if forbidden rice is hard to find. Omit the fish and pile on your favorite vegetables for a vegetarian version, or you can substitute chicken teriyaki for the fish. Lots of options!

cucumber, forbidden rice, avocado, masago (flying fish roe), radish, pickled ginger
forbidden rice steamed in the rice cooker
In addition to the goodies listed above are some pickled red onions. I find pickled foods add a nice tangy bite to rice bowls. These onions get better the longer they sit in the pickling liquid, so don't slice them too thin. I kept mine about 1/4-inch thick. If you're in a hurry, give the onions at least an hour in the vinegar and start them around the time you start cooking the rice.
sugar, salt, rice vinegar, red onion
combine the vinegar, sugar, and salt
slice the onions
pour the hot vinegar over the onions
pickled and pink
You don't have to have a dressing for your poke bowl, but Jeremy and I both enjoy the nasal-clearing effects of wasabi. Instead of straight wasabi mayonnaise, I opted to give it great dimension with some salt, some sugar, and a bit of acid in the form of lemon juice. Adjust the amount of wasabi and other ingredients to taste. I like to mix everything but the mayonnaise together and then whisk the mayonnaise in last to avoid lumps. The dressing should have a consistency that makes it easy to drizzle.
mayonnaise, lemon juice, wasabi paste, salt, sugar
mix the wasabi, sugar, salt, and lemon juice into a paste
beat in the mayonnaise
When the rice is cooked, the pickles made, and the dressing finished, I prepare my poke. I do this because I find the poke clock starts ticking the moment you mix it, so I try to toss it up right before serving. There are many ways to make poke and it doesn't have to use tuna (you can use crab, salmon, yellowtail, scallops, etc.), but if you do use tuna please please please make sure it is sashimi grade tuna (maguro). I kept this version simple since it is going into a rice bowl with several other components. And if you want to make this gluten-free, swap the soy sauce out for tamari.
green onions, maguro, sesame seeds, sugar, sesame oil, soy sauce
sliced and diced
put it all in a bowl
toss it together
Once the poke has been mixed, work quickly to assemble your poke bowl. It helps to have all of the ingredients prepped, as if you were setting up a taco bar, except it's a poke bar. [Okay, we totally need to make poke tacos.] I made mine pretty for the camera, but we have been known to pile everything into a bowl when someone is hungry or if we are trying to use up the leftovers.
forbidden rice, poke, cucumbers, avocado, wasabi dressing, pickled onions, pickled ginger, radish slices, masago (flying fish roe)
a little bit of everything
some wasabi dressing on top
Jeremy and I were delighted with how the poke bowls turned out. We knew we liked all of the individual components, but combining everything in one bowl was an order of magnitude better than we expected. Not only is it a visual rainbow, it has a spectrum of complementary textures and flavors and even temperatures if you serve the rice warm. This dish is going into our menu rotation until the first snowfall – and maybe even after that!
garnish with more toasted sesame seeds and sliced green onions
fresh and refreshing
Tuna Poke Bowl
[print recipe]
inspired by Montanya Rum
3 cups cooked rice* (use white sushi rice, brown short-grain rice, or forbidden rice)
poke (recipe below)
1 avocado, diced
2 cups cucumber, diced
pickled red onions (recipe below)
gari (pickled ginger)
2 tbsps masago or tobiko (flying fish roe)
1 radish, sliced
wasabi dressing (recipe below)
*To cook forbidden rice: Combine 1 cup forbidden rice with 1 3/4 cups water and a pinch of salt. If using a rice cooker, set to cook for brown rice. If cooking stove top, bring everything to a boil in a medium saucepan, then cover and reduce to a simmer for 30 minutes. Remove from heat and let stand covered for a few minutes. Fluff with a fork.
pickled onions
1/2 red onion, sliced 1/4-inch thick
1/2 cup rice vinegar (unseasoned)
3 tbsps sugar
1 1/2 tsps kosher salt
wasabi dressing
1 tbsp wasabi paste
1 tbsp lemon juice
1/2 tsp sugar
1/2 tsp salt
1/4 cup mayonnaise
tuna poke
1/2 lb. maguro (sashimi grade tuna), cut into 3/4-inch cubes
2 green onions, minced
2 tsps sesame seeds, toasted
2 tsps soy sauce (use tamari to make it gluten-free)
1 tsp sesame oil
1/2 tsp sugar
Pickle the onions: Place the onion slices in a pint or quart jar. Heat the rice vinegar, sugar, and salt in a small saucepan over medium heat. Stir until the sugar and salt have dissolved. When the vinegar boils, remove from heat. Pour the vinegar over the onions. Stuff the onions down so they are covered by the liquid. Let cool. Refrigerate.
Make the wasabi dressing: Stir the wasabi paste, lemon juice, sugar, and salt together until completely blended. Whisk in the mayonnaise. Refrigerate until ready to use.
Make the poke: Toss all ingredients together.
Assemble the poke bowl: Divvy the rice among 2-3 bowls. For each bowl, top the rice with poke, avocado, cucumber, pickled onions, pickled ginger, flying fish roe, and radish. Drizzle wasabi dressing over the bowl or serve the dressing on the side. Serves 2-3.
more goodness from the use real butter archives