Sunday, August 27th, 2017

Recipe: porcini elk sausage tortellini in beef porcini brodo
After the eclipse, Jeremy and I gathered Neva and her snacks and drove out to Crested Butte once more before the semester gets underway this week. It's nice to travel lonely mountain roads again. Most of the summer vacationers are done exploring Colorado's mountainous western half, leaving it to locals and retirees and full-time nomads. The town of Crested Butte has quieted down, too, such that there is parking along Elk Avenue (the main drag) and nary a hiker on the trails. But there is plenty going on with or without visitors. Lower elevation wildflowers are looking tired and haggard now – the result of showing off for so many weeks, but the high country still holds stunning pockets of wildflowers in late August thanks to regular summer rains. And our summer storms continue to flirt with the sun and create dramatic skies and stunning rainbows. Crested Butte is Rainbowtown.

jeremy and neva above copper lake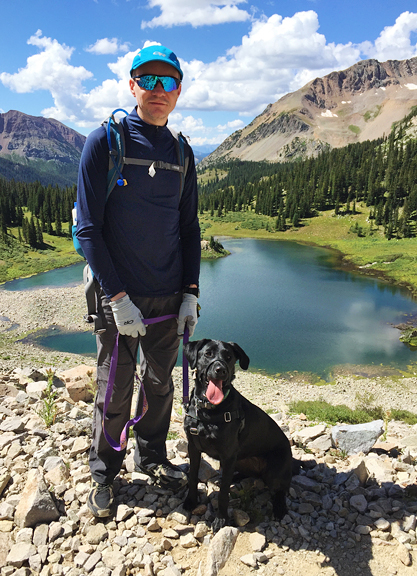 the array of wildflowers at 11,700 feet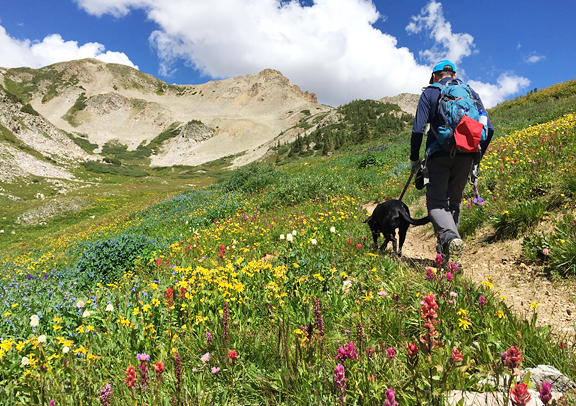 full double rainbow next to crested butte mountain

a rainbow and sunset lit virga from our deck (where we were grilling dinner)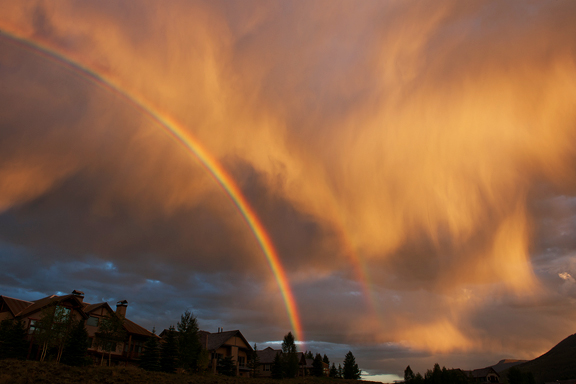 Handfuls of yellow and red aspen leaves litter the starts of our hikes as if some carefree party goer dropped their celebratory confetti on their tipsy walk home. I'm not posting any photos just yet (although I did shoot some) because I don't want you summer lovers to start freaking out… But winter is totally coming! Despite the warm sunny days, our mountain evenings have grown nice and cool with morning frost on the neighbors' rooftops and cars. I sleep with the window open at night and wake in the morning, pulling the covers up around my face and wrapping an arm around Neva as she snuggles cozily between me and Jeremy instead of petitioning for breakfast. I feel as if the ragged pace of summer is coming to an end.
And yet the mushrooms keep happening and I can't help but look for them. I think Colorado is experiencing an epic king (porcini) season – a very long, widespread, and good flush. Other varieties are doing well, too. I mistakenly expected the chanterelles to go big this month, but I think my previous two seasons were anomalies (the first was very early and the second was really crappy except for one amazing location). They have been all around, but I'm starting to see them come up in earnest now.

hello, my pretties
still on the small side, but looking good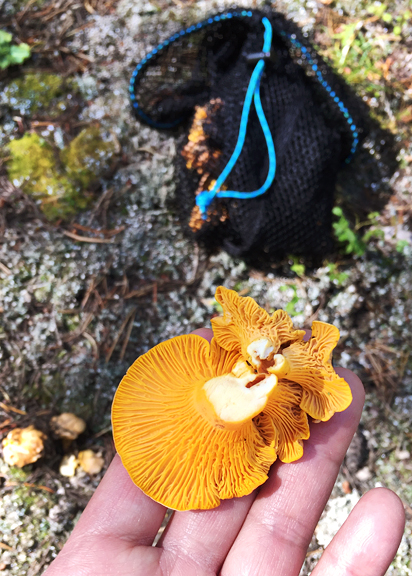 porcini going strong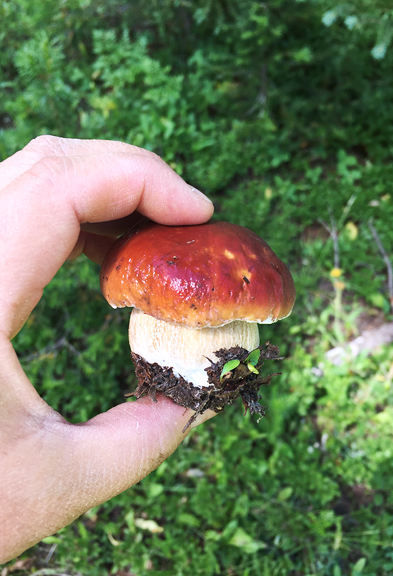 Summer is my season to slack off from cooking, but all of these mushrooms make me want to get back into the kitchen to try some new recipes. Considering the quantity of porcini I've collected, I have loaded up on frozen sautéed slices and dried slices, and still had fresh ones to address. The worst thing you could do as a forager is pluck choice wild mushrooms and allow them to languish in the refrigerator. I fell asleep at night rolling recipe ideas over in my brain that infiltrated my dreams. That's nothing new, I always dream about food. I had fresh porcini, dried porcini, and elk Italian sausage (a gift from two of my favorite neighbors in Crested Butte, one of whom hunts!) – that screamed pasta to me. Tortellini. Porcini elk Italian sausage tortellini in beef porcini brodo (broth) to be precise. I mean, if you're going to incorporate some hard-to-come-by ingredients, why not make a pasta you've never made before? I'll tell you now, so you don't have to wonder, it was a complete hit and I served it to my mom for her home-cooked birthday dinner.
When you cook food from scratch, there is an enormous amount of flexibility in the ingredients and flavors you can incorporate. You also have the option of taking shortcuts if you simply don't have the time or ability to make every component yourself. I say it is all good. The first step is to make the beef stock. It takes a little effort to prep and roast the ingredients, and a lot of time to cook the stock – about 6 hours at barely a simmer. If you cook your own beef stock, start the day before. I was tempted to speed up the process by chucking everything into my pressure cooker, but I wanted to try and make a clear stock this time for aesthetics. Boiling, which is what the pressure cooker does at higher pressure, turns it cloudy. Maybe in the future I'll go the pressure cooker way, and it is also completely okay to simply purchase beef stock, just get a good quality one.

olive oil, beef chuck, beef marrow bones, carrot, celery tops, onion, garlic, peppercorns, bay leaf
prepped
toss the carrots, onions, and beef with olive oil
roast the bones, meat, carrots, and onions
**Jump for more butter**