Thursday, February 19th, 2015

Recipe: chocolate peanut butter chip pizookie
Happy Chinese New Year! Gong Xi Fa Tsai! It's the year of the goat, or sheep, or ram! I'm not really sure which one it's supposed to be, but you get the gist. The house is clean (more or less), the symbol for luck is upside down on the front door, and I made several traditional foods on New Year's Eve to ensure luck, health, happiness, and all the good stuff. Some of the recipes require quite a bit of time to prepare – there is no rushing through them. As I sliced and minced countless ingredients and plucked the ends off the soybean sprouts, it gave me time to contemplate the previous year, loved ones who are still with us and the loved ones who have gone. The new year is a joyful time, but it is also a time of remembrance and perhaps a little heartache.

round whole fruits are good luck (and hong bao have cash!)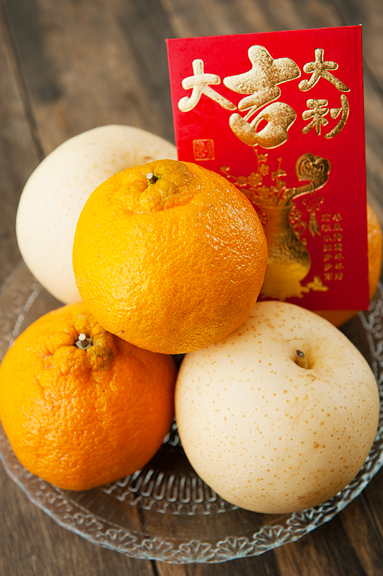 the character for "luck" upside down at the front door (luck arrives)
lucky ten ingredient vegetables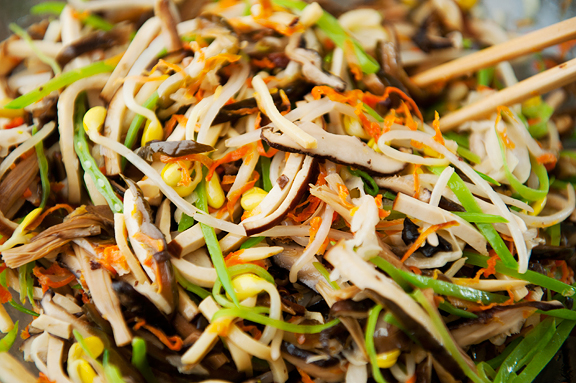 You'd think a Chinese recipe would be appropriate for today, but practically speaking, if you're trying to celebrate the lunar new year, you should have cooked everything yesterday (new year's eve) because you're not supposed to use sharp objects (knives) today. Another superstition, don't you know. There's no need for knives in this recipe AND it's something sweet – which is good because you want to eat something sweet on Chinese New Year's Day so sweet things come out of your mouth all year.
So I have to share this guilty pleasure with you, because it's ridiculous stuff. Years ago, my good friends Todd and Diane of White on Rice Couple posted about pizookies: a deep dish cookie topped with ice cream. They were crazy about pizookies and have several recipes from which to choose. Over the winter holidays, I had some extra cookie dough and asked Jeremy if he wanted a pizookie. "A what?!" he asked. I had already popped it into the oven and just told him he wanted one. I was right.

peanut butter chips, flour, brown sugar, granulated sugar, eggs, cocoa powder, butter, salt, vanilla, baking soda
cream the butter and sugars
beat in the eggs and vanilla
**Jump for more butter**