It is fascinating that you can get raspberries from the southern hemisphere in the dead of winter here, or that you can find apples and oranges throughout the summer months. That's the beauty of a global market. I noticed in graduate school that for being in the middle of nowhere (Ithaca, NY) our grocer was able to provide gorgeous produce year-round. What a treat. But anyone with a single functioning taste bud can tell you there is a striking difference between a winter strawberry and one that is in season. Flavor, texture, color, juice – it is all superior in the summer. Same goes for tomatoes and other produce. Buying foods that are in season not only gives you a superior food specimen, but is more ecologically friendly when considering the energy required to deliver said import to your hot little hands. What do I think of when summer approaches? Berries, melons, squash, tomatoes – tons and tons of fresh produce to be eaten raw or grilled. How about winter? Brassicas like brussels sprouts, cabbage, kale, broccoli are so delicious roasted. Root vegetables are terrific in soups and slow-cooked stews. Pumpkin in fall ushers in my favorite of all holidays – Halloween! Apples and other citrus are usually associated with summer, but they are fall and winter's bounty. Hot apple cider mulled with cloves, cinnamon, and slices of orange keep guests coming back for more through the New Year. Yum!
For our late dinner, we split a piece of grilled New York Strip and paired it with a nice Cab. I had originally bought this cab at the Chronicle for a party a while back. The cork was bad and the wine was quite off for $20+. Squid told me to cork it, take it back and exchange. The proprietor didn't blink and apologized handing me a new bottle, which we finally opened tonight.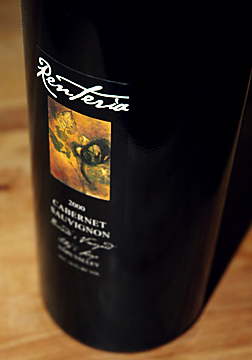 We have been drinking so many whites lately that I almost forgot what a cab is like – POW, right in the kisser! It's great paired with steak. I really can't take wine straight, I need to have it with food because I'm all about FOOD. My dad loves to have food with his wine. I have wine with my food.