more serious research
This week, our two additional research subjects are Lindt Swiss Bittersweet (cocoa content percentage unknown) and Chocolove Rich Dark Chocolate (65%).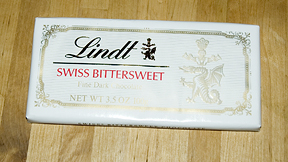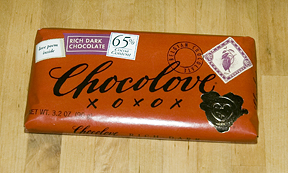 Chocolove is hands down the best one we've tasted so far (at least for tasting). It is very smooth, slightly sweet, dark, good texture and long smooth finish, slight vanilla. The Lindt is also a good tasting chocolate, but very different from the Chocolove. It is better suited for eating straight. It is much sweeter, more caramel in flavor, smooth, good finish on caramel. Jeremy loves Chocolove. I heard from Joan on our hike yesterday that Chocolove was one of the best (and she and Fiona are chocolate fiends). Chocolove is $12.45/lb. for a 3.2 oz bar. Lindt is $10.47/lb. for a 3.5 oz bar. I got both of these from Ideal Market (Wild Oats).