Daring Bakers: I'm sorry to say there is no Dobos Torte here, my friends. For sanity's sake, I punted this month's challenge.
Admin: I've been falling behind in answering comments and I think this is a problem that will continue to snowball until it sucks me under. So instead of answering every comment, as I have done in the past, I'll now address those comments with questions or discussions about specifics. Hopefully this will get you more timely answers to inquiries regarding the recipes. Thanks for understanding.
On Friday I drove down to the flats for a gathering of some bodacious ladies. It's a collection of local bloggers, ski buds, friends from my old workplace, friends of friends – great gals all around. We keep calling these events stitch-n-bitches but really, it's an excuse to eat and share stories and enjoy one another's company. There is less and less knitting (in fact, none this time) as we are driven to the point of distraction with full on multi-course meals being served and about 4 or 5 conversations going on at any given time. It's a party. I didn't even bother bringing any knitting or sewing because I knew better. I did contribute some chocolate French macarons and two flavors of homemade ice cream since Manisha was making fabulous Indian street food for all of us.

babes who blog: indian food rocks, urb, the kitchen witch, the kittalog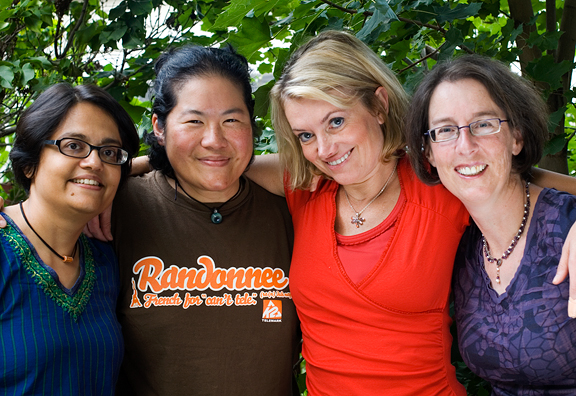 You could take away the "stitching" and the "bitching" – you could even take away the food (but you'd have to pry the drink from
Dana
's cold, dead fingers!) and it would still be a wonderful time because the people make it so. One of the ladies I know through Manisha has stage IV brain cancer. When I met her, my hair was very short as it was finally growing back months after my chemo had ended. She smiled and said she recognized the "cut". At the time, her brain tumor was shrinking with a radical treatment. Everyone was hopeful. She's a delight to be around, a lovely woman, calm and sweet with a smile like a million tiny wildflowers.
Her tumor is back and has been unresponsive to treatment. When I offered her a macaron, her hands shook as she reached for one. She had difficulty explaining the next course of action in her treatment because she couldn't think of the words. That's all the tumor's doing – the deterioration. We don't know how much time she has, but the fear is that it isn't much longer. Her loved ones are rallying around and making the moments count. She met a lot of new faces at the stitch-n-bitch. The point was for her, for everyone to have a good time. And we did.
Despite leaving my knitting and sewing projects at home, I did have a project that had to be completed at the stitch-n-bitch. I wanted portraits of everyone. I take pictures of my grandmother whenever I visit with her. She used to frown and mutter in Chinese, "Why do you need a picture of an old person?" and I'd tease, "because you're my favorite old person," and she'd laugh. She's so used to my camera now that the last time I saw her she squared her shoulders and grinned, "Take a good one so I can use it at my funeral." I know she's only half joking and I oblige not because I want these pictures for her funeral, but because this is a small way to hold on to and remember those we cherish. So we piled into the backyard as soon as it had cooled off and I was able to capture the laughs and goofy antics of these hilarious and beautiful women. It's something we sometimes overlook. It's something I used to take for granted – that the people we care about will always be there. They will not. That is why the time we have together is precious.