Wednesday, April 29th, 2015

Recipe: green goddess dressing
This was supposed to be a roundup of the places I dined at while in Virginia, but I needed to go with something simple. My body needed it, too. Heavy restaurant eating and not enough outdoor exercise make me feel blah and yuck and argg. I did finally get back to Colorado with nary a hitch if you ignore that it was 24 hours later. And while I do miss my parents, I'm also ecstatic to be back to my life of thin air, simple mountain living, Jeremy, and American West sensibilities.

enjoying tulips on pearl street in boulder while waiting for my bus back to nederland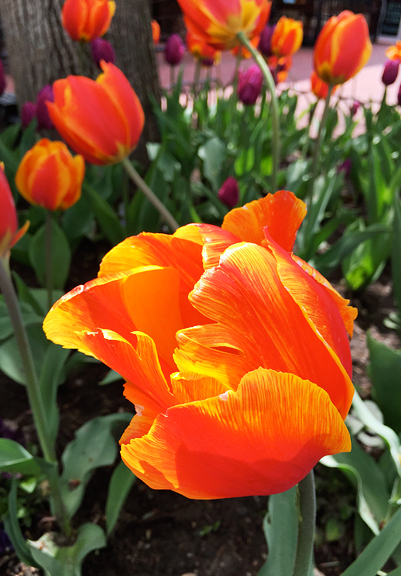 So today you get salad, or rather, salad dressing. I always say a homemade salad dressing is ten times better than any store-bought dressing, because it's true! And it is only slightly more work. My favorite default dressing is a squeeze of lemon juice, some good olive oil, salt, and pepper. Good stuff and super simple. Of course, we like to change things up around here with different kinds of dressings or salad ingredients (see the links below the recipe for some of my favorites). I thought it would be good to revisit an oldie, but goodie – something that graced every salad bar of my youth in the 70s and 80s – green goddess dressing.
tarragon, parsley, chives, plain greek yogurt, mayonnaise, black pepper, salt, lemon, white wine vinegar, anchovy paste
three green herbs
place the herbs and liquids in the blender
add the anchovy paste
**Jump for more butter**