Wednesday, November 11th, 2015

Recipe: butternut squash lasagne
When my neighbor asked if I could take care of their dog, Dioji (dee-OH-gee), for a couple of days, I hesitated. My desire is to always say yes to everything. But as I've gotten older, I've learned to temper that gut reaction with pragmatic considerations and to think things through before answering yes, before committing to what I promise to do. Dioji is an easy girl – a giant fur ball, half Bernese Mountain dog, half Great Pyrenees, and one hundred percent lover. Neva is very fond of Dioji and I have to say, of all the dogs that have to put up with Neva's ridiculous puppy antics, Dioji is the sweetest and most tolerant one. Of course, walking the two of them was quite the adventure because Neva is constantly pulling ahead and Dioji is always stopping abruptly to sniff the latest headlines.

sitting nicely for a treat, but neva thinks dioji might have gotten hers already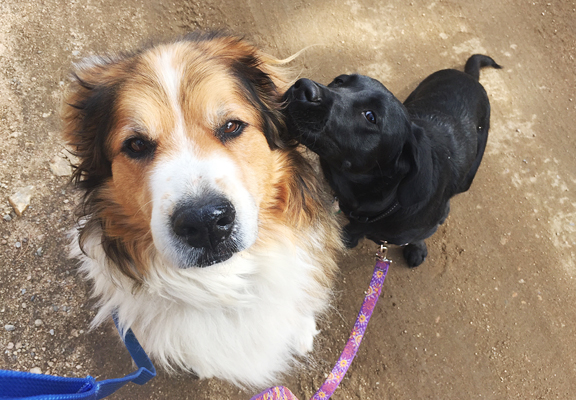 As much as I adore Dioji, I think I like having one dog. I hear from plenty of folks that two dogs are great because they keep one another company, but one is just right for me and Jeremy. Neva improves each day in subtle increments rather than the "one step forward, two steps back" of puppyhood. We still witness bouts of puppiness in Neva, and with the colder weather she is becoming more snuggly. Every morning Neva hops up onto the bed and cuddles between us for an hour or so until she feels it is time for what Jeremy calls her "two outputs and one input" – potty time and dinner (breakfast) – at which point she scoots closer to Jeremy and puts both front paws on his face. After she's done eating, one or both of us will take her out for some exercise – a hike, fetch, or ski. We recently got more snow and a chaser of winds gusting up to 60 mph, but we still went out because Neva needs to learn what winter is like around here. Thankfully, ground blizzards don't seem to bother her too much when there is a ball to be chased.
i wish all dogs could be this happy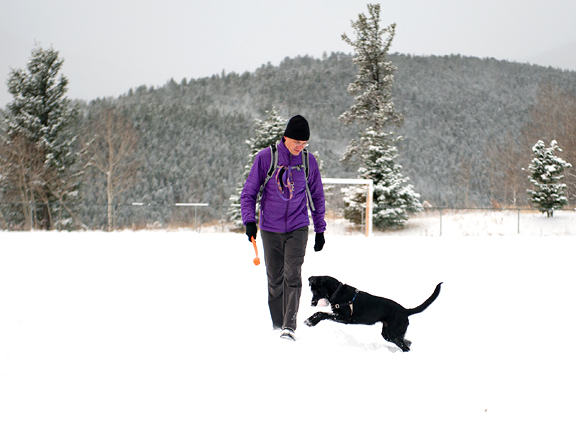 neva in flight!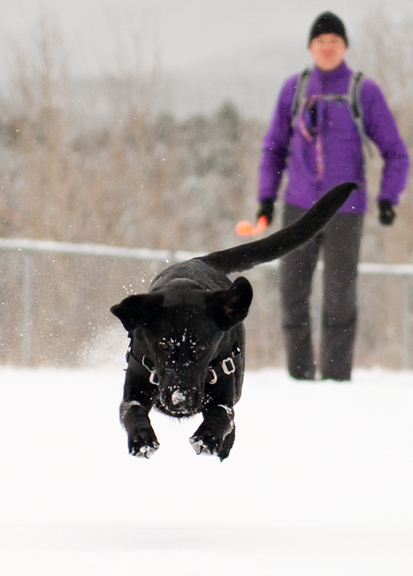 her coordination is improving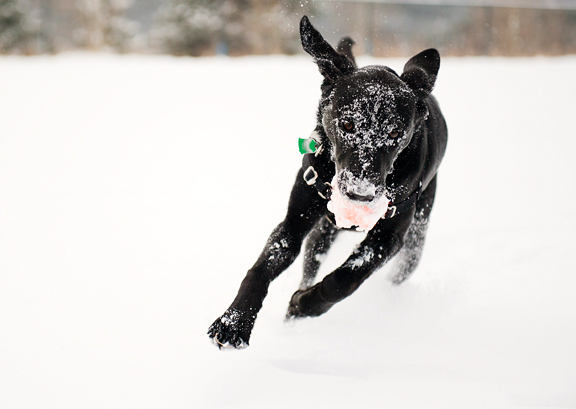 walking home after lots of good playtime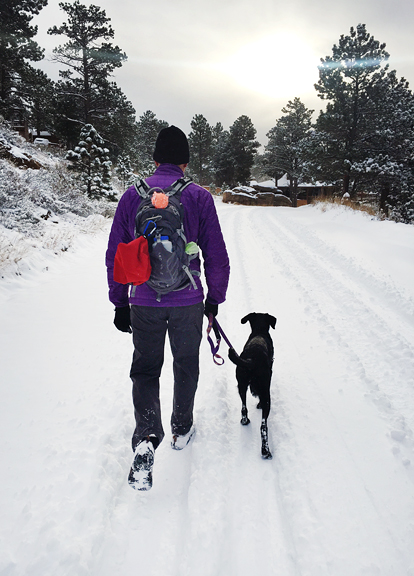 While I pride myself in enduring gale force winds to get my ski on (because it makes the calm days all the more delicious), there are times when the winds and the snow conditions combine to create so much suckage that I will resort to indoor rowing or riding. Those are also good days to tackle something like this butternut squash lasagne with its multiple components. Running the oven keeps the house warm and toasty while the big bad wolf rages outside.
onions, butter, olive oil, milk, goat cheese, flour, salt, thyme, sage, panko crumbs, butternut squash, black pepper, pecorino-romano cheese, no boil lasagne, nutmeg, garlic
start caramelizing the onions
deep brown and sweet
**Jump for more butter**