Sunday, February 28th, 2016

Recipe: fennel slaw
If only Colorado could pick a season and stick with it, I'd feel a little less discombobulated as to how to get my daily exercise. For most of the winter, it has toggled between true winter and pseudo spring. We'll get a nice dump of snow and then Mother Nature cranks up the heat and everyone is wearing shorts for the next week or two. For some, this is merely an issue of donning a jacket versus donning sandals. And you might think that translates into skiing one day and hiking the next. But it doesn't quite work that way. Yes, we ski the snow when it's fresh. But if more snow doesn't come along and our daytime high temperatures are flirting in the 60s, it doesn't take long to render trails icy slicks, slushy messes, snirt (snow and dirt), or any miserable combination of the three. That's hard to ski, but it's also a pain to trail run. While I would like to have winter in winter, I'd be okay with "spring" in winter if it would just stay that way, you know? Okay, I'll shut up about that… for now. We still know where to go to get our ski fixes.

backcountry ski with my little companion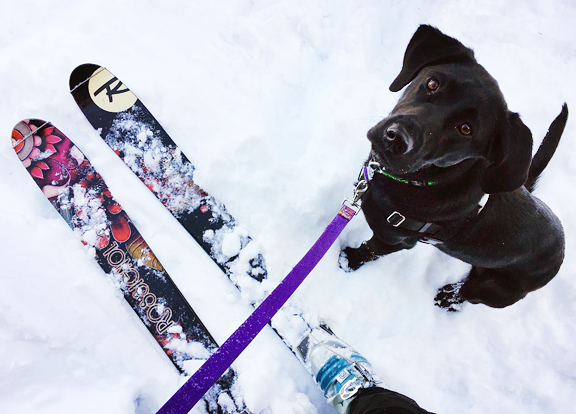 skating the nordic center trails where the snow keeps well in shade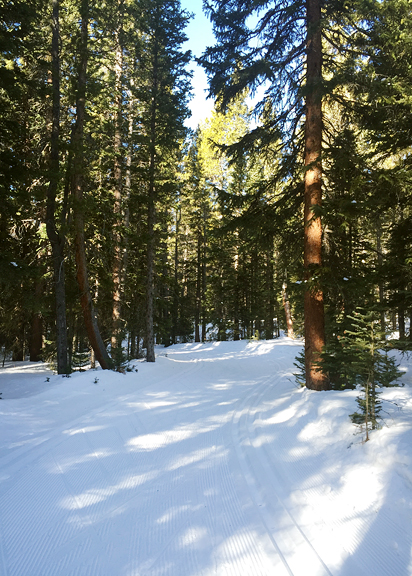 Jeremy and I spent the weekend working, staying away from the crowds on the slopes and the trails. When we weren't working, we took Neva to the soccer field to chase tennis balls in the diminishing snow. We also started training Neva to return to the front door on her own after she does her business in the yard. She's always on leash outside, because she will probably run off after a scent and because she doesn't understand the dangers that cars can present (other than when she's IN a car). Right now, Jeremy will take her out on leash and when she's done doing her thing in the yard, he'll unleash her and tell her to find me at the front door where I wait with a treat. She caught on quickly, so that's progress.
i think she thinks these are for her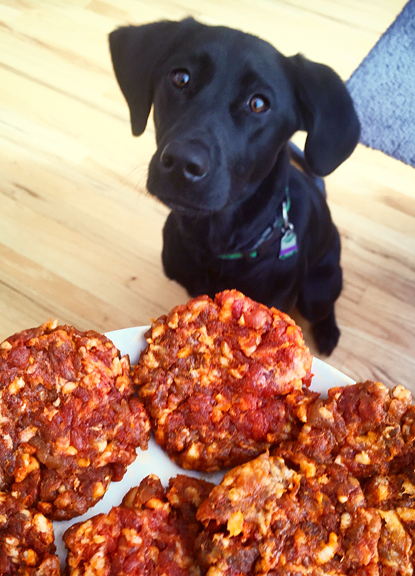 My appetite follows my cooking which follows the weather. This warmer weather of late has me craving more fruits, salads, and grilled things rather than my typical February fare of stews, soups, and wonderful foods that emerge from the oven. The nice thing about this fennel slaw we've been enjoying is that it feels summery while incorporating crunchy winter vegetables.
fennel, cabbage, red onion, lemon, carrot, red wine vinegar, mayonnaise, salt, pepper, fennel seeds, anise seeds
I've never been a fan of black licorice, but I do enjoy anise and fennel. These were tastes that I acquired as an adult as I sampled and learned about them over the years. The first step to making the slaw is toasting the anise and fennel seeds. I just popped mine onto a skillet over medium heat and stirred them around until they became fragrant and golden. Let the seeds cool before giving them a quick zip in a spice grinder. Add the spices to the rest of the dressing ingredients and mix it all together. I started with the original recipe's one-third cup of mayonnaise, and the dressing was just too runny and watery for my purposes, so I doubled it to two-thirds of a cup. This also helps to cut the sharpness of the vinegar. I think you can go anywhere from a half cup to a whole cup of mayonnaise depending on your preferences.
toast the spices
place the toasted seeds in a spice grinder
mix the dressing
**Jump for more butter**