Thursday, June 30th, 2016
When you grow up in a popular tourist center, you might be forgiven for rolling your eyes at the attractions your hometown has to offer. Despite the frequent eye rolling (hey, I was a teenager), I can look back in hindsight and recognize just how special Williamsburg, Virginia, is. In the southeastern corner of the state, Williamsburg (population ~15,000) sits atop the Virginia Peninsula, which is flanked by the James and York Rivers. Colonial Williamsburg ranks as Virginia's number one tourist draw. A favorite destination for history enthusiasts, family vacations, and school field trips, this impressive living history museum enjoys its greatest visitation in the summer high season, although Colonial Williamsburg in winter embodies the essence of Christmastime. But wait, there's more! Williamsburg is also home to The College of William and Mary, Busch Gardens theme park, and Water Country USA (waterpark).

williamsburg is in southeastern virginia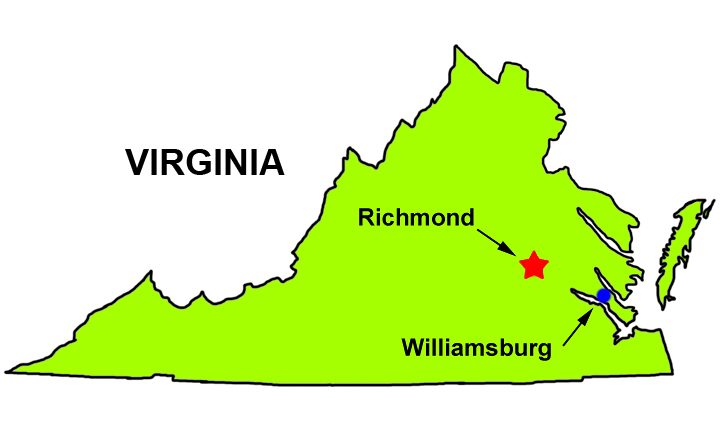 Did I mention great restaurants? They've got those, too. There are just too many for me to try when visiting my parents in Williamsburg. I've compiled a sampling of my favorites from the past several years. If you happen to be traveling to or through Williamsburg, these eats are worth a try.
First up was Emily's Donuts and Café – a nondescript shop off Merrimac Trail (Route 143) that is easy to miss if you aren't looking for it. The morning line moves quickly as orders for doughnuts and caffeinated beverages are filled. Despite ample seating in the brightly lit interior, most patrons grab and go as evidenced from the constant shuffling of vehicles in the parking lot. I selected an assortment of cake, yeast, filled, split, and ring doughnuts. Overall, the doughnuts were fantastic. The sleeper-winner was the key lime filled doughnut with a tangy sweet lime curd inside. Pure heaven. The split creme came in as the other favorite, filled with a sweet vanilla creme and dusted with powdered sugar – a top seller. Emily's also serves lunch, which we didn't try, but the doughnuts… they crank out some amazing doughnut love.

left to right, top to bottom: vanilla glazed ring, raspberry filled, split creme, key lime filled, glazed chocolate cake, cinnamon apple filled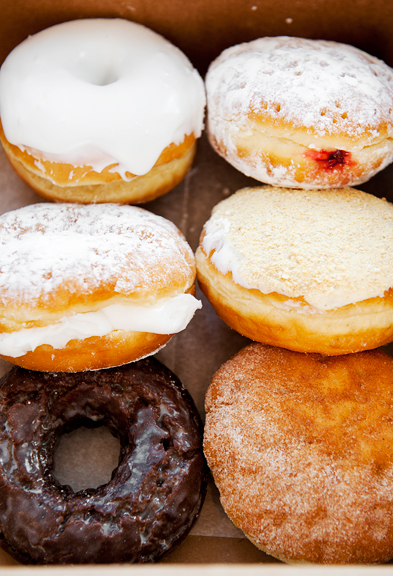 If you are in search of pastries, breads, and other baked sweets, allow me to point you to
Blackbird Bakery
in Colonial Williamsburg's Merchants Square. Their tempting array of desserts and breads are all made in the
Trellis
kitchen just behind the bakery. Choose from flaky croissants, fresh scones, beautiful fruit tarts, golden baguettes, and dinner plate-sized sticky buns, to name a few. Don't forget your cup of Illy coffee to sip with your treat. We tried the canelés, which were wonderfully custardy inside and caramelized outside – French pastry perfection.
pastries on offer at the front counter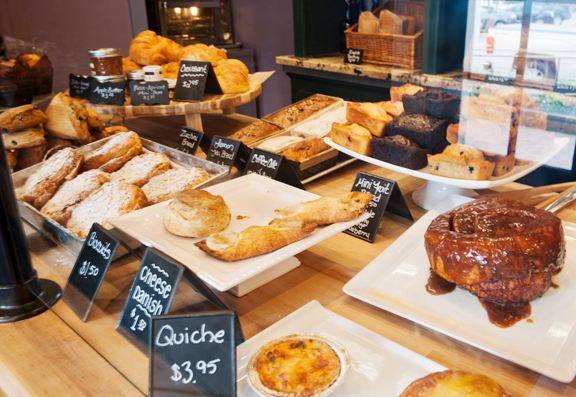 showing off the most adorable desserts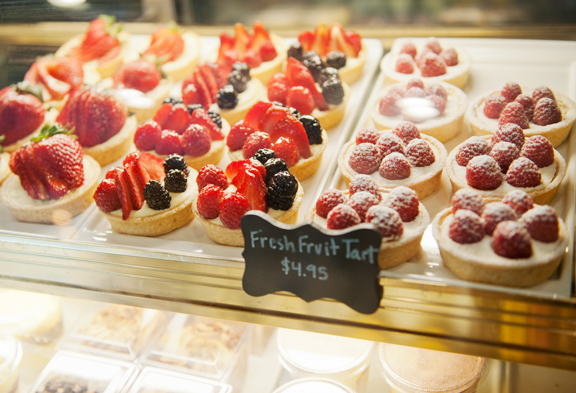 beautiful and irresistible canelés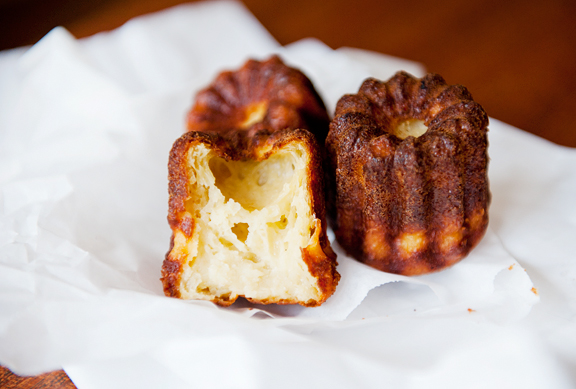 Swing by
Shorty's Diner
(also on Merrimac Trail) for quick, friendly service and a no frills plate of hearty morning fare. Breakfast is served all day, with lunch options like sandwiches, burgers, and salads. Portions at Shorty's are generous, especially for the reasonable prices. The food we ordered was neither outstanding nor terrible – just solid and good. The chicken fried steak was tender enough to be eaten with just a fork. The creamy sausage gravy and flaky biscuits were satisfying. Other menu items included omelets, pancakes, waffles, and breakfast sandwiches. Just for giggles, we took home two slices of pie: coconut cream and chocolate cream (the other choice was key lime that day), piled high and pretty darn delicious.
the shorty's special: 3 eggs, hash browns, biscuit, sausage patty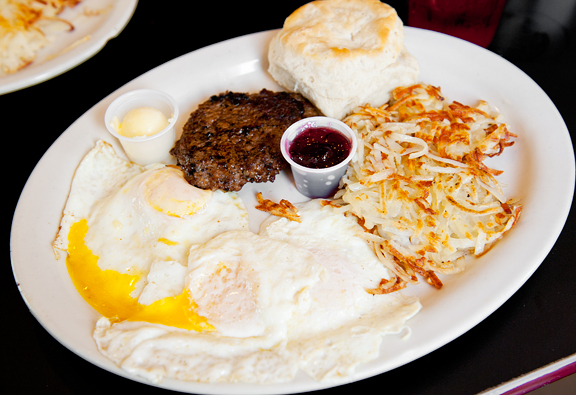 chicken fried steak with eggs, hash browns, and biscuit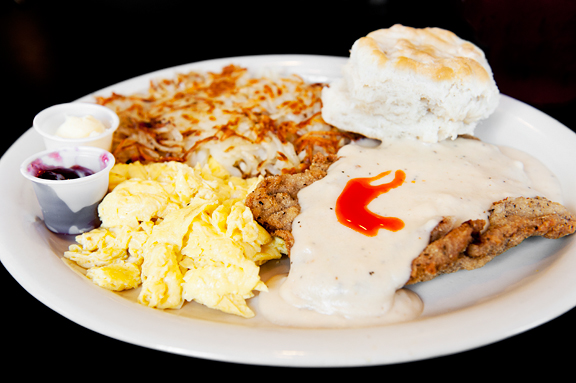 because pie: chocolate cream and coconut cream
Your lunch options are many and varied in and around Williamsburg. I'm all about a quick lunch because we're always on the go midday. I cannot resist a good sandwich. People rave about the subs at
New York Deli and Pizza Restaurant
on Richmond Road (Route 60) and with good reason. Jeremy and I split a hot sub that was stuffed to the gills with pastrami, cheese, lettuce, pickles, and tomatoes. The side of crisp onion rings were a hit. But you aren't limited to sandwiches when you walk up to the counter to place your order. Consider their pizza, burgers, salads, platters, gyros, and Italian plates, too.
hot pastrami with onion rings and fries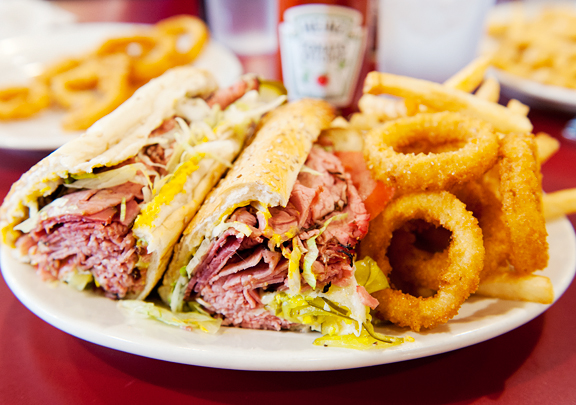 Ask about barbecue in the area and
Pierce's Pitt Bar-b-que
is sure to come up in conversation. You can find Pierce's north of Williamsburg on Rochambeau Drive (a frontage road along Interstate 64). While standing in line to place my order, several of the patrons ahead of me went for some variation on the barbecue sandwich: pulled pork or barbecue chicken, barbecue sauce, and coleslaw on a soft bun. There are also brisket sandwiches, ribs, whole smoked chicken, burgers and hot dogs, salads, and let's not overlook the sides. The sides are the best aspect of eating barbecue: coleslaw, baked beans, macaroni and cheese, hush puppies, onion rings, fries, collard greens, potato salad, corn bread, brisket chili, brunswick stew. It's not pretty, but it is certainly tasty southern barbecue.
barbecue sandwich with hush puppies and onion rings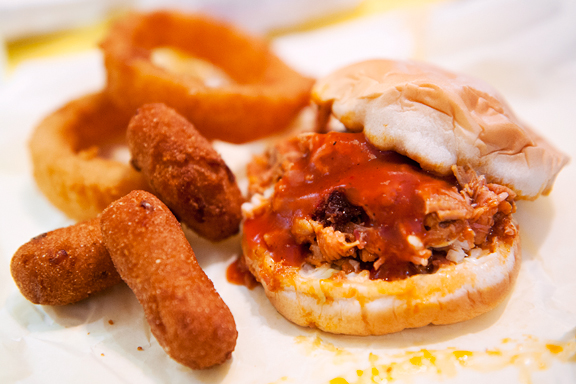 My absolute favorite sandwich – the one I've been eating for thirty some years – comes from
The Cheese Shop
. Centrally located in bustling Colonial Williamsburg's Merchants Square, The Cheese Shop is an institution. The store carries all manner of cheeses, salumi, gourmet foods, and wine downstairs, but the real draw is their sandwiches. Choose your type of bread, meat, cheese, dressing, and any extras. Walk to the back counter and wait in line to place your order, then wait some more before they call your name. You can pick up a small bag of chips and a drink if you have a picnic in mind. My standard order: the roast beef on French (bread) with provolone and house (dressing). [I used to order it with muenster cheese, but they stopped carrying that long ago.] The consensus among my childhood buddies is that the house dressing is the way to go as is the French bread. The Cheese Shop even sells the ends of the French bread baguettes for dipping in their house dressing. It's a thing. It's a very good thing.
the cheese shop at christmastime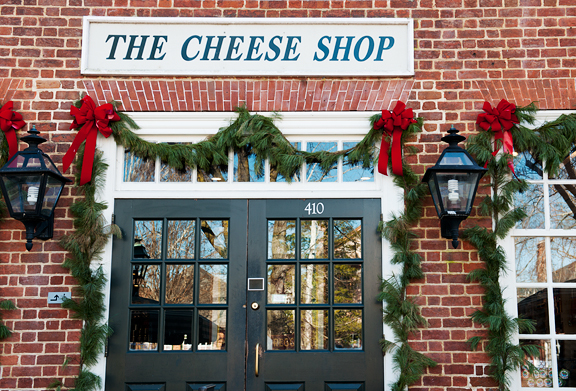 ace number one roast beef and provolone sandwich on french with extra house dressing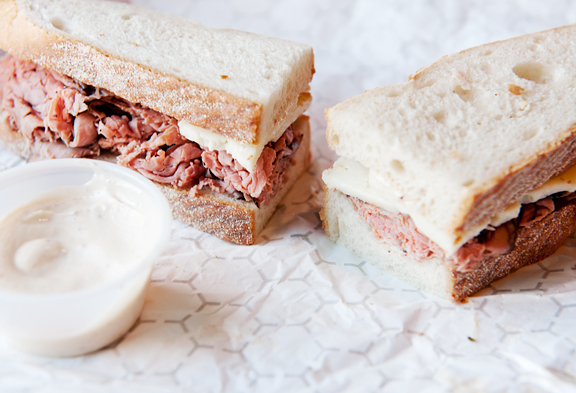 **Jump for more butter**