Recipe: shroomaki (japanese mushroom roll)
Our cooler weather turned to unsettled weather which turned to glorious cold and snowy weather this past week. While the snow will move on after Sunday and give way to sunshine for a week or more, I'm pretty spanking happy about getting this early dose of winter right now. I baked breads, we got Yuki out for her first romp in the snow, we are running the heat, and ALL of the warm blankies are out for people and canines alike. The transition is always a touch startling as we adjust our internal thermostat to sub-freezing temperatures outside, but we find exercising outside in the cold is the best and most fun way to get your body geared up for winter!

first came the rains and the sunrise rainbows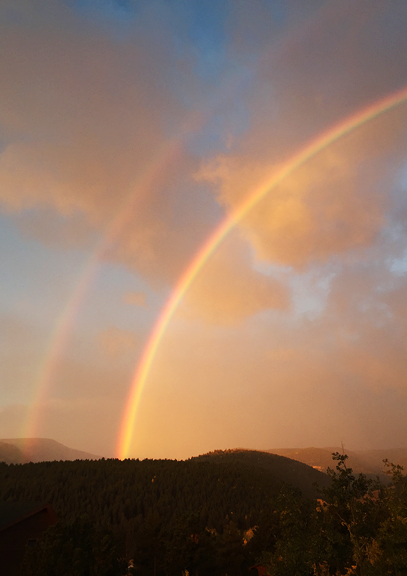 dusting off my sourdough starter and baking some bread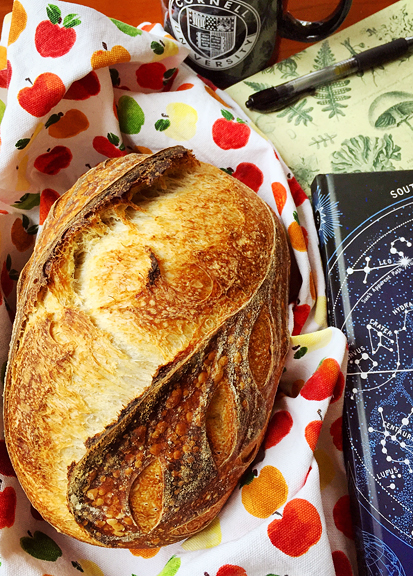 and cranberry walnut sourdough bâtards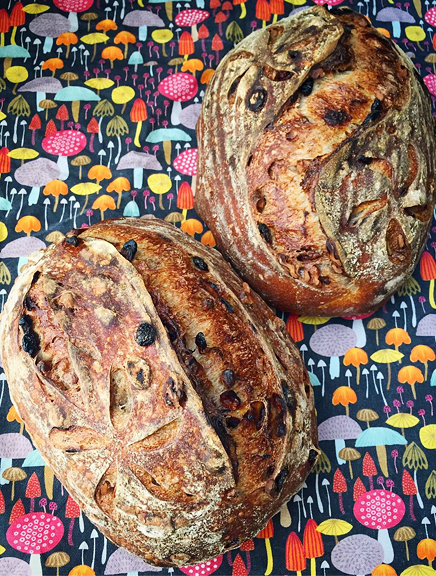 my all-weather pups in the high country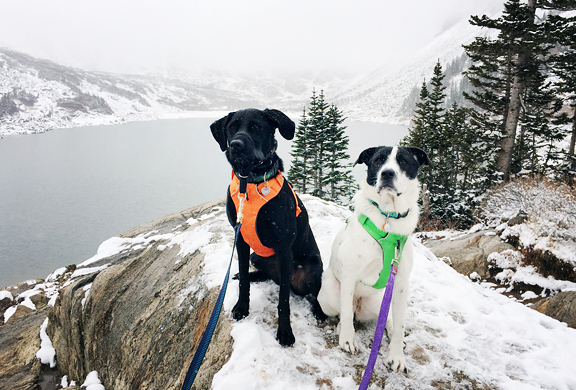 my beloved pack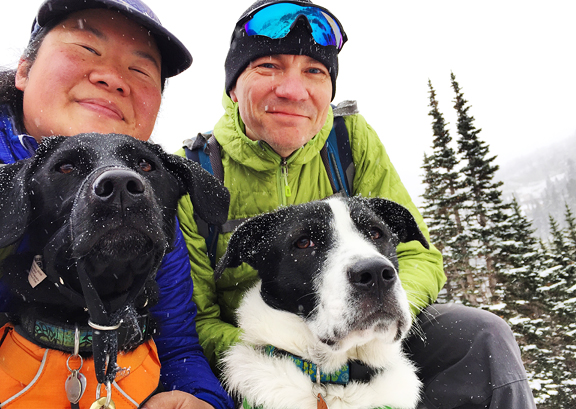 officemates chilling out while i work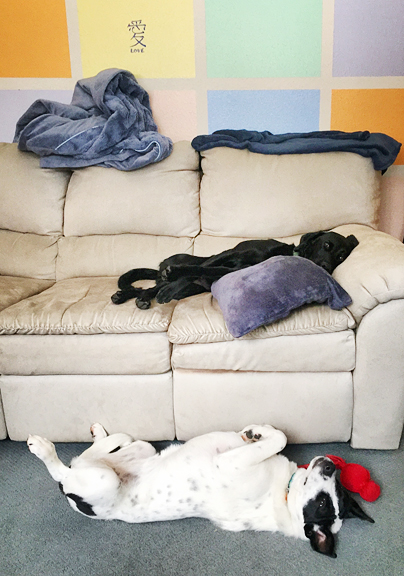 The kitchen has seen more use in the past couple of weeks than it did most of the summer. So far I've made chili, posole, pasta bakes, several batches of cookies, breads, and plenty of sushi. The wonderful nature of sushi is that it's a no-brainer meal for summer, but it is also perfect for cold weather with its accompanying tempura and miso soup and agedashi tofu and warm seasoned sushi rice. As I rummaged through my chest freezer recently, I grabbed a bag of frozen sliced matsutake and decided to season them Japanese-style. And then a vision of mushroom sushi goodness came to me. I knew what I had to do. If you aren't a mushroom lover, you must now look away and return for the next post. If you even remotely like mushrooms, this roll is for you.
3 kinds of mushrooms: shiitake (left), beech (top), and matsutake (right)
A dedicated mushroom sushi roll sounded like a great idea. Each type of mushroom is prepared a different way. I decided on matsutake mushrooms simmered in a soy sauce base, shiitake mushrooms simply sautéed, and tempura-fried beech mushrooms. What's great about mushrooms is that you can substitute other varieties if you don't have, let's say, matsutake on hand. Shiitake would be great in place of matsutake and you could sauté oyster mushrooms instead of shiitake, and tempura fry enoki or maitake in place of beech. Flexibility is good. Options are good. I will say, if you CAN use matsutake, please do. They have this certain special cinnamon-pine spiciness that is so complementary with the soy sauce, mirin, and sugar. It's magical. And if you are looking to make this gluten-free, replace the soy sauce with tamari.
water, mirin, hondashi granules, sugar, soy sauce, sliced matsutake
put everything in a small saucepan
bring to a boil, then simmer until liquid is gone
super flavorful mushroom slices
The sauté is straightforward. If you use shiitake mushrooms, be sure to cut off the stems as they are pretty tough and not so fun to chew. Slice the mushrooms about 1/4-inch in thickness because they will shrink during cooking. We want to have a meaty bite.
slice the shiitakes
sauté in oil and a pinch of salt
Tempura frying the beech mushrooms is probably the most involved portion of the recipe, because deep frying can be a pain. I usually buy beech mushrooms in 8- or 6-ounce packages, which means I will have more than I probably need for the four rolls in this recipe. Any unused tempura mushrooms should be eaten with gusto. If you are wanting to make the tempura gluten-free, simply replace the all-purpose flour with the same amount of rice flour. The batter will be thinner, but it will fry up quite crisp and lacy. If you wind up with extra batter (which you almost certainly will), you could tempura fry other things like shrimp, broccoli, sweet potato, onions, string beans, tofu, or more mushrooms.
potato starch, egg, flour, ice water, beech mushrooms, baking soda
stir the wet ingredients into the dry ingredients
dip the mushrooms to coat completely
fry in hot oil until light golden in color
Now that you have prepared your three kinds of mushrooms three different ways, you are ready to assemble your sushi roll. I should note that you can make the mushrooms ahead of time. Yes, even the tempura. I have found that when I reheat refrigerated tempura-fried food in a 350°F oven for about 8 minutes, they crisp very nicely. It's up to you what goes in your shroomaki sushi roll. Obviously there will be mushrooms, but I added avocado and cucumber for their creamy and crunchy textures that go so well with mushrooms. For the sushi rice, I tell everyone to make seasoned sushi rice. It isn't much additional work, but the rice vinegar, salt, and sugar really enhance the overall combination of flavors in sushi.
nori (roasted seaweed), seasoned sushi rice, cucumber, shiitake, matsutake, tempura beech, avocado
spread sushi rice over the bottom 3/5 of the nori
flip the nori over and layer the non-rice end with your fillings
roll it up tightly
slice with a wet knife (the plastic helps hold everything together and minimize mess)
I topped my shroomaki with drizzles of sriracha mayonnaise and anago (barbecue eel) sauce, and a dollop of masago (capelin roe) on each piece. Clearly, I am a fan of California-style sushi. If you don't have access to a grocer who sells these items, you can make the sriracha mayonnaise and the anago sauce yourself. I included recipes for them below. If you want to make this gluten-free, replace the soy sauce with tamari in the anago sauce (it's called barbecue eel sauce, but it doesn't contain any eel) and omit the masago/tobiko. I looked at the ingredients on the masago and tobiko packages in several of my local Asian grocery stores and they all contained wheat – probably due to soy sauce.
So how good is the shroomaki roll? It is awesome. Jeremy and I thought it would be good, but we didn't expect it to be this good. The mushrooms hold their own in terms of texture and flavor, but the beauty of sushi is the marriage of creamy, crunchy, chewy, sweet, salty, umami, tangy, and spicy. The shroomaki ranks up there with my favorite sushi rolls and it is definitely a sushi ode to mushrooms. This one is for all the mushroom lovers out there.

with all the toppings
shroom lovers, unite
Shroomaki (Japanese Mushroom Roll)
[print recipe]
6 cups seasoned sushi rice (recipe below)
4-6 nori (roasted seaweed) sheets
1/2 cup seasoned matsutake mushrooms (recipe below)
1/2 cup sautéed shiitake mushrooms (recipe below)
1 cup tempura fried beech mushrooms (recipe below)
1 ripe avocado, peeled, pitted, and sliced into eighths
2 Persian cucumbers, sliced into strips
1/4 cup sriracha mayonnaise (recipe below)
1/4 cup anago (barbecue eel) sauce (recipe below)
1/2 cup masago or tobiko (capelin or flying fish roe) (omit if making gluten-free)
Assemble the sushi roll: On a square sheet of plastic wrap, set down one sheet of nori. Work with a long edge of the nori closest to you. With wet hands, grab a handful of sushi rice (about 1 to 1 1/2 cups) and evenly spread it across the top 3/5 of the nori sheet, pressing the rice down to ensure it sticks to the seaweed. Flip the nori over so that the rice faces down onto the plastic wrap. At the non-rice end of the nori, lay out the seasoned, sautéed, and tempura mushrooms, avocado, and cucumber. Take care not to overfill the roll as the ingredients will squeeze out toward the ends when you roll it.
Roll the fillings up from the non-rice end of the nori (like a carpet) and continue to roll tightly, but not too tightly until the rice encompasses the entire outer part of the roll. Use the plastic wrap to help maintain shape without letting the roll stick to you. Use a bamboo mat to firm up the shape and compact the roll. Remove the bamboo mat, but leave the plastic wrap on the roll. Dip a sharp knife in water and slice through the plastic wrap to cut the roll in half. Clean the knife, dip it in water, and continue to cut until you have 8 even pieces. Peel the plastic from the roll. Arrange the pieces on a plate and drizzle with Sriracha mayonnaise and anago sauce. Top with masago or tobiko. Makes 4 cut shroomaki rolls.
seasoned sushi rice
2 cups sushi rice (uncooked)
2 cups water
3 tbsps rice vinegar
1 tsp salt
2 tbsps sugar
Combine the water and rice and cook per the instructions on your rice cooker. If you don't have a rice cooker: wash, drain, and soak the rice in water for at least 30 minutes, then drain. Combine rice and measured water in a saucepan and cover. Place pan over medium-high heat. When the water boils, reduce heat and cook for about 10 minutes. Turn off heat and allow rice to steam undisturbed for at least 10 minutes (don't remove lid or you'll release all the steam).
Combine the vinegar, salt, and sugar in a bowl and stir until salt and sugar are dissolved. Heap the cooked rice in the center of a large bowl. Allow rice to cool in the tub for 10 minutes. Pour the dressing over the rice and mix the dressing evenly with a large spoon or rice paddle. While mixing, fan the rice to cool it. The rice is ready to use when it reaches body temperature.
seasoned matsutake mushrooms
adapted from Daily Cooking Quest
1/2 cup matsutake mushrooms (or shiitake with stems removed or oyster mushroom), sliced 1/4 inch thick
1/2 cup dashi stock (I mix 1/2 tsp of hondashi granules with 1/2 cup of boiling water)
1 tbsp mirin
1 tbsp sugar
1 tbsp soy sauce (use tamari for gluten-free version)
Place everything in a small saucepan over high heat and stir to dissolve the sugar. When the liquid comes to a boil, reduce the heat to a simmer and let simmer until the liquid has boiled off. Remove from heat.
sautéed shiitake mushrooms
1 tbsp unflavored vegetable or canola oil for frying
1 cup fresh shiitake mushrooms, stems cut off, cleaned, and sliced 1/4-inch thick
pinch of salt
Heat the oil in a small sauté pan over medium-high heat. When the oil is hot, add the mushrooms slices. Let cook until the bottoms are golden, sprinkle the salt on top and then stir or flip the pieces to brown the other sides. Remove from heat.
tempura fried beech mushrooms
8 oz. beech mushrooms, cleaned, trimmed, and split into single or double stalks
1/2 cup ice water
1 small egg, beaten (or beat a large egg and use half of it)
1/4 cup all-purpose flour (or use 1/4 cup rice flour for gluten-free version)
1/4 cup potato starch
1/16 tsp baking soda
vegetable oil for frying
Combine the ice water and egg in a vessel. In a bowl, whisk the flour, potato starch, and baking soda together. Stir the dry ingredients into the wet ingredients (lumps are okay). Store in the refrigerator until ready to use. Makes just under 1 cup of batter. Heat 2 inches of vegetable oil in a large pot until the oil reaches 350°F. Dip the mushrooms, one at a time, into the tempura batter, completely coating each one. Gently lower the pieces into the hot oil taking care not to overcrowd (work in batches). Fry until the batter is golden, then flip the pieces over until the other side is golden. Remove from oil and let drain on paper towels or a cooling rack.
sriracha mayonnaise
1/4 cup mayonnaise
Sriracha sauce to taste
Mix together until blended.
anago sauce
6 tbsps soy sauce (or use tamari for gluten-free version)
4 tbsps mirin
2 tbsps brown sugar (or caramelized sugar syrup)
dash of rice wine vinegar
Combine ingredients in a small saucepan and bring to boil. Let boil for a minute or so and reduce to simmer until slightly thickened (2-3 minutes). Let cool (it will thicken some more, so don't boil it down too much). Makes about 1/4 cup.
more goodness from the use real butter archives