Recipe: gnocchi with morels and sage
Even though it's snowing as I type, I believe it is time to say farewell to winter. I said winter, not skiing! We're still going to ski as long as the snow is skiable. Spring skiing in the backcountry can be heaps of weird fun as we wait for trails to thaw out in the mountains.

i prefer the quiet of the backcountry to the resorts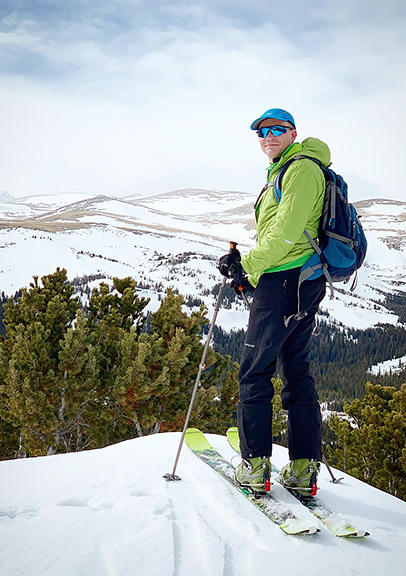 Last week, we sent Neva and Yuki back to the kennel for Yuki's first overnight stay and it was hard not seeing a fluffy white blur playfully bouncing about the house that evening. Both girls warmed up to playtime with other pups much faster than the first visit and they did just fine. We were asked if we wanted to keep the dogs together overnight or in separate rooms and I had to pause. I am certain Neva would have appreciated a night off from Yuki, but I think Yuki would have been beside herself without Neva, so of course we kenneled them together.
post doggy camp nap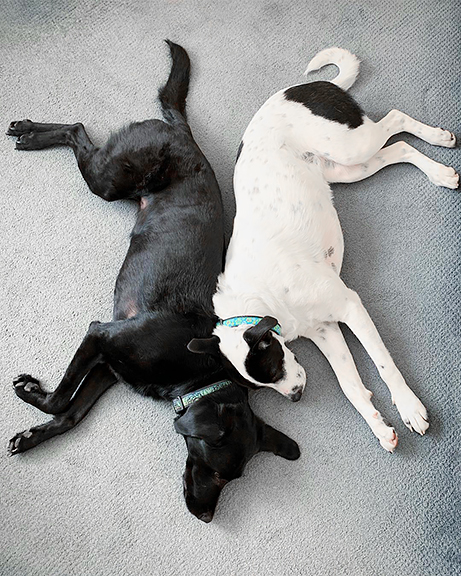 As the house cleaning continues, we are over what I considered the crux of the endeavor. Jeremy can not only see the surface of his desk, but he has room to actually work at his desk as opposed to the dining table. He was not happy about my gentle, yet firm insistence that he clean his damn desk and the loads of electronics (cables, obsolete devices, data storage, etc.) in the office closet, but he is now delighted to have a workspace that no longer poses a physical threat to humans or passing canines.
The whole process got me thinking about stuff and things. What do we keep and why do we keep it? My own parents are in the middle of sorting their belongings as they prepare to eventually make the move to Colorado and further downsize their lives. Mom sent me a text last month that Daddy was cleaning out the attic and wanted to get rid of old home movies… movies that included Kris when she was a child. I could hear the desperation in Mom's voice as I read her text and then it was punctuated by a sad face emoji with a teardrop. This made my heart hurt. I told her to have him pack it all in a box and ship it to me so I could digitally archive everything. Easy solution. Having the movies in my possession meant they were 1) no longer his worry and 2) not destroyed.
I know where Dad was coming from. He was thinking about how many more years he's going to be around and decided he could live without this stuff. But he didn't think about Mom's feelings and how throwing those home movies out meant one more piece of Kris that she would lose forever. It didn't matter if she never watched those movies again, she just needed them to be in safe keeping. I get it. I know Dad is able to part with these things and it doesn't mean he loves Kris any less. I also know that Mom will never be able to part with them. I am my father's daughter. As I cleaned my office, I was able to let go of mementos from Kris' funeral – a terrible time filled with awful memories. I recycled all of my chemo logs and calendars, letters and cards from people I've removed from my life, and all of my dissertation-related paperwork. Good riddance, baggage.

focusing on what is important in life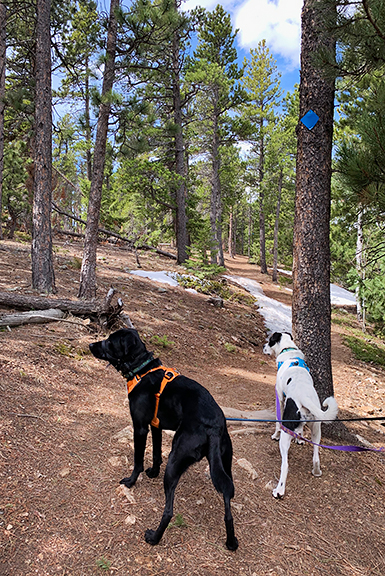 While running errands last week, we drove past a ranch house on the flats that had a large fenced grassy front yard. Because I am immediately drawn to brightly-colored objects, I noticed about a hundred pastel eggs scattered throughout and gasped out loud. These weren't just any eggs, but some were as big as my dogs! I turned to Jeremy and excitedly described what I saw. We couldn't figure out a reason for the giant eggs, but maybe it's for really little kids, or maybe it's for vision-impaired kids? While we don't celebrate Easter, we both think Easter egg hunts are awesome because they are a gateway activity to foraging.
patiently awaiting morel season in the mountains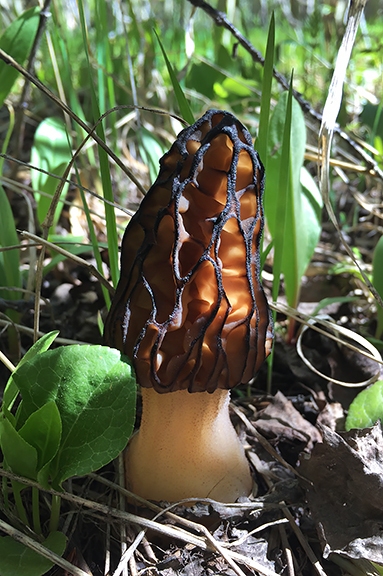 Morels have been popping around the country, and the blonde morels are starting to show up in the southern part of our state, so I think I can drop another morel recipe for those of you with access now and those of us who hope to see the beloved mushroom coming online in the near future. I made and photographed this recipe at the end of last season, but I promise it will be every bit as delicious now as it was then. Shall we make some gnocchi with morels?
start with russet potatoes, egg, and flour
I made half of the original recipe and used a whole egg instead of egg yolks (because I was tired of collecting so many egg whites). Does it matter what kind of potato you use? In this case it does because you want a starchy, fluffy potato flesh. And bake the potatoes instead of boiling as the latter will introduce too much water into your gnocchi dough.
slice your baked potatoes in half
scoop the flesh into a food mill or a potato ricer
run the potato through the mill on its finest setting
spread the potato out on a sheet to release moisture
Less moisture in your potato flesh translates into a less gummy, more tender gnocchi. And if you're wondering about gnocchi's classification, it's technically a dumpling rather than a pasta. But it's delicious whatever you call it. After the potato flesh has had time to dry out and cool down, pour beaten egg over it and then sift some flour on top. Cut the added ingredients into the potato.
pour beaten egg on top
sift some flour
cut the egg and flour into the potato
gather into a ball and flatten
fold and flatten again
To shape the dough, form a fat log and cut it into 2-inch pieces. Roll each piece into a rope about 1/2-inch in diameter and cut the ropes into 1-inch bites. From here you can either leave the gnocchi as little pillows or you can roll them off the back of fork tines to give them their traditional ridges which are excellent for holding sauces.
dust with more flour
shape into a log
cut the log into large pieces
roll the pieces into ropes
cut 1-inch gnocchi
gently press down and roll the gnocchi off the back of a fork
the gnocchi curl under the friction
little rolled gnocchi
or plain gnocchi
It helps to prep your sage and morels before cooking the gnocchi as that only takes a few minutes. While the pot of water heats, I slice my morels in half. Morels are definitely satisfying to eat when cooked whole (I love that meaty bite of mushroom goodness), but I like knowing that they are all free of dirt and other residents (worms). First I fry the sage in some butter until the leaves are crisp and remove them from the pan. Then I fry the morels in a little more butter in the same pan to infuse some of that sage flavor in the mushrooms. When the mushrooms have given up their liquid and it has all boiled off, I remove them from the pan.
morels, sage, pepper, salt, butter, parmesan
slice morels in half to make sure they're clean
fry the sage in butter
as addictive as potato chips
sauté the mushrooms
cook until all the liquid is gone
Don't wash that sauté pan! It has all of that tasty fond on the bottom, and you want that flavor incorporated into your gnocchi dish. When the water boils, add your fresh gnocchi and wait for them to start floating to the top. About 20 seconds after they start floating, taste one for doneness. It shouldn't have any taste of raw flour (if it does, let it cook another 30 seconds and taste again). When the gnocchi are ready, melt a little butter in your sauté pan and transfer the gnocchi with a slotted spoon to the butter. Cook the gnocchi without moving them until the bottoms turn crisp and golden. Toss the sage and morels in with the gnocchi and season to taste.
cooked gnocchi
brown in some butter
You could skip the final pan-searing of the gnocchi and toss the boiled versions with the sage and mushrooms, but I find that crunchy exterior and tender pillowy interior to be irresistible. Toss it all together quickly and finish it with some Parmesan or any grated cheese of your choice. A little sprinkle of crumbled bacon easily doubles the wow factor. It's a fine and delicious way to honor the great morel.
reserve a few whole leaves and mushrooms for garnish
ah spring!
savor every bite and celebrate the bounty
Gnocchi with Morels and Sage
[print recipe]
adapted from Serious Eats
gnocchi
1 1/2 lbs. russet potatoes
1 small egg, beaten
3/8 cup all-purpose flour, plus extra for dusting
kosher salt
2 tbsps unsalted butter
morels and sage
2 oz. (4 tbsps) unsalted butter
6 oz. (about 1 1/2 to 2 cups) fresh morels, cleaned
1/4 cup fresh whole sage leaves
salt
pepper
Parmesan cheese, grated
Make the gnocchi: Preheat oven to 450°F. Bake the potatoes directly on the oven racks (or a rack on a baking sheet) for 45 minutes or until fork tender. Slice the potatoes lengthwise and scoop the flesh out. Press the potato flesh through a ricer or a food mill on its finest setting. Spread the potato in an even layer on a baking sheet (I lined mine with foil) to let the moisture release as steam. After a few minutes, drizzle the beaten egg over the potato then dust 1/4 cup of the flour over the egg and potato. Use a bench scraper to cut the egg and flour into the potato. Form the dough into a loose ball, press it flat, fold it in half, and press it flat again. Sprinkle the remaining 1/8 cup of flour over the dough, fold it in half, and press it flat again. Dust the dough with a little flour to prevent sticking and form it into a log. Cut the log into 2-inch portions and roll each piece into a 1/2-inch thick rope. Cut each rope into 1-inch pieces. To get the traditional gnocchi texture, you can gently roll each gnocchi off the back of the tines of a fork.
Cook the gnocchi: Bring a large pot of salted water (I don't actually salt my water) to a boil. While the water is heating, melt 2 tablespoons of butter in a large sauté pan over medium-high heat. When the butter becomes foamy, fry the sage leaves until they become aromatic and the butter starts to brown lightly. Remove the sage leaves to a plate. Add 2 tablespoons of butter to the pan and toss in the morels. Cook the morels until they are seared and their liquid has boiled off. Remove the morels from the pan and turn off the heat. Add the gnocchi to the boiling water. When the gnocchi float, wait 20 seconds and taste the gnocchi for doneness (if you can taste the flour, let it cook a little longer until you can't taste flour anymore). Scoop the gnocchi from the pot with a slotted spoon to a bowl. Return the sauté pan to medium-high heat and melt 2 tablespoons of butter in the pan. When the butter is hot, add the gnocchi to the pan in a single layer, allowing the bottoms to brown. Turn off the heat. Add the sage and morels to the gnocchi in the pan and gentle toss together. Season with salt and pepper. Garnish with Parmesan, crumbled bacon, etc. Serves 2 as a meal, 4 as an appetizer.
more goodness from the use real butter archives