Recipe: corn porcini fritters
August is the Sunday of weekends. It's still summer, but the school year is right around the corner and you realize that Endless Summer is a lie. I begin each August in remembrance of Kris, as her birthday falls on the first of the month. Her personality was the epitome of summer, and so I like to celebrate her with flowers. I took my photo and then drove the flowers down to Mom because she loves flowers, misses Kris, and well – I just thought it would be nice to see my folks on Kris' birthday.

tulips on kris' birthday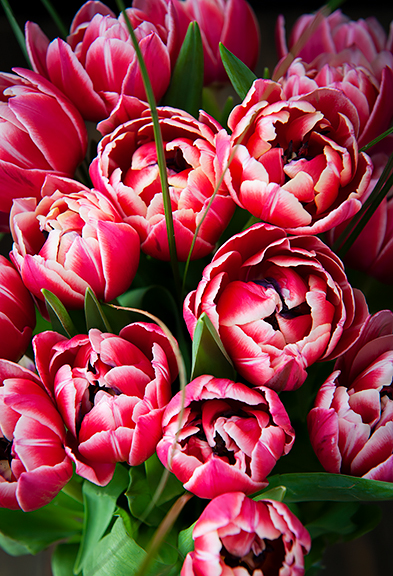 My parents' summers in Boulder have become progressively more relaxed over the years. I don't mean THEY are relaxed, but the way they treat our time together has fallen into a less urgent pattern. In the beginning, I would receive texts for every little thing and they would constantly ask when I was coming down to Boulder next. I think they treated their 2 month stays like a 2-day vacation in that they needed to see me as much as possible. It really stressed me out. With time, Mom and Dad have found a comfortable routine. They make friends easily and now when I ask when we should get together, I am presented with an obstacle course of a social calendar because they have so much going on with other people. I think that's wonderful.
we went to see "the farewell", an excellent film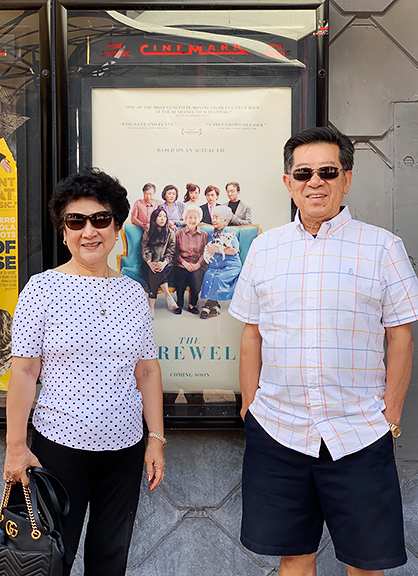 lunch at corrida in boulder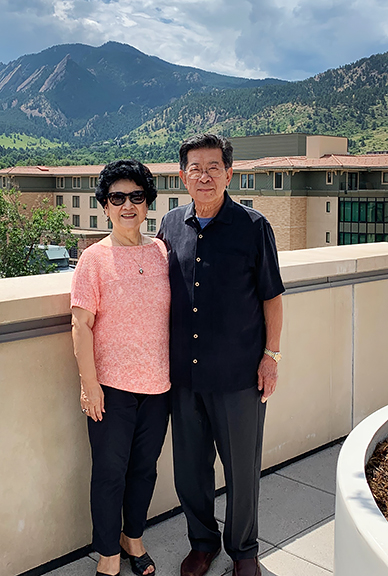 I learned from my neighbor that our public schools start this week. That means the summer crowds will soon thin around the state, and locals – like cooler weather – will creep back into the mountains. Actually, we've been in the mountains the whole time, we merely maintain a lower profile during the busy season in true wamp (weird-ass mountain person) fashion. Still, we get the pups out for their exercise and we continue to take in the glorious wildflower sights. I've stopped fretting over the fact that our "want to do" summer list is never achievable in a single or even a couple of summers, because we make the most of it and I'm grateful for whatever we can do.
hike, swim, play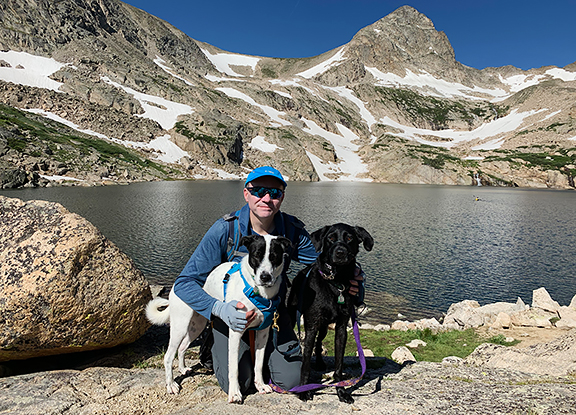 exploring our backyard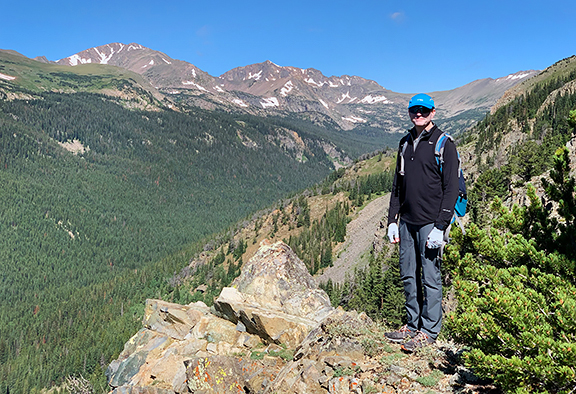 magenta paintbrush and elephantella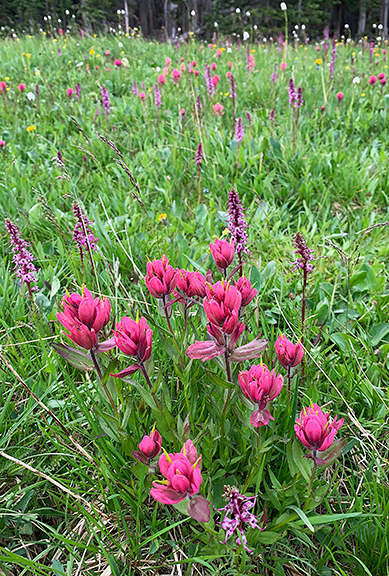 a skittles combo (purple, red, and yellow flowers)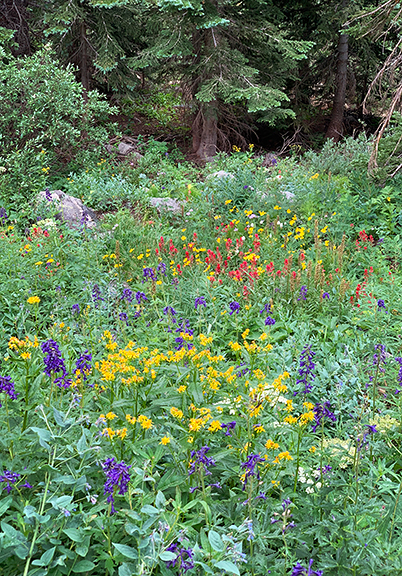 In addition to the stellar wildflower displays in the mountains this summer, our generous snowpack and the return of our southwest monsoon have spurred a rather strange, yet prolific mushroom season. Seasons are crashing into one another as the spring mushrooms are tapering into mid-summer and the late summer mushrooms decided to get the party started a month earlier than usual. It's mind-blowing and amazing.
the king of the rockies – boletus rubriceps (porcini)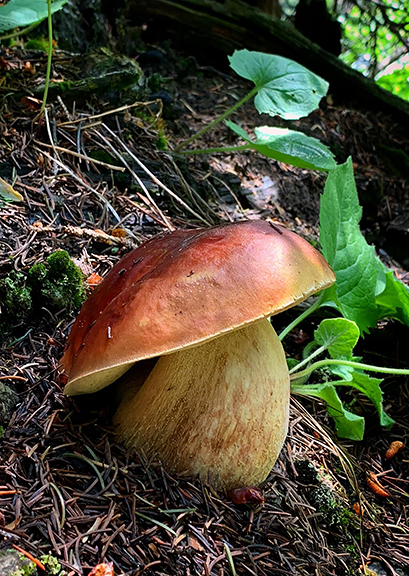 i love the chubsters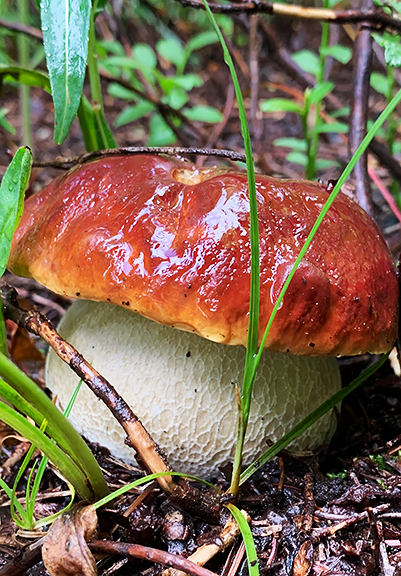 Not all mushrooms are interchangeable in recipes. The delicate taste of a fresh porcini can be masked by stronger, bolder ingredients. If I'm hiking all over the mountains to harvest these little beauties, I'll be damned if I prepare them in a way that masks their buttery, earthy, nutty flavor. The original recipe is for corn and shiitake fritters, but I had a hunch that fresh porcini would elevate this fritter recipe to new levels. And I was right.
vegetable oil (for fry and sauté), kosher salt, pepper, flour, milk, egg, baking powder, sweet onion, fresh porcini, corn
Slice the kernels from the corn cobs and divvy the kernels into two equal halves. Don't compost those cobs, though! After you've sliced the kernels off, use a spoon to scrape the remaining pulp from the cobs. I do suggest scraping with the spoon concave down (it catches stray bits), unlike the way I did it in the photo. I managed to get about 2 tablespoons from three cobs. Aaand, if you don't want to bother with that step or decided to go with corn that comes without a cob, I think you'll be fine.
slice the kernels off
scrape any extra pulp from the cobs
ingredients prepped
There are three components to the fritter batter: the sauté, the purée, and the dry ingredients. I find it best to start with the sauté because it cools while you're prepping the rest of the components. The recipe says to place it in the freezer, but I find letting entropy bring the sauté to room temperature rather than using refrigeration to be greener and less effort.
adding half the corn to the sautéed mushroom and onion
whisk the flour, baking powder, salt, and pepper together
purée half the corn, the corn pulp, the milk, and the egg together
Make the fritter batter by stirring the purée and flour mixture together, then folding in the sautéed corn and mushrooms. The original recipe called for 2 ounces of shiitake mushrooms, which I changed to 3 ounces of porcini mushrooms. I figured the freshness of my mushrooms translated into more water weight, so I increased the amount of porcini. I think next time I will increase the porcini to 4 or more ounces to get more mushroom representation. If you are lukewarm on the mushrooms, stick with 2-3 ounces. And if you don't have fresh porcini and are using dried porcini in these fritters, understand that dried porcini are a completely different beast with a far more intense umami flavor. I'd probably use 1/2 an ounce of the dried porcini (and remember to rehydrate them in boiling water). If you wanted to make this gluten-free, I think it's totally doable. The recipe reads like a pancake recipe, so I'm guessing a gluten-free all-purpose flour substitution should work here.
flour mixture, purée, and sauté
stir the purée into the flour
fold in the goodies
I chose my largest (12-inch) cast iron skillet to pan fry the fritters. Don't expect to fry them all at once or you will wind up with one large and somewhat thick fritter. Working in batches, I fried them 4 at a time, allowing 2-3 inches between each dropped scoop to permit spreading without merging. It took my fritters about 1-2 minutes to brown on each side. I found they were firm enough to flip when bubbles began appearing on the tops, much like cooking pancakes. I do suggest using a splatter screen or protecting your eyes (glasses work) during frying because some of the hot corn kernels pop and fly about making for a most exciting and somewhat dangerous activity.
drop scoops into the hot oil
flip when the bubbles appear on the tops
brown the other sides
drain on a paper towel
Jeremy and I expected these to be good, because corn and porcini are a magical combination. But whoa! We had no idea they would be incredible! The best way to enjoy them is hot and crisp and fresh. The delicately crunchy exterior gives way to a soft, fluffy, almost creamy interior. Each bite of porcini or pop of sweet corn is a party in your mouth. A dollop of garlic aioli or crème fraîche would complement the fritters beautifully.
serve hot
summer bounty at its finest
Corn and Porcini Fritters
[print recipe]
modified from Food and Wine
3 ears of corn, shucked
1 large egg
1/4 cup milk
1 tbsp vegetable oil
1/4 cup sweet onion, diced
4 oz. fresh porcini (or other fresh mushroom), 1/2-inch dice
3/4 cup all-purpose flour
1 tsp baking powder
1 1/2 tsps kosher salt
1/2 tsp freshly ground black pepper
1/2 cup vegetable oil for frying
Cut the corn kernels from the cobs. Divide the corn in half. Using a spoon, scrape the pulp from the cobs into a bowl. Place half of the corn, corn pulp, egg, and milk in a blender or food processor and purée until smooth. Set aside.
Heat 1 tablespoon of vegetable oil in a skillet or sauté pan over medium-high heat. When the oil is hot, add the sweet onion and sauté until softened. Add the porcini and cook until lightly browned. Put the other half of the corn in the pan and stir until cooked, about 1 minute. Remove from heat and let the mixture cool.
Mix the flour, baking powder, kosher salt, and black pepper together until well blended. Stir the corn purée into the flour mixture. Fold the corn-mushroom mixture into the batter. Heat 1/2 cup of oil in a large skillet (if using the same one, wipe it clean before adding the oil) over medium to medium-high heat. When the oil is hot, drop 1/4-cup mounds of batter into the pan 2-3 inches apart. Gently flatten the mounds to 1/2-inch thickness and allow to brown on the bottoms (about 1-2 minutes). When bubbles form on the top, flip the fritters and allow to brown the other side (another 1-2 minutes). Remove from heat and drain on paper towels. Repeat for remaining batter. Serve hot. Makes ~12 fritters.
more goodness from the use real butter archives