Recipe: peach pâte de fruits
People refer to September as if it is actual fall, but the reality is that only the last week of September is officially fall. Sure, we can feel that precious cooldown overnight in the mountains as August winds down and September steps up. Still, the daytime highs are HIGH and sadly breaking new records. Those of us loyal to seasons outside of Burn-Your-Face-Off-Hot summer are ready to move on from bug bites, sunblock, and waking at 5:00 am to beat the sun. Children's laughs echo from the schoolyard. Morning frost crunches underfoot in the high country. Time to resume our non-summer schedule. I hope you all had a great summer. We sure did.

variety and abundance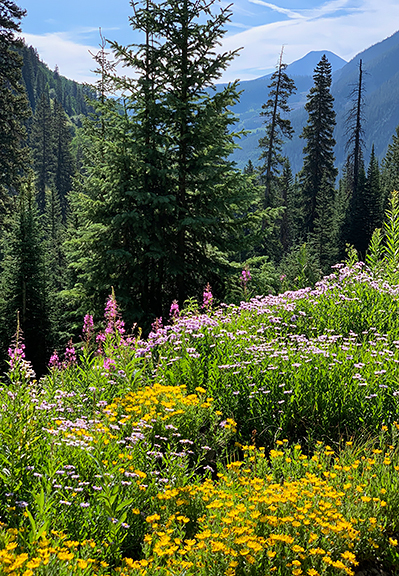 yuki inspects one day's haul of porcini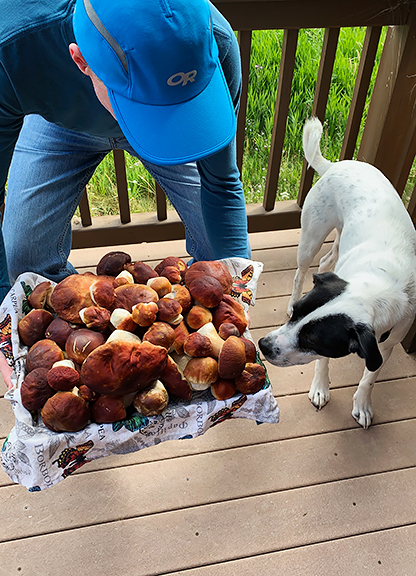 a morning spent foraging chanterelles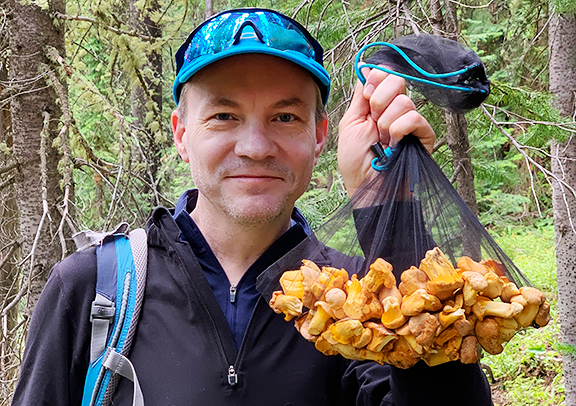 adventures with wingus and dingus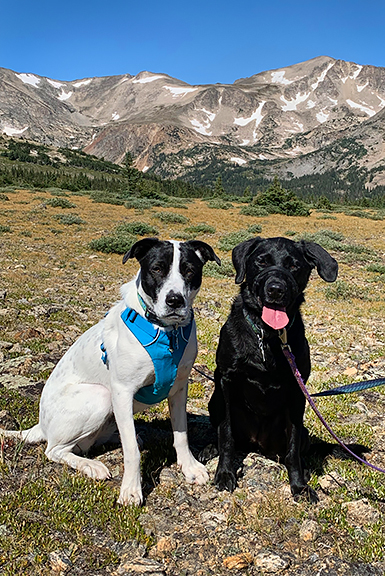 happy pups (that's yuki's happy face, same as all of her faces)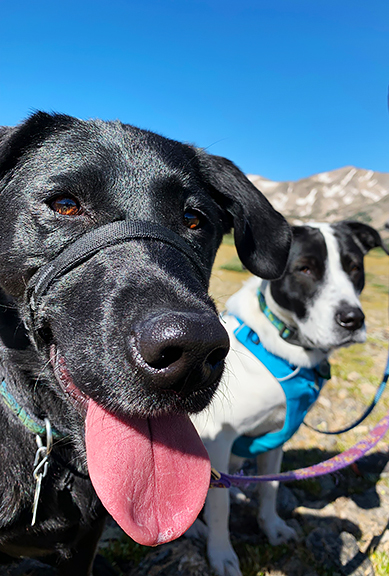 beating the heat on an alpine lake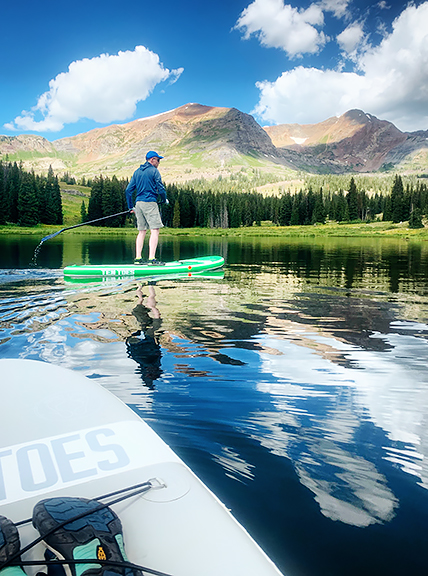 In summer, Colorado relies heavily on monsoonal moisture coming from the southwest to stoke our mountain thunderstorms and deliver rain. Prolonged absence of precipitation means the flowers begin to wilt, the mushrooms shrivel up and disappear, berries stall or die, and the threat of wildfire rears its ugly head. August was awfully dry in contrast to the start of the season, but this past weekend we were able to catch some wild berries, the last of the alpine wildflowers, and even hints of the golden glory that will soon wash over our beloved aspen forests.
thimbleberries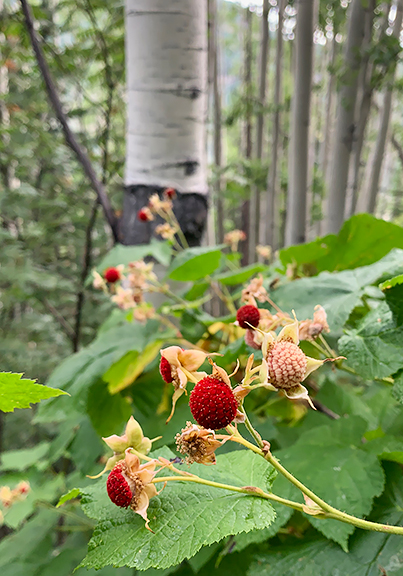 there's always that one tree who has to start early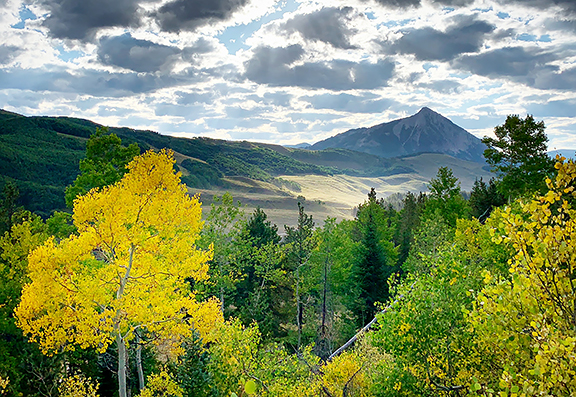 yuki on her labor day hike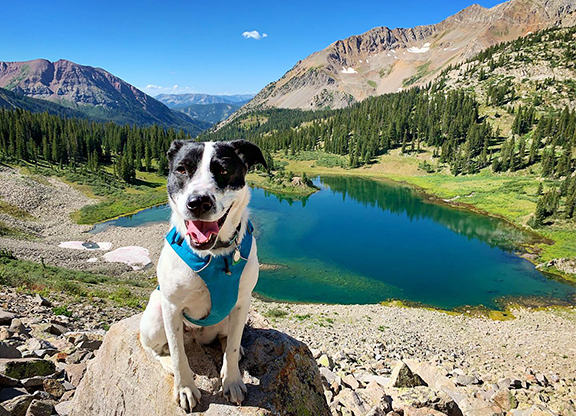 resting above treeline in the flowers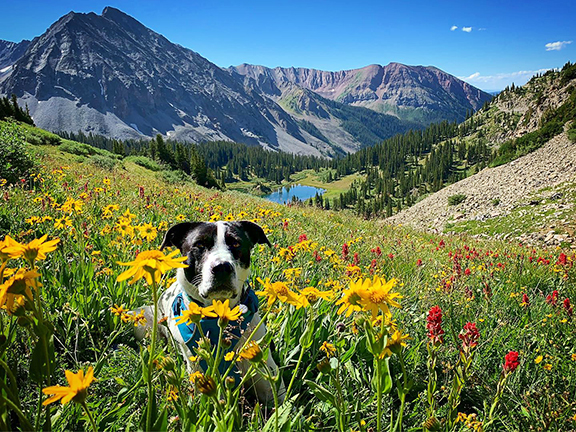 It's time. It's time. I've spent several weeks this summer foraging, cleaning, cooking, freezing, dehydrating, and pickling wild mushrooms, but now we are getting down to brass tacks. Time to can tomatoes, freeze corn, roast and freeze green chiles, forage late summer goodies (if any are to be had), and of course, freeze peach pie filling. I used to make peach jam every summer from luscious Colorado Palisade peaches until I realized I am not much of a jam person. Gifter? Yes! Consumer? Not so much. But peach pie in January is pure magic – hence the freezing of (a lot of) peach pie filling.
Last week, I had a dental appointment and wanted to bring a homemade sweet to the office. I know, who brings sweets to their dentist? I wanted something that could be easily shared, but my dentist is vegan and gluten-free. You may be asking where I find these people, but when you live near Boulder, Colorado, you get very used to these culinary obstacle courses. Peaches are happening now, so why not peach pâte de fruits? I adapted my strawberry pâte de fruits recipe by reducing the sugar and pectin, bumping up the lemon, and omitting the butter. I know there are a variety of pectins out there that behave differently from brand to brand, so I'm using Certo brand liquid pectin here. I haven't invested brain cycles into how you convert between liquid and powder pectin, but it's on that long to-do list of mine.

sugar, lemon, peaches, pectin (not pictured: pinch of salt)
peel, pit, and chop the peaches; juice the lemon
purée the peaches until smooth
Before you start cooking the candy, have a square pan (8-inch is best, but for some reason I only had a 9-inch pan) at the ready. Line it with parchment paper and make sure two ends extend up the sides for ease of release. I like to boil the candy in a medium or large heavy-bottomed saucepan. The increased surface area allows the candy to come to temperature faster when boiling. It helps to know what temperature you're at if you use a candy thermometer, so please do that. Just take care that your thermometer is not touching the bottom of your pot so that it gets a true reading on the actual candy temperature.
For sea-level people, you will want to bring your candy to a boil and monitor as it reaches 220°F. For those of us at higher elevations, the rule of thumb is to subtract 1°F from your target temperature for every 500 feet above sea-level you are at. Since I'm at 8500 feet elevation, my target temperature is 203°F (the math works). Let that boil for 3 minutes before stirring in the pectin. Once that boils for another minute, pour your candy into your prepared pan. Scrape it all into the pan quickly. If you take too long, it will begin to set up and you will have globs and blobs of candy on the top instead of a smooth surface.

combine the sugar, salt, lemon, and peach purée in a saucepan
add pectin after candy has boiled 3 minutes at target temperature
pour into lined pan
My candy sets up within a few hours, but I let it sit overnight to dry out the top as this stuff is sticky. If you are in a humid or hot environment, you can let it set up in the refrigerator. When it is ready, I don't recommend turning the candy out upside down because it will stick like a mother-loving beast and you will ruin the top surface. Take the two excess flaps of parchment and gently lift the candy out of the pan and onto a cutting surface. Don't let anything come into contact with the surface because pulling said thing off will leave a crater in your candy. I'm speaking from very recent experience. It's not a huge deal since it will get coated in sugar (or chocolate), but it's a pain to deal with and it will make you cuss. To cut the candy into slices, lightly grease a sharp knife with an unflavored oil before each cut, cleaning the knife of any candy remnants. I cut mine into 1-inch squares. Another tip: DO NOT lay a ruler on top of the candy because it will stick. Set your ruler next to the candy's edge and mark off your measurements with the tip of the knife.
remove the candy when it is fully set
cut into 1-inch pieces
coat in granulated sugar
I left the pâte de fruits out to "dry" on a cooling rack for another 12 hours and none of them had any issues with weeping. If the climate is humid and/or hot, then try storing them in the refrigerator in an airtight container. The flavor is intensely fruity, so a little goes a long way. It's always best to use in-season, ripe fruit for these candies, but the flavor will vary from fruit to fruit. While pâte de fruits tend to be sweet (they're fruit jellies) I suggest tasting the purée and then tasting the mixture of the purée, sugar, lemon, and salt. I ended up increasing my lemon juice to 2 tablespoons and adding the pinch of salt at the last minute to bring contrast and depth to the very sweet peaches. One batch produces 64 1-inch squares (and then some if you trim the edges), so I gave some to my neighbors and my parents as well as my dentist's office. They seem to have gone over quite well. Take advantage of the bounty before it's too late!
a little square packs a punch
excellent gifts
you will love every peachy bite
Peach Pâte de Fruits
[print recipe]
modified from this recipe
1+ lb. peaches, peeled, pitted and cut into chunks (to yield 2 cups or 16 oz. of peach purée)
2 tbsps fresh lemon juice
2 cups granulated sugar
pinch of salt
3 oz. liquid pectin (I used Certo brand)
extra granulated sugar for coating
Line an 8-inch square pan with parchment paper that covers two of the sides (crease the paper where the pan's sides meet the base). I used tape to keep the edges in place. Purée the peach flesh until smooth. Stir the peach purée, the lemon juice, sugar, and salt together in a medium to large heavy-bottomed saucepan. Bring the mixture to a boil over medium-high heat while periodically stirring and monitoring the temperature with a candy thermometer. When the temperature reaches 220°F (203°F at 8500 ft. elevation*), let it boil at that temperature for 3 minutes. Stir in the pectin and let boil for another minute. Remove from heat and pour the peach mixture into the pan. Let set overnight on the counter (if it doesn't set, try putting it in the refrigerator). When the candy is cohesive and firm, carefully lift it out of the pan by the edges of the parchment paper. I wouldn't invert it because the top of mine was sticky enough to adhere to anything it touched (and then tear apart when you tried to remove it). Use a lightly greased knife for each slice and clean the blade after every cut. Cut into 1-inch square pieces and roll each candy in granulated sugar. Makes 64 pieces. Store in an air-tight container for up to a week. Refrigerate if ambient air temperature is warm.
* If candymaking at elevation, you can adjust your target temperature using this calculation: reduce the target temperature by 1°F for every 500 feet above sea level. For example, I am 8500 feet above sea level which equates to 17°F (8500/500 = 17), which I subtract from the sea level temperature of 220°F to get 203°F as my adjusted target temperature.
more goodness from the use real butter archives