Recipe: korean jajangmyeon (black bean noodles)
Ready or not, winter is here! At least in Colorado, it's been the snowiest October in a while with records being broken in various locations after multiple storms have tracked through the state. Not only are we experiencing a snowy October, but it is downright cold for this early in the season logging a low of -8°F at our house this morning. Even the pups couldn't dawdle long in the yard before they had to come in to warm their little paws.

clearing after an earlier storm (but with more snow on the way!)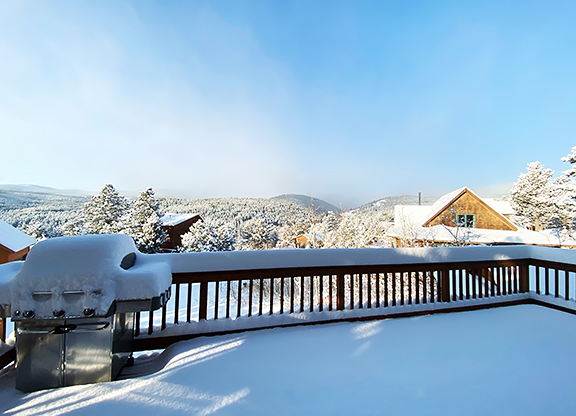 slipping out for a quick ski tour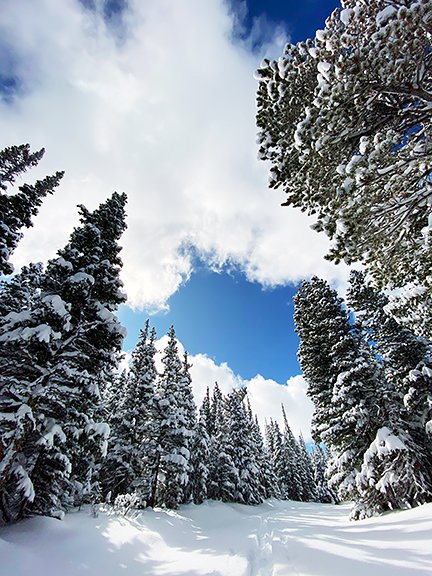 fresh snow or white sand dunes?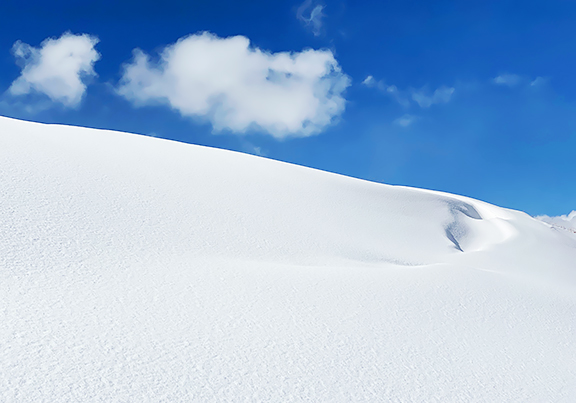 jeremy breaking trail to earn his first turns of the season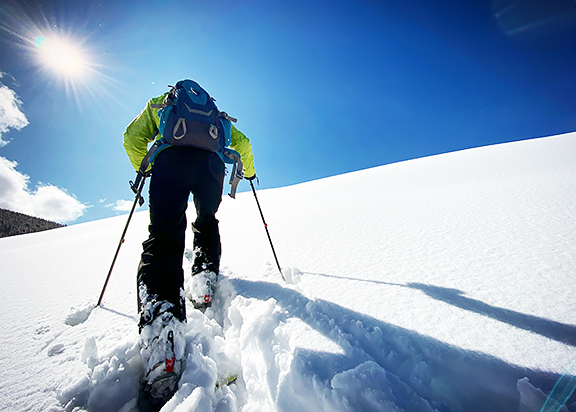 This sort of deep freeze is conducive to baking and soup-making. So far I've cranked out lots of
sourdough épi de blés
,
banana breads
(the result of a sale at the local grocer on spotted bananas), and big pots of
13 bean soup
. Actually, it was 12 bean soup and if you really want to know why, you can read about it on
Instagram
. Also noodles. Noodles are forever a part of my year-round menu because I am a bona fide Noodle Girl. But please don't think that I stand around at home cranking out hand-pulled Asian style noodles all the time… or ever. There is no shame in store bought packs of ramen (my current favorite is Nongshim Shin Ramyun Black) that get dressed up with lots of vegetables, spicy pickled radishes, a few slices of char siu pork, and a soft-boiled egg.
I'm always on the lookout for good varieties of instant ramen that appear along the noodle aisle of the Asian grocery store. It's hit or miss – mostly misses, but occasionally I'll come across something worth remembering. Last year I chucked a black bean Korean noodle affair into my cart. The preparation was a simple boiling of noodles, straining the noodles, and tossing them with a packet of black bean sauce. I didn't notice the blazing fire symbols on the packet and half of my face melted off while I ate it. It was delicious – and painful – but delicious. After a couple more face-melting events, I finally inspected the noodle packets on my next trip to the Asian grocery store and found a version of the same Korean noodles without the inferno symbol. Bingo!
At this point I was so in love with these noodles that the next logical step was to make it at home. Pictures matter, especially when you venture into unfamiliar cuisines and don't speak or read the language. I have moderate comfort when it comes to navigating Chinese ingredients because I grew up with this stuff and I also have my Mom as a helpful reference (Dad could be considered a reference, but a lot less helpful). I understand some Mandarin Chinese, can speak less than I understand, and the extent of my reading comprehension ends at mah jong tiles. I'm a big fat zero on Korean. And so I found myself squinting at photos of black bean paste labels on my phone as I held it next to all of the black bean pastes on the shelf at the H-Mart (Korean grocer) in the Denver suburbs. Most of the pastes were spicy, but I wanted the mild version so Jeremy could eat it, too. As a last resort, you could order online. The black bean paste is probably the only ingredient you might have trouble tracking down. Everything else appears to be easier to get or substitute.

two brands of non-spicy black bean paste
the korean noodz i used (i think most asian noodles could work)
The other ingredients can be found in most grocery stores. My Whole Foods carries daikon radish on occasion, but I picked up the Korean radish from the Asian store since I was already there. And if you are more of a Rice Person than a Noodle Person, it's easy enough to serve the sauce over steamed rice instead.
onion, cucumber, zucchini, korean radish, potato, pork belly
water, more water, vegetable oil, sesame oil, black bean sauce, salt, sugar, potato starch
Dice the pork belly and vegetables to about the same size. I went with a 1/2-inch dice, but you could go smaller or larger. Just don't make the pieces too large or it will take much longer to cook and the sauce will be more of a stew than a sauce. The cucumbers are a garnish, so those get the julienne treatment. Start by browning and crisping the pork belly in a wok or a heavy-bottomed pan or pot. Drain off the pork fat, add some vegetable oil and the radish for a brief stir-fry, then the rest of the vegetables (except the cucumber – that's your garnish).
some knife skills practice
brown the pork belly
add the radish
toss in the rest of the diced vegetables
When the vegetables have softened, scoot them to the sides of the pan, forming a well in the center. Pour a little vegetable oil in the center, then drop the black bean paste in. Stir the paste around in the center to let it cook for a minute or so, then incorporate it with the rest of the vegetables and pork belly. Stir in the water and cover the wok or pan with a lid, allowing the sauce to cook for 10 minutes. Meanwhile, mix your potato starch, sugar, and 1/4 cup of water together – this is your sauce thickener because the sauce is very soupy at this stage. After the 10 minutes of cooking, slowly pour the potato starch mixture into the sauce, stirring to incorporate it, until the sauce thickens to your liking. Add the sesame oil and season with salt if you feel the sauce needs it.
cook the black bean paste in the center of the pan
pour the water into the sauce and cook covered for 10 minutes
after thickening with potato starch, finish with sesame oil
Total prep and cook time for this dish clocks in at about a half hour for me. That's worthy of weeknight meals. But get this, you can make a batch or two of the sauce ahead of time for the refrigerator and then your weeknight meal takes as long as boiling some noodles and warming the sauce. Also? It's far tastier and healthier than the instant version and I like to bump up the amount of vegetables in my sauce anyway. As for the cucumber garnish, it's great and all, but I like to pile a generous handful of fresh mung bean sprouts on top as well as a spoonful of hot chili sauce (Lao Gan Ma hot chili crisp sauce – translates to old godmother – is one of my favorites).
an easy meal to make
fresher and better than instant
noodles for life!
Korean Jajangmyeon (Black Bean Noodles)
[print recipe]
from Maangchi
3 tbsps vegetable oil
1/2 lb. pork belly, cut into 1/2-inch cubes
1 cup Korean or daikon radish, 1/2-inch dice
1 cup zucchini, 1/2-inch dice
1 cup potato, peeled and cut into 1/2-inch dice
1 1/2 cups yellow onions, 1/2-inch dice
1/4 cup black bean paste
2 cups water
2 tbsps potato starch
1 tsp sugar
1/4 cup water
1 tsp sesame oil
salt to taste
1/2 cup cucumber, julienned
cooked jajangmyeon noodles for 2-3 servings
Heat 1 tablespoon of vegetable oil in a large sauté pan or wok over medium high heat. When the oil is hot, stir fry the pork belly until browned and crisp on the edges – about 4-5 minutes. Drain off any excess fat. Add the radish to the pork and sauté for a minute. Pour another tablespoon of oil into the pan and stir in the zucchini, potato, and onions. Stir fry for 3 minutes. Push the contents of the pan to the sides, creating a well in the center. Pour the last tablespoon of vegetable oil in the center. When the oil is hot, add the black bean paste and stir fry the paste in the center of the pan for about a minute before mixing all of the pork and vegetables with the paste. Stir in 2 cups of water and cover the pan with a lid. Cook for 10 minutes. In a small bowl, stir the potato starch, sugar, and 1/4 cup of water together. When the potato and radish are cooked, gradually stir the potato starch mixture into the sauce until it begins to thicken. Stir in the sesame oil and remove the sauce from the heat. Add salt to taste, as needed. Serve over noodles (or steamed rice) and garnish with fresh cucumbers. Serves 2-3.
more goodness from the use real butter archives