Recipe: dry-brined roast turkey with gravy
Before my parents left for Hawai'i, my mom called me up to find out if I would like her to ship me a Smithfield ham – the uber salty, delicious, country-style ham from my home state of Virginia. I said I'd love to have one and she made a note of it (her thing is to ship hams all over the country to friends and family). I asked if I could get one for Thanksgiving and she said, "No! They come out for Christmas and besides, everybody eats turkey for Thanksgiving."
Well, not everybody. It's been a while since we've had turkey for Thanksgiving. I always get waylaid when planning the Thanksgiving menu because other mains sound so much better. This year, I decided that no, we wouldn't be having turkey for Thanksgiving, but yes, I would roast a turkey. Remember that organic bird I picked up at Whole Foods last week?

dry brining the bird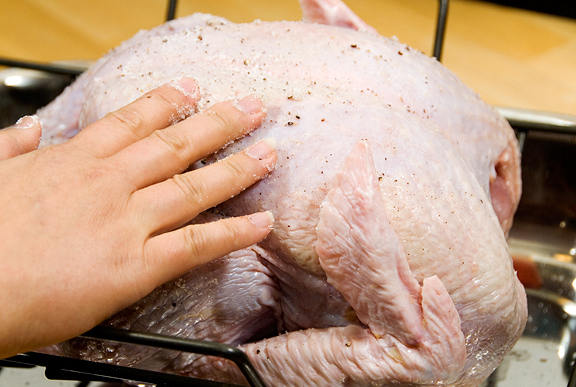 It was a little frozen ten pound hen. I figured I would try
dry brining
which I had read about on
The Bitten Word
. I used a quarter cup of coarse sea salt with a teaspoon of freshly ground black pepper as my dry brine. Last night, I rubbed the defrosted (took 3 days – I think our fridge is really cold) turkey down with the salt mixture both inside and out, set her on the rack in the roasting pan, and let her chill out in the refrigerator uncovered for 10.5 hours (she weighs 10.5 pounds).
separating skin from the breast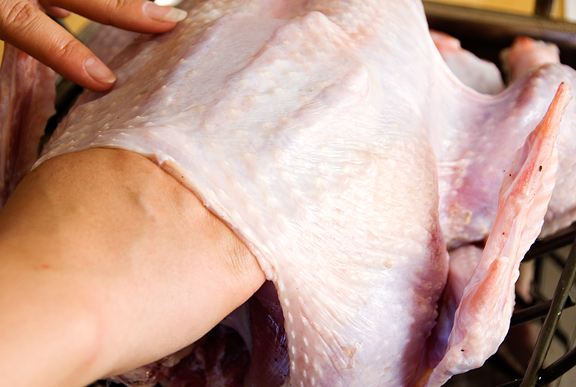 After the 10.5 hour chill out, the turkey was rinsed in lukewarm water to rub off the brine (inside and out) and patted dry (inside and out). I referenced my Fine Cooking November 2007 issue which recommends separating the skin from the breast and rubbing butter underneath. I had some truffle butter that my aunt had given me and decided to use that on the bird.
heady smelling truffle butter – gets under the skin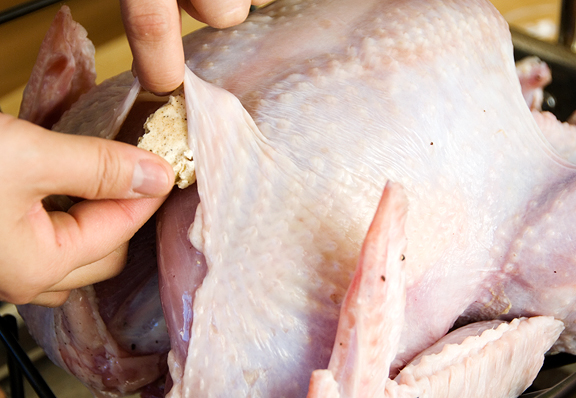 It's actually easier to place little pats of butter under the skin and then moosh them around from the outside. I then rubbed softened regular unsalted butter around the outside of the whole bird, tying the legs together and tucking the wings under.
trussed, more or less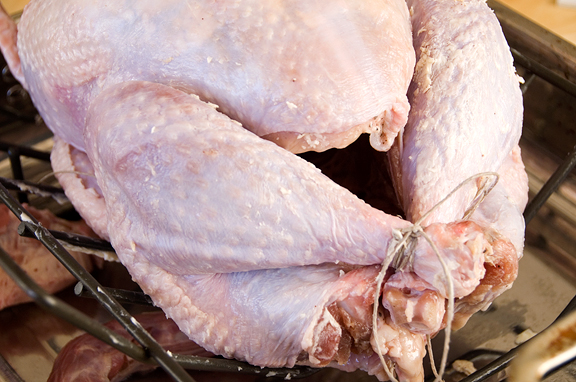 I normally like to stuff my turkey, but so many sites and references say not to stuff the turkey – so I didn't this time. I put the turkey on the rack, breast-side up, but since I wasn't stuffing the bird, I should have tried cooking it breast-side down, but forgot (
Elise
says it gives a moister breast meat). Once the bird was ready, I covered the pan tightly with aluminum foil and baked at 350°F. After 2 hours, I removed the foil and baked for another 45 minutes. What I should have done was bake under foil for 1.5 hours and then bake uncovered for another hour. But the skin came out crispy and golden and juices were pouring out.
a little tan goes a long way
While the turkey rested, I drained off the drippings and poured them into a ziploc bag. I cut a hole at the bottom corner of the bag to collect the juices and discarded the fat. I love that trick!
turkey goodness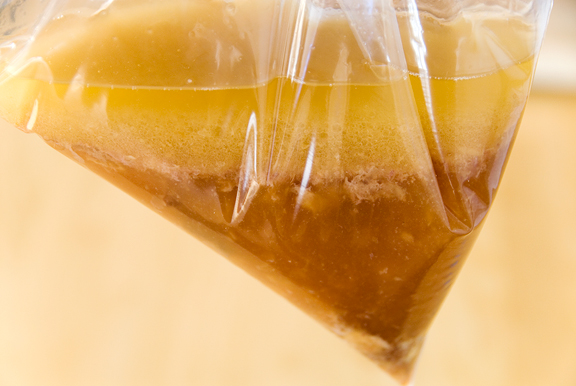 I made a quick roux with butter and flour. After the roux thickened and browned, I strained the turkey drippings into the pan.
adding turkey juices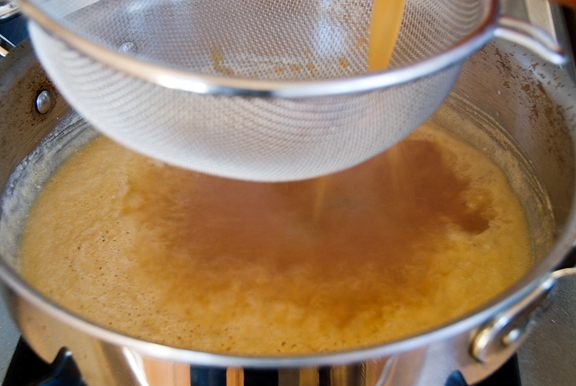 I added ground pepper, poured in some chardonnay and a little chicken broth to achieve the proper taste and consistency. The wine really turns it from bland "meh" to a lively and tasty gravy. There wasn't much need for salt since the drippings were already a little salty from the brine.
a little wine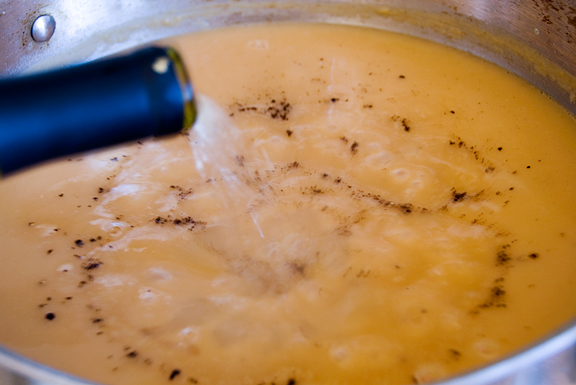 So we had our turkey dinner today rather than Thanksgiving Day. The turkey was good as turkeys go. While neither of us are fans of white meat, Jeremy enjoyed it and said it was rather juicy. I stuck to the dark meat, which was reminiscent of duck (mmmm, duck…). We paired it with a lovely Gewürztraminer. Here is what we had:

roasted butternut squash soup with bacon
roasted turkey
turkey gravy
stuffing
potatoes au gratin
salad greens with orange and pomegranate in lemon-citrus dressing
crustless pumpkin pie with whipped cream and crystallized ginger

The turkey and gravy instructions are at the bottom of this post. I'll post some of the other recipes over the next few days and link to them from here as well. The stuffing was plain old ordinary stuffing (onions, celery, cubed herbed bread, chicken broth, and minced gizzard). I always prefer a green salad to mushy vegetables if at all possible – it's lighter and more refreshing on the palate.
roasted butternut squash soup with bacon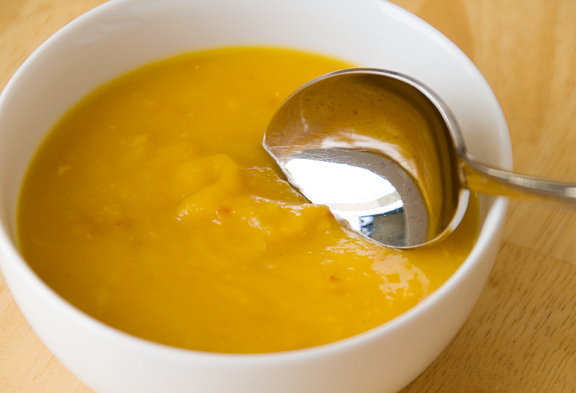 dinner plate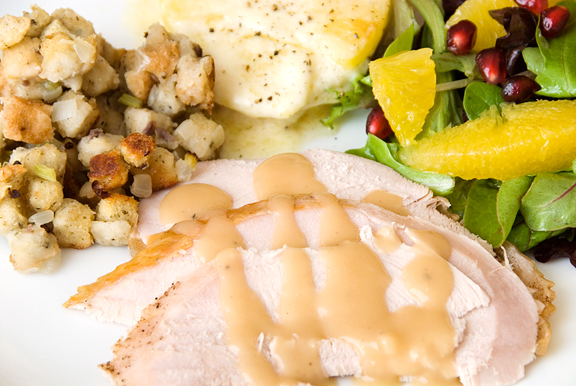 crustless pumpkin pie with whipped cream and crystallized ginger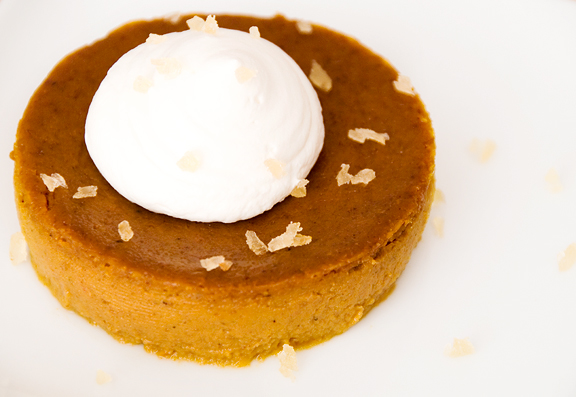 The beauty of the crustless pumpkin pie is that 1) I don't have to make a crust and 2) I don't have to eat the crust. I'm all about the pumpkin part of pumpkin pie. Now if it's apple pie… gimme crust!
such a good girl: waiting for the okay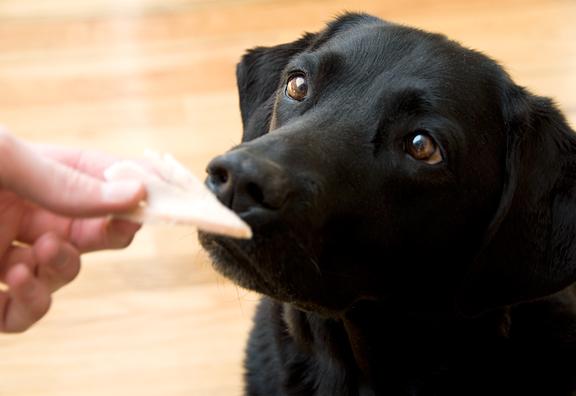 Verdict on dry-brining
: much better than wet brining.
Verdict on the turkey
: not bad.
Verdict on making this turkey again
:
If I'm going to spend that much time on preparing a critter, it had better taste as good as crab or lobster…
This turkey didn't taste as good as crab or lobster to us. We just aren't crazy for roast turkey. I don't care HOW WELL you roast it, it won't tickle my jollies the way pork, beef, or seafood can. Still, it's always good to learn how to do things.
Dry-Brined Roast Turkey
[print recipe]
from Epicurious and Fine Cooking November 2007
10 lb. turkey (preferably organic), fresh or defrosted if frozen
see article for adjusting quantities for larger or smaller birds
1/4 cup coarse sea salt
1 tsp freshly ground pepper
1 tsp each of any herbs you want to use (I didn't)
1/2 cup butter (I used truffle butter and unsalted butter), softened
Make sure to defrost the turkey according to food safety recommendations (i.e. not on your counter top). Remove giblets and neck from cavity (reserve). Cut off fatty end at the tail (reserve). Mix sea salt and pepper and any herbs together. Rub the salt over the entire bird including inside the cavity. Set on a rack in a shallow pan and refrigerate 1 hour for every pound, uncovered. Remove bird from refrigerator and rinse off the brine in lukewarm water. Pat dry. Preheat oven to 350°F. Carefully separate the skin from the breast by sliding hand under the skin. Place pats of butter under the skin. Push the butter around evenly from outside of the skin. Use remaining butter to coat the entire outside of the turkey. Tie the legs together. Tuck the wings down. Place turkey breast side up on rack in shallow roasting pan. Toss the turkey neck and tail piece into the bottom of the pan. Cover tightly with foil and bake for 1.5 hours (2 hours if 14-16 pounds) on a low rack in the oven. Remove foil and bake for another hour for the skin to brown. Target temperature is 170-175°F in the thickest part of the thigh and the juices run clear when you remove the thermometer. Remove from oven and let rest under foil for 20 minutes before carving.
Turkey Gravy
adapted from Fine Cooking November 2007
pan drippings from roasted turkey
4 tbsps butter
1/3 cup flour
1 cup chicken broth (or more)
1/2 cup dry white wine
pepper
Pour the cooled contents of the pan into a ziploc bag. When the fat layer settles out, poke a hole in the corner of the bag and let the turkey juices flow into a vessel. Stop the flow when the fat layer approaches the corner. Discard the fat. Melt butter in a large shallow pan over high heat until it foams. Whisk in the flour and continue whisking until the roux darkens to a caramel color (couple of minutes). Pour the wine into the roux and whisk to incorporate. Add the pan drippings and stir in chicken broth. Add more chicken broth to achieve desired consistency. Season with pepper to taste and serve with turkey.