Recipe: pomegranate, orange, and jicama salad
We just got tickets for a performance I cannot wait to see. I am giddy. Giddy. And I just rearranged my pantry closets. More giddy.
Thanks to those of you who have commented on the Kyocera ceramic knife giveaway so far. I do read each one and have cooed more than one "awwwww" or chuckled out loud at several answers. These are great and I'm really pleased that so many of you can be in a Good Place. A couple of commenters were caught up in my spam filter which is set to *paranoid*, but not to worry as I do retrieve legitimate comments. For those of you who have commented multiple times, you will be counted once (that PhD is good for something… I can actually count).
Now that my pal has received this package in the mail, I can post a picture of what I made for her. It's a relatively simple pattern, but I think it is especially gorgeous with any Manos del Uruguay wool (especially the multis).

i could only part ways with it because i can't wear wool… and because she's awesome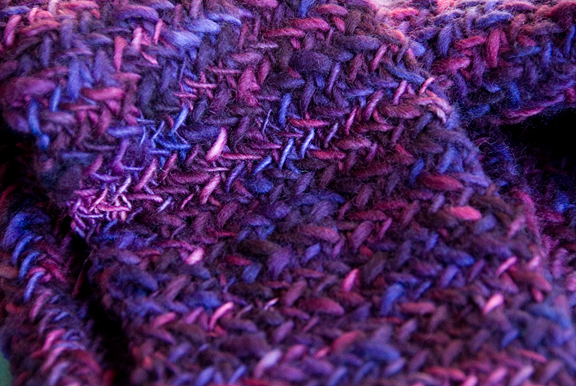 We recently spent a day at Vail – and it was awesome. Not many crowds (well, the bowls and upper mountains got crowded toward afternoon), long steep runs, good snow, beautiful scenery, express lifts, all made for a very good day of tele with my sweetheart.
jeremy gets a warm up run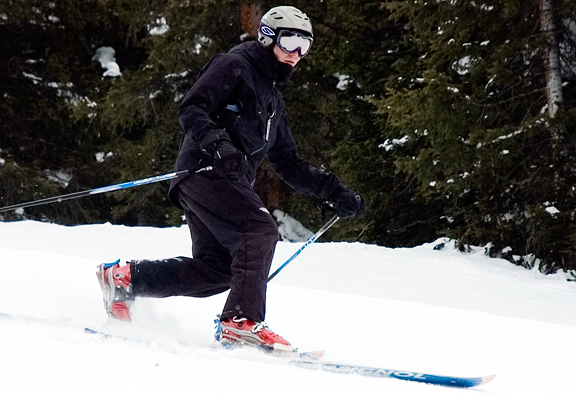 the surrounds are breathtaking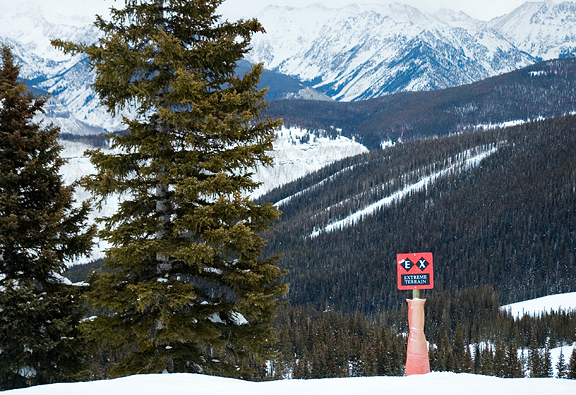 the last run of the day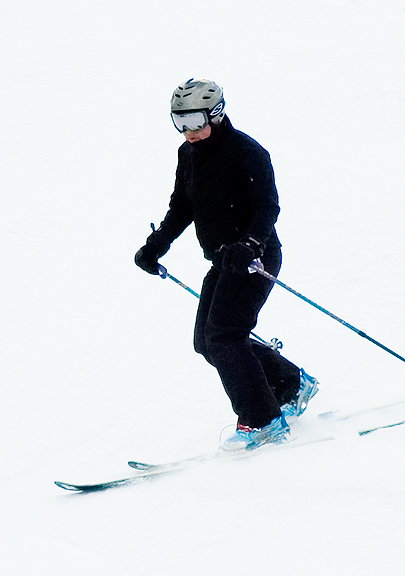 It's easy to forget that Vail is an international destination, although I think I can relate to those who come to Vail for vacation more than I could ever relate to those who went to Williamsburg, Virginia – where I grew up. People I met would always tell me, "We loved going to Williamsburg for our family summer vacation!" and my reaction was always a bewildered and suspicious "why?" That's a local teenager for you.
My recipes are piling up and I thought I should get back to a more healthy and typical dish that we serve around here. I know a lot of the foods on urb can be of the ass-widening variety. We don't actually consume all of them (wait until you see what we sent to our neighbors this weekend) and one of the reasons I love small servings is because I can sample a recipe without making and eating a full blown batch. We had been making this salad quite often while pomegranates were in season. Just when I thought to blog it, I went into town and discovered that there was not a single pomegranate to be found anywhere. That's what I get for being asleep at the wheel. But then a few weeks later, I was in Denver with Manisha and Kitt at H Mart where I found a pile of ginormous pomegranates and quickly loaded my cart with several.

i'd like to thank persephone for eating those pomegranate seeds and giving us ski season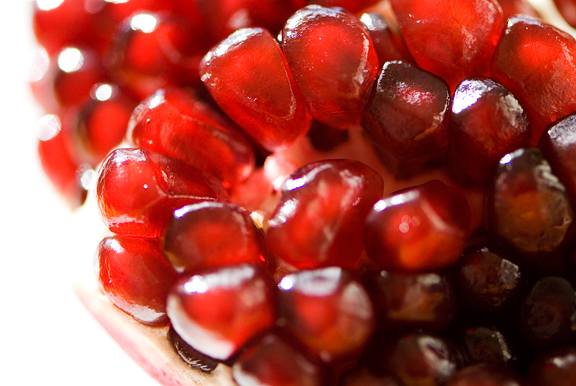 When I was a little kid, I had serious issues with pomegranates. I didn't know you could eat the seeds and so I spent many a countless hour chewing the fruit around the seed until it was clean and then spitting the seed out. It wasn't until one day while I was trying to sell the fruit in the refrigerator to my family from a bookshelf set across the doorway of my room, that my sister informed me that 1) I was an idiot and 2) you can eat the seeds.
greens, oranges, jicama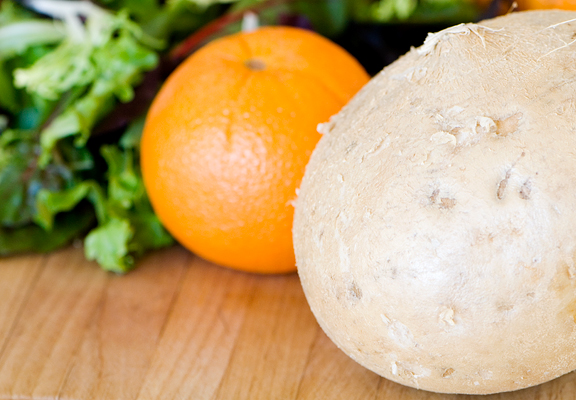 I love a good salad. It can really wake me up and make me feel alert. One of my favorite ways to prepare salads is with fruit. I didn't think this was odd until one summer in Argentina when I made dinner in camp for the field team. One of our Argentine colleagues kept marveling at the fruit in the salad – that and the fact that I was from the United States, but CHINESE. Almost everyone I met in Argentina had trouble getting their heads around that concept: that I was Chinese, but not from China… and I guess the fruit in a salad to a lesser extent. Years later, that same colleague refers to me as the Chinese girl who puts fruit in the salad. Alright man, whatevs.
peel the jicama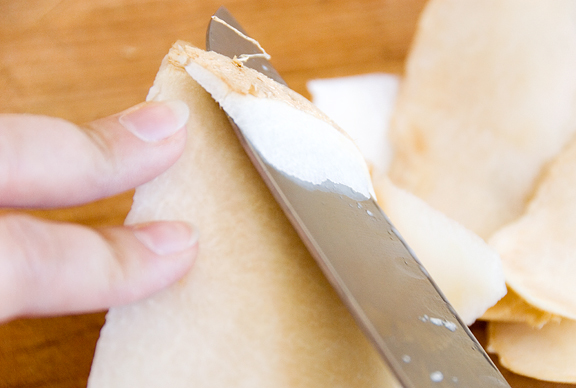 The assembly is simple. Fill a bowl with your choice of greens, supreme a juicy, sweet orange, sprinkle matchsticks of jicama, and then squeeze the skeleton of the supremed orange over the salad. I really dislike heavy dressings because they mask the subtle flavors.
use up all of that precious juice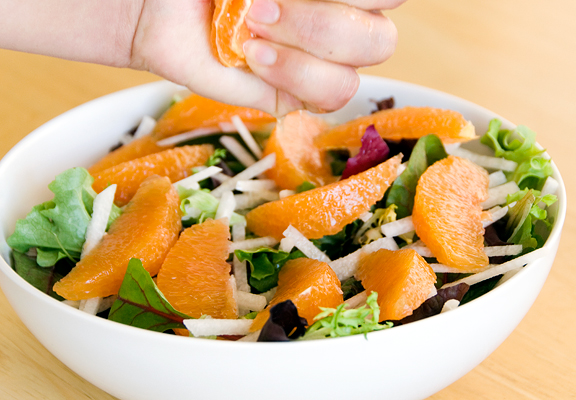 Often, I don't even bother drizzling any oil over the salad and enjoy it with just the juice of the orange. However, if I entertain, I make a dressing of mostly fresh orange juice, a little sugar, salt, pepper, oil (vegetable or olive), and perhaps a dash of red wine vinegar. I'll top the salad off with a generous sprinkle of pomegranate seeds which look like jewels or tiny glass ornaments.
more pomegranate, more
This salad is juicy and crunchy, tart and sweet, and very good for you. It brightens a dinner table and freshens any meal, or it can make a great meal on its own. We're down to our last pomegranate.
a colorful mix
Pomegranate, Orange, and Jicama Salad
[print recipe]
2-3 oz. salad greens per person, washed and dried
1 orange per person, supremed
1/4 cup jicama per person, cut into matchsticks
2-3 tbsps pomegranate seeds per person
dressing (optional)
dressing
1 orange, juice of
1/2 tsp sugar (to taste)
pinch of salt
ground pepper
dash of red wine or cider vinegar
1/8 cup canola or olive oil (I don't tend to use much, but use what works for you)
To make the dressing: Combine all ingredients in a bowl except for the oil. Whisk together and slowly drizzle the oil into the bowl in a thin, steady stream until desired consistency is reached.
Assemble the salad: You can toss the ingredients with the dressing in a bowl or you can toss the jicama and greens together with the dressing and arrange the orange slices and pomegranate seeds on top. If not making the dressing, then you can squeeze the juice of the remnants of the supremed orange over the salad and drizzle a little canola or olive oil on top.