Wednesday, February 26th, 2014

Recipe: machaca (mexican shredded beef)
It feels like spring. It was so hot while I was shooting Wednesday afternoon, that I opened the deck door to let some cool air in. COOL air, not cold air. The mercury read 45°F on our deck with nary a cloud in the sky, the wind abating for a day. It felt really nice. I called to Jeremy in the office and asked him to help me carry Kaweah out to the deck. Kaweah spends a good deal of time in her doggy bed because she gets so tuckered out from standing or walking these days.
Her legs are getting to the point where sometimes she doesn't have the strength to crawl into her bed on her own and we'll find her with the front half in the bed and the back half hanging out on the rug or the back legs in some tangled spaghetti-like mess. She always greets us with an expression, "Oh hey, how's it going?" We rearrange her legs into a comfortable position several times a day (and night). She can't really feel pain when her legs are splayed or twisted in odd directions, we just don't want her to cut off circulation and do further damage to them.
Because it can be quite an ordeal for her to get out of bed and move elsewhere (like out of the sun or into the office), sometimes we pick the bed up with Kaweah in it. The first time we did that a few weeks ago, she was all, "Whoa… what the what?" But now she's used to it and she rather likes it. Kaweah takes the opportunity to look around (it's a new and exciting vantage for her) and almost has an air of "Bring me thither!" We set her down on the deck in the sun with a good view of the neighborhood. She was comfortable and distracted by all of the activity around her: dogs, birds, cars, neighbors. As long as she's happy.

my mom's orchid (in my "care") is blooming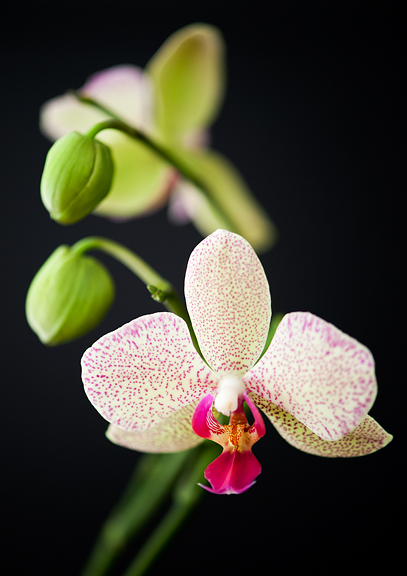 Of course, we all know that this warm spell is temporary. Colorado gets her best storms in March and I welcome our powder overlords! Yet spring and even summer have beckoned to me in flashes: spring backcountry skiing, foraging, travel, backpacking, and my summer rituals of jamming, canning, and roasting green chiles to freeze for winter. I always hoard green chiles in August because I fear running out mid-winter.
The Hatch Chile Store
in Hatch, New Mexico recently shipped me some of their frozen roasted green chiles to try. Normally product offers go straight to my spam folder, because I hate shills and I respect my readership. But I have blogged several green chile recipes in the past and the real deal can be hard to source. I thought it was a good opportunity to find a green chile shipper that I could recommend to others since so many have asked.
5 pounds of medium heat big jims
I requested medium heat whole green chiles. They offer mild, medium, hot, extra-hot, whole, diced, frozen, and fresh (seasonal). The chiles are farmed in Hatch, harvested, shipped fresh or roasted, peeled, diced or left whole, and shipped frozen. Having roasted and peeled my own chiles as well as purchased many pounds of roasted chiles in New Mexico and in southern Colorado, these are by far the most beautiful and best quality specimens I have ever enjoyed. Big Jims (the variety I received) are large, meaty, sweet, and perfect for chile rellenos. After our fix of chile rellenos, I saved two chiles for another recipe I've been meaning to try: machaca.
chiles, garlic, lime, tomatoes, salt, onion, bouillon, beef chuck, pepper, oil
season the beef with salt and pepper
sear the beef on all sides
**Jump for more butter**