Recipe: sashimi salad
It is nonstop head-spinning fun over here at Butter Headquarters. I got my phone fixed after it took a prolonged underwater tour of the lake, but I haven't had much time to get back to the social media channels because real life is in high gear! It was nice to retrieve my photos though – the ones that were the whole reason the phone and I went swimming together.

see the carp?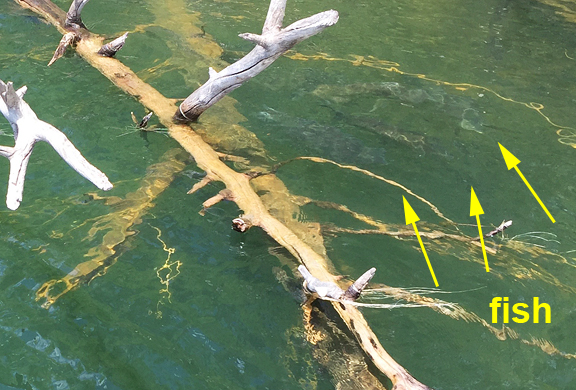 Before we came home to Nederland, we took Neva out on the lake once more to practice climbing out of the water onto the stand up paddle board (SUP). It's quite easy with her new life preserver because it has a nice low-profile handle on the top. Actually, it's ridiculously easy as long as her tennis ball is on board. Neva is a lithe and lean 43 pounds now. Float her in the water with a life vest and I can practically lift her onto the board with two fingers. We had her diving off and climbing back on several times so she could get used to it. While Jeremy was inflating the board (we have inflatable SUPs) Neva's friend, Bella, came bounding down the hill to play with her. Bella lives in Crested Butte and she is an adorable, chunky 2 year old black lab who happens to belong to a friend of mine. Neither Bella nor Neva care to be dominant or the boss of anyone, they just want to run and swim and play and be best pals. One day I'll get a picture of the two together, but Bella and Neva are rather impatient for me to throw the ball.
up out of the water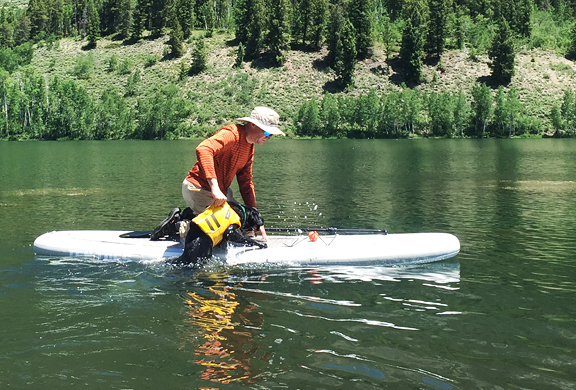 and she gets her orange (must be orange!) tennis ball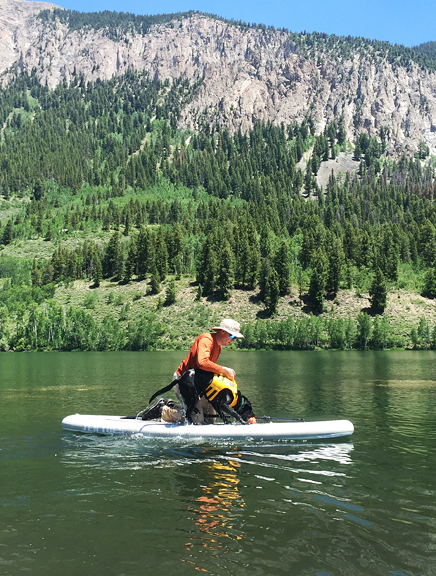 We returned to the Front Range at the height of a heat wave the day before my parents arrived in Boulder for the summer. I got their condo ready with dinner, groceries, flowers, and my mom's plants (the ones that suffer my care for 10 months of the year). Even though I just saw them in April, I took note of their health as I picked them up at the bus station. My parents are in remarkably good health for their ages, and yet I can't help but observe that they are slowing down. It's gradual. Very gradual. They are still machines when it comes to social engagements – they love a good party – so I threw a party over the weekend for my folks and a bunch of my friends.
dim sum with mom and dad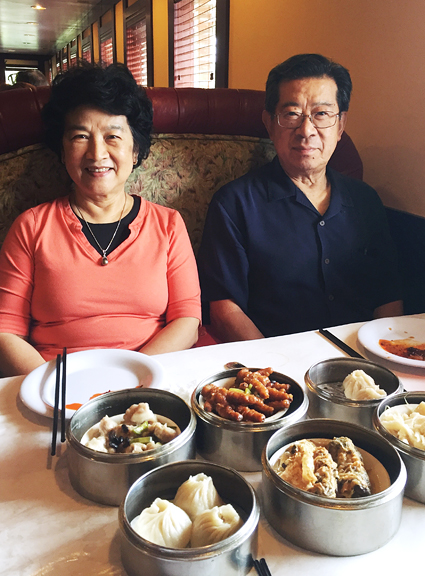 Party prep is a logistically involved endeavor for us in the high country because we have neither easy access to good groceries nor air conditioning to battle the heat of summer. I try to keep all oven use limited to nighttime. While waiting for meringues to bake, I set a large measuring cup of chocolate ice cream custard base out on the deck (well, on the grill shelf) to cool at 1 am. It was covered in plastic to avoid floaty or flying things from jumping in. Since our deck is on the second floor with no ground access, we've always set hot liquids out on the deck. In three short hours, Neva would be waking Jeremy up to go out to potty (what is it with this dog?), so I asked Jeremy to transfer the chocolate custard from the deck to the refrigerator when he took her out.
I mumbled into my pillow at 4 am asking if he remembered the chocolate custard. "Well, something happened." I imagined he had dropped it. I imagined Neva licking it up. I asked, "WHAT HAPPENED?" Something about a hole and how much was there to start? I said four cups. Now there were two. "WHAT?" There were some footprints. "FOOTPRINTS?" I'm blinking into the darkness calculating how much cream, milk, and eggs I had on hand to start a new batch. I didn't have enough eggs. "Not footprints, PAW prints," he said. Bear? Squirrel? Someone who can climb a tree or a wood post. "Chocolatey paw prints. Too small to be a bear, maybe a squirrel or a raccoon." In the breaking light of dawn, I looked at the chocolatey paw prints and Jeremy came out onto the deck with our book of animal paw prints. Raccoon. Apparently, our furry friend climbed onto our deck, found this cup of heaven sitting on the grill shelf, poked a hole in the middle of the plastic wrap and then shoved its schnoz into said hole and had the dessert of a lifetime. TWO CUPS! I envisioned a raccoon with a terrible tummy ache or worse somewhere in the forested foothills. Chocolate can be toxic for a lot of animals, not just dogs. It made me sad for the raccoon and anxious for my ice cream making schedule.

i guess the raccoon started the party early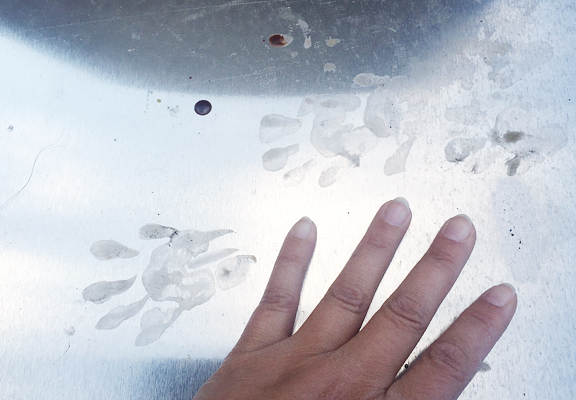 i also made strawberry daifuku mochi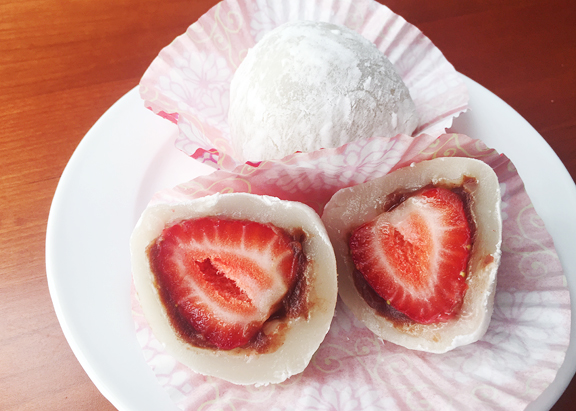 the most beautiful bouquet of flowers from kitt's garden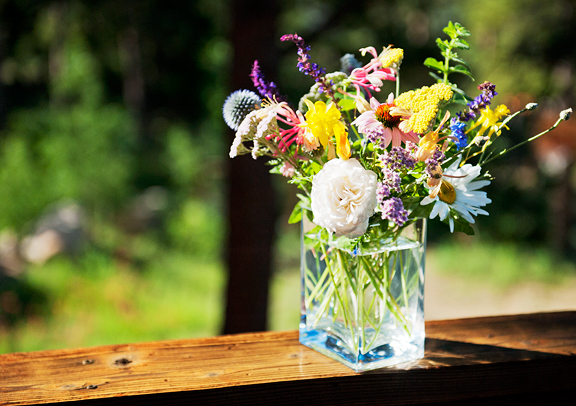 and glowsticks – don't be jealous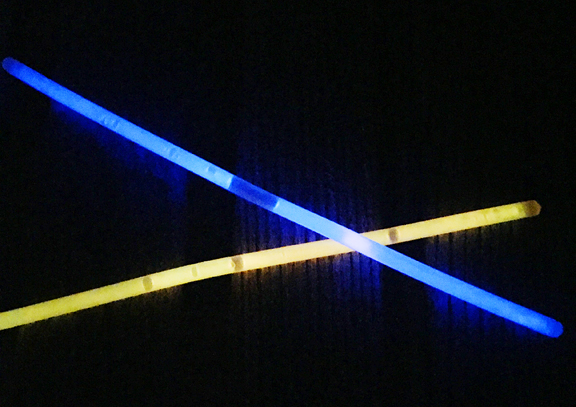 Great fun was had by all and we've been noshing leftover party food for the last few days. It's nice to not cook when the sun turns your house into an easy bake oven. In summer, sushi and sashimi get more frequent rotation on our menu. But sometimes, even the thought of cooking rice can be too much to bear. It's simple enough to swap out the rice for lettuce and have yourself a sashimi salad. There is absolutely no active heat transfer involved! Of course, passive heat transfer is always occurring – you can't beat entropy, kids. The nice thing about salads is that the guidelines are quite loose. Choose the vegetables you like most. Omit the lettuce if you want. Pile on more carrot and cucumbers! It's all up to you.
vegetables: mixed baby greens, shiso leaves, carrot, cucumber, red cabbage, daikon sprouts
for the dressings: neutral flavor vegetable oil, soy sauce, mirin, salt, sugar, lemon juice, sesame seeds
I made two dressings for this salad. The first is simply sugar, salt, lemon juice, and vegetable oil to dress the leafy greens. The second dressing is soy sauce, mirin, and lemon juice. It goes nicely with the sashimi and I serve it on the side so people can add as much or as little as they like. If you want this to be gluten-free, then swap the soy sauce with tamari. Many, if not all, of the ingredients can be found in Asian supermarkets, but you can purchase a good fraction of the ingredient list at a traditional Western market, too.
lettuce dressing: whisk the oil into the lemon, sugar, and salt
stir the soy sauce, mirin, and lemon juice together
Sourcing the seafood can pose the greatest challenge, so do your best to get safe sushi grade fish. What does that mean? It means that the fish has been inspected and deemed safe enough for raw consumption. I usually buy wild-caught salmon for cooking, but when it comes to sushi, the only salmon that has been frozen to ensure the demise of any parasites is farmed salmon (at least where I can get it). So do your homework! It's also possible to avoid raw seafood altogether by using cooked crab meat, boiled shrimp, octopus (which is cooked), and other things you might want to plop into your salad.
octopus (tako), capelin roe (masago), scallop (hotate), salmon (sake), yellowtail (hamachi), tuna (maguro)
slice how you like it – i like the fish sliced thick
ready for the salad
Due to the fragile nature of the lettuces and the raw fish, it's important to assemble the salad all at once and serve it immediately for maximum freshness and awesomeness. Toss the greens with enough of the lettuce dressing to lightly coat the leaves. Divvy the lettuce among your serving bowls, then begin distributing the vegetables and seafood on the bed of lettuce. Finish with a sprinkle of sesame seeds and some shredded cabbage.
dress the lettuce
arrange the salad ingredients on the lettuce
pour the soy sauce dressing over the salad
Sashimi salad is low on carbs, big on vegetables and protein. If you are really missing the starch, you could add some seasoned steamed sushi rice to the salad. And if you add rice and remove the lettuce, you have essentially made a
chirashi bowl
– which is also utterly delicious. How cool is that?
so colorful and fresh
serve with edamame and pickled ginger (gari) on the side
keep cool and sashimi on
Sashimi Salad
[print recipe]
8 oz. mixed baby greens
lettuce dressing (recipe below)
sushi grade fish: salmon (sake), tuna (masago), yellowtail (hamachi), 1/2-inch thick slices
octopus (tako), sliced 1/4-inch thick
scallops (hotate), sliced 1/4-inch thick
capelin or flying fish roe (masago or tobiko)
shiso (sesame or perilla) leaves
lemon, sliced thin
Persian or English cucumber, sliced thin
daikon sprouts
carrot, sliced or peeled into strips
red cabbage, sliced thin
sesame seeds
sashimi dressing (recipe below)
lettuce dressing
1 tbsp lemon juice
1/2 tsp sugar
1/4 tsp salt
3-4 tbsps flavorless vegetable oil
sashimi dressing
4 tbsps soy sauce (use tamari for gluten-free)
2 tbsps mirin
2 tbsps lemon juice
Make the lettuce dressing: Combine the lemon juice, sugar, and salt in a small bowl. Stir until sugar and salt are dissolved. Whisk the vegetable oil into the liquid in a steady stream. Set aside.
Make the sashimi dressing: Combine all ingredients in a bowl. Set aside.
Assemble the salad: Toss the mixed greens and the lettuce dressing together in a small bowl to coat the leaves. Arrange a bed of lettuce in each serving bowl. Divvy up your sashimi among the bowls. Add a spoonful of the fish roe in the center. Distribute the shiso leaves, lemon slices, and the rest of the vegetables around each salad. Sprinkle with sesame seeds. Serve the sashimi dressing on the side. Serves 2-4 depending on size of salad.
more goodness from the use real butter archives