Sunday, June 18th, 2017

Recipe: morel prosciutto asparagus pizza
No matter how hard I try to prepare myself for the onslaught of summer temperatures, it always takes my body by surprise. Our overnight lows dip less each night and the midday sun now feels as if my face and skin are ready to burn right off. It makes me wonder how I ever survived growing up in Virginia and living in Southern California for ten years. If there is one drawback to living in the mountains, it's that I've become a wimp when the mercury rises above 65°F. Give me single digits and snow ANY day, thanks! Heat aside, watching the mountains spring to life in all their glory is something magical to behold. I could spend the rest of my days marveling at these brief but productive mountain summers and never get enough.

false hellebore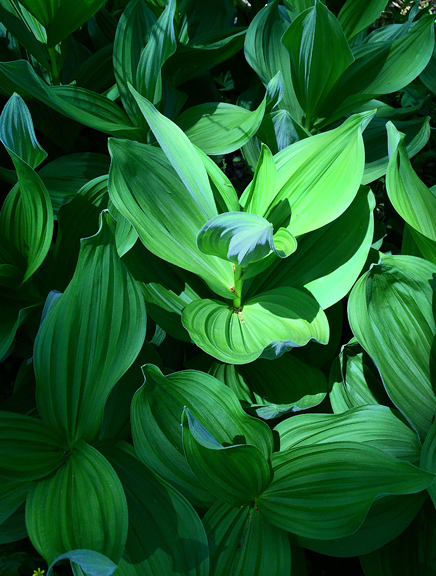 phlox blossoms and lupine leaves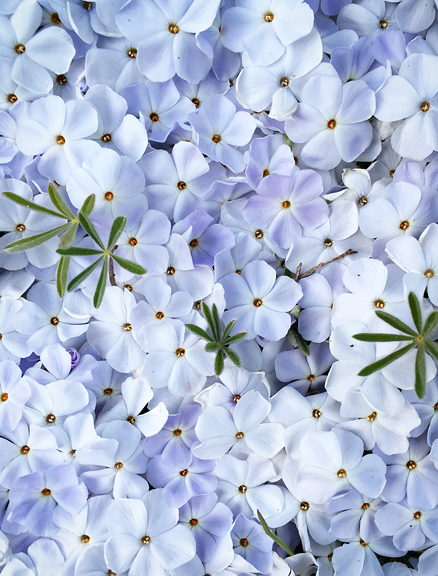 neva enjoying the lupine flowers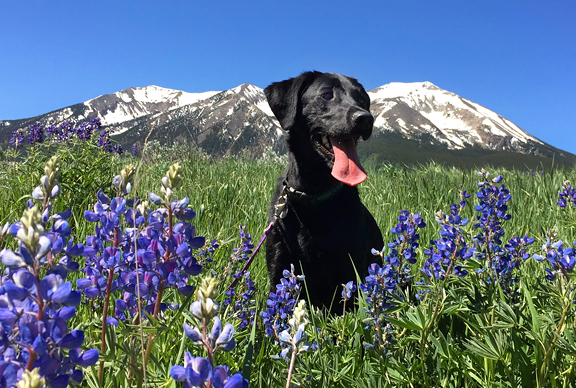 gold banner and shooting stars (pink) and a happy bumblebee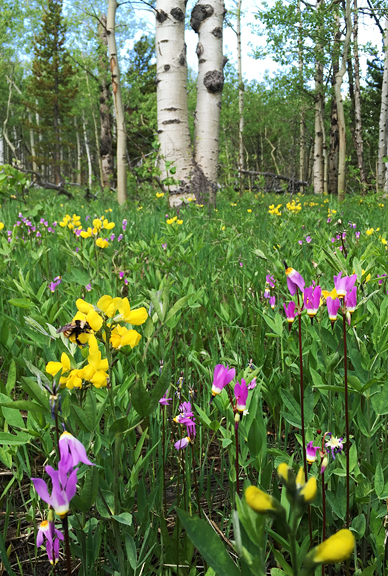 For the past couple of months, we have been following the journey of two friends who live up the road from us in Nederland. They started at the U.S. border with Mexico and hiked north on the Continental Divide Trail (CDT) through New Mexico, then made the first ski crossing this season of the formidable San Juan mountains in Southern Colorado and are continuing north through the state. A few days before they crossed Colorado State Highway 114, Elaine and I coordinated via very short messages to meet where the trail intersects that lonely stretch of road. It was an 80 minute drive from Crested Butte, but it was the easiest way to meet up logistically. Jeremy and I brought food and water, and we took their skis, boots, and skins because the snow pack has been withering under the warm and intensely sunny days. What's cool is that they will be hiking the CDT into our local mountains on the Front Range and they will hike home for a few days before resuming their trek northward into Canada. Dan and Elaine are not only amazing endurance athletes, they are two genuinely thoughtful and wonderful individuals. If you'd like to follow their progress and cheer them on, they post when they can on Instagram as
@elainevardamis
and
@nomadwolf360
.
elaine and dan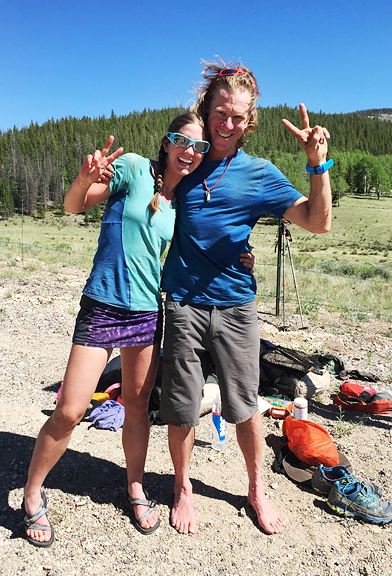 We returned to the Front Range at the end of last week right about when Nature decided to turn the dial up to BROIL. En route from Crested Butte to Nederland, we made a pit stop at Copper Mountain. All of the mountain streams are flowing fast and high due to the runoff from the melting snow pack. Because it was so warm, we walked Neva down a little path to a small protected eddy on the edge of the nearby creek. She walked in and seemed to enjoy cooling her paws when she took one step out of the eddy into the heavy flow and got swept downstream in a split second. Luckily, Neva was on her halti (gentle leader) and leash and I was holding the other end, but the current was so strong that I worried the halti would slip off or break or that she would drown. I waded in and tried to carefully reel her back to me, calling her to swim to me. She tried, but the stream was clearly so much stronger than her legs could paddle. In less than a minute, I grabbed her and had her back on the bank – Jeremy was already slightly downstream in anticipation of having to catch Neva if the leash or leader broke. We toweled her off and kissed her wet head. She was back to her usual self after showing a little affection by rubbing herself against our legs. She's used to her alpine lakes that are safe and calm, but we'll see to it that she sticks to low-flow streams from here on out.
This past weekend was apparently our farewell to spring. Jeremy and I went for a quick backcountry ski to escape the heat, only to discover the heat had been hanging out in the high country for a while. Winter and spring ski travel through the trees is easier in part because you are navigating some twenty feet above ground where the conifer branches are smaller and there is more space between trees. A week before summer and you find yourself clambering over deadfall (fallen trees), bare muddy patches, rocks, and bushwhacking through dense branches that you had gleefully skied a month earlier and twelve feet higher before the snow began to melt. Then Erin and I made one more foraging trip and found a good number of morels considering we were expecting to go home empty-handed. To be honest, I am a little relieved to stop thinking, dreaming, researching, obsessing, and hunting morels. It will be nice to have a break before the other mushroom seasons kick into high gear. This year I come away with a jar of dried morels thanks to my friend, Jay (Erin's husband), and a happy stash of butter-sautéed morels in my freezer. It was a great season.

one last backcountry ski for the season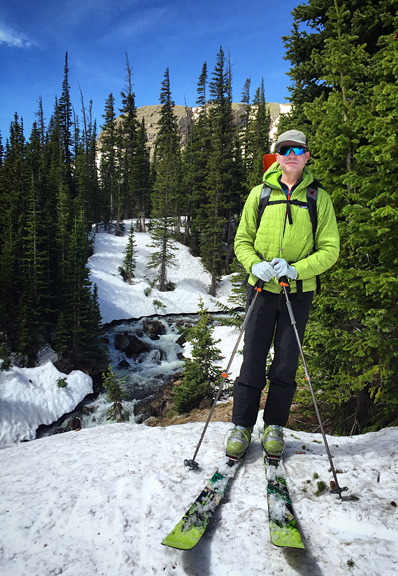 wave cloud over the reservoir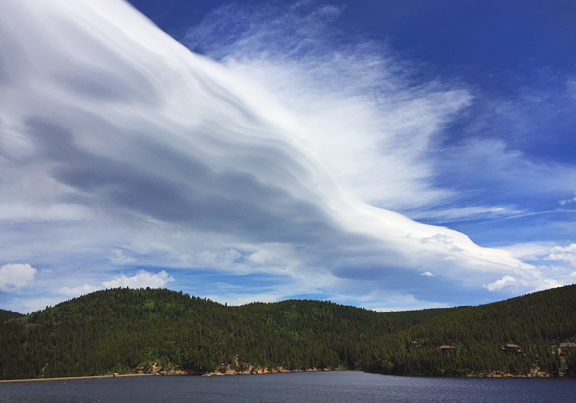 erin still finding morels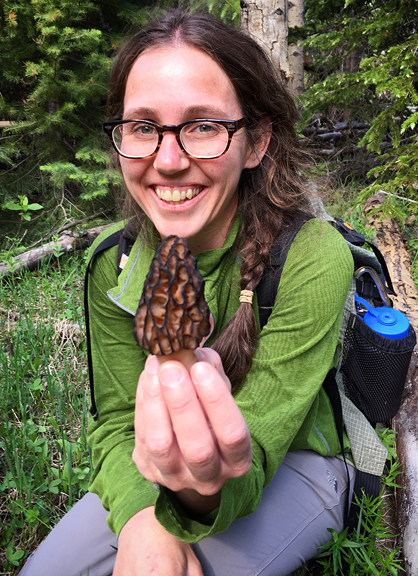 such a beautiful and weird mushroom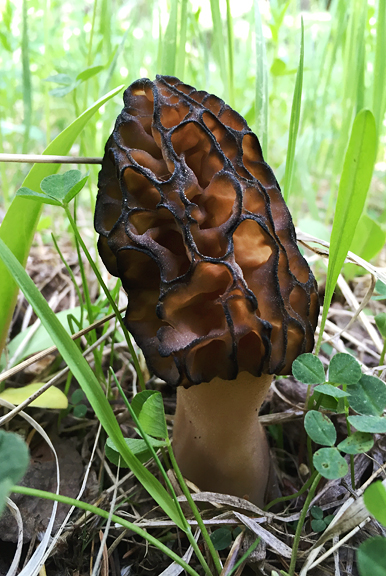 It seems fitting to post one more morel recipe for those still finding them to our north and west, or buying them in markets, or those who have their own stash to draw upon. We love our pizza year round, but it is especially lovely come summertime because we grill them on a pizza stone on the deck while the house remains cool. For mushroom foragers, there are some standard recipes you can always count on for enjoying mushrooms: pasta, steak, sautéed in butter, quiche, pot pies or pastries, toast, batter-fried, and pizza.
morels, mozzarella, salt, butter, prosciutto, garlic, asparagus, more butter, eggs, black pepper, pizza dough
Though official summer is a few days away, morels are very much a spring mushroom. That's why I really enjoy serving them with a spring vegetable like asparagus and creamy, mild flavors like eggs and mozzarella. I'm sure a red sauce would be great with any mushroom, but garlic butter complements morels without masking their deliciousness.
mash the garlic and salt into a paste
stir the garlic paste into softened butter
dry fry the morels in a hot pan
add a pat of butter and sauté
you can chop or slice the asparagus (i like ribbons here)
**Jump for more butter**