Tuesday, July 31st, 2018

Recipe: tuna poke bowl
Tomorrow, August 1, is my sister's birthday. I normally post flowers in remembrance of her, but this year I took a photo of something far more meaningful. My niece came out to spend a week in Colorado with my parents, and Jeremy and I took her standup paddleboarding in the mountains and met up for a few meals. It's been almost 11 years since I've seen her and she's grown into quite the remarkable young lady – smart, hard-working, motivated, athletic, sweet, polite, confident.

also a fan of cheesecake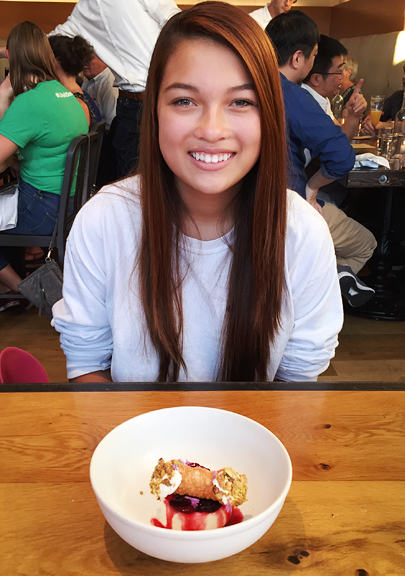 posing for a photo with her grandma and grandpa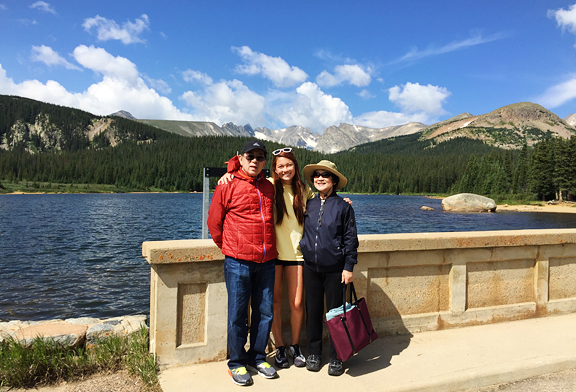 Mid-July is about the time I really start paying attention to what is growing in the high country. You never know when a season will start earlier than normal, but more than catching an early season, I like to make the observations for my own data purposes. Turns out the huckleberries are having a very good season and they seem to be a month sooner than usual. My pre-sunrise mornings are consumed with checking my huckleberry patches or picking huckleberries or both.
a nice display of showy fleabane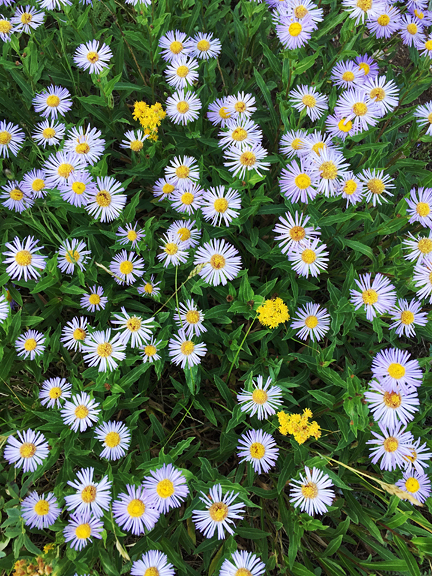 mycelium growing on a dead tree in a delicate dendritic pattern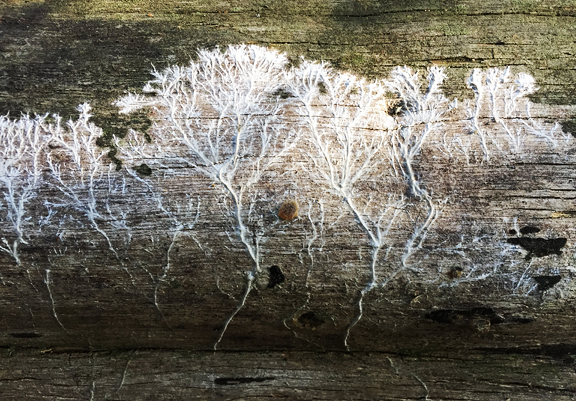 When we took my niece paddleboarding, we brought Yuki to give her another day on the board. As I paddled her out on the lake, we passed a boulder that was jutting out of the water. Yuki began to growl at it, then she started to bark. It must have made her nervous because she backed up and fell off the board! And like everything else, she took it in stride and remained her calm self as she swam up to me and I pulled her back onto the board.
Yuki is six months old today according to her estimated birth date of January 31, 2018 (she was found at 2 weeks old). Yuki continues to bounce about the house like a rompy pup, sometimes stopping mid-bounce to scratch an itch on her chin and tumbling over backwards clumsily. It's ridiculous how cute she is. This little pup has gained four pounds in the four weeks we've had her and we think her legs are longer. She is certainly taller, but she remains shorter than Neva. We have no idea how big she will get (we suspect Neva-size or smaller), but it doesn't really matter. We are just so happy she is ours.

seaworthy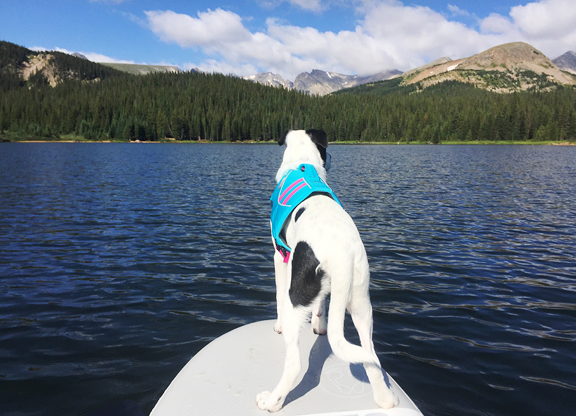 togetherness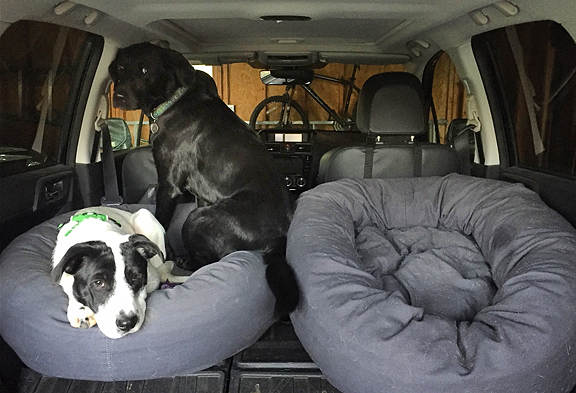 sisters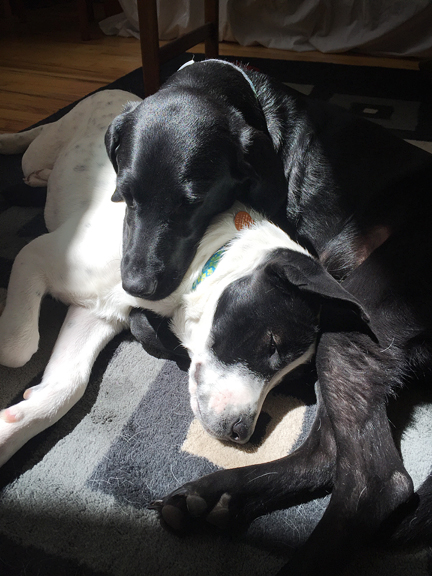 The last time we were in Crested Butte, we enjoyed a seared tuna rice bowl at
Montanya's tasting room
, one of our favorite restaurants in town. It was loaded with vegetables and seared ahi tuna on a bed of forbidden rice. I was hooked. When we got back to Nederland, I put it on our weekly menu, but as I shopped for the ingredients I changed it up a little. I didn't want to sear anything (it was hot) and I thought tuna poke would taste even better. Instead, I made a tuna poke bowl – and it was awesome.
These sorts of dishes have great flexibility so that you can cater them to your own preferences. First off, you don't have to use forbidden rice. I just happen to like the taste and I think it's a gorgeous purple-black color. Use steamed short grain brown rice or sushi rice if forbidden rice is hard to find. Omit the fish and pile on your favorite vegetables for a vegetarian version, or you can substitute chicken teriyaki for the fish. Lots of options!

cucumber, forbidden rice, avocado, masago (flying fish roe), radish, pickled ginger
forbidden rice steamed in the rice cooker
In addition to the goodies listed above are some pickled red onions. I find pickled foods add a nice tangy bite to rice bowls. These onions get better the longer they sit in the pickling liquid, so don't slice them too thin. I kept mine about 1/4-inch thick. If you're in a hurry, give the onions at least an hour in the vinegar and start them around the time you start cooking the rice.
sugar, salt, rice vinegar, red onion
combine the vinegar, sugar, and salt
slice the onions
pour the hot vinegar over the onions
pickled and pink
**Jump for more butter**