Sunday, May 4th, 2014

Recipe: candied violets
After a difficult week for Kaweah, Jeremy and I made an appointment with her vet on Friday. Our intention was to mostly get a gauge on the progression of her laryngeal paralysis. Oh boy, you've never seen anyone perk up like Kaweah does when Doc Newton enters the room. He smiled and greeted her with a "How's my favorite patient?!" and proceeded to feed her about a meal's worth of dog treats. After a thorough check up, he reported that her lungs and heart are as strong as ever, but that he couldn't tell us how her breathing or her canine degenerative myelopathy (doggy lou gehrig's disease) would play out. Doc Newton seems to think she's doing well and said to just enjoy her remaining time, however long it may be.

sun naps rank up there with raw beef and prosciutto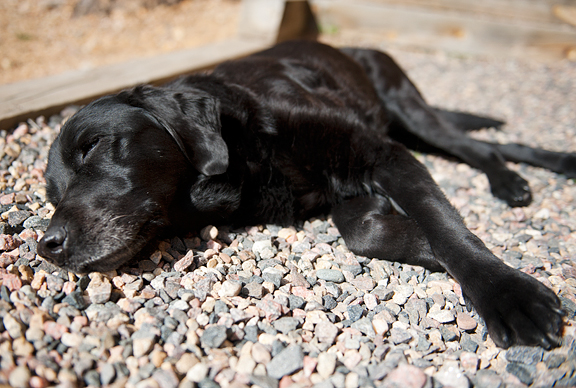 Thank you for being so understanding and supportive, my friends. I was feeling frayed at the edges, but I think I've come to a point of acceptance of what will eventually come (at least, I tell myself I have). Kaweah is getting more time on the people bed, and since she lost a few pounds, she enjoys more raw beef snacks, carrots, cucumbers, bananas, peanut butter, and other yummy things. I've never been a terribly patient person, but Kaweah, in her twilight, is teaching me patience and some important life lessons.
crescent moon thinly veiled in clouds at sunset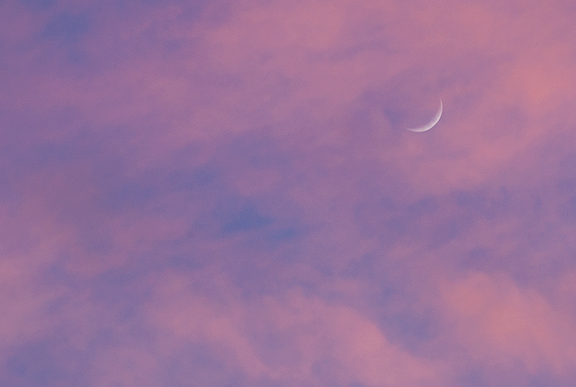 The trails around my neighborhood are almost completely melted out, though still muddy in a few places. Is it odd that I feel strangely guilty for trail running and mountain biking instead of skiing? Don't worry, we're still skiing (I doubt any of you are actually worried about my ski days…), but the non-snow activities have been wonderful. I'm finding myself cranking up hills that used to be a slog just a year ago, and navigating with ease the single tracks that gave me pause last season. And the best part? The pasque flowers are blooming on my trails which means all of the other wildflower lovelies are soon to follow, and then wild strawberries and huckleberries and wild raspberries and porcini!
pasque flowers just opening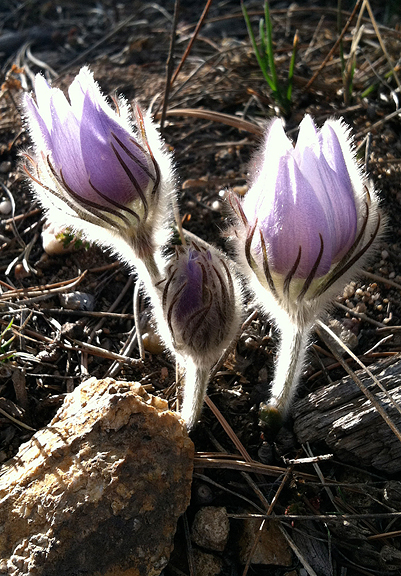 what they look like on the inside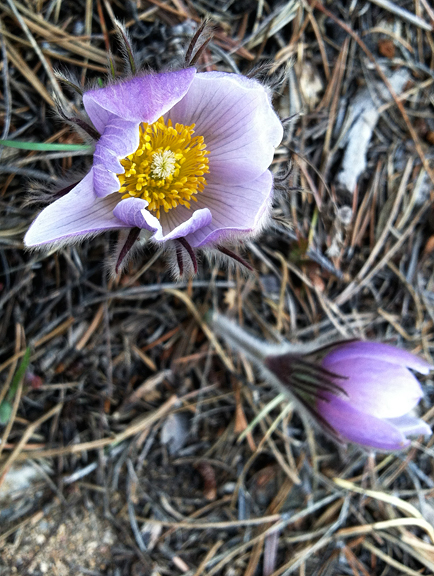 But I'm getting ahead of myself here. We are still planted squarely in spring (with a snow storm approaching in the high country – woohoo!). When I was foraging for violets with
Wendy
, she asked if I was going to candy any of them. Well, no… I was fairly single-minded in my quest to make violet syrup. "Oh, you should definitely make some candied violets. Another great OCD activity." I asked if she had made them before and she replied yes, but that once was enough for her. Why not?
pick violets with long stems for candying
you'll need egg white, superfine sugar, and violets on stems
gently rinse or spray violets with water and shake dry
**Jump for more butter**