Friday, March 25th, 2011
It's one thing to have an injury because you went yard-saling down a back bowl. It's another thing to have an injury because you were working on the computer for too long. Overuse, bad ergonomics, poor posture – it happens over and over again. I've been working on a computer since I was in high school: data entry, programming, more programming, image processing, data analysis, programming and web design, more image processing. And these days it isn't enough to just work on the computer – it seems most of my professional and personal communications are mainly through the interwebs.
Sometimes I walk away from the computer so I can feel like a human being again. Sometimes I have to stay away because the muscles get inflamed from fine repetitive motions and lack of range of motion. This past week I was off the computer to let my body heal. I had a lot of time to think about it too. Something needed to change.

my office desk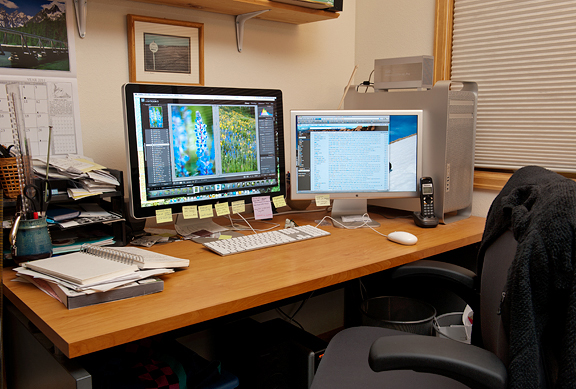 I have a good desktop setup, but after I got home from Santa Fe the first thing we did was go out and replace my old office chair with a Herman Miller chair. Meanwhile, I was heating, icing, and exercising my back. Sitting always made things worse. I loathed that any computer time required sitting and said (on Facebook) how I wished I could mount my computer onto my treadmill. And the links came in for people who had converted their treadmills to workstations. I read about them and even emailed with a friend's friend who built his. Jeremy and I discussed design issues and functionality driving home from his parents' house a couple of days ago. I'm the engineer. I planned it all out.
24 hours later… the exercise room is also an office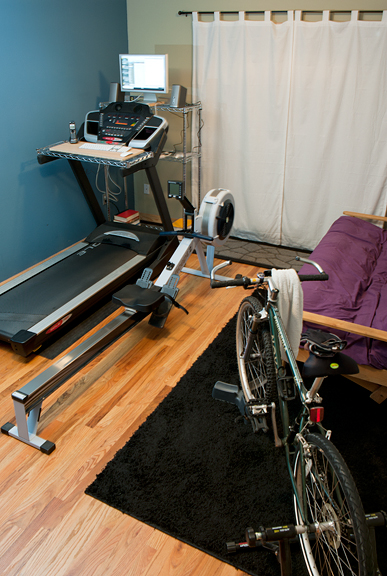 The point is not to run a 6 minute mile while cranking out emails to your clients. No, no, no. That's an even BETTER recipe for hurting yourself. I have always been a firm believer that if you are truly exercising hard – then you can't be reading a book or typing a letter. However, I can easily walk a mellow pace of 1-2 miles an hour and do a lot of the things I used to do while sitting on my hind quarters: emails, phone calls, scheduling, writing, reading, research, tweeting. Image processing still remains something I'm leaving on my desktop in the main office.
phone, keyboard, mouse, monitor, speakers (for the tunes, yo)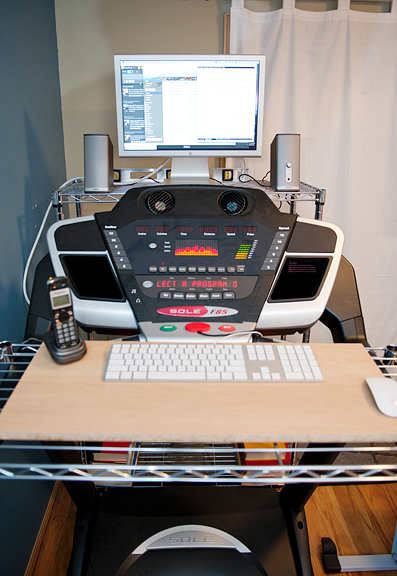 **Jump for more butter**