Wednesday, September 10th, 2014

Recipe: grilled brie porcini and caramelized onion sandwich
There is the possibility of a freeze and light snow down on the flats Thursday night. Everyone down there is freaking out at the potential for snow. That's what they do. They freak out. I'm kind of excited about the snow. You knew that. But I also realize that up high in the mountains where my the huckleberries grow, it's not only going to snow, but it's going to be a hard freeze. Those little guys are tough, but everyone has their kryptonite. Ever since I got home this week, I've been squeezing hikes in to look for more huckleberries. The season wanes, but the high country still calls regardless of heavy rains, angry winds, and cold numb fingers that pluck at precious purple berries.

sun in the east and rain overhead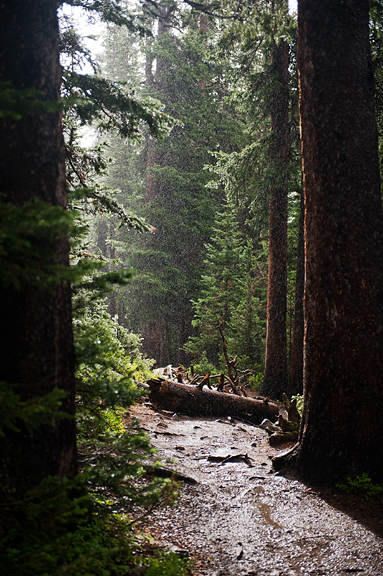 hiking into the wall of clouds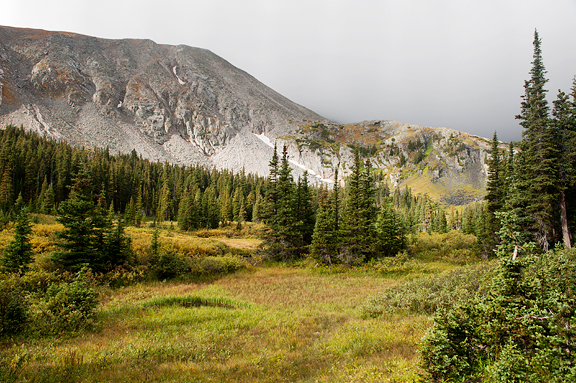 visiting with my high country neighbors (marmots)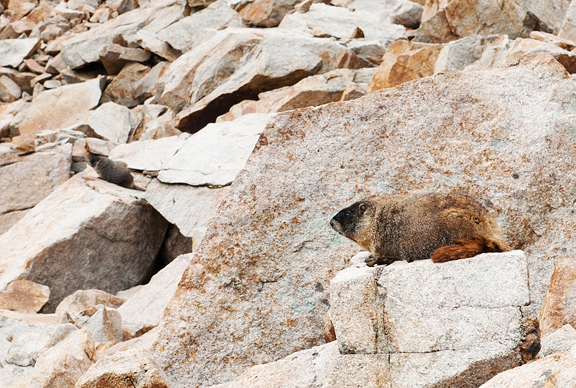 Cool weather and loads of late summer rains have kept the mountain mushrooms chugging along well past their usual bedtime. I don't go out of my way to find porcini these days because huckleberries are my priority. As my friend, Jay, said to Erin (regarding our obsession with huckleberries), "You two have a sickness." But porcini and hucks tend to like some of the same environments and they even hang out together. When I find porcini cozily nestled among the lush huckleberry plants, it fries my brain – because there's a porcini! But wait, are there huckleberries? But, a porcini! And I have to do a quick mental calculation as to how much time it takes to harvest and clean a porcini and then convert that to potential huckleberry volume. However, if the porcini are particularly perfect or the huckleberries are particularly absent, then I'll pick the mushroom.
i love that signature color of our rocky mountain porcini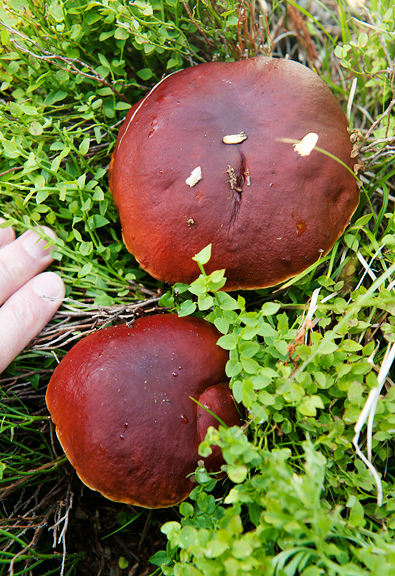 If I pick the mushroom, I have to be absolutely sure that I'm going to do something with it or give it to someone who is going to do something with it and who will also appreciate what they have received. So I did something with a few of the porcini – I made a grilled cheese sandwich. It's a grilled brie, buttery pan-seared porcini, and caramelized onion sandwich. I think I went momentarily blind when I took a bite of it. Jeremy, who burns a thousand calories just checking his email, ate the rest of the sandwich with a glass of chardonnay and a big honking smile on his face. This is DECADENT comfort food.
fresh porcini, olive oil, butter, brie, bread, onions (not pictured: sea salt)
slice the onions
start sautéing the onions
**Jump for more butter**