Wednesday, October 10th, 2012

Recipe: shiso spicy tuna tempura (dragon scales)
It was getting a little ridiculous. My friends had moved into their new house in Boulder several months ago and I still hadn't been by to pay them a visit. Summer was pretty cray cray and fall is even more so. If not now, then when? It's not like I'm the only person who is busy – they are busy too. Everyone is busy. I guess what makes friends so special is that an hour spent together in the midst of all the busy recharges you and leaves you with a warm fuzzy glow for several days.

beautiful family in their wonderful new home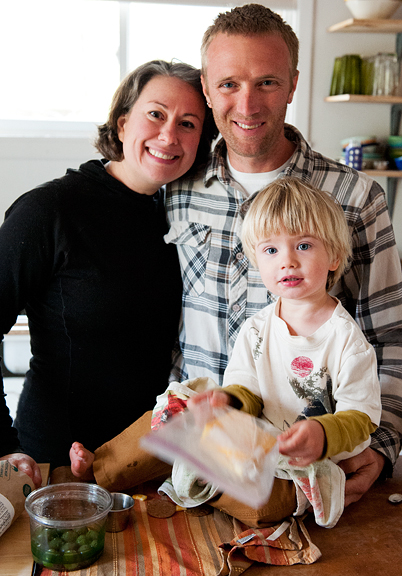 Their adorable baby is no longer a baby but an adorable little boy. Nichole and Luke have put so much work into their house on their own (like laying new plumbing to rearrange their kitchen – whoa!). It was really exciting for me, a DIY-wannabe, to see what two resourceful and creative DIY people can do! Then Nichole said, "Wanna see the garden?" How she finds the time to work, raise Mr. Cutiepie (my nickname for him), remodel the house, AND garden, I just do not know. All that while remaining her hysterically funny and sassy self to boot.
nichole picks red shiso for me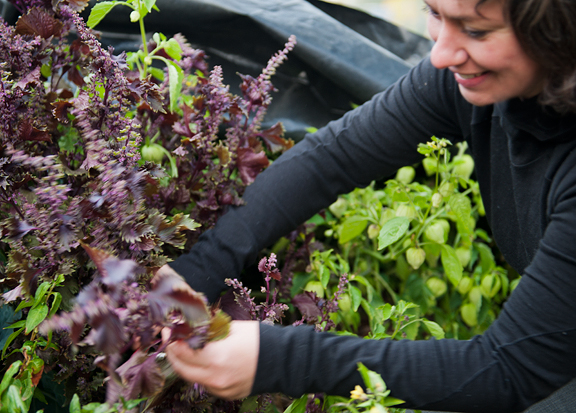 When Nichole said she had red shiso, I did a blink-blink and then a double take. Shiso? Ever since Jeremy and I went to
The Lobar
in Crested Butte for
my birthday
, I've been wanting to recreate the dragon scales appetizer we enjoyed. It was made with shiso leaves, and the only place I knew of to purchase shiso leaves is on the far side of Denver in Aurora (H-Mart). That's a drive in sucky traffic that I didn't want to make. And here was my friend asking me if I would like some red shiso from her garden! Love that girl.
lovely shiso without driving to denver
I've only ever had shiso in or with sushi. My favorite sushi chef, Fumito, in South Pasadena would tell us that it is good for your health. When I've purchased shiso leaves at H-Mart in the past, they were labeled as sesame leaves or
Perilla
and they were huge, like as big as my extended hand. These shiso leaves were smaller and a gorgeous purple color, and talk about local sourcing. Now we're cooking with gas! Here's what you'll need to make dragon scales:
shiso leaves, maguro (sashimi grade tuna), mayonnaise, sriracha (not pictured: masago and togarashi)
tempura batter: flour, egg, ice water, baking soda
tempura dipping sauce: mirin, soy sauce, dashi, sugar
The reason the masago (capelin roe) and togarashi (Japanese chili seasoning) aren't in the picture is because I forgot to buy them. I wasn't expecting to make this and scrambled at the last minute to get what I needed based on memory. But I do recommend including those in your recipe should you decide to make this (and really, you should).
mixing the tempura batter
make the spicy tuna
stir in the sriracha
**Jump for more butter**