Recipe: breakfast torta
Sometimes things come to a head that you have no control over and suddenly you find yourself treading water. I try to avoid situations like these. I try to avoid unnecessary stress, but every now and again there are external factors that are out of my hands. It's been like this for the past week or so – a rollercoaster of sorts, but everything is fine here at Butter Headquarters. We can always count on Kaweah to bring us back to what is normal.

she recently got a bath and smells like lavender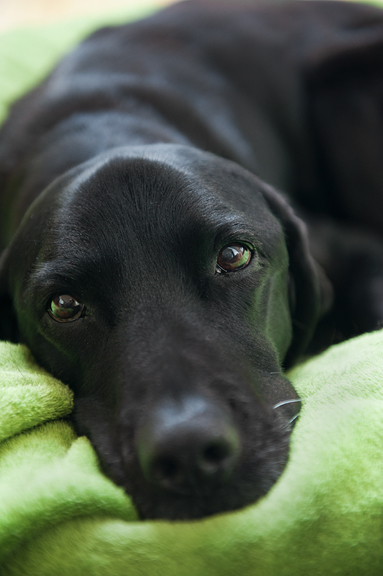 When there are deadlines or when my brain won't shut off at night, I tend to neglect things like getting enough sleep or drinking enough water. Sometimes I forget to eat and then I stuff myself with junk food late in the day. They are all bad habits and thankfully, I only revert to that mode when it's crunch time. Despite my ambivalence toward breakfast, I do try to eat something in the morning to avoid the late afternoon gorging when you realize you haven't eaten anything yet all day. It's easier to do when you have breakfasts to look forward to. Last fall when I was at the Sacramento airport at puke-thirty in the morning for my flight home, I zombied through the concourse in search of
something
to quell the urge to hurl. Standing in front of the Dos Coyotes menu board, I ordered a breakfast torta. Never had one before, but you know what? It was really good.
you'll need: tortas, refritos, bacon, chipotle peppers in adobo sauce, eggs, mayonnaise, garlic, lime, avocado, and cheese
That torta was so satisfying that it lingered in my mind for several weeks. Then I forgot about it. But passing through the same airport just this past weekend, it jogged my memory. I needed to make a breakfast torta of my own. I'm a fan of condiments and figured I could make some chipotle mayonnaise for that creamy, spicy component. It adds a nice zing to the sandwich and can be as strong or as mild as you want it. It was simple enough: mash up garlic into a paste, purée the chipotle peppers (with a little adobo sauce), squeeze some lime juice, stir it all into the mayonnaise and add salt to taste.
mashing minced garlic into a paste
chipotle pepper purée
add desired quantities to the mayonnaise
squeeze lime juice into the mix
What you end up with is a pale orange-pink spread for your sandwich. If you decide to put it in a squeeze bottle, make sure the bottle tip is large enough to let chunks of pepper and garlic through. I buy my tortas from Costco because I bought them by accident one day and happened to love the texture. They freeze well and are great for toast or sandwiches. I have no idea how these compare to authentic tortas, but I'm sure someone out there has an opinion to share. Toast or don't toast, that is completely up to you.
chipotle mayonnaise
slice the torta
Spread some refritos (refried beans) on half of the bread. If you don't make your own refried beans, there are several varieties to choose from in stores. I personally like Amy's organic refried black beans, so that's what I used. The torta I had at the airport was sprinkled with grated Cotija cheese, but if you can't source that easily, just go with something you like – perhaps cheddar or jack cheese. Slap a few slices of avocado over the cheese (see how I get nice neat slices
here
).
spread refritos on the bread
sprinkle cheese then layer the avocado
Next you need to get in on that bacon action. You can go meatless if you like, but bacon and avocado go together like beans and cornbread. Actually, bacon goes with everything. I know there is a lot of backlash against bacon these days, because people went overboard and have been doing unnatural things with bacon, but I am quite loyal to bacon –
especially
in sandwiches. It's easy enough to omit or substitute with breakfast sausage (now there is another happy thought).
give a little squizzle of chipotle mayonnaise
and don't forget the fried egg *high five*
There is really nothing quite so amazing as a runny egg yolk in a sandwich, but I understand that some folks are squeamish about runny yolks. That's okay, but those people need to stop freaking out. If you don't like runny yolks, then cook your egg over-easy, over-hard, or scramble it and make an egg sheet – WHATEVER. The point is, you get to choose! Isn't that great?! In the end, you have serious breakfast in the palm of your hand… or perhaps stuffed into your face. But keep the extra chipotle mayonnaise handy, because THAT is some good mayonnaise.
breakfast torta
this is destiny
Breakfast Torta
[print recipe]
inspired by Dos Coyotes in the Sacramento Airport
4 tortas
1 cup refritos (refried beans), warmed
1/2 cup cotija cheese (or cheddar), crumbled or grated
avocado (one avocado should be sufficient for four tortas), sliced like this
12 slices bacon, cooked
chipotle mayonnaise
4 eggs, cooked to your liking
chipotle mayonnaise
2 tbsps chipotle peppers in adobo sauce, puréed
2 cloves garlic, minced and crushed into a paste
1/2 cup mayo
salt to taste
fresh lime juice to taste
Make the chipotle mayonnaise: Stir the chipotle purée and garlic paste into the mayonnaise. Add salt and lime juice to taste. Makes about 1/2 cup.
Slice the torta(s) in half. Toast the bread if desired. Spread a quarter cup of refritos on one half of the torta. Sprinkle cotija cheese over the refritos. Layer 3-4 slices of avocado over the cheese. Place a few slices of bacon on the avocado. Squeeze or spread the chipotle mayonnaise on the bacon. Top with a fried egg or scrambled egg sheet (just like scrambled eggs, except you let it cook in a sheet like a pancake). Place the other half of the torta on top and serve hot. Makes 4 tortas.