Recipe: green chile sauce
Spring cleaning never happens as it should in the springtime, because I'm busy skiing. Neglected sections of the house are taken care of in fits and spurts of inspiration or at the breaking point of tolerance. Our microwave handle broke off last winter, so we've managed by pushing the door up and out without a handle. The gutters need cleaning. Obsolete electronics, #6 styrofoam pieces, and used cooking oil all await the day they will be driven to Boulder to be responsibly recycled. Oh, but I cleaned my refrigerator and freezer this week. That is like a Christmas horror movie of sorts… finding forgotten gems and then finding the REALLY forgotten gems that have evolved hair and legs and personalities of their own. All this to tell you that I unearthed a jar of matcha green tea powder in the freezer. It's a lovely shade of green and has a wonderfully nutty herbal aroma. It was buried behind the frozen passion fruit pulp and hunks of frozen Virginia ham. I intended to use this instead of the old, tired, faded matcha that was in the cupboards – the one that I used in the green tea crème brûlée recipe. So, sorry about that.
In other news, Kaweah is back to her quirky self aside from what I call her random hot flashes. I think one of the meds gets her pretty hopped up such that she experiences panting episodes from time to time. She behaves the same way when there is raw beef in the kitchen (or anywhere, really).

kaweah checks out the dinner table to see what's what
Passing storms are a regular occurrence around here in summer and early fall. With our big sky views, we usually see sunshine and rain simultaneously… and that can mean rainbows. I caught this one a couple of weeks ago in Crested Butte that I forgot to share. I swear I've seen more rainbows in Crested Butte than anyplace else.
the sky looked like it was glowing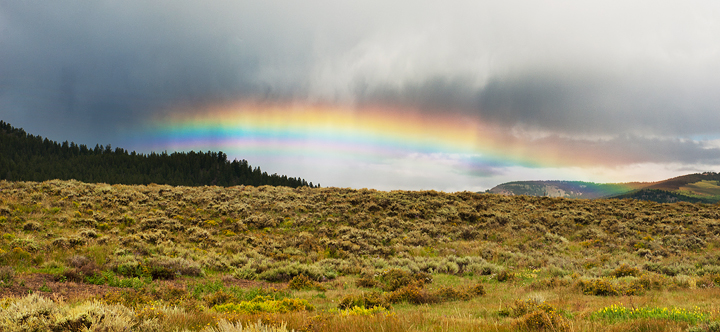 The end of summer becomes of frenzy of favorites. Our local tomatoes are at their peak and the freestone varieties of Colorado peaches arrive at the farmer's market. I can't get enough of the sweet corn ears from Olathe, Colorado. For the past few years, Hatch green chiles have found their way from New Mexico into our markets and of course, our hearts (and mouths). It's to the point where I am turning down offers from various family members to score me several pounds of roasted New Mexico green chiles because I can pick the fresh ones and roast them myself each August. We love them on
burgers
, in
stews
, on
pizza
, and in
sandwiches
, and so much more.
my first batch of the season
roasting to char the skins
I nabbed many pounds of fresh green chiles last week to roast and peel and freeze. I maintain a stash of green chiles in the freezer throughout the year. That's what prompted me to clean the freezer – to take stock of my green chile inventory. The oldest green chiles get used first because they grow spicier with time in the freezer. Jeremy asked why I prefer to roast my own rather than purchasing them already roasted or already diced. I like picking the fattest, meatiest chiles because they roast better and don't tear apart as easily. Those are the ones I like to reserve for making
chile rellenos
. Also, I'm way more meticulous about peeling and deseeding my chiles. I guess I feel I can do it better.
de-seeding
dicing
In New Mexico, when you order most plates (unless it's tacos) your server will ask, "red or green?". They mean red chile sauce or green chile sauce. They don't mean chili as in chili with beans, beef and all that stuff. They mean REAL red chile sauce or green chile sauce. I usually answer red, because it is my favorite. But green has a lovely sweetness to it that marries well with a good enchilada or tamale. If you want both, answer "Christmas."
diced green chiles, onion, garlic, chicken broth, olive oil, tomatoes, salt, cumin, flour
prep the ingredients
chopped and ready to cook
The majority of the prep is the knife work. If you can't source fresh or roasted green chiles, try to find them in frozen sections of grocery stores. You can use store-bought canned green chiles, but they really are a different (and sadly flavorless) beast altogether.
sauté the onions and garlic
stir in the flour
add the broth
The bulk of the time will be spent simmering the sauce. Mine got quite thick two or three times, so I added more broth to keep it from burning. I left my chiles chunky, but you can also purée the sauce for a smooth texture. The minimum recommended time for simmering is 30 minutes, but I let it go an hour until things began to soften and break down a little bit.
add tomatoes, chile, and cumin
sprinkle salt to taste when the sauce is done cooking
The heat or spiciness of the green chile sauce will depend on the heat of your chiles. You can buy mild, medium, or hot. I happened to have a few bags from the previous year that were nice and spicy – just enough kick to make it exciting, but not so much that you're gasping after each bite. And it was still quite sweet and full of green chile flavor. Homemade is the best.
green chile sauce
amazing with pork tamales!
Green Chile Sauce
[print recipe]
based on this recipe
1 tbsp olive oil
1/2 cup onion, chopped
2 cloves garlic, minced
1 tbsp flour
1/2 cup chicken stock (I used 2 cups) – you could use vegetable stock
2 cups roasted green chiles, peeled, seeded, chopped
1/2 cup tomato, diced (fresh or canned, I used fresh)
1/2 tsp ground cumin
salt to taste
Heat the oil in a sauté pan over high heat. Add the onions and sauté for a few minutes. Add the garlic and cook until the onions are soft. Stir in the flour and cook for 2 minutes. Slowly add the chicken stock while constantly stirring to mix it into the flour and onions. Add the chiles, tomatoes, and cumin. Stir until everything is evenly distributed. When the sauce comes to a boil, reduce to a simmer and cover with a tight-fitting lid. Simmer for at least 30 minutes. I simmered for an hour. Add more water or stock if the sauce gets too thick or dry. Add salt to taste. Makes 3 cups. Store in the refrigerator or freeze.
more goodness from the use real butter archives