Recipe: baked chocolate doughnuts
There is a big bowl of chocolate candies sitting on our kitchen counter. We didn't get a single trick-or-treater this year. I mean, we don't typically get very many kids hoofing it up to our house, but we've had as many as a dozen on Halloweens past. It doesn't help that it was cold and windy. I like Halloween so very much for a lot of reasons. First off, it's a no guilt holiday (for me) that doesn't involve obligation, travel, or cooking a massive meal. Secondly, it's FUN and creative and also a little scary! But it's not TOO scary because little kids are involved, and that's good because I can pretty much handle "little kid" levels of scary. Thirdly – it is the anniversary of our first date, followed by November 1st, our smoochiversary.

20 years ago on the shores of the olympic peninsula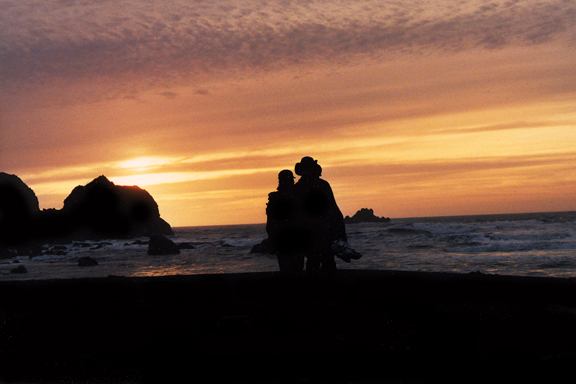 Jeremy and I have been together for 21 years, which is essentially half of my life… but all of my heart. He is the very best person I have ever known. And when the very best person you have ever known likes chocolate and cake and doughnuts, it's absolutely appropriate to make chocolate cake doughnuts, don't you think?
vanilla, brown sugar, cocoa, baking soda, salt, butter, eggs, flour, buttermilk
flour, cocoa, baking soda, and salt
mix the dry ingredients together
Every time I've made doughnuts in the past, I have fried them. I think fried dough is one of the perks of being human. We have opposable thumbs, we can make doughnuts. But deep frying stuff is a pain in the ass unless you have a deep fryer, which I don't want to own. A few weeks ago, I finally broke down and purchased doughnut pans. I usually cringe at the thought of acquiring such task-specific bakeware, but figured I could get some good mileage out of these pans if the baked doughnuts were a success.
adding buttermilk to the brown sugar, vanilla, eggs
whisk in melted butter
combine the wet and dry ingredients
the batter should be thick and smooth
Doughnut pans are shallow, so try to avoid the temptation to overfill them as they will rise during baking and seal over the doughnut hole. Then you'll have baked not doughnuts, but hollow muffins or oddly shaped low-capacity bowls depending on how you look at it. I found the right amount was 2/3 full or maybe 1/4-inch below the rim. The bake time has a little leeway, but the doughnuts should be springy when you push on them. I flipped them out of the pan onto a cooling rack immediately, mostly because I needed the pans to cool so I could bake the rest of the batter.
butter or grease your doughnut pans
don't overfill (some of these were too full)
baked
While the doughnuts cool, you can whip up the glaze. I personally prefer a plain sugar glaze on my chocolate doughnuts, but Jeremy is a fan of the chocolaty chocolate-filled chocolate doughnut with chocolate glaze, rolled in chocolate. Ridiculous. But I thought it would be worth testing out a chocolate glaze. The glaze takes minutes to make which is just about right because the doughnuts cool pretty quickly (toroidal shapes have less heat capacity than oblate spheroids).
milk, vanilla, cocoa powder, salt (just a pinch), powdered sugar
add milk to the powdered sugar, cocoa, salt, and vanilla
mix until smooth
If the glaze develops a crust, just give it a good stir with the whisk to break it up until it is smooth. Dip the doughnuts halfway into the glaze, then set them right-side up on a cooling rack over a baking sheet to let the excess glaze drip off. Add sprinkles before the glaze sets or else the sprinkles will bounce off the glaze and roll under furniture. I found the best way to do this was to dip two or three doughnuts, then administer the sprinkles. Should you be so lucky as to have an assistant with opposable thumbs, you could just assembly line the process and dip while the assistant sprinkles.
dip with the top down
apply sprinkles liberally
stack when the glaze sets (about 15 to 20 minutes)
So, these doughnuts are not like the cake doughnuts one buys from the store or from doughnut shops. These are actually CAKE doughnuts, as in, they have the texture of a tender, moist cake. I'm not complaining, I think they're delightful and a lot less brick-like than typical cake doughnuts. I may still try to hunt down that denser cake doughnut version, but based on the happy dance that Jeremy did after he ate two doughnuts in one sitting, this recipe is a keeper. AND there's no pot of oil to clean up!
chocolate-glazed dark chocolate doughnuts with a cuppa
happy dance
Baked Chocolate Doughnuts
[print recipe]
from Shutterbean
butter, melted (for greasing the pans)
2 cups all-purpose flour
1/2 cup unsweetened cocoa powder
1 tsp baking soda
1/2 tsp salt
1 cup buttermilk
1 cup dark brown sugar, packed
2 eggs
6 tbsps unsalted butter, melted
2 tsps vanilla extract
chocolate glaze
from Joy the Baker
2 1/4 cups powdered sugar
6 tbsps unsweetened cocoa powder
1/8 tsp salt
5-6 tbsps milk
1 1/2 tsps vanilla extract
Make the doughnuts: Preheat oven to 325°F. Brush doughnut pans with melted butter. In a large bowl, whisk the flour, cocoa powder, baking soda, and salt together. In a medium bowl, whisk the buttermilk, brown sugar, eggs, melted butter, and vanilla extract together until smooth. Pour the wet ingredients into the dry mix and combine until smooth. Fill a piping bag with the batter (or a ziploc bag – just cut the corner when you're ready to fill the pan) and fill each doughnut ring no more than two-thirds full. Bake 13 minutes or until the top of a doughnut springs back when you press on it with your finger. Remove from oven and invert the doughnuts onto a cooling rack.
Make the chocolate glaze: Whisk the powdered sugar, cocoa powder, salt, milk, and vanilla extract together in a medium bowl until smooth. Don't whisk too vigorously or you'll wind up with a lot of air bubbles in your glaze. Dip the doughnuts, one at a time, into the glaze top-side down. Set the doughnuts top-side up on a cooling rack set over a baking sheet to let excess glaze drip off. Administer any sprinkles or decorations while the glaze is still wet. Let the glaze set (about 30 minutes).
Makes 20-22 doughnuts.
more goodness from the use real butter archives