Recipe: chocolate peanut butter chip pizookie
Happy Chinese New Year! Gong Xi Fa Tsai! It's the year of the goat, or sheep, or ram! I'm not really sure which one it's supposed to be, but you get the gist. The house is clean (more or less), the symbol for luck is upside down on the front door, and I made several traditional foods on New Year's Eve to ensure luck, health, happiness, and all the good stuff. Some of the recipes require quite a bit of time to prepare – there is no rushing through them. As I sliced and minced countless ingredients and plucked the ends off the soybean sprouts, it gave me time to contemplate the previous year, loved ones who are still with us and the loved ones who have gone. The new year is a joyful time, but it is also a time of remembrance and perhaps a little heartache.

round whole fruits are good luck (and hong bao have cash!)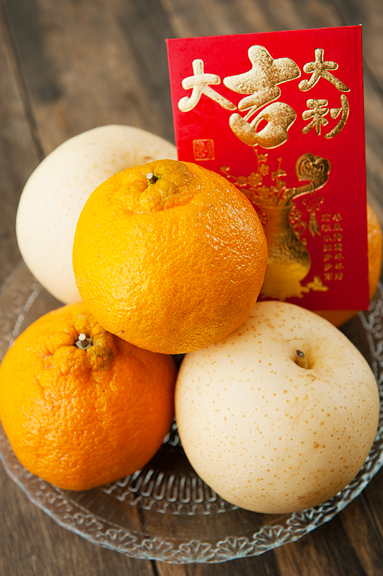 the character for "luck" upside down at the front door (luck arrives)
lucky ten ingredient vegetables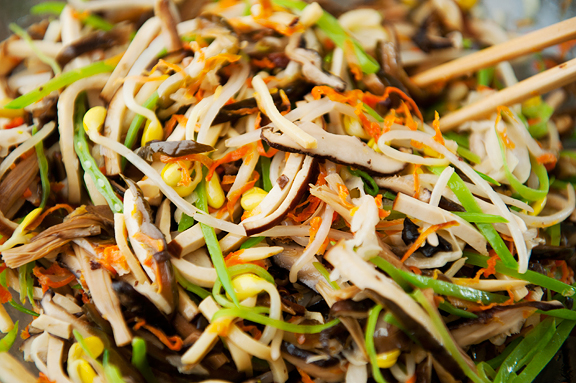 You'd think a Chinese recipe would be appropriate for today, but practically speaking, if you're trying to celebrate the lunar new year, you should have cooked everything yesterday (new year's eve) because you're not supposed to use sharp objects (knives) today. Another superstition, don't you know. There's no need for knives in this recipe AND it's something sweet – which is good because you want to eat something sweet on Chinese New Year's Day so sweet things come out of your mouth all year.
So I have to share this guilty pleasure with you, because it's ridiculous stuff. Years ago, my good friends Todd and Diane of White on Rice Couple posted about pizookies: a deep dish cookie topped with ice cream. They were crazy about pizookies and have several recipes from which to choose. Over the winter holidays, I had some extra cookie dough and asked Jeremy if he wanted a pizookie. "A what?!" he asked. I had already popped it into the oven and just told him he wanted one. I was right.

peanut butter chips, flour, brown sugar, granulated sugar, eggs, cocoa powder, butter, salt, vanilla, baking soda
cream the butter and sugars
beat in the eggs and vanilla
The cookie comes from my ancient archives when I was scribbling recipes down in a spiral notebook. Our athletic trainer at Caltech was a serious baker and she baked lots of cookies for the basketball team, the football team, the soccer team… When I was icing or doing rehab in the trainers' room, she'd toss me a cookie. She made so many different kinds, but this was the recipe I asked for – chocolate peanut butter chip cookies. I didn't know it came off the back of a Reese's peanut butter chip bag, but that seems to happen with a lot of "secret" recipes from friends.
whisk the dry ingredients (but not the chips) together
beat the dry and wet ingredients until just combined
add the peanut butter chips
Making the dough is the same for cookies or pizookies. The only difference is the way you bake them up and the amount of debauchery. If baking cookies, just be sure not to remove them from the baking sheet right away, because they will fall apart. Let them cool for a minute or so on the baking sheet, then push the edge of a cookie with your finger. If the whole thing moves, you're ready to transfer to a cooling rack. If it buckles under the applied stress, wait until it's solidified a little more.
teaspoon scoops
baked
slightly crunchy outside, soft on the inside
how about them cookies?
For the pizookie, you want a ramekin that is deep enough to 1) hold a half inch of cookie dough and 2) hold the ice cream that goes on top of the baked cookie (it will melt, count on it). Shallow ramekins will work, but… you have to eat the ice cream quickly before the melty parts breach the ramekin walls (and spill over onto your lap). The temperature is a little higher and you'll bake for longer, which makes sense since it's about 3-4 cookies' worth of dough depending on the ramekin size. Take the ramekins out when the cookie center is baked to your desired doneness. For some that will mean gooey and underbaked, for others it will be just chewy (I like it that way).
press cookie dough into the base of the ramekin
baked, but still soft in the middle
scoop some ice cream on top
pizookie!
This is not diet food, in case you were wondering. I hope you weren't wondering. It's got the hot and cold, the creamy and crisp. If you want to get all kinds of crazy, you can add whipped cream and sprinkles, but just thinking about it makes my vision go fuzzy. Jeremy, of course, opted for chocolate ice cream (it's good!) and I had the cookie butter swirl. He's hooked. They're easy to make and you can store the cookie dough in the refrigerator if you only want to make one or two at a time. Also, a cheater version (we've done this) is to buy refrigerated cookie dough. The possibilities are endless. Happy sweet new year!
choose your ice cream flavor
jeremy is all chocolate, all the time
what's life without a little indulgence?
Chocolate Peanut Butter Chip Cookie/Pizookie
[print recipe]
based on this recipe from White On Rice Couple and a recipe from my old athletic trainer (who apparently got it from Reese's)
1 cup butter, unsalted and room temperature
3/4 cup granulated sugar
3/4 cup light brown sugar, packed
2 large eggs
2 tsps vanilla extract
2 cups all-purpose flour
2/3 cup cocoa powder (natural, rather than Dutch-process)
3/4 tsp baking soda
1/2 tsp salt
2 cups peanut butter chips (or chocolate chips if you are a chocoholic)
favorite ice cream (for pizookie)
Cream the butter and sugars together until uniform. Beat in the eggs and vanilla extract so that they are completely blended. Sift the flour, cocoa powder, baking soda, and salt together. Stir the dry ingredients into the wet ingredients until just combined. Stir in the peanut butter chips.
For cookies: Preheat oven to 350°F. Drop teaspoon-sized balls of dough onto parchment-lined baking sheet, 2-inches apart from one another. Bake 8-9 minutes. Let cool for a minute or two on the baking sheet (or else they will fall apart), then transfer to a cooling rack. Makes about 4 dozen.
For pizookies: Preheat oven to 375°F. Fill ramekins with cookie dough to 1/2-inch depth. Bake 12-18 minutes to desired doneness (less time for gooey, chewy, more time for baked-through). I like mine at 16 minutes. Remove from oven and top with a scoop (or two?!) of favorite ice cream. Serve immediately. Makes about a dozen (depending on diameter of your ramekin).
more goodness from the use real butter archives