Recipe: double apple bundt cake
When I first began foraging mushrooms several years ago, I got an idea in my head that it would be cool to dry a perfect slice of porcini mushroom to send to my friend, Sumner of Spotted Dog Farm in Asheville, North Carolina, to make a pendant or bracelet. I'm not a jewelry person, but I do love Sumner's beautiful botanical resin work, and she said she thought it was a neat custom project to try. For some reason, the porcini in cross section just didn't appeal to me enough to pursue it. But this past spring, I had collected enough black morels to set aside the cutest and tiniest of my haul to dry. The first two that I dried in our arid Colorado mountain air were lying on their sides, on a plate. I think the sides that were touching the plate dried at a different rate and resulted in somewhat lopsided specimens. The next four I set atop toothpicks a la Game of Thrones so they could dry as symmetrically as possible. I shipped these 6 morels to Sumner, identifying the lopsided ones as "test subjects" and the other four as potential keepers. Over the summer, she made them one by one, perfecting her technique (the morel surface is covered with tiny pits which can create air bubbles in the resin) and last week, she sent me the results!

four little morels set aside to dry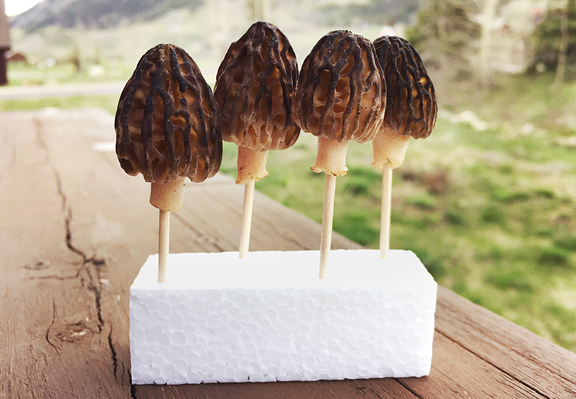 dried (and much smaller)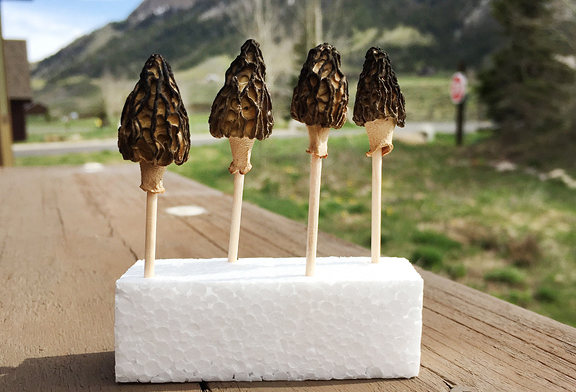 a morel pendant (with maidenhair fern)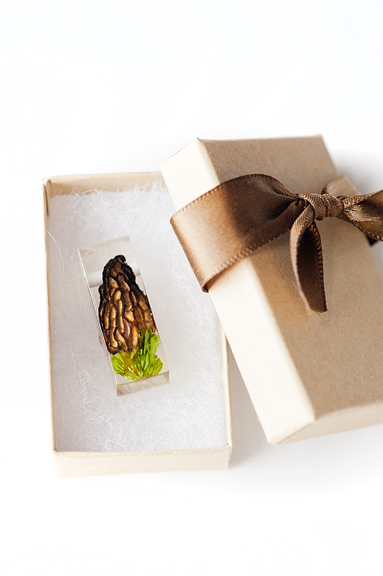 es perfecto!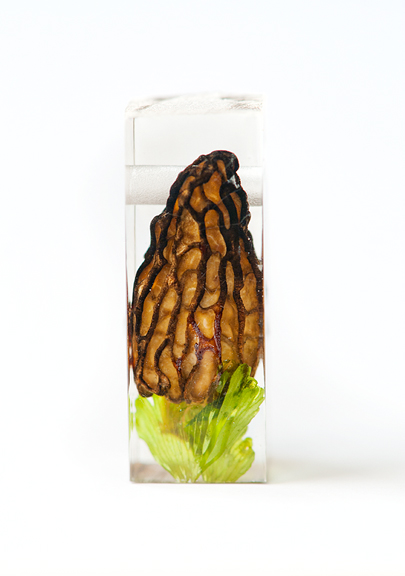 We weren't sure how many would turn out in the end, if any at all. But Sumner had two that she thought were the best. I purchased those from her – one for me, one for my foraging pal, Erin. And I told Sumner to keep at least one of the others for herself to wear since she was digging on the mushroom jewelry. It's just a nerdy little thing, but I love it because it is a permanent tangible record of my mushroom adventures that I can hold in my hand. And it connects me with two mountain women whom I love and admire. I was able to let Erin choose which pendant she wanted over the weekend when we hosted a dinner party for our fellow mountain dwellers. My dinner parties always serve multiple purposes: 1) to cook for and feed my friends 2) to spend time with friends and 3) to introduce my friends to one another. I guess we can also add 4) to get Neva used to behaving around other people.
cheeseboard to start the party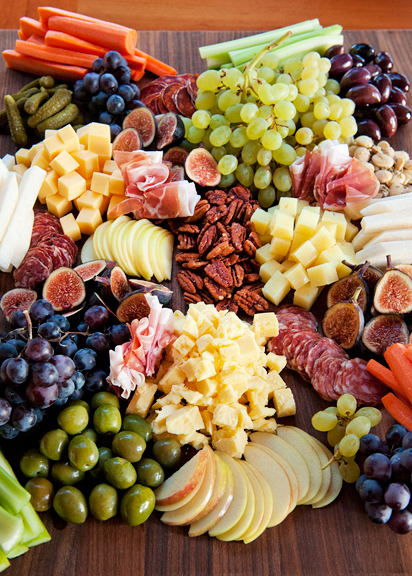 sitting down to start dinner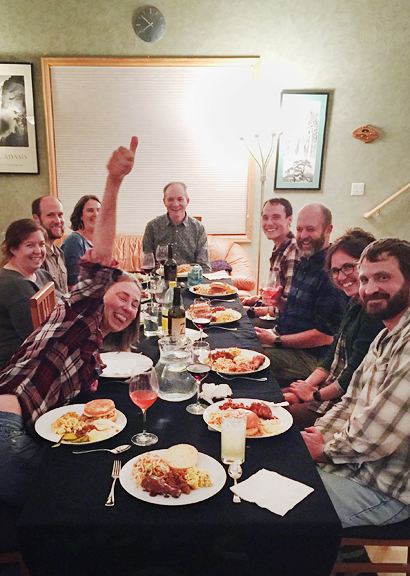 a partied out neva still tired the next day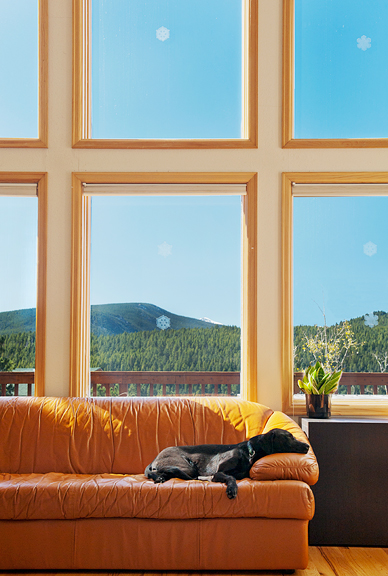 By the end of the evening when everyone had gone home, Neva was snoring in her doggy bed, and Jeremy washed dishes while I cleared the tables and put the leftovers away, I smiled to myself and told Jeremy that we know some really great people. We call them good apples and I'm glad they're in my life.
Seeing as apples are in season, it's time to pull out the baking pans, the cinnamon, the butter, and those apples. I love apple cakes that involve mixing everything together, pouring the batter into a pan, baking it, then eating it. That's gateway baking – easy baking. These are the cakes that hook you into the more complicated recipes as we march ahead into winter. This is the kind of recipe that comes together quickly and easily for those potlucks, office gatherings, school functions, whatever it is you do that requires you to bring a cake. And it comes from Dorie Greenspan. You will want to make this double apple bundt cake.

dorie's double apple bundt cake
walnuts, flour, sugar, butter, raisins, apple butter, apples, powdered sugar, eggs, lemon, cinnamon, nutmeg, ginger, baing soda, salt, baking powder
whisk the flour, baking powder, baking soda, salt, cinnamon, nutmeg, and ginger together
cream the sugar and butter, then beat in the eggs
Many of the apple cakes I've tried skimp on the "apple" part of the cake. That's such a disappointment. It reminds me of my childhood when I saw blueberries dotting a bowl of otherwise boring cereal on the cover of the box and I insisted on THAT cereal only to go home and find zero blueberries inside. Life doesn't have to be that way. Dorie's cake contains shredded apple AND apple butter, which gives a double hit of apple flavor as well as a nice tender crumb.
add the apple butter
shred the apples
mix the shredded apples into the batter
If apples weren't enough, this batter is loaded with raisins and nuts. I have mixed feelings about raisins in my food. Sometimes they just don't work, but other times they can really transform a cake with bursts of fruity sweetness dotted throughout. I'm tempted to try rum-soaked raisins next time, because need I remind you that the holidays are just around the corner?
stir in the dry ingredients
fold the nuts and raisins into the batter
pour the batter into a greased and floured bundt pan
The cake bakes up nicely, even at my altitude. I did reduce the leavening by a touch, but I think the apple butter keeps the batter from rising too quickly at high elevations. Even though my bundt pan has a non-stick coating, I buttered and floured the inside to ensure a cleaner cake release. It's just too maddening for me to invert a cake and have it tear itself apart because it stuck to the pan. After the cake has cooled, you can drizzle it with icing or dust with powdered sugar or serve it up plain.
make the icing: whisk the lemon juice into the powdered sugar
whisk until smooth
drizzle icing on the cooled cake
let the icing set
If you are in the mood for fall and apples and freshly baked cakes, give this one a try. It's a low commitment bake. Each slice is moist, full of apple flavor, and studded with nuts and raisins. It isn't too sweet and makes for a delightful pick-me-up in the middle of the day or at the end of a meal. Apples are good. Apple cake is great. Good apples are the best.
apple season is upon you
Double Apple Bundt Cake
[print recipe]
from Baking: From My Home to Yours by Dorie Greenspan
2 cups all-purpose flour
2 tsps baking powder (I reduced to 1.5 tsps at 8500 ft. elevation)
1/2 tsp baking soda
1/2 tsp ground cinnamon
1/4 tsp freshly grated nutmeg
1/4 tsp ground ginger
1/4 tsp salt
10 tbsps (5 oz.) unsalted butter, softened
1 1/2 cups granulated sugar
2 large eggs
1 cup apple butter, spiced or plain
2 medium apples, peeled, cored, and grated
1 cup pecans or walnuts, chopped
1/2 cup plump moist raisins
icing
1 cup confectioner's sugar
2 tbsps lemon juice
Preheat oven to 350°F. Butter and flour a 12-cup bundt pan. Do not place the pan on a baking sheet. In a large bowl, whisk the flour, baking powder, baking soda, cinnamon, nutmeg, ginger, and salt together. In the bowl of a stand mixer beat the butter and granulated sugar together on medium speed with a paddle attachment for 3 minutes until it is thick and pale (scrape down the sides as needed). Add the eggs, one at a time, beating for a minute after each addition. Reduce the mixer speed to low and add the apple butter. Stir in the grated apples. Add the dry ingredients to the wet batter and stir until the ingredients are just incorporated. Fold in the nuts and raisins. Pour the batter into the bundt pan and bake for 50-55 minutes until a toothpick inserted in the center of the cake comes out clean (moist crumbs are okay). Remove from oven and let rest for 5 minutes. Unmold the cake onto a cooling rack and allow to cool completely. In a small bowl, whisk the confectioner's sugar and lemon juice together until smooth. When the cake is cooled, drizzle the icing over the cake. Serves 12-16.
more goodness from the use real butter archives