Recipe: chocolate mirror glaze
This past week in Crested Butte has seen a good bit of progress for Yuki. She improved her length of sustained running during our skate ski compared to the last few times when she would slow down, fall behind, and then STOP abruptly. We also took her on the mountain at the ski resort for her first uphill ski and she was pretty good despite so many new and loud distractions like ski patrol, snow mobiles, and large grooming machines. Yuki was a trooper through it all and it helped tremendously to have Neva present to show her there was nothing to be afraid of, but rather everything to be excited about. Crested Butte provides an excellent environment for dog activities with its consistent snow, designated dog-friendly Nordic trails, dog-friendly uphill policies at the ski resort, and good backcountry coverage.

when it is -25°F outside, we stay home and snuggle until it warms up
enjoying the nordic trails on a bluebird day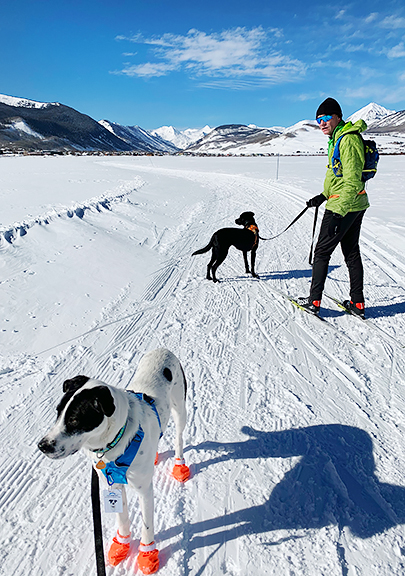 frost flowers form on the river when it is really cold and calm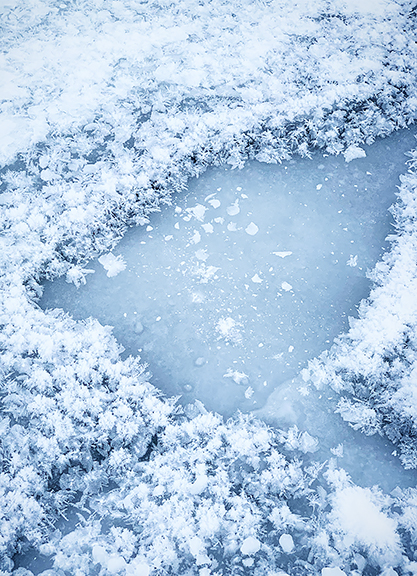 skiing out after skinning up the mountain with the pups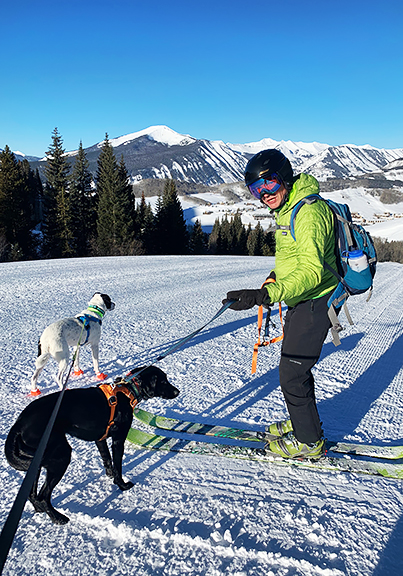 plenty of snow down in town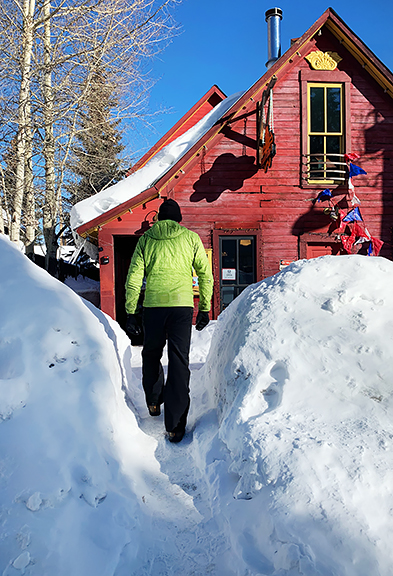 I see Valentine's Day on the calendar this week and have absolutely zero plans except to possibly ski a powder day. Oh wait, I *do* have something for you all. Last September, I made a random chocolate raspberry mousse cake for Jeremy's birthday and a few people had asked if I would post the recipe. I didn't feel there was a recipe to post since most of the cake was made from components that have already been published on the blog. However, the chocolate mirror glaze was new, and that's what I will discuss in this post. A glossy dark chocolate mirror glaze lends a nice wow factor to a dessert and is pretty easy to whip up. I'll also go through the steps of my cake assembly, but the cake under the glaze can be (almost) anything you like.
The chocolate chiffon cake and the chocolate mousse recipes come from my chocolate mousse bombes recipe. If you plan to make the chocolate chiffon cake, I blogged the recipe for the hazelnut praline paste last week. In this example, I baked two 6×2-inch rounds of the chocolate chiffon cake and leveled the tops to give me two 1-inch layers of cake. This uses half of the chocolate chiffon cake recipe which can yield three 6×2-inch cakes (I had extra batter left over). I doubled the mousse recipe because I wanted enough mousse to form a half-inch layer around the cake and a thin layer on top of the cake. For raspberries, I had 3 cups of fresh raspberries for filling the mousse layer as well as garnishing the cake.

trimmed cake layers, raspberries, and chocolate mousse
I couldn't find a 7-inch ring mold anywhere in town, but managed to improvise one using an 8-inch (point-to-point) hexagonal ring mold whose side-to-side measurement was 7 inches. I taped a strip of 4-inch acetate in a circle around the inside of the mold and set it on parchment inside of a larger (9-inch) baking pan. I set the first cake layer down in the center (base to bottom), then piped mousse on top of it (piping makes it easier). I pressed the raspberries into the mousse, not worrying too much about mousse spilling over the edge since I was surrounding the cake with a mousse layer. Next, I filled the gaps between the cake and the acetate strip with mousse. In hindsight, I should have used a smaller piping tip because it is difficult to fill the tight spots, but it mostly worked.
center the cake in the mold
top with mousse
arrange the raspberries in the mousse
fill the sides with mousse to the raspberry level
The ensemble was topped off with another layer of mousse, then the second layer of cake went on, base facing up. I finished it all with a thin layer of mousse over the top cake layer and leveled the mousse out all around to the edges. Before placing the cake in the freezer to set, I put a sheet of parchment on the top to smooth and even out the mousse and to protect the mousse surface as it froze. I let my cake freeze overnight. It probably takes several hours for the whole thing to set properly as it is mostly mousse, which is not a rigid material except when frozen. I needed my cake to be frozen through so I could manhandle it without worrying about it coming apart or being crushed.
another layer of mousse
the second cake layer
finish it off with more mousse
place parchment on top to smooth and protect the mousse before freezing
Unlike a white chocolate mirror glaze which is a beautiful blank canvas for pretty much any color combination, the chocolate mirror glaze is limited in color. Unlike a white chocolate mirror glaze, the chocolate mirror glaze actually tastes good. To make the glaze takes less than 15 minutes, but to cool the glaze to the right glazing temperature requires an hour or more. I highly recommend using a thermometer to monitor when your glaze reaches 90°F.
water, sugar, vanilla extract, sweetened condensed milk, powdered gelatin, chocolate
stir the gelatin, vanilla, and a few tablespoons of water together
heat water, sweetened condensed milk, and sugar until just boiling
stir the gelatin mixture into the hot liquid until dissolved
stir in the chocolate until melted and smooth
strain any lumps out of the glaze and let cool
While your glaze cools, you can get a feel for how quickly its temperature is approaching the target. Give yourself enough time to unmold your cake and prepare it for glazing. I set my cake on a cylinder that has a diameter smaller than that of my cake (not too small though, as it increases the instability) by about 2 inches. That ensemble was set on a rimmed baking sheet to catch excess glaze drips. The excess glaze can be reheated and used again for other projects if it doesn't have mousse or cake crumbs in it. When the glaze hits 90°F, it's time to pour the glaze over your frozen cake or frozen whatever. Work quickly because the warm glaze on frozen anything means the glaze will thicken and begin to set in a minute or so, and when that happens anything you touch will lose its beautiful mirror-like quality. After the glaze has covered the sides completely (if that is your design – you can also use less glaze and go for "drip" effect), use a knife to tidy the bottom edge and add any garnish you were planning. You can let it set up in the refrigerator or freezer, but make sure not to touch the glaze in the process. Eventually, it will become dry to the touch (maybe an hour or more?) instead of sticking disastrously to everything.
remove the cake from the freezer
pour the glaze over the cake
clean the base of excess glaze
I made the mistake of cutting a slice while the cake was still frozen inside and the raspberries were hard as rocks. In general, after glazing, store the cake in the refrigerator. The best advice for cutting the cake is to bring it out of the refrigerator an hour before serving (30 minutes if it is warm out) and slice it with a warm knife (run the blade under hot water and wipe dry). It's a beautiful result when done right and more importantly, it's a nice chocolatey glaze that tastes as good as it looks. Go forth and glaze!
decorations on top
carefully transferred to a cake stand
a slice of chocolate raspberry mousse cake
Chocolate Mirror Glaze
[print recipe]
slightly modified from this recipe
140g dark chocolate, chopped
5g (1 tsp) vanilla
30g (2 tbsps) water
7.5g gelatin powder
120g granulated sugar
80g sweetened condensed milk
80g water
Place the chocolate in a medium heatproof bowl. In a small bowl, stir the vanilla, 2 tablespoons of water, and gelatin powder together into a thick paste. Set aside. In a small (or medium) saucepan, stir the sugar, sweetened condensed milk, and 80 grams of water together over medium heat, stirring to dissolve the sugar until the mixture begins to boil. Turn off the heat. Stir the gelatin paste into the hot mixture until dissolved. Pour the hot liquid over the chocolate and stir until the chocolate is melted and the glaze is smooth. You can use an immersion blender instead, but take care not to introduce many bubbles. Pour the hot glaze through a strainer to remove any lumps. When the temperature reaches 90°F, it is ready to pour (this takes about an hour or more). Makes about 1 3/4 cups of glaze. Leftover glaze can be reheated and reused. The glaze can also be frozen in an airtight container or packaging for up to several months. You can double, triple, quadruple, etc. this recipe as needed.
more goodness from the use real butter archives