Recipe: beef stew
I think I caught a cold during the fall color shooting frenzy this weekend. As long as I got some good shots, it was worth the trouble. Sometimes travel can be delightful when you discover really good food – particularly cheap and delicious street food. But that stuff isn't to be found in Colorado ski resorts where the mantra is to milk someone for every dime you can possibly dislodge from their pockets. I am constantly astonished whenever we get railroaded into eating in a ski resort village (which is rare). We pay far too much money for really pathetic quality. I think it's a Colorado thing – they are located too close to the flats.
When we rolled into our driveway yesterday, I had two things on my mind: 1) nap and 2) beef stew. I had made a large pot of beef stew before we left for the weekend. I just didn't want the beef going south on us during our trip and figured it would be nice to come home to a quick meal that only required some reheating. Couldn't bring it in a cooler to nuke in our room because of the very bumpy dirt roads we were traveling. Trust me, I have experience driving in the field with a cooler full of foods that decided to unceremoniously merge in the back of the truck.
Back to the stew… I have a love affair with many foods, but it delights me to no end when you can take a cheap and tough cut of meat and transform it into the most tender and mouth-watering dish with some patient slow-cooking. And I think this is a dying art because people are short on time and short on the knowledge. This home-style food shows up on restaurant menus because no one does it themselves anymore. Sad, really. I bought a hunk of beef chuck and spent a good amount of time trimming the fat (they include a honking amount on these babies) while cutting into nice cubes. Kaweah sat not more than a foot away, watching devotedly and licking her chops every few minutes.

big cubes of beef chuck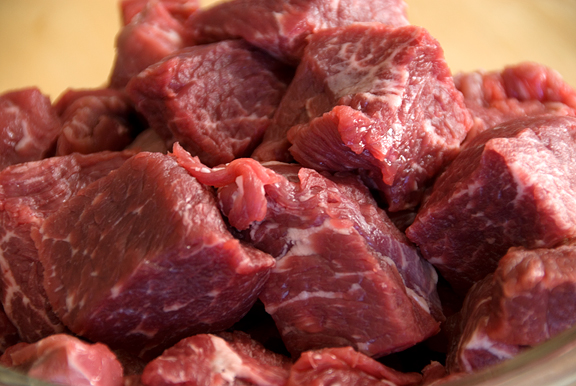 mix with the salt, pepper, and flour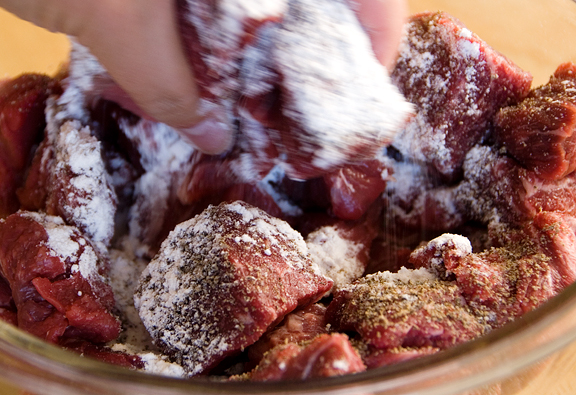 I tend to go overboard with the stew because I can't help but toss in another carrot, another stalk of celery, another potato… Can you ever have too many potatoes? The answer, I found out a few years ago, is yes, but nevermind that. I love packing this stew with vegetables.
chop the veggies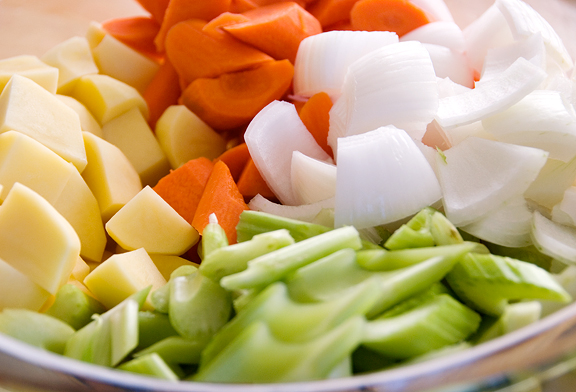 Before I got my crock pot years ago, I used to make this stew on the stove top. I would brown the beef cubes and sauté the vegetables and then pile everyone into a large pot and simmer for 3 hours or so. I like using my crock pot because I'm not made of spare time and I think it's more economical than 3 hours of open flame on the stove. I do brown the beef, but I don't brown the vegetables – I just toss them into the pot… everything in the crock pot like so. I don't add spices or herbs, which you certainly could. I like the flavor that the onions, garlic, and celery impart more than anything else.
minced garlic over the beef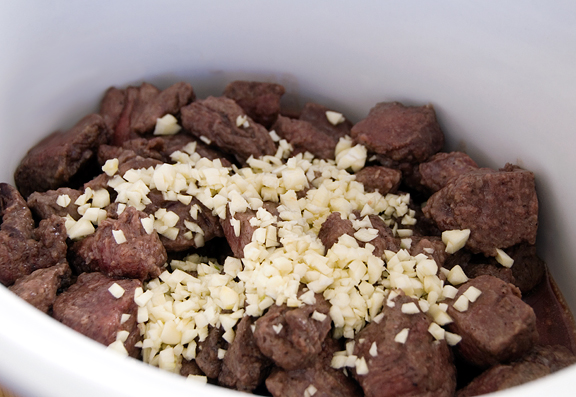 pile it in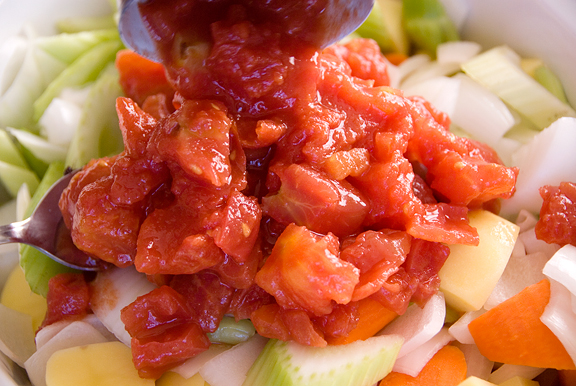 When I'm hungry, I tend to check on the stew constantly and it seems like it will never cook. But then after 5 hours, things begin to resemble that lovely stew I am expecting and the meat enters the "falling apart" stage another hour later. For me, that's sort of akin to the way ganache looks like an absolute failure and mess when you first stir in the hot cream, and before your eyes it blends into the silkiest and most enticing velvety chocolate.
one of my comfort foods
Beef Stew
[print recipe]
1 – 1 1/2 lbs. beef chuck, trimmed of fat and cut into large cubes (maybe 2 pounds before trimming the fat?)
salt
pepper
4 tbsps flour
4 large potatoes, peeled and cut into large chunks
5 carrots, peeled and cut
4 stalks celery, cut
1 onion, cut coarsely
4 cloves garlic, minced
28 oz. tomatoes, diced (I no longer use canned tomatoes of any kind – fresh or Pomi brand works)
4 cups beef broth
vegetable oil
Coat beef with salt and pepper, then rub in 2 tbsp of flour. Brown the beef in hot oil until most sides are browned but still very pink or red on the inside. Remove from heat and set aside.
Method 1: Brown vegetables (except for tomatoes) in a little oil. Add tomatoes and 2 tbsp flour. Add one can of broth and simmer. Toss in garlic and beef and 2nd can of broth. Simmer covered for 2-3 hours until beef is tender.
Method 2: Put the beef in a crock pot. Add garlic, vegetables, broth, and tomatoes. Cover and cook on high for 8 hours.
You can thicken the soup with cornstarch and water, or by making a roux and incorporating the soup, or reducing it over a simmer. I tend to like it soupy.