Recipe: roasted butternut squash soup
Confession time. Until just a few years ago, whenever I heard the words butternut squash I envisioned the acorn squash. I was not much of a squash consumer other than zucchini and pumpkin. I was squash stupid. It was when Nicole and Andrew had us over for homemade butternut squash ravioli one evening that I became enamored with the lovely gourd.

butternut squash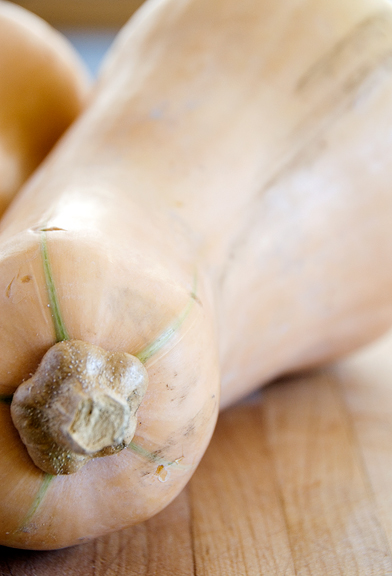 the guts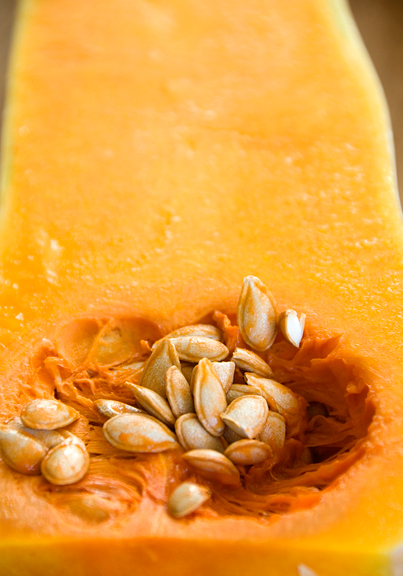 Since then, I've had several encounters with butternut squash soup, and I love it! Searching for recipes there are several variants in the supporting cast of ingredients and I am never sure which ones to try. Yesterday I gave the apple variation a go, except I was shy a Granny Smith, so tossed in one of our snacking apples to boot. I also roasted my butternut squash. I love the sweet and nutty accents roasting can bring out in certain foods. However, has anyone figured out how to get that gel-like excretion from the rind off of your hands? It is ridiculously tenacious.
roasted, peeled, and chopped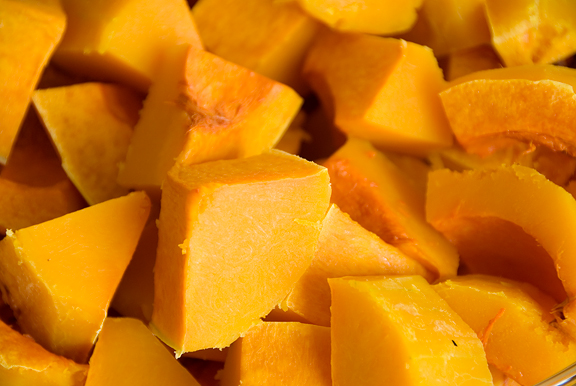 a granny smith and a honey crisp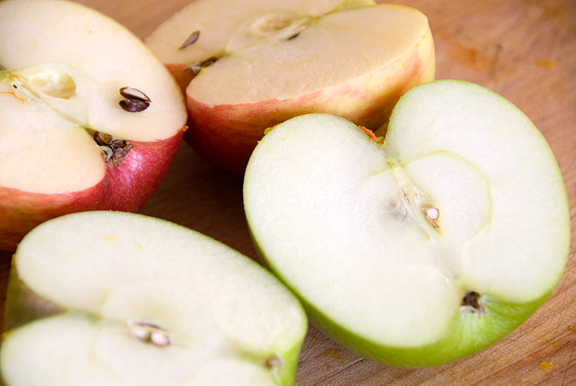 The apples, shallots, and onion were simmered in chicken broth for a half hour. Meanwhile, I puréed the butternut squash. I had to snarf several cups of chicken broth from the pot to get the squash to purée properly – but it all goes in the soup eventually.
simmer in broth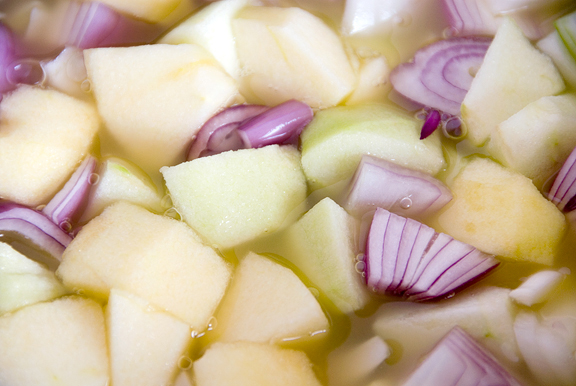 slightly chunky pueée – call it rustic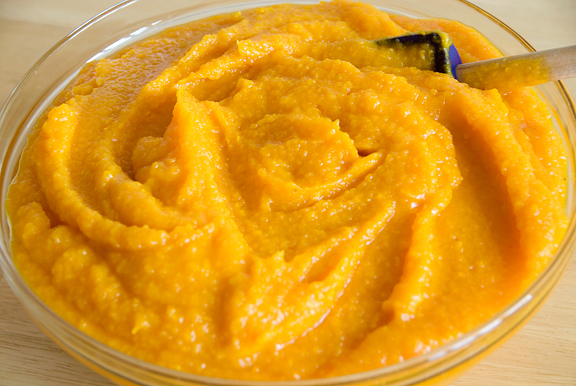 When the apples and co. were soft, I drained off the broth, reserving it for later, and puréed the solids. Then everything got mixed together in a large pot: the squash, apples and co., and broth. Add salt and pepper for taste and the most important part – a half stick of butter. My justification: there is a lot of soup. The recipe I have written down calls for marjoram, but marjoram and I are not friends so I left her off the guest list.
applesauce of sorts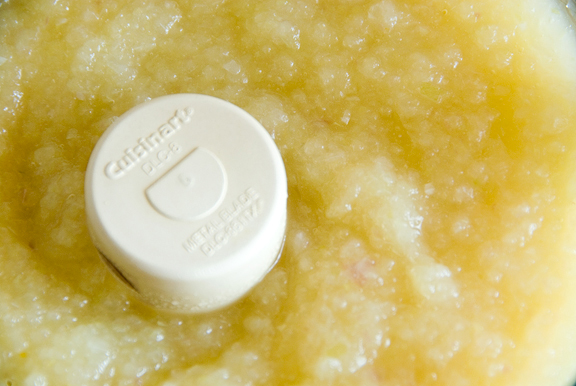 I find the color of butternut squash to be a breathtaking orange. It makes for terrific presentation on its own. But I can't help embellishing it with some extra garnish for added flavor and eye candy. The soup is delicious, although I am curious to try a celery/carrot/onion grouping next time.
daub of unsweetened whipped cream and crumbled bacon for the pretty
Roasted Butternut Squash Soup
[print recipe]
I swear this could serve over a dozen people
2 medium butternut squash
2 green apples, peeled, cored, diced
1 onion, chopped
2 shallots, chopped
1 tsp fresh marjoram (optional – I omitted)
2 qts chicken broth
salt
pepper
2 oz. butter
Cut squashes in half or quarters and scoop out the seeds. Roast in a 400°F oven for 45 minutes to an hour or until soft. Peel and chop the squash. Boil onions, apples, and shallots in broth and simmer for 30 minutes or until soft. Purée the squash adding broth from the simmering pot as needed (I needed a few cups). Strain the apples, onions, and shallots from the broth and reserve the liquid. Purée the solids. Add both purées to the broth and mix well. Season with salt and pepper to taste. Add the butter and heat the soup until it just begins to simmer. Serve hot.