Recipe: pumpkin mousse
I didn't completely abandon Thanksgiving, you know. Despite having seafood for three courses, we did end our meal by tipping our hats to the pumpkin pie, sort of. I love pumpkin pie and I love pumpkin, but I wanted something a little different. I chose pumpkin mousse because it was lighter, which seemed more appropriate for chasing all of that seafood.

make custard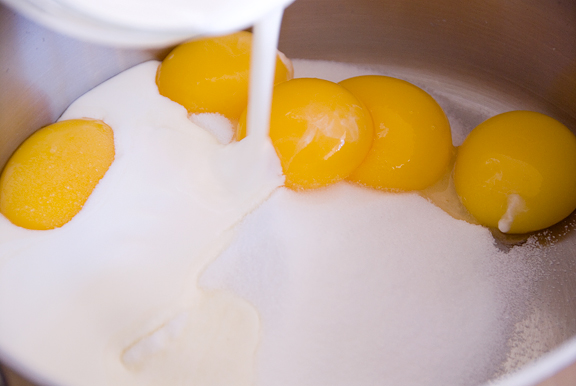 I found this recipe on
Epicurious.com
. It is straightforward and pretty easy to make. The hardest part is the custard, but if you've made custard before then it is a no-brainer. If you haven't made custard before, just be sure not to let it burn or cook too fast (curdle).
pour custard into the pumpkin mixture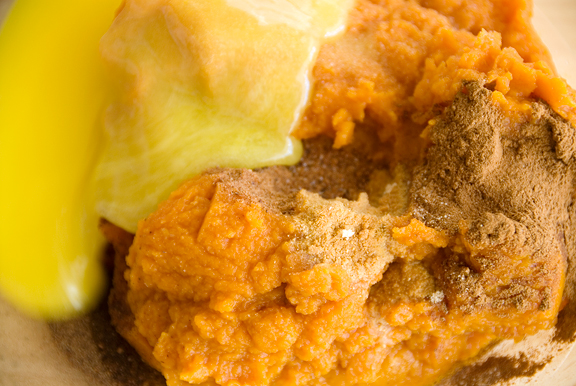 smooth and delicious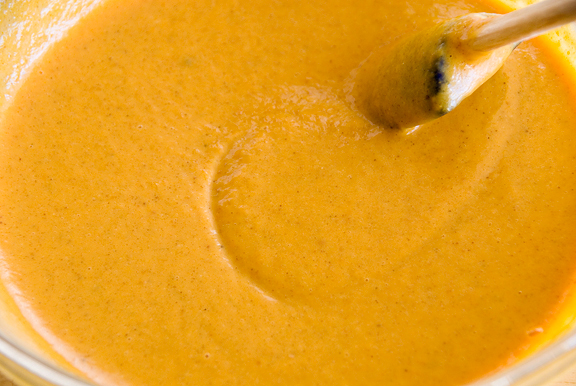 When the custard was done, I poured it into the pumpkin and spices. This part tasted just like the filling of pumpkin pie. I let it cool in the refrigerator for 45 minutes. Meanwhile, I whipped the heavy cream to soft peaks. I reserved some of the cream for topping, and folded the rest into the pumpkin mixture.
adding the whipped cream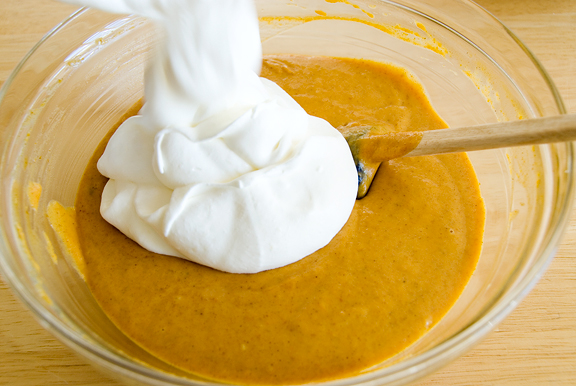 Even refrigerated, the mousse never quite set up as stiff as I would have preferred. So I molded it in the freezer, which worked quite well since the mousse begins to soften in minutes. The best accompaniments to the mousse are some dark chocolate glaze, whipped cream, and chopped crystallized ginger. It really rounds out the whole thing very nicely.
pumpkin mousse, plated
Pumpkin Mousse
[print recipe]
from Epicurious.com
3/4 cups + 1 1/4 cups chilled heavy whipping cream
3/4 cup sugar
5 large egg yolks
1 1/4 cups canned pure pumpkin
2 tbsp dark rum
1 1/4 tsp vanilla extract
3/4 tsp ground cinnamon
1/2 tsp ground ginger
1/4 tsp ground nutmeg
1/4 tsp salt
1/8 tsp ground allspice
In a medium saucepan, whisk 3/4 cup whipping cream, sugar, and egg yolks together to blend. Stir over medium-low heat until thickened to pudding consistency, about 10 minutes taking care not to let it boil. In a large bowl, mix pumpkin, rum, vanilla, ground cinnamon, ginger, nutmeg, salt, and allspice. Pour in the custard and mix well. Refrigerate uncovered until cold, stirring occasionally, about 40 minutes. Beat 1 1/4 cups cream to soft peaks. Reserve 1/2 cup whipped cream for garnish; cover and chill. Fold remaining whipped cream into pumpkin mixture. Cover and refrigerate mousse at least 4 hours and up to 1 day.