Recipe: rice crispy treats
My left arm has been all jacked up since Friday, but I am slowly regaining the range of motion. It has been quite the pickle getting back to cooking and baking, but I can say with certainty that I am indeed back. It's a good thing I am right-handed, no?
Every now and again I get a hankering to make something from my youth. Having grown up in southern Virginia, I am well-versed in the food classics made of cheese-food, sour cream, mayonnaise, instant onion soup mix, cream of *your choice* soup, and all manner of white-trash food. I don't know if rice crispy treats should be classified under 1970s or white-trash or both?

rice crispies and marshmallows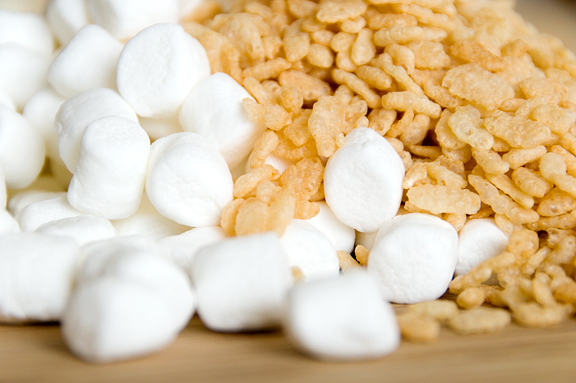 Rice crispy treats – one of the simplest goodies I have in my quadrille scientific notebook o' favorite recipes. Rice crispies, marshmallows, butter – huzzah! Once, while visiting with my little niece and nephew, I saw they had rice crispy treats in their pantry (their pantry is a veritable advertisement for processed foods – it's a little disconcerting). These were store-bought rice crispy treats. I scratched my head because isn't that akin to store-bought peanut butter and jelly sandwiches? Lo and behold, they had pb&j's in their freezer. Don't people make food anymore? Is it even considered making food to slap bread, peanut butter, and jelly together?
add marshies to the melted butter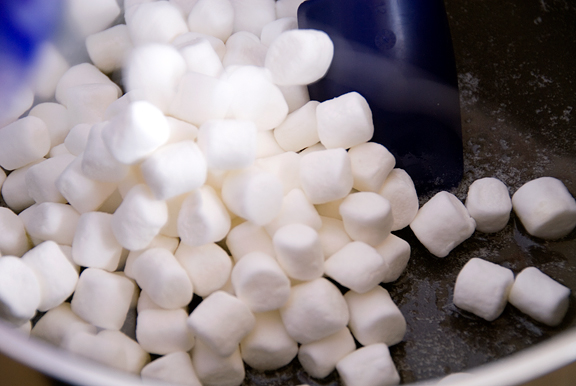 I never thought to experiment with ye olde rice crispy treats recipe until graduate school, when my brilliant friend, Carrie, told me to mix 1/2 cup of peanut butter into the marshmallows and butter. Peanut butter rice crispy treats! Jeremy was not so much a fan of those. I thought he was a purist until that fateful day I bought Cocoa Pebbles instead of Rice Crispies (but really, I buy generic). Chocolate rice crispy treats definitely rank above peanut butter for him. Even better is the organic cocoa pebbles with the panda bear on the cover.
mix in the cereal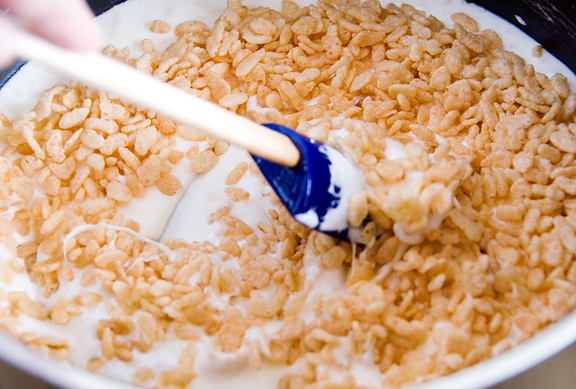 Then one winter day, I poured in some nonpareils for giggles. Nonpareils, known technically as
sprinkles
where I come from, add a splash of color and a crunch to the texture. Since Jeremy is recovering from a cold, I made a batch of sprinkle rice crispy treats to cheer him up and to time warp back to the memories of my youth – when people actually made food instead of unwrapping it. Do it your way.
to put a smile on someone's face
Rice Crispy Treats
[print recipe]
1/4 cup butter
10 oz. marshmallows
6 cups rice crispy cereal (or cocoa crisp cereal)
1/2 cup peanut butter (optional)
spinkles (optional)
Grease a 9×13-inch baking dish. Melt butter in a pan over medium heat (with peanut butter if using). When melted, add marshmallows and stir until melted. Remove from heat. Add cereal and mix well. If using sprinkles, add sprinkles and mix well (add more, and some more). Pour contents into baking dish and spread evenly. When cooled, cut into squares and serve.