Have you ever heard of degustation? a tasting menu? I had no idea what it was until I got an email from a stranger one day… she said she liked my web pages and had I ever dined at The Flagstaff House in Boulder? She lives in Sydney, but had been there the year prior and enjoyed the 9-course degustation. Needless to say, today Kell is one of my best pals and I even had the pleasure of visiting her in lovely Sydney earlier this year (and we had a great degustation at Restaurant Balzac).
So yes, a degustation is something to pace yourself through. Tiny plates. Many tiny courses that the chef has prepared for you to experience on your culinary journey. Seems that every time I am within 2 plates of the finish, I feel like I am going to burst, to die right there at the table (just one after dinner mint?). But if you ever get the opportunity – go for the degustation. It is so much fun.
And fun is what Kaweah is all about. Today it is her 9th birthday! I know what you're thinking… "too much spare time?" Well yes. Doc's instructions were to "take it easy" after surgery. Gawd – take it easy?! Not in my vocabulary, really. I've been chomping at the bit for a week, so grant me this diversion and I won't make a rude gesture with my good arm…

happy birthday puppy girl!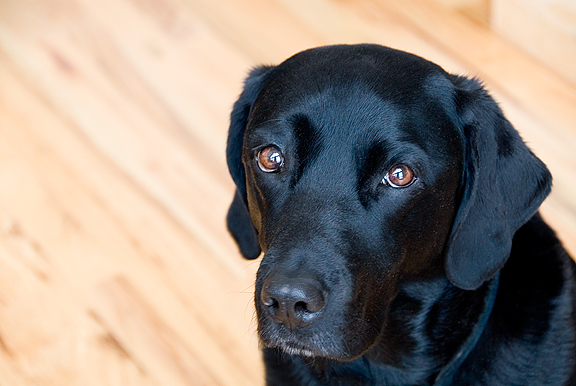 Dog menus tend to be a little more bland than what we are used to. I don't feed my girl too many sugary and salty foods, and I certainly don't feed her anything spicy (thoughts of a dog butt-dragging across my rug don't appeal). No onions, grapes, mac nuts, chocolate, and other things that are harmful to dogs. So how could I make this interesting? Okay, who am I kidding… Anything remotely edible is going to interest Kaweah, but what about for my own shits and giggles? I present
the menu
.
woof: dog beef jerky strip with peanut butter smear and iams lamb and rice kibble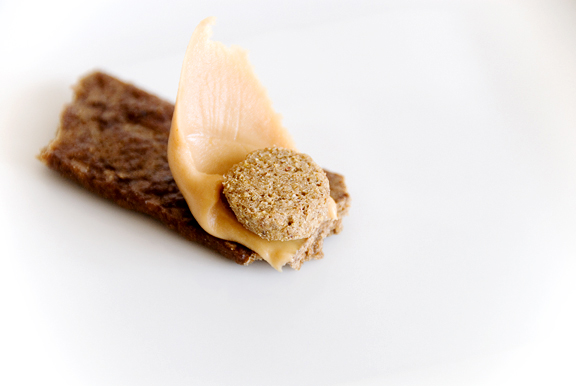 egg on egg: egg sheet round with dollop of plain yogurt topped with masago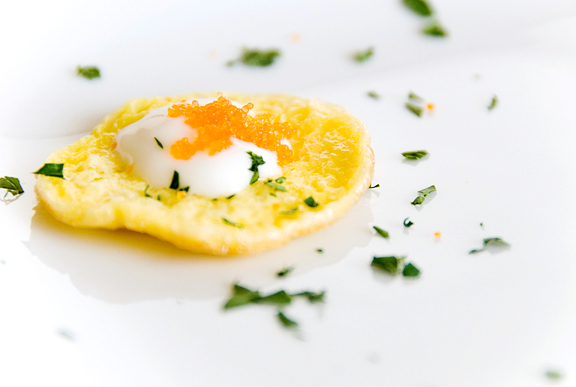 what's up doc?: shredded carrot salad on celery slices topped with almond slivers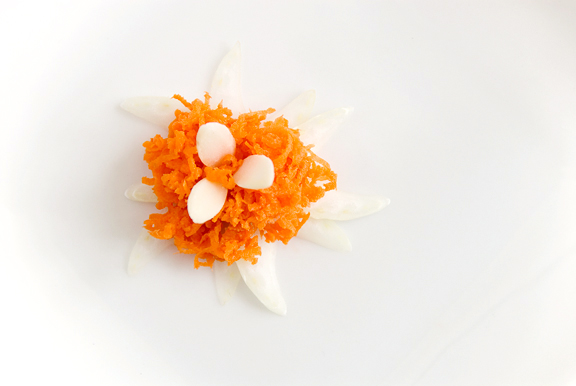 iron pup: beef flank carpaccio with baby spinach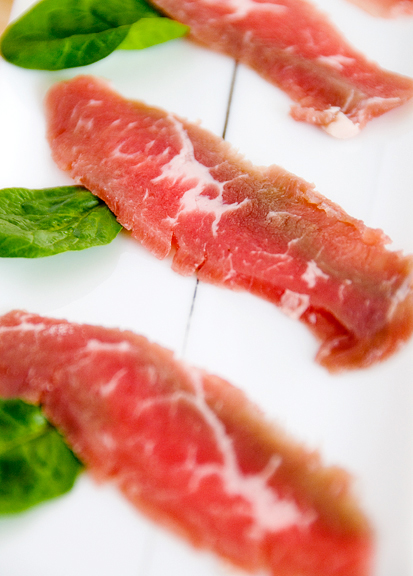 sprout wrap: shredded boiled chicken, egg sheet, parsley, in a brussels sprout leaf sprinkled with a ground peanut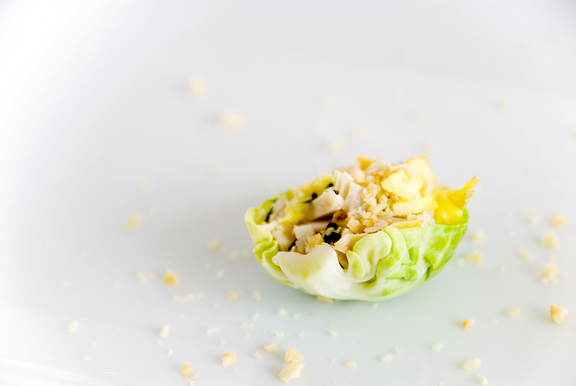 jamon empanadas: honey ham whole wheat empanadas with plain yogurt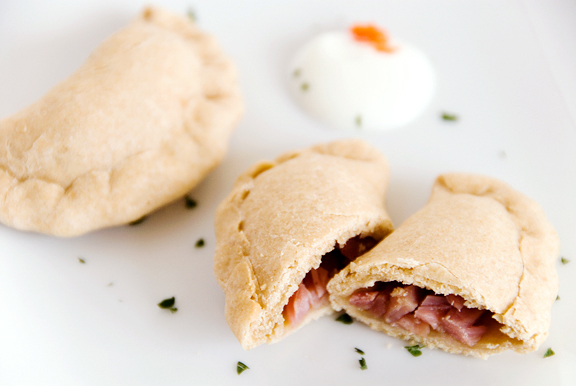 cheese plate: cheddar hearts and gruyère stars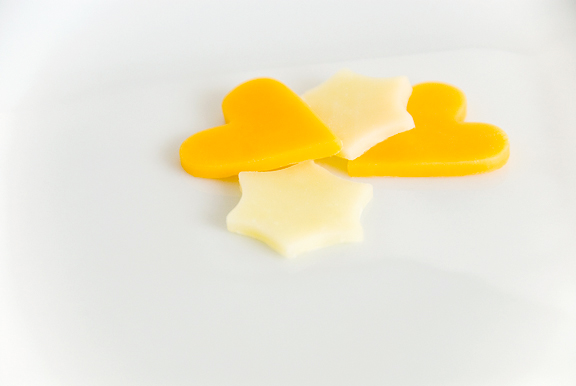 apple stack: honeycrisp apple slices layered with peanut butter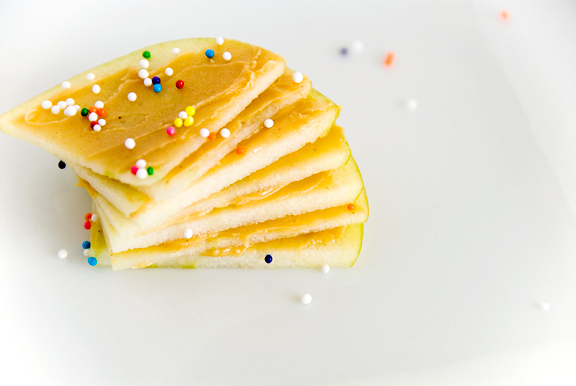 homemade ice cream: plum ice cream on crisped rice cereal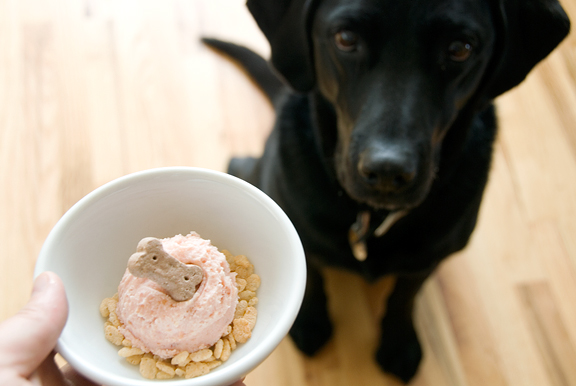 It looks like a lot of food, doesn't it? In volume, it probably equals just a little more than her normal morning bowl of dog kibbles. She got this instead of the kibbles this morning. She ate it just as fast.
for scale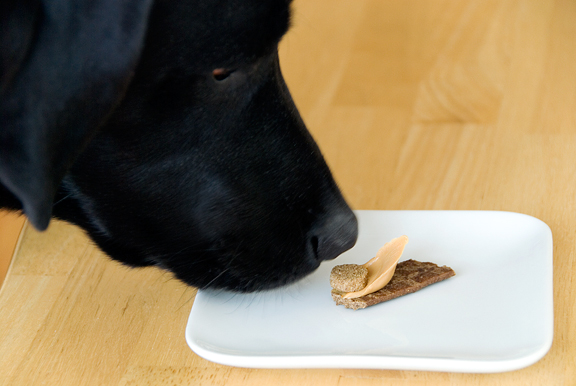 the layout (sans ice cream finale)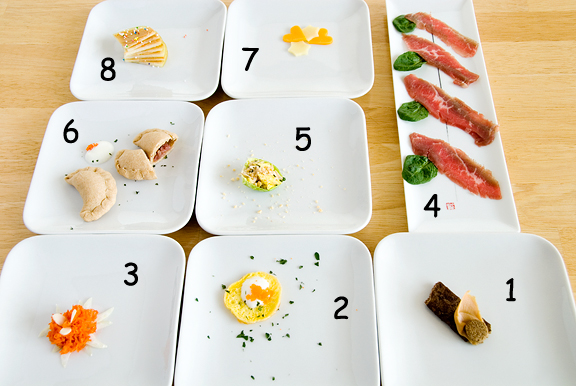 Well! That was fun, wasn't it?